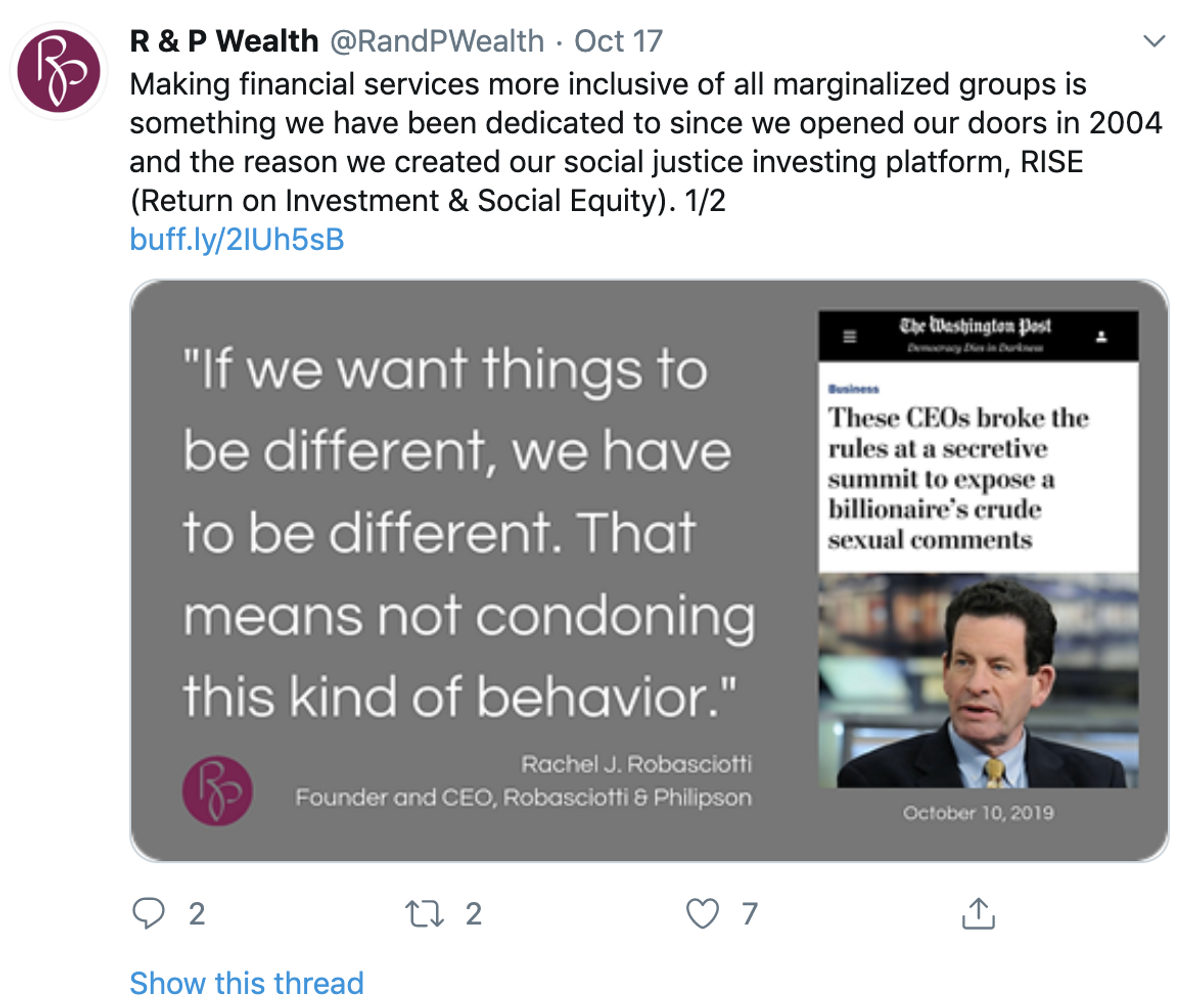 popular
What We Can Learn from the Response to Ken Fisher's Remarks
Not that long ago, Donald Trump's remark, "You can do anything... grab them by the pussy," was dismissed by many as locker room talk... and we all know how that ended.
---
Three years later, and two years since #MeToo swept the nation, another billionaire is finding himself in hot water for remarks about women that were, objectively speaking, not as aggressive as Trump's.
Furthermore, the billionaire in question—Ken Fisher—initially defended himself by saying, "I have given a lot of talks, a lot of times, in a lot of places and said stuff like this and never gotten that type of response."
So what happened, and why was he held accountable? Or simply put, what's changed?
What Happened
Earlier this month, Ken Fisher, Founder and Executive Chairman of Fisher Investments, gave a fireside chat at the Tiburon CEO Summit. He made a number of questionable and arguably sexist comments, which prompted one of the attendees, Alex Chalekian (Founder and CEO of Lake Avenue Financial) to take to Twitter about what he heard. You can watch the video and read a transcript here.
An audio recording of some of Fisher's remarks has since been obtained by CNBC, including quotes like:
"If you can't talk about genitalia, you can't really deal with the customers. I don't know if you get that or not."
"Money, sex, those are the two most private things for most people... It's like going up to a girl in a bar … [inaudible] …going up to a woman in a bar and saying, hey, I want to talk about what's in your pants."
CNBC also discovered that it's not the first time Fisher's made remarks like these. In 2018, he spoke at a conference where he was heard saying:
"I mean the, the most stupid thing you can do, which is what every mutual fund firm in the world always did, was to brag about performance, uh, in, in a direct mail piece, which is a little bit like walking into a bar if you're a single guy and you want to get laid and walking up to some girl and saying, 'Hey, you want to have sex?"
It should also be mentioned that in his video, Chalekian states that after speaking with other conference participants, he learned that this was not the first time Fisher has made highly inappropriate remarks:
"Come to find out talking to others at the conference, this is just the tip of the iceberg, Ken Fisher is actually known for making these types of comments in and around the workplace with his employees. One of his past employees told me that he had made a comment to them talking about the fact that he thinks that slavery should have never been abolished... things that are just blowing my mind. "
As reported by CNBC, several investors (including the Boston Retirement System and the State of Michigan) have pulled their assets from Fisher's firm in light of these remarks. It's cost the firm $1 billion in assets, and counting—several investors, including Fidelity Investments, are still evaluating the situation.
After initially defending the remarks, Fisher issued an apology.
"Disturbed by these comments," vs. "locker room talk" — What's Changed?
So why were Fisher's remarks met with such a different reaction from Donald Trump's when they surfaced three years ago?
While many people were indeed horrified to hear of Trump's remarks to Billy Bush, the backlash was not severe enough to prevent his campaign from chugging full steam ahead. And yet, for remarks that seemed comparatively mild, Fisher's business is taking a serious hit. In the era of #MeToo, we've seen a number of men called out for bad behavior, ranging from sexual misconduct to sexual assault... but in so many instances, there doesn't seem to be any real punishment.
So why was this case different? Why did these investors literally put their money where their mouth was and cut ties?
Was it because there was an audio recording? (Which wasn't enough in Trump's case...)
Was it because a man (not a woman) was the first to report what happened?
Was it because multiple attendees reported feeling uncomfortable?
Was it because, as the Mayor of Boston, Martin Walsh opined in his letter to the Boston Retirement Board, "The statements made by Ken Fisher implicate not only his own judgment, but potentially that of the company as a whole." Which is to say, was it because they thought someone foolish enough to make such comments in a public chat would also be foolish with their money?
Was it because Fisher has a demonstrated history of making these kinds of remarks, and that even more horrific remarks could yet surface, which could put them at risk down the line? (Again, clearly wasn't enough to affect the outcome in Trump's case)
Many of these questions will only be answered with time as more details emerge, but the fact that someone is actually being held accountable for their words and attitudes indicates a very interesting shift in how these matters are being dealt with.
As for my personal opinion, I think the reaction is the result of a few things.
First, that Fisher does have a reputation for making these kinds of remarks and investors are scared that fallback could be even worse down the line. In isolation, Fisher's comments comparing mutual fund sales to picking up women wouldn't be enough for investors to pull millions of dollars from his fund. But the content of his entire speech, paired with his reputation, seems to be more than enough to indicate that as Alex Chalekian said, "This is just the tip of the iceberg." The possibility that more people will come forward in the near future with horrific tales of racism and sexism is very real.
Second, that a man—Alex Chalekian—spoke out first. Unfortunate as it may be, men are more likely to listen to other men. When a man steps up and calls out another man for making inappropriate remarks, people stop and listen. "If another man even found the comments disgusting, then they must really have been disgusting!" It's sexist in and of itself, but it doesn't mean it isn't important for male allies to speak up.
Third, that other attendees came to the table to say they felt uncomfortable because they want the finance industry to do better. Chalekian was the first but not the last of the CEOs at the summit to come forward. Three attendees risked backlash themselves by violating the Summit's Code of Conduct, which prohibits sharing anything from the summit publicly, because they want the industry to do better. They weren't willing to tolerate the old status quo any longer. When a group comes together to say that they felt uncomfortable, it's easier to take on powerful people who might otherwise dismiss the issue as a case of "he-said/she-said" or hypersensitivity.
The lesson for folks with the power to create change in the workplace?
Speak up when something doesn't feel quite right, even if it doesn't directly impact you, and join together—there's power in numbers.
Perhaps the best thing to come out of this is to see so many members of the finance/wealth management industry coming out and saying, "This isn't us."
What would have been brushed under the rug just a few years ago has turned into a national conversation. Another one of the CEOs who spoke out, Rachel Robasciotti (founder of wealth management firm Robasciotti and Philipson in San Francisco), put it best, "If we want things to be different, we have to be different. And that means not condoning that kind of behavior."
If you want to create a more inclusive industry, the power really is in your hands.
Related Articles Around the Web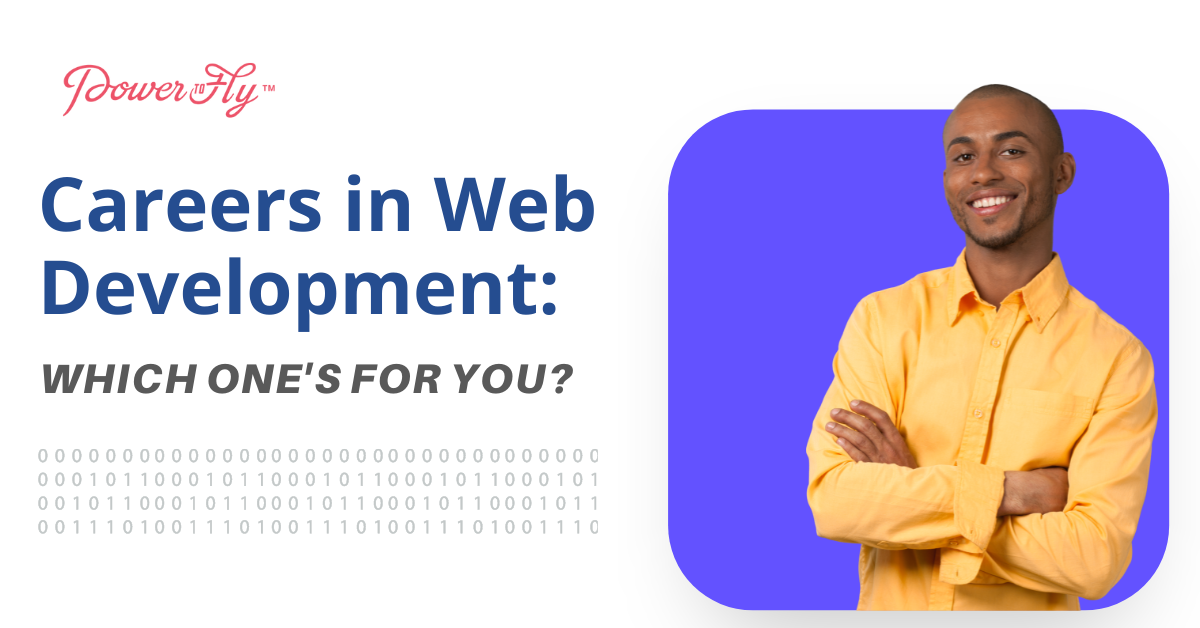 Upskilling and Development
We all have our favorite websites– the ones we frequent, bookmark, and recommend to others. You might even enjoy some website features so much that you've found yourself wondering why they aren't more popular. Or maybe you've experienced times where you were frustrated with a website and wished you could add features or even design your own!
If you've ever found yourself intrigued at the prospect of designing and developing your own websites, then a career as a web developer might be just for you!
As a web developer you would be responsible for coding, designing, optimizing, and maintaining websites. Today, there are over 1.7 billion websites in the world and, in turn, the demand for web developers is on the rise. In order to figure out what kind of web development work best suits you let's start with an introduction to the three main roles in web development that you can choose from.
The Three Types of Web Development Jobs
Front-End Web Development: The Creative Side
Think of front-end development as the décor of a house. The color scheme, furniture, manicured lawns, and overall aesthetic. In terms of a website, front-end development is laser-focused on the appearance of a website and its presentation on different devices. If you're considering a role in front-end development, it's important to learn programming languages such as HTML, CSS, and JavaScript. These three languages go hand-in-hand. HTML allows you to create user interface elements, CSS helps you with stylistic elements, and JavaScript allows you to incorporate online tools and connect your website to back-end functions.
In addition to programming skills, front-end developers need to be detail oriented, creative, willing to keep up with the latest trends in web development, cyber security conscious, and geared toward user-friendly designs. The median salary for a front-end developer can reach well into the $90,000 to $100,000 range.
Back-End Web Development: The Logical Counterpart
While a house can be beautifully decorated, it's incomplete without a solid foundation and efficient infrastructure. Similarly, a well-designed website depends on logical and functional code to power the features of that website. Back-end web development is code-heavy and focused on the specifics of how a website works. If you enjoy the analytical challenge of creating the behind-the-scenes code that powers a website, then back-end development is for you.
Since this role is more code-heavy, it's important that you learn numerous programming languages and understand algorithms and data structures. Some languages that are essential to back-end development are Ruby, Python, SQL, and JavaScript. Back-end developers also ensure that users can successfully retrieve and access data. This requires creating and using APIs (Application Programming Interfaces) which act as messengers that relay data related requests. Additionally, developing the code for the inner workings of a website also requires back-end developers to be conscious of the user interface features designed by front-end developers and to internally mitigate potential security risks. Due to the increased technical aspect of this position, back-end developers normally earn higher salaries than front-end developers. The average median salary for this role is around $118,000 per year.
Full-Stack Web Development: A Little Bit of Everything
A full-stack developer is essentially the Jack (or Jill)-of-all-trades in web development. Full-stack developers need to be knowledgeable about both front-end and back-end roles. This does not necessarily imply that you would need to be an expert in both roles, but you should fully understand the different applications and synergies they each imply. In order to work in this position, you will need to know the programming languages used by front-end and back-end developers. In addition to these languages, full-stack developers also specialize in databases, storage, HTTP, REST, and web architecture.
Full-stack developers are often required to act as liaisons between front-end and back-end developers. Full-stack developers need to be both problem solvers and great communicators. The end goal for a full-stack developer is to ensure that the user's experience is seamless, both on the front-end and on the back-end. In return, you can expect to earn a median salary of $100,000 – $115,000 a year for this role.
Taking the Next Step
Web development is both in-demand and lucrative! All three roles described above contribute to specific aspects of web development and the scope of each one can be customized to the industries and positions you feel best suit you. Regardless of which role you choose, all of them need a foundation in programming.
To gain the programming skills needed in each role, you can enroll in courses or learn independently. Coding bootcamps are a great way to boost your skillset quickly and efficiently.
Click here for some of our highly rated programming bootcamp options! Make sure to check out the discounts available to PowerToFly members.
READ MORE AND DISCUSS
Show less
Loading...