GET EMAIL UPDATES FROM POWERTOFLY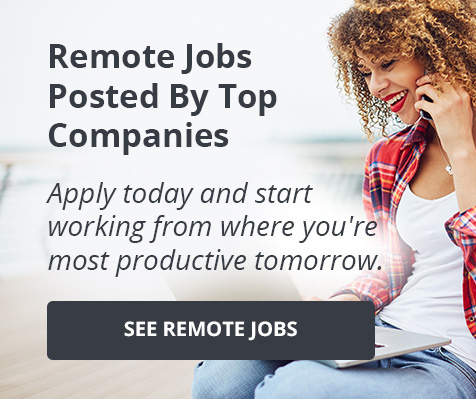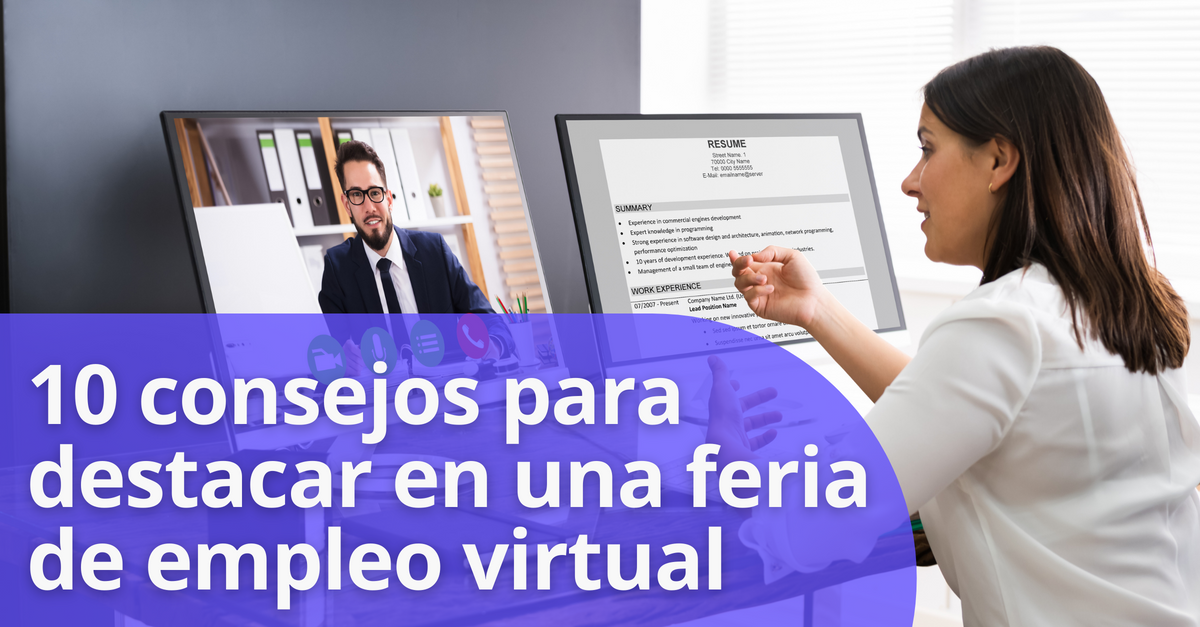 October 08, 2021
Career and Interview Tips
10 consejos para destacar en una feria de empleo virtual
Tu guía para tener éxito en una feria virtual y crear una gran impresión en los reclutadores
Según una encuesta de LinkedIn, hasta el 85% de los puestos de trabajo se consiguen a través de networking. Para quienes buscan empleo, las ferias virtuales facilitan este proceso con una simple conexión a internet. Hoy en día, es posible interactuar con empleadores de todo el mundo, hacerles preguntas y solicitar puestos de trabajo desde casa. Cada evento es diferente, pero la mayoría dispone de funciones de videoconferencia, salas de chat y sesiones de preguntas y respuestas.
Dilyara Timerbulatova, coordinadora de ferias de empleo virtuales de PowerToFly, explica que "estas ferias tienen muchos beneficios, sobre todo conectan a los mejores candidatos y reclutadores que, de otro modo, nunca se cruzarían. Estos eventos son una herramienta para ayudar a las empresas a crear equipos más diversos".
10 pasos para destacar en una feria de empleo.
Las ferias de empleo virtuales son distintas a las presenciales que estamos acostumbrados, por lo que es importante adaptarte y prepararte para este nuevo entorno. A continuación, te presentamos algunas claves para dar lo mejor de ti y dejar huella en los empleadores.
Actualiza tu perfil y currículum de LinkedIn. Empieza por revisar las dos cosas y asegurar que tu historial laboral esté actualizado. Asegúrate de incluir cualquier experiencia relevante para los puestos de trabajo que te interesan.
Haz tus deberes. Investiga qué empresas asistirán a la feria y aprende más sobre lo que hace cada una, su misión y valores, su cultura y las cualificaciones que están buscando. En este paso, puedes comenzar a preparar preguntas para los empleadores.
Practica tu discurso. Durante la feria de empleo virtual, es posible que tengas la oportunidad de presentarte a los reclutadores. Prepara una presentación breve hablando sobre quién eres, tus habilidades y tu experiencia laboral. (No todas las ferias de empleo virtuales brindan una oportunidad para esto, pero es mejor prevenir que lamentar).
Ponte guapo/a. SÍ, aunque este evento es virtual, deberías arreglarte. Como dice el viejo refrán: así te veo, así te respecto. Además, los estudios muestran que vestirse bien puede aumentar la confianza, lo que podría ser la clave para conseguir el trabajo.
Prepara tu espacio. Busca una zona tranquila con una buena conexión al wi-fi y haz todo lo posible para conseguir que tu fondo esté limpio y libre de distracciones. Recomendamos que te sientes contra una pared blanca, preferiblemente cerca de un enchufe, en caso de que tu ordenador se quede sin batería. No olvides de poner tus dispositivos en silencio o en modo "no molestar".
Llega a tiempo. Llegar cinco minutos antes es puntual y llegar puntual es tarde. Llegar temprano demuestra que eres responsable y confiable. Recuerda dejar unos minutos para posibles dificultades técnicas o problemas de conexión e inicia sesión en la feria un poco antes de la hora. ¿Quién sabe? Es posible que tengas la oportunidad de charlar con los reclutadores mientras que llegue el resto de los asistentes.
¡No te olvides del lenguaje corporal! Leer el lenguaje corporal de una persona a través de una pantalla puede ser complicado. Preséntate con una sonrisa, mantén contacto visual y asienta con la cabeza cuando sea apropiado (incluso cuando tu micrófono está silenciado). Todo esto te ayudará a demostrar interés y confianza.
Comunícate de forma profesional. Una de las mejores maneras de destacar es a través de una comunicación adecuada. Durante una feria de trabajo virtual, muchas de las interacciones serán escritas, ya sea en el chat o en mensajes de seguimiento. Para crear una buena primera impresión, evita el uso de jergas y demuestra tus habilidades de comunicación con un uso correcto y profesional de gramática y vocabulario.
Haz las preguntas correctas. Prepárate bien y piensa en preguntas que te permitan obtener un conocimiento más profundo sobre la empresa o descubrir en qué podrías contribuir. Asegúrate de leer antes la página web de la compañía para que no consultes por información que se consigue fácilmente en línea.
Haz un seguimiento. Una vez finalizada la feria, conéctate con los reclutadores en LinkedIn e incluye un mensaje personalizado agradeciéndoles por su tiempo y expresando tu interés en trabajar en su empresa. Ten en cuenta que los empleadores están en constante contacto con muchos candidatos. Aprovecha este mensaje para refrescar su memoria y recordarles por qué eres un buen candidato (o para presentarte adecuadamente si no tuviste la oportunidad de hacerlo en la feria). Intenta ofrecer un ejemplo específico de la información que compartieron que haya parecido valiosa para hacer que tu mensaje de agradecimiento se sienta más sincero. ¡No olvides el número 8 en esta lista! Siempre revisa tu mensaje antes de hacer clic en enviar.
¿Estás listo/a para poner todo esto a la práctica? Regístrate aquí para la próxima Feria de Empleo Virtual de PowerToFly.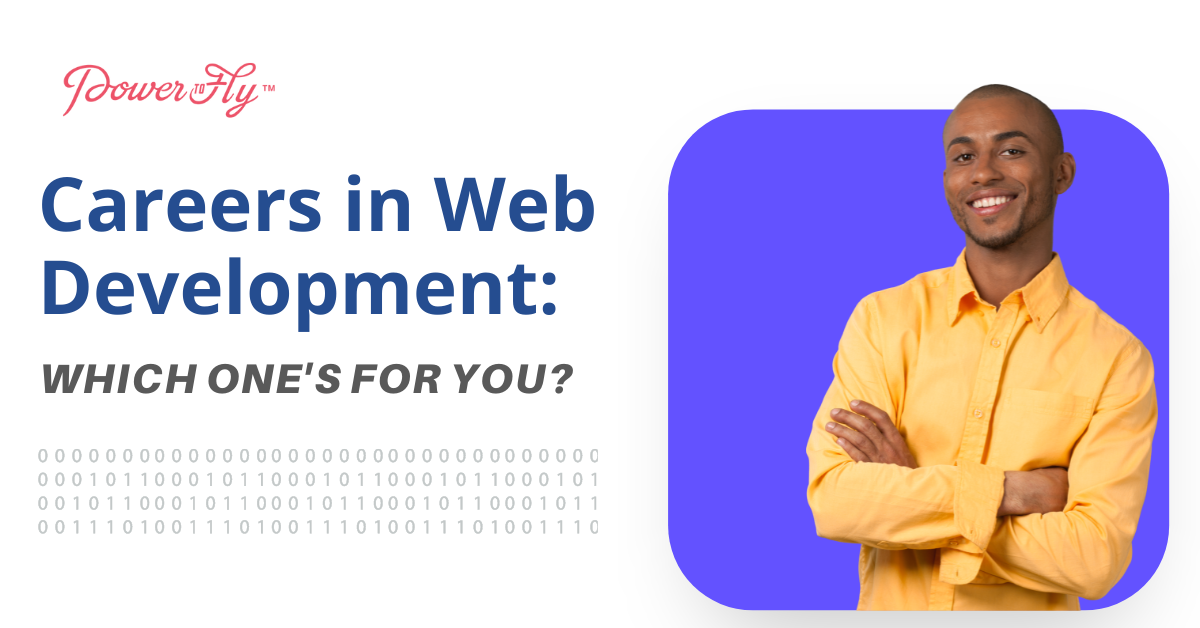 Upskilling and Development
We all have our favorite websites– the ones we frequent, bookmark, and recommend to others. You might even enjoy some website features so much that you've found yourself wondering why they aren't more popular. Or maybe you've experienced times where you were frustrated with a website and wished you could add features or even design your own!
If you've ever found yourself intrigued at the prospect of designing and developing your own websites, then a career as a web developer might be just for you!
As a web developer you would be responsible for coding, designing, optimizing, and maintaining websites. Today, there are over 1.7 billion websites in the world and, in turn, the demand for web developers is on the rise. In order to figure out what kind of web development work best suits you let's start with an introduction to the three main roles in web development that you can choose from.
The Three Types of Web Development Jobs
Front-End Web Development: The Creative Side
Think of front-end development as the décor of a house. The color scheme, furniture, manicured lawns, and overall aesthetic. In terms of a website, front-end development is laser-focused on the appearance of a website and its presentation on different devices. If you're considering a role in front-end development, it's important to learn programming languages such as HTML, CSS, and JavaScript. These three languages go hand-in-hand. HTML allows you to create user interface elements, CSS helps you with stylistic elements, and JavaScript allows you to incorporate online tools and connect your website to back-end functions.
In addition to programming skills, front-end developers need to be detail oriented, creative, willing to keep up with the latest trends in web development, cyber security conscious, and geared toward user-friendly designs. The median salary for a front-end developer can reach well into the $90,000 to $100,000 range.
Back-End Web Development: The Logical Counterpart
While a house can be beautifully decorated, it's incomplete without a solid foundation and efficient infrastructure. Similarly, a well-designed website depends on logical and functional code to power the features of that website. Back-end web development is code-heavy and focused on the specifics of how a website works. If you enjoy the analytical challenge of creating the behind-the-scenes code that powers a website, then back-end development is for you.
Since this role is more code-heavy, it's important that you learn numerous programming languages and understand algorithms and data structures. Some languages that are essential to back-end development are Ruby, Python, SQL, and JavaScript. Back-end developers also ensure that users can successfully retrieve and access data. This requires creating and using APIs (Application Programming Interfaces) which act as messengers that relay data related requests. Additionally, developing the code for the inner workings of a website also requires back-end developers to be conscious of the user interface features designed by front-end developers and to internally mitigate potential security risks. Due to the increased technical aspect of this position, back-end developers normally earn higher salaries than front-end developers. The average median salary for this role is around $118,000 per year.
Full-Stack Web Development: A Little Bit of Everything
A full-stack developer is essentially the Jack (or Jill)-of-all-trades in web development. Full-stack developers need to be knowledgeable about both front-end and back-end roles. This does not necessarily imply that you would need to be an expert in both roles, but you should fully understand the different applications and synergies they each imply. In order to work in this position, you will need to know the programming languages used by front-end and back-end developers. In addition to these languages, full-stack developers also specialize in databases, storage, HTTP, REST, and web architecture.
Full-stack developers are often required to act as liaisons between front-end and back-end developers. Full-stack developers need to be both problem solvers and great communicators. The end goal for a full-stack developer is to ensure that the user's experience is seamless, both on the front-end and on the back-end. In return, you can expect to earn a median salary of $100,000 – $115,000 a year for this role.
Taking the Next Step
Web development is both in-demand and lucrative! All three roles described above contribute to specific aspects of web development and the scope of each one can be customized to the industries and positions you feel best suit you. Regardless of which role you choose, all of them need a foundation in programming.
To gain the programming skills needed in each role, you can enroll in courses or learn independently. Coding bootcamps are a great way to boost your skillset quickly and efficiently.
Click here for some of our highly rated programming bootcamp options! Make sure to check out the discounts available to PowerToFly members.
READ MORE AND DISCUSS
Show less
Loading...