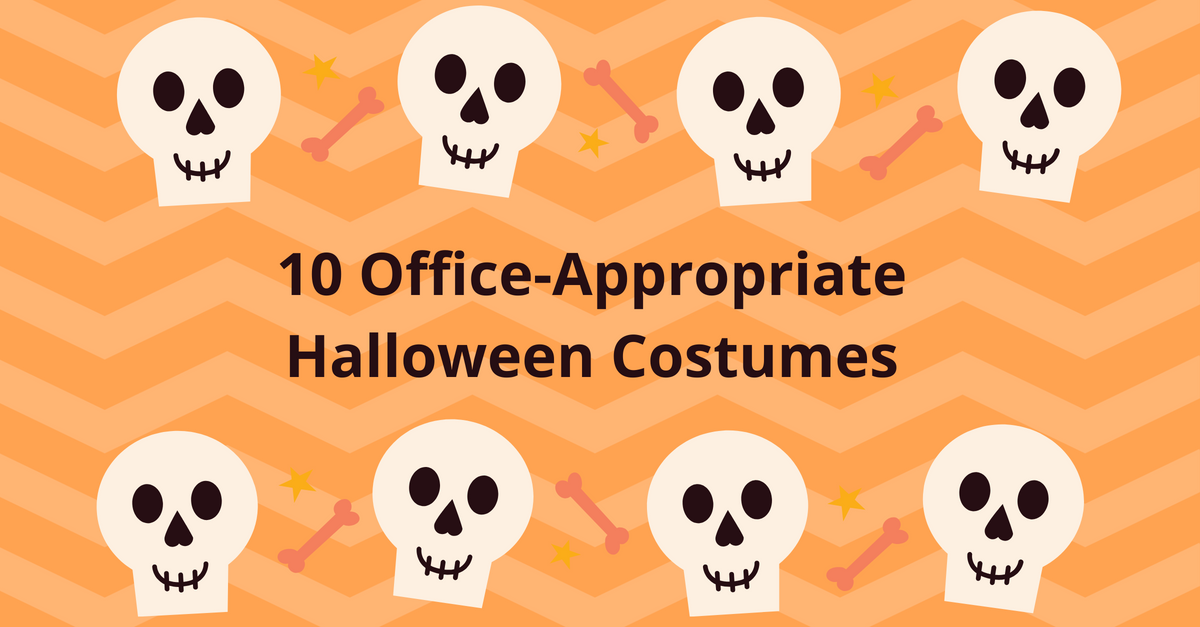 How to Be Thoughtful and Respectful with Office Costumes
I've always loved Halloween. As a kid, I was that girl who went all out, planning my costume months in advance—some years I even wore a different outfit each day for "Hallo-week."

---
As an adult, I still love Halloween, but there's no doubt that it's become an increasingly complex holiday. While I highly doubt that anyone intends to offend others when they pick their costume, it happens all the time. And not every Halloween costume faux pas is cut and dry.
Similar to microaggressions, most Halloween costumes gone wrong are the result of ignorance on behalf of the perpetrator. I'm speaking from experience here — it was brought to my attention recently that one of my costumes from years past could be seen as reinforcing unfair cultural stereotypes, and it was a truly eye-opening experience for me.
Never in a million years did I intend to offend anyone with my costume, and to think that no one mentioned this to me when I wore it is all the more mortifying. Although this was a few years ago now, I've always considered myself to be pretty attuned to issues relating to D&I — after all, it's what I do for a living now… so how did I miss the mark on this one?
I've come to realize that I was so focused on crafting a witty costume that I didn't spend enough time considering how others might perceive it. Just because you haven't meant to offend someone doesn't mean their feelings aren't valid.
So in order to help other well-meaning folks avoid similar pitfalls, I've taken what I learned from this experience (and a bit of online research) to share some tips for ensuring you're making a smart and respectful costume choice!
Here are some questions to ask yourself before you settle on a costume, as well as some things to avoid so you don't inadvertently offend your coworkers. After all, dressing up as someone or something else is not an excuse to disguise racism/sexism/discrimination with, "But it's just a costume!"
When you choose a costume (especially if it's a costume to wear to work), ask yourself the following:
Am I reinforcing cultural/racial/gender stereotypes or making fun of a group of people?
Will my costume prevent me or those around me from functioning safely and efficiently during the day?
If you've answered yes to either of those questions, you should probably choose another look. And when in doubt, ask someone from a different background what they think — they may help you see things from a different perspective.
If you're putting together a last-minute costume to celebrate tomorrow, be sure to steer clear of these Halloween costume mistakes. And try one of my 10 suggestions below for looking fabulous at the office this Halloween!
Things NOT to do:
Dress like your favorite politician

You're going to work to work, not to get into a heated debate with your coworker about their Trump costume. There are LOADS of "punny" politics-related costumes that won't offend/alienate coworkers who don't share your beliefs, including Rosie The Riveter, the Declaration of Independence, or even Leslie Knope from Parks and Recreation.

Forget cultural significance

Certain costumes have been popular for years (dressing like a Native American, gypsy, Geisha, etc.) — but just because you've seen them done doesn't mean they're a good idea to keep doing. As we grow as a society, so does our understanding of what may be offensive to others, and why would you want your costume to hurt someone else? There may not be mal-intent behind these costumes, but no one wants to see their own culture hyperbolized into someone else's costume.

Disregard the office dress code

The office Halloween party is not the place to break out your sexiest costume or break health code violations. Check-in with whoever is planning your office festivities prior to the event and see what the dress code is for the occasion. Some companies may not allow full masks, face paint, or costumes at all, so it's important to make sure you're in compliance. If your company doesn't allow costumes per se, head over to your local Walmart or Target and pick up a cute headband, earrings, or holiday tee-shirt.
If you're still wondering what all might be considered offensive, you can check out other online resources to better understand Halloween costumes that have missed the mark in the past so you can avoid those same mistakes.
Ultimately, if you think your costume is teetering on the line of what is acceptable, just put it away. Better safe than sorry.
10 fun ideas for work-appropriate costumes you can pull together in under ten minutes!
Have other ideas? Let us know in the comments!
----
Happy haunting!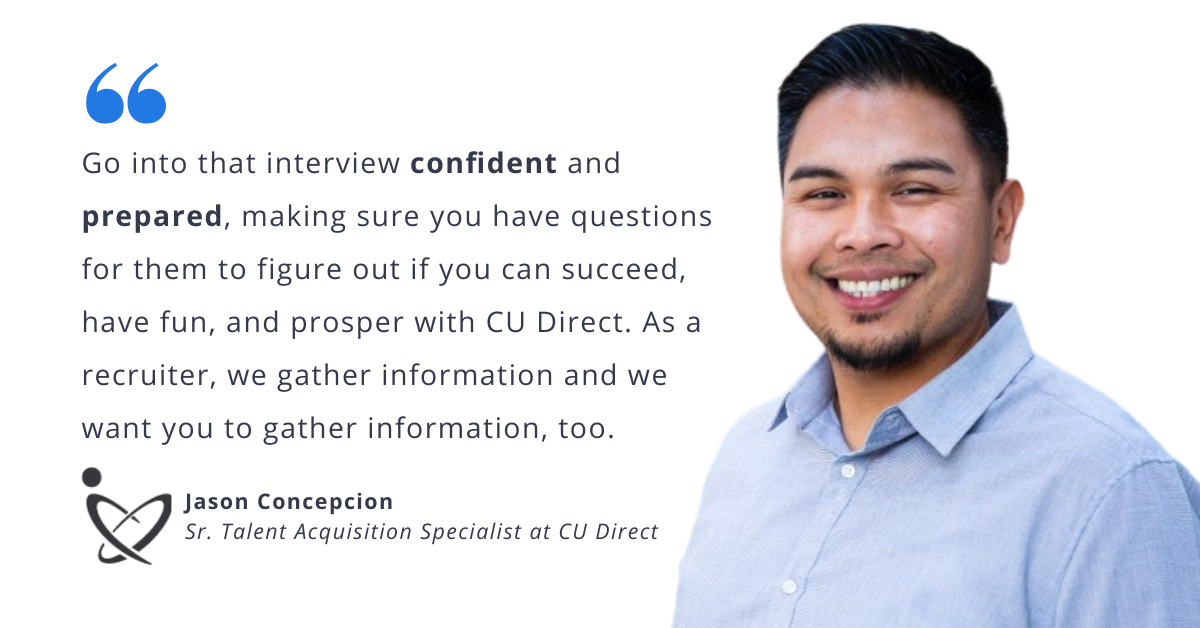 Hispanic/Latino/Latina/Latinx/Latine/Latin
Jason Concepcion is a Sr. Talent Acquisition Specialist at CU Direct, a technology leader that delivers lending solutions to financial institutions, auto dealers, retailers, and medical providers nationwide. As a progressive company that looks for the best diverse talent, CU Direct prides themselves on seeking and taking care of their employees.
We sat down with Jason to learn about CU Direct's hiring process. Keep reading for his top 6 tips to put into practice when interviewing with CU Direct.
Tip # 1 Do Your Research
While it may seem obvious, learning about the company you're interviewing for is crucial. "Before the interview, do some research on CU Direct, our products and services, and even our subsidiary companies," says Jason. Doing the research will show the interviewer that you are highly interested and that "you did your due diligence in getting to know the company." Check out their About page to get to know CU Direct and its various projects.
Tip #2 Ask Questions
It's important to be transparent from the first point of contact with the company, which means asking questions to clarify and gain more information. Jason suggests, "when talking to the recruiter, ask questions. Go into that interview confident and prepared, making sure you have questions for them to figure out if you can succeed, have fun, and prosper with CU Direct. As a recruiter, we gather information and we want you to gather information, too."
Tip #3 Take Your Time
Pace yourself in the interview. Jason explains that "it's okay to pause, regroup, and answer questions. When asked about your experiences, taking your time will allow you to think of the situation, how you solved it, and what was the outcome."
Tip #4 Ask Yourself, 'What Do I Want to Do?'
Take inventory of what you have accomplished or learned in your professional trajectory so far. "We're not just looking for what you've done, but we are also looking for what you can do and what you want to do," says Jason. He believes that "those things are just as important as what you've done in the past. Your drive and determination will show us where you want to go and ideally, that will organically align with the positions we have here at our company."
Tip #5 Understand the Job Description
With your resume in hand, consider what experiences best align with the job description. "Valuable work experience can be found almost anywhere. It can come from your first job or it can come from your most recent job," Jason explains. Whatever small or short experience you have that matches the job description is worth mentioning and explaining, depending on the job you are applying for. Jason explains, "a good understanding of the job description you're going for, and related positions within the company will give you a greater insight as to what we're looking for and what you want to highlight or present in regards to this role."
Tip #6 Don't Be Afraid to Get Personal
One way to stand out in the interview process is to show that you'll be a good values fit, so intentionality throughout, and after, the interview can go a long way. Jason suggests sending a thank you email after the interview. "This will make sure that you stand out in front of thousands of applicants," he says. "Don't make it generic, tailor the message including details mentioned in the interview, this will show the person that you were completely engaged throughout the interview."
CU Direct's personal and careful recruitment process is a reflection of their fun and innovative atmosphere, their value of team members, and commitment to growth. They offer several benefits to their employees, such as a flexible working environment, paid time off, 401k match, college tuition reimbursement, and an exciting company culture. Because of this, they want to make sure people are treated with the same kindness and positivity from the start. As Jason reiterates: "We want to make sure you are prepared and ready for each step of this process, from interviewing, to asking questions, and to possibly onboard in the future," says Jason.
Are you interested to find out more about working at CU Direct? Check out their
openings
here!
READ MORE AND DISCUSS
Show less
Loading...