GET EMAIL UPDATES FROM POWERTOFLY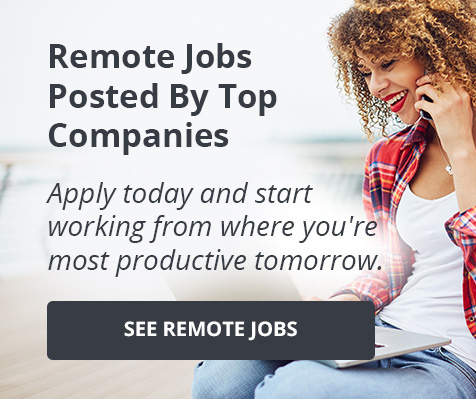 June 15, 2021
Career and Interview Tips
10 Tips to Stand Out at a Virtual Job Fair
Your guide to preparing for virtual career fairs and making a great impression with recruiters
According to a LinkedIn survey, up to 85% of jobs are filled via networking. For job seekers, virtual job fairs make networking with recruiters more convenient. You can interact with potential employers from all over the world, ask them questions, and apply for jobs. Every event is different, but they most often include video conferencing features, chat rooms, and Q&A sessions.
Dilyara Timerbulatova, Virtual Job Fair Coordinator at PowerToFly explains that, "virtual job fairs have many benefits, namely connecting top talent and recruiters that would otherwise never cross paths. These events are a tool to help companies build well-rounded, diverse teams that align with the company culture and business vision."
---
10 steps to standing out at a job fair.
Virtual job fairs are different from the in-person experience that we're used to, so it's important to adapt and prepare for this new setting. Here are some key ways to put your best foot forward and make a lasting impression with a recruiter.
Update your LinkedIn profile and resume. Start by making sure that your work history is up to date. Make sure to include any experience relevant to jobs you are applying for.
Do your homework. Find out which companies will be attending the fair and learn more about what the company does, their mission and values, company culture, and skills they're looking for. At this stage, you can begin preparing questions for the recruiter(s).
Practice your pitch. During the virtual job fair, you may have to introduce yourself to recruiters. Prepare a short pitch talking about who you are, your skills, and relevant experience. (Not every virtual job fair will provide an opportunity for this, but better safe than sorry. If you do get a bit of time to introduce yourself, you want to make it count.)
Look the part. YES, you still have to dress professionally, even though this is all happening online. Plus, studies show that dressing up can increase confidence, which might be the boost that you need to score the job.
Prepare your space. Find a quiet area with a strong wi-fi connection and do your best to make sure your background is clean and distraction-free. We recommend sitting against a neutral wall, preferably near a power outlet, just in case your computer battery runs low. Don't forget to turn your phone and computer on 'do-not-disturb' mode.
Be on time. As they say, five minutes early is on time, and on time is late. Showing up early demonstrates that you are dependable and consistent. Remember to leave some extra time for potential technical difficulties or connection issues, and log into the fair a few minutes early. Who knows, you might get the chance to snag a few extra minutes with recruiters while you wait for the rest of the fairgoers to arrive.
Use strong body language. Since the interactions between recruiters and talent are virtual, the ability to read a person's body language is limited. Introduce yourself with a smile, maintain focused eye contact, and nod your head in agreement (even when your microphone is muted). Using strong body language will help you demonstrate interest and confidence.
Communicate professionally. One of the best ways for a candidate to stand out is through good communication and grammar skills. During a virtual job fair, a lot of communication will be done through written interactions, whether in the chat function or follow-up messages/emails. To make a great first impression, you'll want to demonstrate strong written communication and avoid using slang or excessive abbreviations.
Ask the right questions. Come up with questions that can't be found on the company website. Think of questions that would allow you to get deeper knowledge about the organization's culture, learn about ways to move up in that organization, or discover what you might be able to contribute to the company.
Follow up. Once the fair is over, connect with recruiters on LinkedIn and include a personalized message thanking them for their time and further expressing your interest in working at their company. Keep in mind that recruiters come in contact with many candidates, so you can use this opportunity to refresh their memory and remind them about why you're a promising candidate, or to properly introduce yourself if you didn't get a chance to do so at the fair. Try and offer a specific example of information they shared that you found valuable to jog their memory and make your thank you feel extra sincere! Don't forget #8 on this list! Always proofread your message before you hit send.
Ready to give it a go? Sign up for PowerToFly's upcoming Virtual Career Fair here.
Related Articles Around the Web
Talent
10 Full-Time Roles You Can Do Remotely! [Updated Sept 2021]
[This article was updated September 20, 2021]
Work-from-home jobs sometimes get a bad reputation: low pay, repetitive work, micromanagement... the list goes on. But if one good thing has come out of 2020, it's that it's redefined working from home. Remote work has come a long way, and the opportunities to work from home in 2021 are more promising than ever before.
If you're like me, and freelance, task-oriented remote jobs like article writing, data entry, transcription, or professional survey taking (yep, that exists), aren't your thing - don't worry. There are more full-time remote opportunities than ever before that offer you the freedom to manage your own time, the security of consistent monthly income, the support of a team, and the promise of growth. In fact, we've got close to 5,000 on PowerToFly.
So, if you're looking for a remote opportunity in 2021 that will push you to develop professionally, look no further than our list of the 10 best work-from-home jobs. And by best, we mean fun, challenging roles that will help you grow, while making a respectable income.
All the jobs listed have average salaries between 45 and 119k, and have average or higher-than-average growth potential (based off of the U.S. Bureau of Labor Statistics' predictions for growth from 2018 to 2028 and/or LinkedIn's 2020 Emerging Jobs Report).
10 Best Work-From-Home (Remote) Jobs for 2021
Jobs sorted from highest to lowest average salary. (Salary data taken from ZipRecruiter, Glassdoor, LinkedIn, and/or the U.S. BLS depending on availability and specificity to remote roles.)
-----

Interested in one of the roles above? Check out these resources for landing your dream remote job and get ready to reap the full benefits of remote work in 2021 - doing what you like, where you like. Good luck!
[A version of this article was originally published on Dec. 19, 2018]

READ MORE AND DISCUSS
Show less
Loading...