GET EMAIL UPDATES FROM POWERTOFLY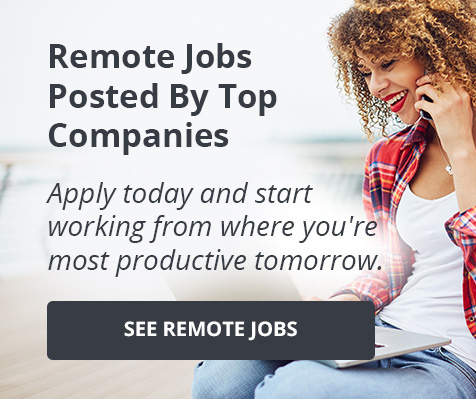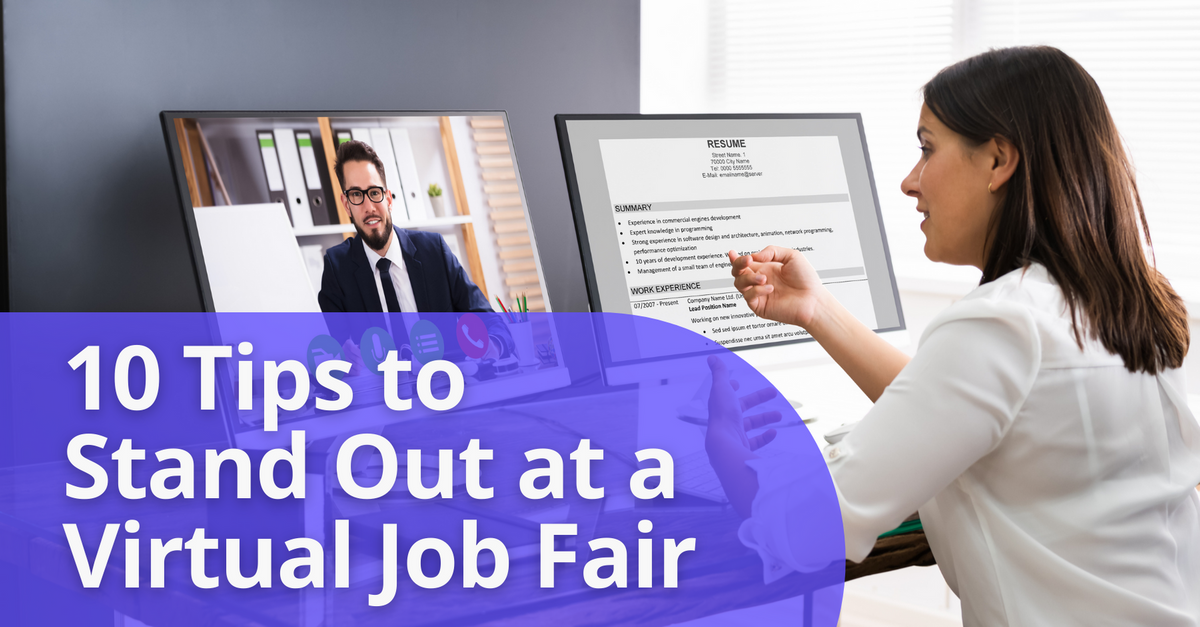 June 15, 2021
Upskilling and Development
10 Tips to Stand Out at a Virtual Job Fair
Your guide to preparing for virtual career fairs and making a great impression with recruiters
According to a LinkedIn survey, up to 85% of jobs are filled via networking. For job seekers, virtual job fairs make networking with recruiters more convenient. You can interact with potential employers from all over the world, ask them questions, and apply for jobs. Every event is different, but they most often include video conferencing features, chat rooms, and Q&A sessions.
Dilyara Timerbulatova, Virtual Job Fair Coordinator at PowerToFly explains that, "virtual job fairs have many benefits, namely connecting top talent and recruiters that would otherwise never cross paths. These events are a tool to help companies build well-rounded, diverse teams that align with the company culture and business vision."
---
10 steps to standing out at a job fair.
Virtual job fairs are different from the in-person experience that we're used to, so it's important to adapt and prepare for this new setting. Here are some key ways to put your best foot forward and make a lasting impression with a recruiter.
Update your LinkedIn profile and resume. Start by making sure that your work history is up to date. Make sure to include any experience relevant to jobs you are applying for.
Do your homework. Find out which companies will be attending the fair and learn more about what the company does, their mission and values, company culture, and skills they're looking for. At this stage, you can begin preparing questions for the recruiter(s).
Practice your pitch. During the virtual job fair, you may have to introduce yourself to recruiters. Prepare a short pitch talking about who you are, your skills, and relevant experience. (Not every virtual job fair will provide an opportunity for this, but better safe than sorry. If you do get a bit of time to introduce yourself, you want to make it count.)
Look the part. YES, you still have to dress professionally, even though this is all happening online. Plus, studies show that dressing up can increase confidence, which might be the boost that you need to score the job.
Prepare your space. Find a quiet area with a strong wi-fi connection and do your best to make sure your background is clean and distraction-free. We recommend sitting against a neutral wall, preferably near a power outlet, just in case your computer battery runs low. Don't forget to turn your phone and computer on 'do-not-disturb' mode.
Be on time. As they say, five minutes early is on time, and on time is late. Showing up early demonstrates that you are dependable and consistent. Remember to leave some extra time for potential technical difficulties or connection issues, and log into the fair a few minutes early. Who knows, you might get the chance to snag a few extra minutes with recruiters while you wait for the rest of the fairgoers to arrive.
Use strong body language. Since the interactions between recruiters and talent are virtual, the ability to read a person's body language is limited. Introduce yourself with a smile, maintain focused eye contact, and nod your head in agreement (even when your microphone is muted). Using strong body language will help you demonstrate interest and confidence.
Communicate professionally. One of the best ways for a candidate to stand out is through good communication and grammar skills. During a virtual job fair, a lot of communication will be done through written interactions, whether in the chat function or follow-up messages/emails. To make a great first impression, you'll want to demonstrate strong written communication and avoid using slang or excessive abbreviations.
Ask the right questions. Come up with questions that can't be found on the company website. Think of questions that would allow you to get deeper knowledge about the organization's culture, learn about ways to move up in that organization, or discover what you might be able to contribute to the company.
Follow up. Once the fair is over, connect with recruiters on LinkedIn and include a personalized message thanking them for their time and further expressing your interest in working at their company. Keep in mind that recruiters come in contact with many candidates, so you can use this opportunity to refresh their memory and remind them about why you're a promising candidate, or to properly introduce yourself if you didn't get a chance to do so at the fair. Try and offer a specific example of information they shared that you found valuable to jog their memory and make your thank you feel extra sincere! Don't forget #8 on this list! Always proofread your message before you hit send.
Ready to give it a go? Sign up for PowerToFly's upcoming Virtual Career Fair here.
Related Articles Around the Web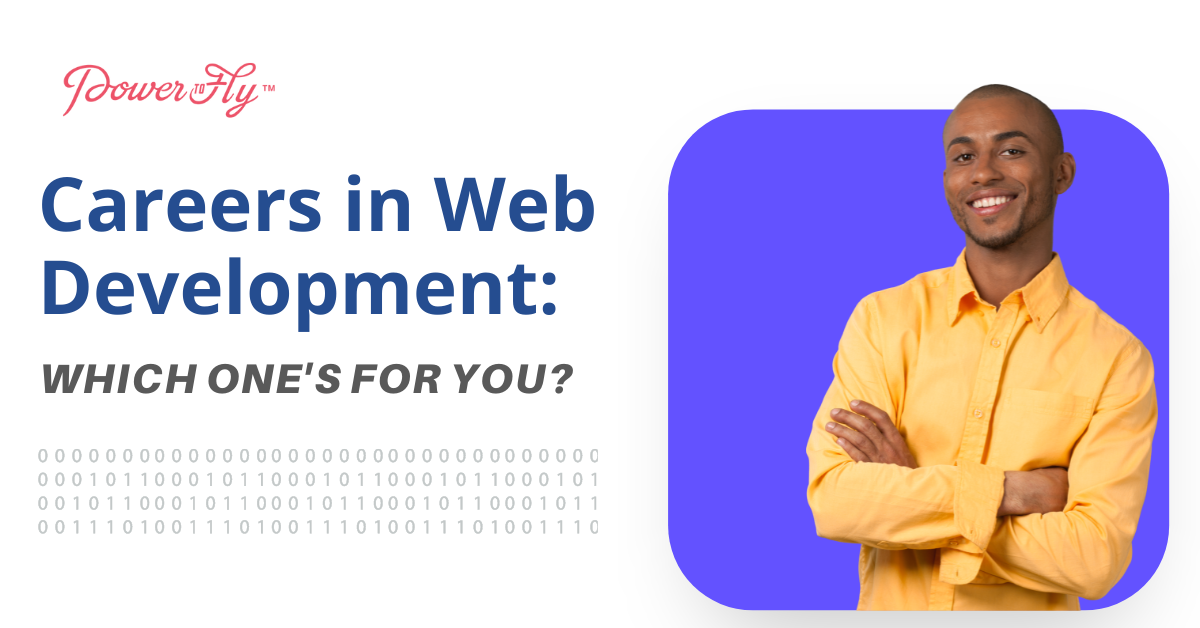 Upskilling and Development
We all have our favorite websites– the ones we frequent, bookmark, and recommend to others. You might even enjoy some website features so much that you've found yourself wondering why they aren't more popular. Or maybe you've experienced times where you were frustrated with a website and wished you could add features or even design your own!
If you've ever found yourself intrigued at the prospect of designing and developing your own websites, then a career as a web developer might be just for you!
As a web developer you would be responsible for coding, designing, optimizing, and maintaining websites. Today, there are over 1.7 billion websites in the world and, in turn, the demand for web developers is on the rise. In order to figure out what kind of web development work best suits you let's start with an introduction to the three main roles in web development that you can choose from.
The Three Types of Web Development Jobs
Front-End Web Development: The Creative Side
Think of front-end development as the décor of a house. The color scheme, furniture, manicured lawns, and overall aesthetic. In terms of a website, front-end development is laser-focused on the appearance of a website and its presentation on different devices. If you're considering a role in front-end development, it's important to learn programming languages such as HTML, CSS, and JavaScript. These three languages go hand-in-hand. HTML allows you to create user interface elements, CSS helps you with stylistic elements, and JavaScript allows you to incorporate online tools and connect your website to back-end functions.
In addition to programming skills, front-end developers need to be detail oriented, creative, willing to keep up with the latest trends in web development, cyber security conscious, and geared toward user-friendly designs. The median salary for a front-end developer can reach well into the $90,000 to $100,000 range.
Back-End Web Development: The Logical Counterpart
While a house can be beautifully decorated, it's incomplete without a solid foundation and efficient infrastructure. Similarly, a well-designed website depends on logical and functional code to power the features of that website. Back-end web development is code-heavy and focused on the specifics of how a website works. If you enjoy the analytical challenge of creating the behind-the-scenes code that powers a website, then back-end development is for you.
Since this role is more code-heavy, it's important that you learn numerous programming languages and understand algorithms and data structures. Some languages that are essential to back-end development are Ruby, Python, SQL, and JavaScript. Back-end developers also ensure that users can successfully retrieve and access data. This requires creating and using APIs (Application Programming Interfaces) which act as messengers that relay data related requests. Additionally, developing the code for the inner workings of a website also requires back-end developers to be conscious of the user interface features designed by front-end developers and to internally mitigate potential security risks. Due to the increased technical aspect of this position, back-end developers normally earn higher salaries than front-end developers. The average median salary for this role is around $118,000 per year.
Full-Stack Web Development: A Little Bit of Everything
A full-stack developer is essentially the Jack (or Jill)-of-all-trades in web development. Full-stack developers need to be knowledgeable about both front-end and back-end roles. This does not necessarily imply that you would need to be an expert in both roles, but you should fully understand the different applications and synergies they each imply. In order to work in this position, you will need to know the programming languages used by front-end and back-end developers. In addition to these languages, full-stack developers also specialize in databases, storage, HTTP, REST, and web architecture.
Full-stack developers are often required to act as liaisons between front-end and back-end developers. Full-stack developers need to be both problem solvers and great communicators. The end goal for a full-stack developer is to ensure that the user's experience is seamless, both on the front-end and on the back-end. In return, you can expect to earn a median salary of $100,000 – $115,000 a year for this role.
Taking the Next Step
Web development is both in-demand and lucrative! All three roles described above contribute to specific aspects of web development and the scope of each one can be customized to the industries and positions you feel best suit you. Regardless of which role you choose, all of them need a foundation in programming.
To gain the programming skills needed in each role, you can enroll in courses or learn independently. Coding bootcamps are a great way to boost your skillset quickly and efficiently.
Click here for some of our highly rated programming bootcamp options! Make sure to check out the discounts available to PowerToFly members.
READ MORE AND DISCUSS
Show less
Loading...