GET EMAIL UPDATES FROM POWERTOFLY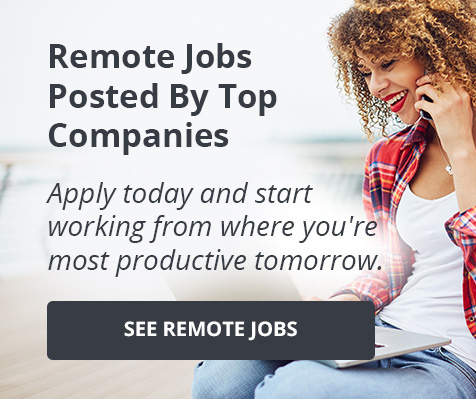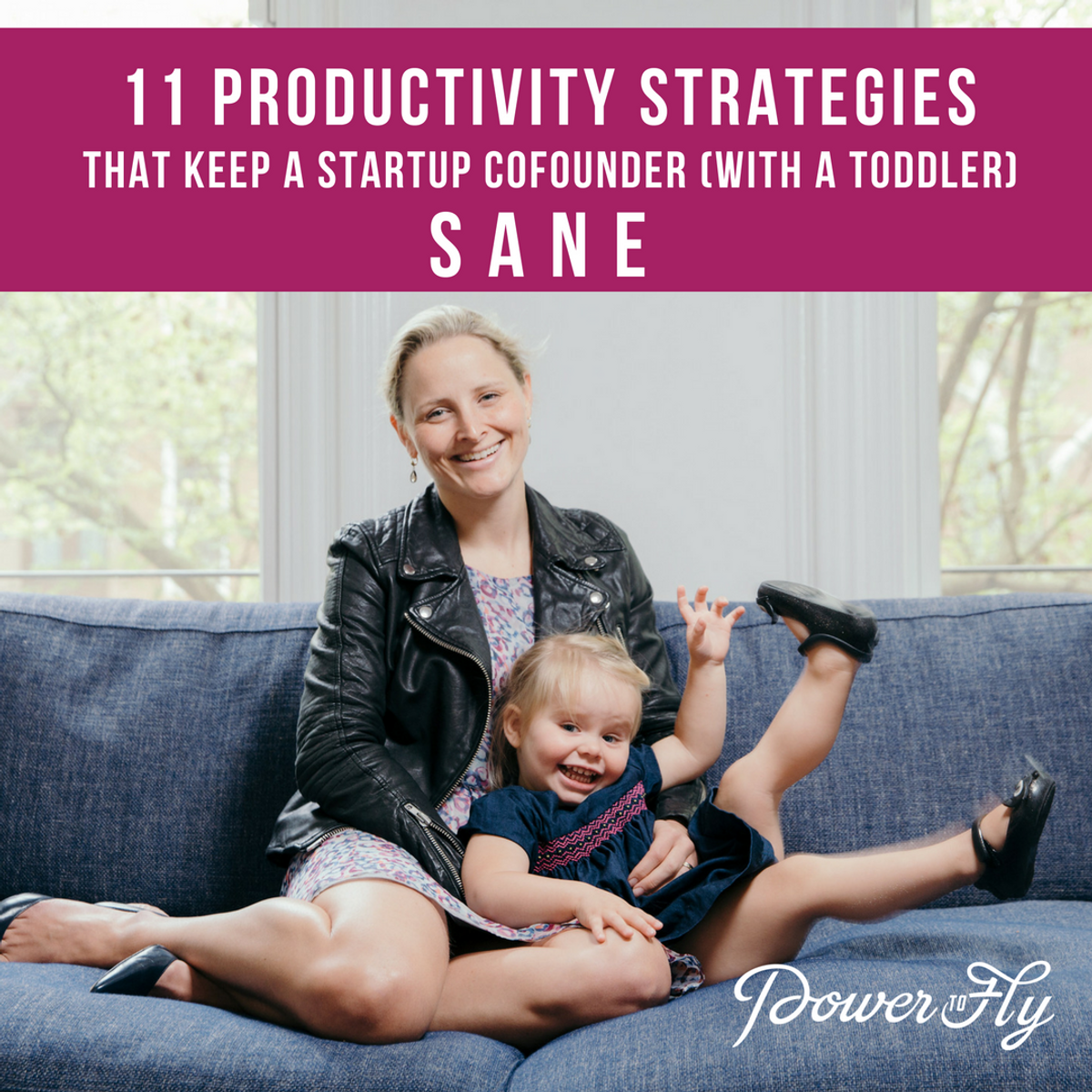 March 16, 2017
Career and Interview Tips
11 Productivity Strategies That Keep A Startup CoFounder (With A Toddler) Sane
This was originally posted to LinkedIn in January. I realized it needed a home on our blog...
---
I cofounded PowerToFly, now the fastest growing platform for women to find companies that create inclusive and gender-diverse environments, six weeks after having a baby. My baby is now a toddler who is "manageable" (she goes to school, she gets picked up by her wonderful nanny who I'd be lost without). So now building PowerToFly is what stresses me out on the time management front. With over 40 employees, a ton of enterprise sales meetings and all the other wonders and joys of building a lasting business, I find that one of the hardest challenges is to keep a focused and calm head. I use a couple tools and strategies to cope that I strongly recommend:
1. I Use "Headspace" To Meditate Each Morning
Headspace is an app I got for my iPhone. I love that the meditations are guided but that the whole process is somewhat gamified so I'm challenged to return. You need to unlock "packs" as you progress with your meditations. I force myself to find the 10 minutes needed per session even if I'm on the train, in a conference room or sometimes at home. If I don't meditate then my brain is all over the place and I'm less productive.
2. I Have An App That Filters My Email
I love "Sanebox". It took me a while to train the app so important emails weren't put in the "sanelater" box, but otherwise I've been happy. I save hours not reading emails that don't matter. And to make me feel even more productive, I get a weekly report on the "hours I've saved" by not reading emails that don't matter to me.
3. I Write In Two Journals Every Morning
One journal is called "The 5 Minute Journal". I write my plans for the day in there as well as positive thoughts — what I'm happy about, what I can improve etc. You can buy the journal on Amazon. It's basically the "paint by numbers" version of a journal, but wow it helps. My other journal is where I record thoughts, anxieties and basically whatever I know I need to work out on paper before it festers in my head. Putting pen to paper really helps me excise what I don't want sitting over me all day.
4. I Use "Rescue Time" To Shame Me Off Of Twitter And Facebook
As a former journalist, I find it hard to not be on Twitter, sharing pointless information to my echo chamber about Trump's latest crazy statement. Social is an addiction for me that just takes away time from work and then my family (because if I don't do my work during the day then I'm doing it at night). "Rescue Time" let's me know how much energy I've wasted on social sites. It's like having a disciplinarian over your shoulder. Sometimes I ignore it, but knowing it's there helps… and shames me.
5. I Review My Calendar The Night Before
Any non-essential meetings, I cut. Any essential meetings, I cut down the time on. I'm not good enough at this yet, but I'm going to get really draconian on this front in 2017. Big resolution for me.
6. I Schedule & Pay For My Gym Classes In Advance
If I don't work out then I don't sleep properly. I'm just too hyped up before bed. Of course that affects my performance the next day. I used to be terrible with exercise — I'd sit on an exercise bike and play with my phone. Now I pay for my spinning classes in advance (yes, I shell out a fortune to Soul Cycle). They're painfully expensive, but I consider them therapy and a form of sleeping pill… so I write off the cost in multiple ways. I also run and get myself to do it consistently using the "Nike Training" app. Logging my miles makes me feel good.
7. I Use "The Pomodoro Method" During Long Stretches
One of our PowerToFly team members told me she uses Pomodoro to keep her productive so I checked it out. You set a 30 minute timer and when the time is up you go for a five minute walk. The idea is to break up your day in chunks so you remain productive and take breaks to clear your head.
8. I Use The "Wait Ten Minutes" Rule
Our Head of Talent Management, Rachel Valdez, taught me this one. If you receive an upsetting email or someone angers you, take a deep breathe and "wait ten minutes" before responding. It's a miracle what a little time can do to diffuse a situation. And escalating situations that can be diffused just takes more time out of your day. So don't let things unnecessarily escalate. Breathe and wait instead.
9. I Practice A Zero Inbox Rule
Nothing is more distracting than a bolded email that I need to read. Every few hours I go into my gmail and select all the emails that I know I'm not going to read. Clearing my inbox gets me to clear my head. The next item tells you how I deal with emails I might have missed.
10. I Tell My Team To "Escalate The Medium + Not The Message"
One of the first things I make clear to new employees at PowerToFly is that if you can't find me, or someone else on the team, don't send me repeated emails in ALL CAPS. That's a great way to raise my blood pressure. If I'm not responding over email, it's because I'm in a meeting or maybe in transit. So Slack me, then Skype me, then text me. And If I don't respond over text, then call me. Just escalate the medium… not the message!
11. I Work On Public Transportation
I'm lucky. I get someone else to take me to work everyday — the NYC subway. I live in Brooklyn and PowerToFly has offices in Mid-Town and Soho. The team is remote, but those of us in New York use the office, especially when we're conducting interviews or meeting clients. I usually ride during off hours and get a seat. I whip open my laptop and write memos or work on a presentation offline. No one can email, call, text, or tweet at me and that's huge. With the exception of someone screaming their head off in the subway car about the coming apocalypse (happened last week), I can focus really well. Everyone else is in their own world, listening to music or playing Candy Crush — so the train is one of the more isolated places to work in New York City. I work on planes too, but find I'm often distracted by the movie someone is watching next to me. I can't tell you how many movies I've "watched" with the sound off on someone else's screen. Another thing to nip in 2017.
Like these suggestions and want more? Make a profile on PowerToFly today and you'll get our emails. You'll also learn about jobs and companies that value women.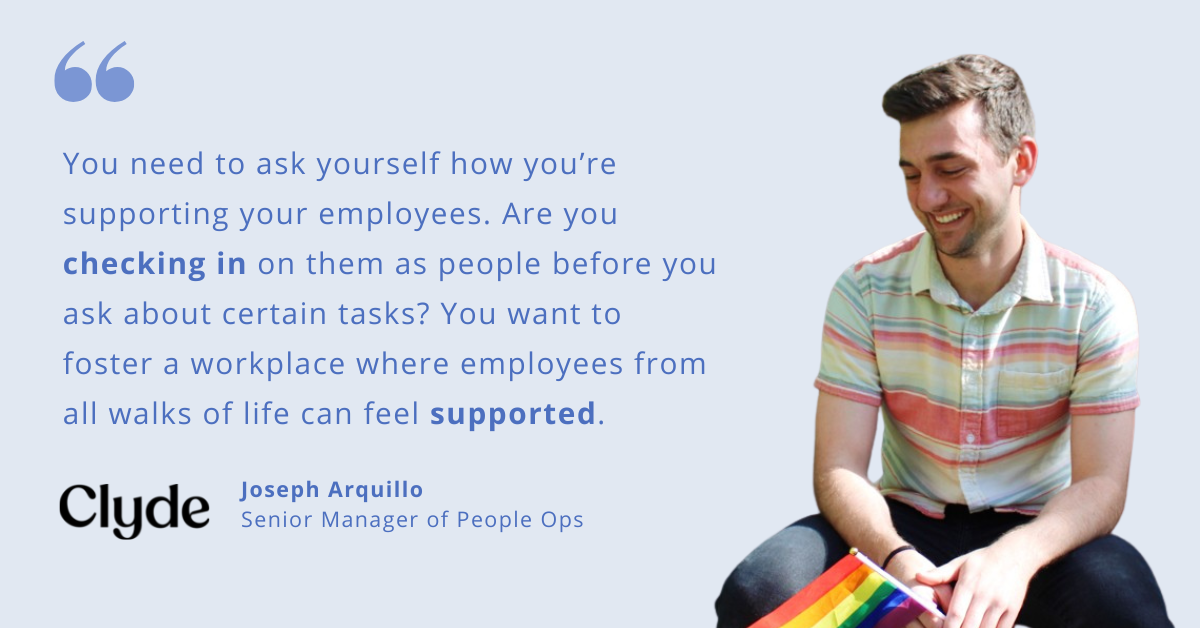 Clyde
Joseph Arquillo doesn't work in Human Resources — he works in People Operations. And the distinction matters.
"It was named 'human resources' because it saw humans as resources, utilized for certain tasks or behaviors. But that's not really what it's about," says Joseph, who is a Senior Manager of People Ops at Clyde.
"Calling it 'people ops' adds back what you lose with 'HR.' My philosophy is that I am there to support you. I am there to work with you, empower you, and enable you so you can be your best self."
For Joseph, a key element of helping employees become their best selves is making sure that the workplace, whether in-person or virtual, is an inclusive space for all. That doesn't happen by accident — it requires a dedicated DEIB strategy and leaders who are committed to asking hard questions of themselves and others.
We sat down with Joseph to hear more about his professional journey, and the practices of leaders who create environments where everyone feels included.
More Than Just a Number
As a college freshman, Joseph planned on sticking with liberal arts when it came to choosing a major. But then he took a class in Boston College's School of Education, and loved its holistic approach to applied psychology.
This inspired him to switch his major to psychology and human development, and select minors in political science, and management and leadership, where he enjoyed learning about organizational psychology.
After graduation, he explored the consulting space to put theory into practice, but found out during an internship at a multinational consulting firm that finance or accounting weren't the places he wanted to build his career.
"Since Big Four companies have 250,000 employees, you become just a number," he says of the experience. "It wasn't my cup of tea. Too corporatized."
That kicked off Joseph's interest in startups.
"It's always fun to get in the weeds! One thing that's very interesting to me is a challenge," he says. "When you're helping a company like Clyde grow and scale, joining when they're at a Series B and helping them get to the next level, you really get to focus on the interaction between people, process, and product," explains Joseph. "You need to hire the right people to work towards increasing efficiencies in all areas, but also make sure that we're enabling them to create a strong product."
6 Keys To Building Inclusive Spaces as a Leader
Across the different industries and companies that Joseph has worked in, he's identified the behaviors that create truly inclusive environments — as well as those that discourage them.
Here's what he's seen:
First, recognize your own privilege. "If you're a man, you have privilege, even if you're a gay male. If you are a white woman, you have racial privilege. It's really important that you're cognizant while you interact with somebody how they might interpret the interaction based on your identity."
Leaders should always speak last. This is important always, but especially in in-person spaces, where it might seem even more nerve-wracking to speak up in a crowd, says Joseph. "You want to make sure you're creating that space for employees who aren't as senior to feel comfortable voicing their thoughts."
And, leaders should use check-ins liberally. "You need to ask yourself how you're supporting your employees. Are you checking in on them as people before you ask about certain tasks? You want to foster a workplace where employees from all walks of life can feel supported," he says.
DEIB isn't just about adding new initiatives — sometimes it's about removing barriers. "You need to remove unnecessary bias," explains Joseph. "That can mean making sure you have appropriate policies and practices that don't hinder people depending on who they are or where they live."
Maximizing participation requires planning with a diversity lens. Joseph has helped the Clyde team gather together and bond as a group. Along the way, he's been careful to consider physical and psychological safety for everyone involved. "For instance, if you're doing an event, do you have someone who's not drinking? Have you set up the environment for people who might have a physical disability, or carefully planned the flow of activities for people who might be neurodivergent?"
Saying you want to be better isn't enough — articulate actions you will take. "Pride is a great example," explains Joseph. "Yes, June is a time to celebrate. But it's also a time to march. And beyond that, how do you show up and celebrate with the LGBTQIA+ community throughout the year?"
Embracing the Unknown
If you visit Joseph's LinkedIn profile, you'll see his personal motto: "Without challenge, change, and a bunch of unknowns, it's no fun."
That belief has led him to study what he's passionate about, to take on new and exciting roles at growing startups, and now, at Clyde, to help formalize what world-class people operations looks like at a fast-growing company.
"I view myself as a connector that really empowers people, challenges teams, and helps drive us towards what I consider to be an improved future," he says. "I feel like it's my responsibility to be the chief advocate for each of our employees, and remove any barriers in the way of their growth."
Want to learn more about what opportunities Clyde offers? Check out their open roles!
READ MORE AND DISCUSS
Show less
Loading...