GET EMAIL UPDATES FROM POWERTOFLY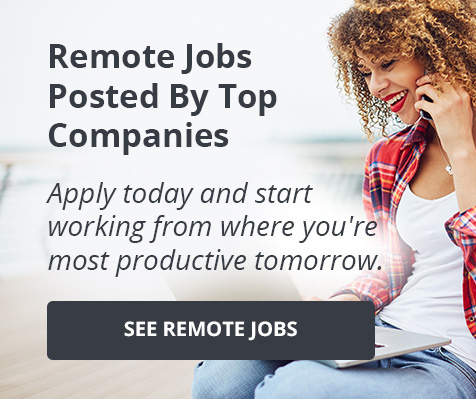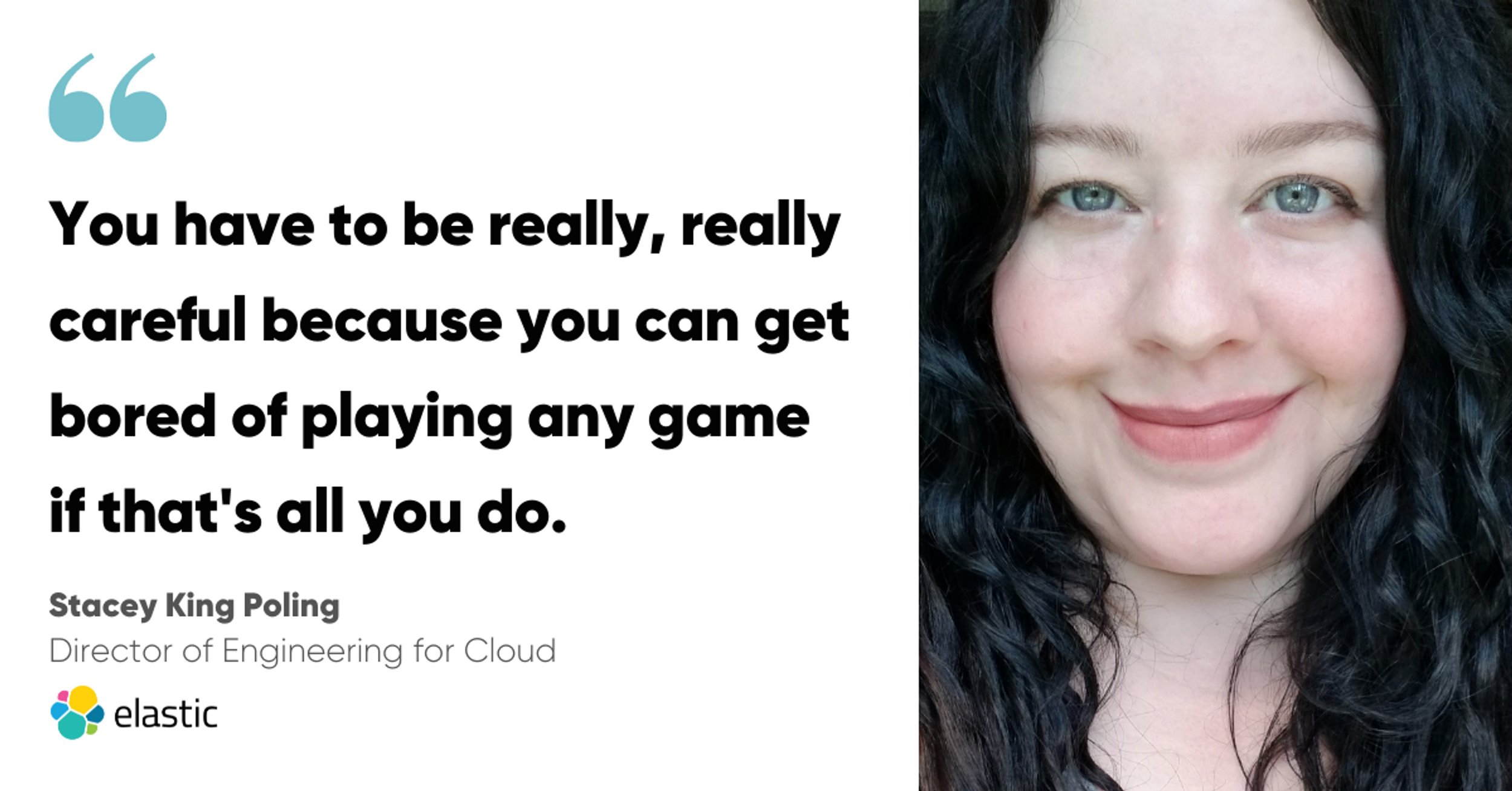 October 26, 2021
Upskilling and Development
This Director's 2-Step Approach for Creating A Burnout-Resistant Engineering Culture
Insight from Elastic's Stacey King Poling
Stacey King Poling knows that tornadoes don't really sneak up on you.
Growing up in Texas and living around the west, including in Oklahoma, Stacey knew what to look and listen for regarding the powerful storms: the National Weather Service warnings, the emergency sirens, the regular instructions on where to go and how to protect yourself. All that preparation and advanced warning helped Stacey and her family live through the 2013 El Reno tornado, the widest tornado ever recorded, and escape unscathed.
If only burnout had the same warning system.
With a 25-year career in engineering, Stacey, who is currently the Director of Engineering for Cloud Productivity at Elastic, has worked on her fair share of high-stress projects. She loves solving hard problems and always found herself energized by them, even when they required long hours of intense effort. A few years ago, though, she started to realize that her energy and motivation were dropping.
A perfect storm of tons of work, a lack of personal boundaries, and a neglectful boss had been brewing, but Stacey didn't see it coming. She burnt out right into a layoff, and only recovered when her next job forced her into an office with clear start and stop times. When COVID hit and sent everyone back to their home offices, where work and life balances blurred, she was back where she'd started.
We sat down with Stacey to hear more about her experience, including why she decided to join the Elastic team and what she's doing there to ensure her engineers don't have the same experience she did.
Finding Her Passion—and a Way in the Door
Stacey knew she wanted to work in technology the day she saw the movie Tron. "From that moment I was like, 'Oh, that is my life. I need to be part of this. I don't even know what it is, but it's awesome,'" she remembers.
She learned how to program in BASIC on her parents' Commodore 64, eventually winning an award for her first video game, which she coded when she was in the seventh grade. She went to school to become a mathematician, but didn't have the money to finish her degree, so she started taking database and tech support jobs as she could find them.
"Not a lot of people wanted to give me a shot," says Stacey. "I had to push really, really hard, above and beyond anyone else in my peer group, just to get in the door."
After a string of temp jobs, she applied for a contractor position at IBM. She thought the interview went terribly, but when she got home, she had a voicemail informing her she'd gotten the job.
"It opened a whole new world for me," says Stacey, who got down to work and says that she automated herself out of a job within the first few weeks. IBM was impressed, and had her move over to their web team, which is when she got the infrastructure bug.
"I thought I was going to go into software engineering, because that's where all the glamour is, but I liked the infrastructure side much better. It is so challenging and hard. There's so many areas you have to understand, all different types of systems work," she explains.
She loved her manager at IBM and loved the chance to learn about automation and to push technology forward. Until, eight years into her career there—with not a day of burnout in sight—she was laid off.
Entering the job market was different this time around. With IBM on her resume, she had an offer in two weeks, and began exploring different roles. She did a bit of software engineering and confirmed she didn't like it, then did some systems and integration engineering where she got very into application performance monitoring. "I found a memory leak that was eating up enormous amounts of resources, and it was like, 'Holy crap, I'm good at this.' It's kind of like being a detective, and I really liked it," says Stacey.
She basically created a dev ops function before that function existed, going so far as to speak at tech conferences about it and winning an industry award—her first since the certificate she'd earned for her seventh-grade video game—for her contributions.
As her career grew and advanced, so did her responsibilities. Though Stacey had long been committed to staying an individual contributor, she started to absorb management responsibilities, too, taking on one team, then another.
She kept herself sane by rationalizing that the people she was managing didn't report to her in Workday. "I didn't have official responsibility over them. And there's something about the officialness of that responsibility that changes the game," says Stacey.
But that was just a formality: she was still in charge of hiring, firing, performance reviews, and capacity management. She also had a full plate of technical lead responsibilities to juggle alongside it.
It was just a matter of time until she burned out trying to do it all.
Backing Her Way Into a Burnout Diagnosis
"I'm a super workaholic, right? I'm passionate about what I do. I love it. I could do this all day and all night and be super happy," says Stacey. "That's why I didn't know I was getting burned out."
She paints the picture: Stacey was working her regular hours, which started when she woke up and ended when she went to sleep, which was never for long. She hadn't taken vacation in years, even when her mother was dying. If she woke up during her few hours of sleep, she'd decide to log on and get a little more work done, to push her team a little further along.
"I started getting really uninspired. My motivation levels were dropping. I know everybody has their off days or even weeks, but I wasn't picking up; this was going on for weeks," she says. "I knew the work was important, I thought the work was interesting, but I couldn't get excited about it."
When there was a round of layoffs at that company and Stacey's next role required her to be in the office, everything changed. After years of working from home and having little to no division between her personal life and the demands of her work, having to be in the office—and to leave the office—at a certain time each day shrunk her work day to a manageable eight hours.
"It really gave me the rest that I needed. I got a good routine going, doing workouts and getting my weekends back and seeing friends and family. It really refreshed me, and I didn't realize how important that was until hindsight," says Stacey.
Then the pandemic hit.
Back in her home office, Stacey found herself slipping into old patterns. But this time it was even worse, because she had just taken on teams and projects distributed between the U.S. and Shenzhen, so she'd stay up until late at night to talk to her team in Shenzhen, then hand things off to her counterpart there so she could sleep for a few hours before logging back on and picking it up again.
"I was so tired. I started seeing other people dropping like flies, and I was like, 'There's got to be a connection to why I feel the way I do and why I don't wake up and get excited about my work anymore,'" she says. "It's amazing how those old habits will come right back if you don't protect your time."
Why Elastic—and Stacey's 2-Step Guide for Creating a Healthy Culture There
Even knowing she was prone to burnout, Stacey couldn't stop herself from sliding back into it. Looking back on it now, she attributes some of that to the toxic management culture she had there.
"The CIO was the type of person that said sleep was for the weak and really was extremely demanding," she explains. "It would have been nice to have somebody who would set the example for me. So I wouldn't feel guilty [for not being online], you know?"
She knew that no amount of personal boundaries could change a toxic culture, and that it was time to change companies. She'd used Elastic's products before and liked them, and after seeing they had a role open on LinkedIn, she started to investigate their culture.
Their Glassdoor reviews were "outstanding," says Stacey, and she loved how their recruiting process gives applicants a chance to schedule time to chat with someone of a similar background at Elastic. She ended up talking to a guy named Dan, who had also spent time at IBM.
"I was like, 'Give me the real juice, you know?' And he was like, 'Seriously, I'd tell you if it wasn't, but it's a great place,'" remembers Stacey.
The cherry on top? Elastic's tech-first leadership. Part of why she burned out at her old company was because they didn't recognize the weight of being a combined people manager and technical lead—they usually divided those responsibilities, and Stacey was the odd one out for having both.
"But Elastic is a technical company first. They have demands and expectations that all of their leadership are very technical," says Stacey. In other words? "You have to know your shit."
That was "game-changing" to Stacey, and she decided to apply. She'd gone from being curious about another role to being sure that the role at Elastic was the one for her. Luckily for her, they agreed.
Six months in, she's quite happy with the move. And she's quite committed to making sure she creates an environment where her engineers can succeed—without burning out.
It's a two-step process, explains Stacey. First, there's setting an example of stepping away and taking rest. That looks like visibly being offline herself, as a director.
"You have to be really, really careful because you can get bored of playing any game if that's all you do," says Stacey. "I sign out and step away so that people don't see me online."
It looks like encouraging people to take vacations and breathers when they need them.
"If they want to push through and do a twenty-four hour push, that's awesome. But I better not see them for two days, either," says Stacey.
And it looks like respecting people's time off and not bothering them during it.
"I have a lot of regrets about the time that I spent with my mom and didn't get to spend with my mom, and I never want anybody to go through that. There's no single thing at work, big picture, small picture, that will ever be more important than that," says Stacey.
The second thing is all about giving her team the credit for their own wins.
"I try to make sure that they have ownership of the work that they're doing, that they own the success of it, that they get acknowledgement, because a lot of times in engineering, people don't get the credit for it," she says.
The combination—a healthy approach to time off, and healthy appreciation of the effort put in during working hours—is allowing Stacey to create the kind of place she wishes she'd worked in before.
"I want every single person on my team to know that I know who they are, I know the work that they're doing, and I appreciate their work, because I want them to be proud of their work and love what they do."
If Elastic's culture sounds like a place you'd like to work, too, check out their 300+ open roles!
Related Articles Around the Web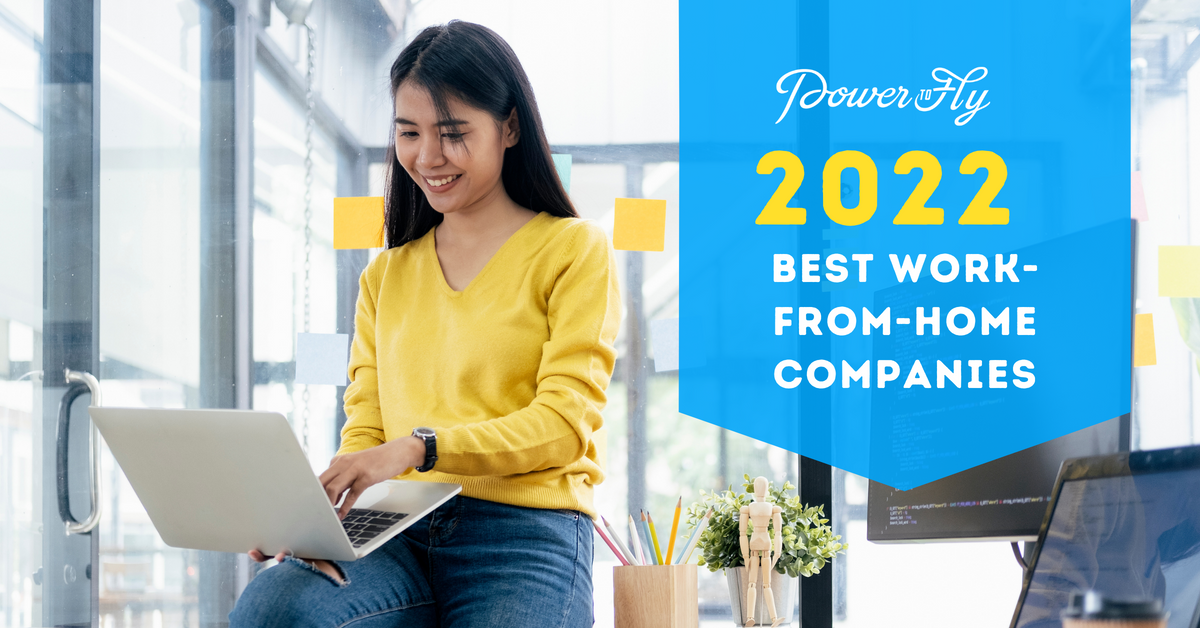 Featured Post
Every year, PowerToFly creates a list of the best work-from-home companies. Now that over half of the U.S. workforce is remote, compiling that list was a bit more challenging.
This year, we prioritized selecting companies that are remote-friendly—meaning they have both remote and in-person roles—but they have made long-term commitments to hiring and supporting employees who choose to work from home; and we think they have the perks, values, and organizational framework to allow all employees to flourish in their careers, regardless of location.
Keep reading to see our top 15 work-from-home companies for 2022, along with a description of what they do, why we like them, and who they're looking for.
PowerToFly's Best Work-From-Home Companies 2022:
Don't see what you're looking for? Check out a fill list of 5,000+ open remote roles here!
READ MORE AND DISCUSS
Show less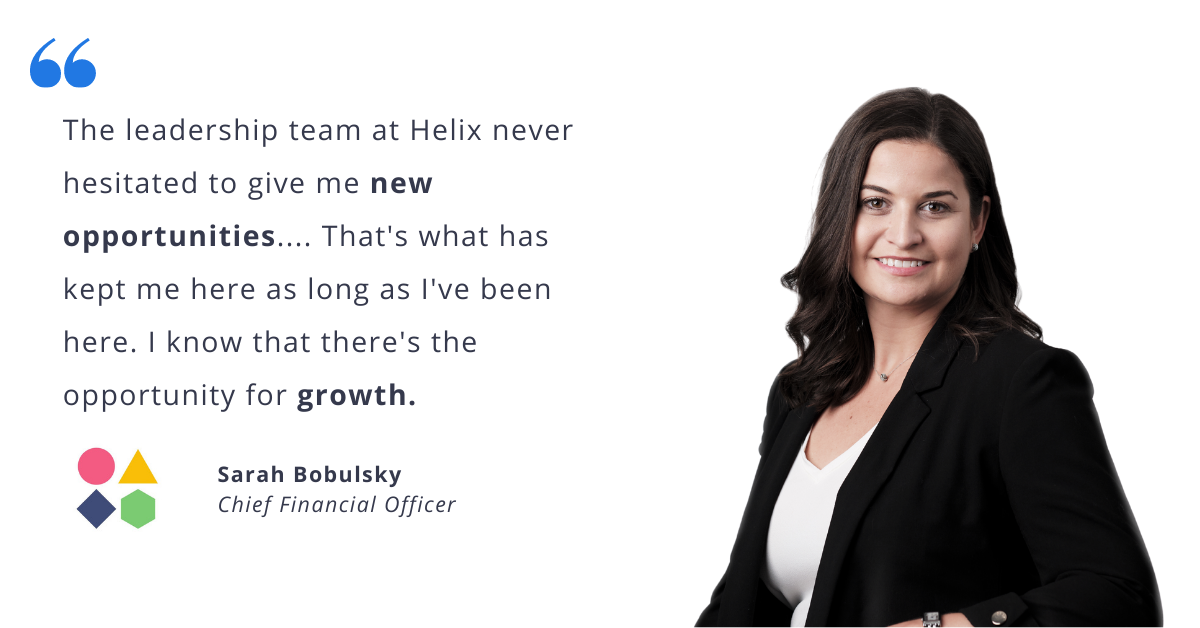 Helix
Before starting her journey at population genomics company Helix, Sarah Bobulsky worked in strategy consulting, most often with pharma and biotechnology clients. She accumulated a wealth of experience very quickly: "One of my managers always said 'one year in consulting is like seven years in a regular job'," Sarah jokes.
In spite of her rapid exposure to so many different projects and clients, she was a bit hesitant when her firm wanted her to branch out into diagnostics. "My reaction was, 'I don't know anything about diagnostics! I don't want to do diagnostics,'" she laughs. "Yet, here I am CFO of a diagnostics company."
"I would not have guessed that I would be a CFO," she confesses. "I always hoped my career would advance, but I don't think CFO was where I was starting my thinking."
But thanks to a lot of hard work and encouragement from current and former managers, Sarah took on the CFO challenge and is thriving in her new role.
Now that she's settled in, Sarah's looking to expand the finance team at Helix. We sat down with her to learn what interested candidates can do to stand out in the application process.
The Road to Helix
Sarah ultimately said yes to the project with the diagnostics company and that led to three years of consulting frequently with diagnostics clients. "I ended up being pretty well-versed in that space," Sarah says, explaining how she heard about Helix when they got their first round of funding. The company immediately caught her attention.
"I thought their business model at the time was really interesting. It was a departure from what other companies in the space were doing, with a lot of opportunity for innovation," she says.
Sarah also happened to know one of the cofounders of the company through her previous consulting experience. This led to some organic conversations about opportunities at the company.
"I was interested in joining a startup, but also somewhat risk-averse," says Sarah. "So finding a startup that had strong backing was appealing to me."
She was also reluctant to lose the diversity of experience afforded to her by consulting, but she felt that Helix was dynamic enough to ensure that she'd still get to tackle lots of different kinds of challenges. So she took a leap and accepted a role focused on corporate development and strategy.
"I accepted the position without a job description," Sarah reminisces. "When I first started, I worked on a lot of different projects, many of which were very much outside of my comfort zone," Sarah says. "Over time, the number of projects kept expanding, and as the company grew, the role expanded and got more operationally focused."
Working instrategy involved a lot of long-term planning and scenario analysis. But as Sarah's role became more operational, she found value in better understanding the day-to-day operations on the ground. "I think getting my hands dirty was really important [in understanding] how little things can influence the company's strategy," Sarah explains. She worked closely with Helix's customers as well as with numerous cross-functional teams which helped her better understand the ins and outs of Helix's product. This proved to be a great foundation as she moved into the CFO role.
Journey to the C-suite
Although she didn't originally set out to be a CFO, Sarah spent much of her career working closely with her finance counterparts — both in her consulting days pre-Helix and during her time at Helix. It was Helix's former CEO, himself a prior CFO, who initially raised the idea of moving fully into finance though. "He was the first person to tell me I'd make a good CFO and honestly I was very surprised at first," Sarah explains. She was initially concerned that she didn't come from a traditional finance background. "But he was thinking more about the strategic side of the CFO role, from being able to tell the story of the business to investors and to our board, and being able to understand different nuances that drive a forecast and long-term value."
Helix's former CEO wasn't the only person supporting Sarah through the transition. "Our current CEO and co-founder has never hesitated to give me new opportunities. It's always a bit of a risk to give someone something they'd never done, but I've always found leadership at Helix willing to take that risk" Sarah explains. "That's been a hallmark of my time here and what has kept me here as long as I've been here. I know that there's the opportunity for growth."
Nearly 7 months in the CFO role, Sarah has spent a significant amount of her time focusing on a long-term value perspective. "We spend a lot of time on our annual budget, our forecasts," she explains. "I spent a lot of time in the first couple of months painting a picture of 2024 and 2025 — What does that look like? How do we get there? What are the things that drive value?" She's now looking for mission-driven finance professionals to bring their diverse perspectives and experiences to her team.
3 Essential Attributes in Finance & 3 Tips for Interviewees
While role-specific experience is important, there are three main attributes that Sarah looks for in any potential members of the finance team at Helix, regardless of position.
Intellectual curiosity. "Even if you're not necessarily involved in the day-to-day on-the-ground operations, it's still really important that you understand how our business works. It influences everything we do on the finance team from invoicing customers to recognizing revenue to long-term forecasting," Sarah explains.
Creative problem solving ability. Problem-solving isn't always about the solution itself, but more about how you created the solution. "I always look for examples of how someone solved the problem creatively or did a lot with only a little," Sarah shares.
Detail-oriented. "I'm a fairly detail-oriented person, and I think that's important in lots of roles, but I think it's particularly important in finance," Sarah reiterates.
If that sounds like you, you might be a good tip for Sarah's team! Keep reading for Sarah's advice on how to display the attributes above during your interview (if you want to learn more about the interview process at Helix, click here!).
Highlight Your Impact. "When you're giving an example or answering a 'tell me about a time' question, make sure to highlight how what you did had an impact on the company – whether it's optimizing a process or uncovering a new trend in the data – make sure that stands out," Sarah says.
Frame the narrative upfront. When explaining previous work, Sarah suggests using roadmapping language for your interviewer such as, "This was a big project. Here are the three things I'm going to tell you about it. And then walk [the interviewer] through each of those three things."
Be selective. While providing depth in your responses is important, be judicious about what you share. "Interviews are usually only 30 or 45 minutes, so it's not about describing every little detail. Acknowledge all of the things you had to consider, and then choose a few critical things to highlight," she explains.
Interested in working alongside Sarah at Helix? Check out their open positions here.
READ MORE AND DISCUSS
Show less
Loading...