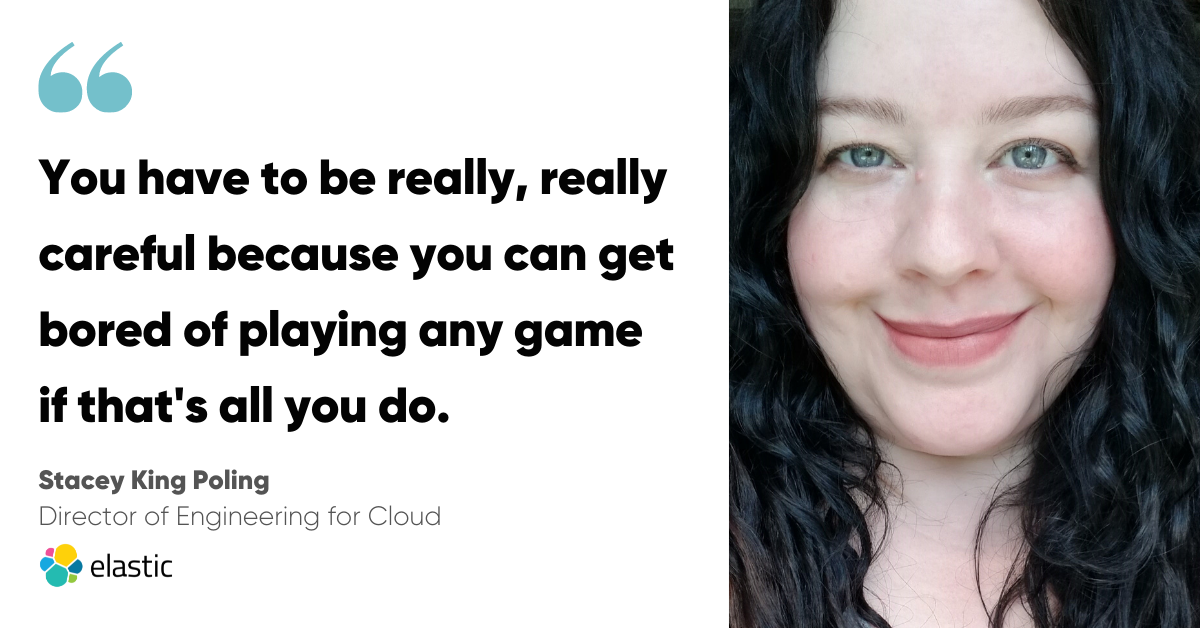 Elastic
Insight from Elastic's Stacey King Poling
Stacey King Poling knows that tornadoes don't really sneak up on you.
Growing up in Texas and living around the west, including in Oklahoma, Stacey knew what to look and listen for regarding the powerful storms: the National Weather Service warnings, the emergency sirens, the regular instructions on where to go and how to protect yourself. All that preparation and advanced warning helped Stacey and her family live through the 2013 El Reno tornado, the widest tornado ever recorded, and escape unscathed.
If only burnout had the same warning system.
With a 25-year career in engineering, Stacey, who is currently the Director of Engineering for Cloud Productivity at Elastic, has worked on her fair share of high-stress projects. She loves solving hard problems and always found herself energized by them, even when they required long hours of intense effort. A few years ago, though, she started to realize that her energy and motivation were dropping.
A perfect storm of tons of work, a lack of personal boundaries, and a neglectful boss had been brewing, but Stacey didn't see it coming. She burnt out right into a layoff, and only recovered when her next job forced her into an office with clear start and stop times. When COVID hit and sent everyone back to their home offices, where work and life balances blurred, she was back where she'd started.
We sat down with Stacey to hear more about her experience, including why she decided to join the Elastic team and what she's doing there to ensure her engineers don't have the same experience she did.
Finding Her Passion—and a Way in the Door
Stacey knew she wanted to work in technology the day she saw the movie Tron. "From that moment I was like, 'Oh, that is my life. I need to be part of this. I don't even know what it is, but it's awesome,'" she remembers.
She learned how to program in BASIC on her parents' Commodore 64, eventually winning an award for her first video game, which she coded when she was in the seventh grade. She went to school to become a mathematician, but didn't have the money to finish her degree, so she started taking database and tech support jobs as she could find them.
"Not a lot of people wanted to give me a shot," says Stacey. "I had to push really, really hard, above and beyond anyone else in my peer group, just to get in the door."
After a string of temp jobs, she applied for a contractor position at IBM. She thought the interview went terribly, but when she got home, she had a voicemail informing her she'd gotten the job.
"It opened a whole new world for me," says Stacey, who got down to work and says that she automated herself out of a job within the first few weeks. IBM was impressed, and had her move over to their web team, which is when she got the infrastructure bug.
"I thought I was going to go into software engineering, because that's where all the glamour is, but I liked the infrastructure side much better. It is so challenging and hard. There's so many areas you have to understand, all different types of systems work," she explains.
She loved her manager at IBM and loved the chance to learn about automation and to push technology forward. Until, eight years into her career there—with not a day of burnout in sight—she was laid off.
Entering the job market was different this time around. With IBM on her resume, she had an offer in two weeks, and began exploring different roles. She did a bit of software engineering and confirmed she didn't like it, then did some systems and integration engineering where she got very into application performance monitoring. "I found a memory leak that was eating up enormous amounts of resources, and it was like, 'Holy crap, I'm good at this.' It's kind of like being a detective, and I really liked it," says Stacey.
She basically created a dev ops function before that function existed, going so far as to speak at tech conferences about it and winning an industry award—her first since the certificate she'd earned for her seventh-grade video game—for her contributions.
As her career grew and advanced, so did her responsibilities. Though Stacey had long been committed to staying an individual contributor, she started to absorb management responsibilities, too, taking on one team, then another.
She kept herself sane by rationalizing that the people she was managing didn't report to her in Workday. "I didn't have official responsibility over them. And there's something about the officialness of that responsibility that changes the game," says Stacey.
But that was just a formality: she was still in charge of hiring, firing, performance reviews, and capacity management. She also had a full plate of technical lead responsibilities to juggle alongside it.
It was just a matter of time until she burned out trying to do it all.
Backing Her Way Into a Burnout Diagnosis
"I'm a super workaholic, right? I'm passionate about what I do. I love it. I could do this all day and all night and be super happy," says Stacey. "That's why I didn't know I was getting burned out."
She paints the picture: Stacey was working her regular hours, which started when she woke up and ended when she went to sleep, which was never for long. She hadn't taken vacation in years, even when her mother was dying. If she woke up during her few hours of sleep, she'd decide to log on and get a little more work done, to push her team a little further along.
"I started getting really uninspired. My motivation levels were dropping. I know everybody has their off days or even weeks, but I wasn't picking up; this was going on for weeks," she says. "I knew the work was important, I thought the work was interesting, but I couldn't get excited about it."
When there was a round of layoffs at that company and Stacey's next role required her to be in the office, everything changed. After years of working from home and having little to no division between her personal life and the demands of her work, having to be in the office—and to leave the office—at a certain time each day shrunk her work day to a manageable eight hours.
"It really gave me the rest that I needed. I got a good routine going, doing workouts and getting my weekends back and seeing friends and family. It really refreshed me, and I didn't realize how important that was until hindsight," says Stacey.
Then the pandemic hit.
Back in her home office, Stacey found herself slipping into old patterns. But this time it was even worse, because she had just taken on teams and projects distributed between the U.S. and Shenzhen, so she'd stay up until late at night to talk to her team in Shenzhen, then hand things off to her counterpart there so she could sleep for a few hours before logging back on and picking it up again.
"I was so tired. I started seeing other people dropping like flies, and I was like, 'There's got to be a connection to why I feel the way I do and why I don't wake up and get excited about my work anymore,'" she says. "It's amazing how those old habits will come right back if you don't protect your time."
Why Elastic—and Stacey's 2-Step Guide for Creating a Healthy Culture There
Even knowing she was prone to burnout, Stacey couldn't stop herself from sliding back into it. Looking back on it now, she attributes some of that to the toxic management culture she had there.
"The CIO was the type of person that said sleep was for the weak and really was extremely demanding," she explains. "It would have been nice to have somebody who would set the example for me. So I wouldn't feel guilty [for not being online], you know?"
She knew that no amount of personal boundaries could change a toxic culture, and that it was time to change companies. She'd used Elastic's products before and liked them, and after seeing they had a role open on LinkedIn, she started to investigate their culture.
Their Glassdoor reviews were "outstanding," says Stacey, and she loved how their recruiting process gives applicants a chance to schedule time to chat with someone of a similar background at Elastic. She ended up talking to a guy named Dan, who had also spent time at IBM.
"I was like, 'Give me the real juice, you know?' And he was like, 'Seriously, I'd tell you if it wasn't, but it's a great place,'" remembers Stacey.
The cherry on top? Elastic's tech-first leadership. Part of why she burned out at her old company was because they didn't recognize the weight of being a combined people manager and technical lead—they usually divided those responsibilities, and Stacey was the odd one out for having both.
"But Elastic is a technical company first. They have demands and expectations that all of their leadership are very technical," says Stacey. In other words? "You have to know your shit."
That was "game-changing" to Stacey, and she decided to apply. She'd gone from being curious about another role to being sure that the role at Elastic was the one for her. Luckily for her, they agreed.
Six months in, she's quite happy with the move. And she's quite committed to making sure she creates an environment where her engineers can succeed—without burning out.
It's a two-step process, explains Stacey. First, there's setting an example of stepping away and taking rest. That looks like visibly being offline herself, as a director.
"You have to be really, really careful because you can get bored of playing any game if that's all you do," says Stacey. "I sign out and step away so that people don't see me online."
It looks like encouraging people to take vacations and breathers when they need them.
"If they want to push through and do a twenty-four hour push, that's awesome. But I better not see them for two days, either," says Stacey.
And it looks like respecting people's time off and not bothering them during it.
"I have a lot of regrets about the time that I spent with my mom and didn't get to spend with my mom, and I never want anybody to go through that. There's no single thing at work, big picture, small picture, that will ever be more important than that," says Stacey.
The second thing is all about giving her team the credit for their own wins.
"I try to make sure that they have ownership of the work that they're doing, that they own the success of it, that they get acknowledgement, because a lot of times in engineering, people don't get the credit for it," she says.
The combination—a healthy approach to time off, and healthy appreciation of the effort put in during working hours—is allowing Stacey to create the kind of place she wishes she'd worked in before.
"I want every single person on my team to know that I know who they are, I know the work that they're doing, and I appreciate their work, because I want them to be proud of their work and love what they do."
If Elastic's culture sounds like a place you'd like to work, too, check out their 300+ open roles!
Related Articles Around the Web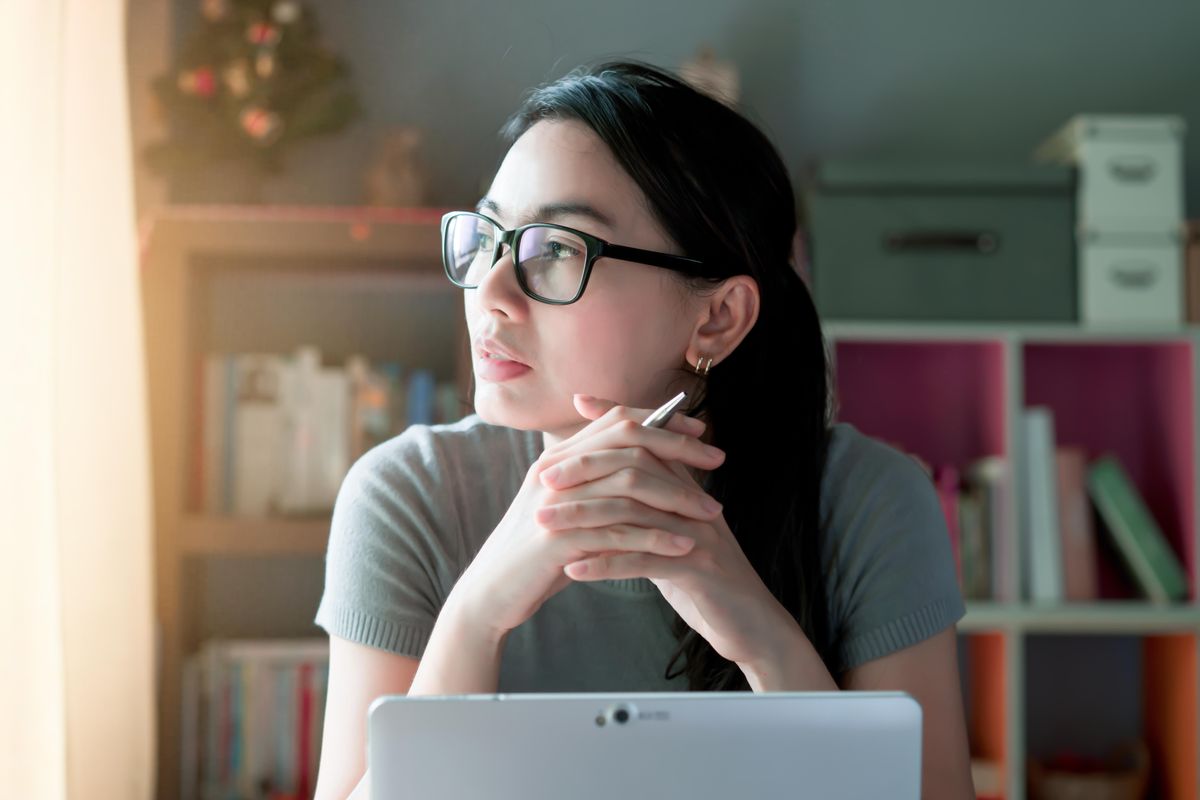 Starting out as a viral trend on TikTok, the phrase "quiet quitting" has since taken over headlines everywhere from NPR to the Harvard Business Review. But what, exactly, is quiet quitting — and why are so many business leaders getting this so-called "crisis" wrong??
What is quiet quitting?
Per Psychology Today, "quiet quitting" isn't actually quitting in the two-week notice sense of the word. It's when employees keep doing their job, but only do the work that's in their job description or covered by their explicit responsibilities. No going above and beyond. No late hours. No taking on extra projects that don't come with extra remuneration.
Gallup similarly defines the trend as employees who are "not engaged" at work — people who "do the minimum required and are psychologically detached from their job." Per their research, that's a full 50% of the American workforce.
Why quiet quitting isn't actually a crisis
As a burgeoning attitude toward work, quiet quitting makes perfect sense. With the challenges and stresses of the last few years impacting all workers — but especially working parents, people of color, women, and other marginalized groups — employees are looking for ways to set boundaries, disengage from work, and find working rhythms that work for them and their lives.
And that's something companies should be supporting. Employers' responsibility, after all, isn't to slap a Band-Aid on the problems that are driving quiet quitting in order to get productivity metrics up. It's to create the conditions for employees to succeed, with work that can be accomplished within reasonable working hours, and to incentivize and tangibly reward any engagement that goes beyond quiet-quitting levels.
It's time we got this clear. Quiet quitting was never the crisis. Expecting employees to go above and beyond at work in order to maybe stand a shot at a pay raise and promotion next year was.
If you want to ensure your company culture is creating opportunities for folks to feel truly engaged, we've rounded up the steps to take below.
8 things your company needs to do to stop facilitating quiet quitting
Quiet quitting doesn't mean that employees don't want to work. It means that everyone — employees and employers alike — are recognizing, more than ever, that the workplace can and should be evolving to meet the needs of everyone involved in making work happen. Here are some ways that companies can ensure they are doing that, sourced from McKinsey research on burnout and engagement:
1. Hold your leadership accountable.
Culture is set by the people on the ground, and you need to know that your managers and leaders are creating a culture that's supportive of mental health. This looks like incorporating mental health questions into regular employee satisfaction surveys, so you have data to track, and including the management of employee well-being as part of how leaders are evaluated and compensated. It also means getting rid of toxic leaders.
2. Destigmatize mental health and boundaries.
Most employers know that stigma exists at work, despite best intentions to fight it. But when employees are afraid to ask for help with mental health needs or to request accommodations so they can do their best work, everyone suffers. Companies can work to destigmatize the issue by highlighting senior leaders' own experiences with mental health. Vulnerability can help promote psychological safety, as can rewarding employees for setting boundaries and using mental health and wellness benefits.
3. Evolve the kind of benefits you offer.
45% of people who have recently left their jobs said that their care responsibilities were a big part of their decision. Do the benefits your company offers reflect that reality? For instance — if employees must be on-site, can you offer on-site childcare? If not, do you offer a childcare stipend? Do you know what issues they are most struggling with, and are you responding?
4. Promote sustainable working hours.
Do your employees need to be at work — whether online or at the office — from 9 a.m. to 5 p.m.? Or can they set those hours to fit their own schedules? Do you have flexible work policies that are available to everyone, no matter their level of seniority? Hybrid work can facilitate unfair treatment when policies aren't clear and universally applicable.
5. Provide opportunities for employees to build social ties.
Another reason employees are disengaged at the office? Lack of social support. It can be hard to make connections over video calls and chat, especially for new employees or those who haven't worked remotely before. Investing in team building can help give employees access to social connections that make their work more meaningful over time.
6. Enable right-size workloads.
As employment has ebbed and flowed over the pandemic, and especially now during the Great Resignation, many companies are finding themselves short-staffed. But piling more work on the people who have stayed isn't a sustainable solution — it just speeds up their own burnout. Creating
7. Facilitate upskilling and reskilling at work.
Per the McKinsey study linked above, employers who offer reskilling and upskilling opportunities end up with more engaged employees. It pays off for everyone involved: giving employees the chance to laterally move into a different job in order to learn a new set of skills can predict employee retention 250% more than compensation can, for instance.
8. Strengthen your commitment to DEIB.
Employees don't want to work somewhere they don't feel like they belong. McKinsey calls out five key action areas when it comes to making a DEIB commitment real: ensuring representation, holding leadership accountable, increasing transparency (like with analytics on promotions and pay), tackling issues with a zero-tolerance policy, and embracing intersectionality.
READ MORE AND DISCUSS
Show less
Loading...