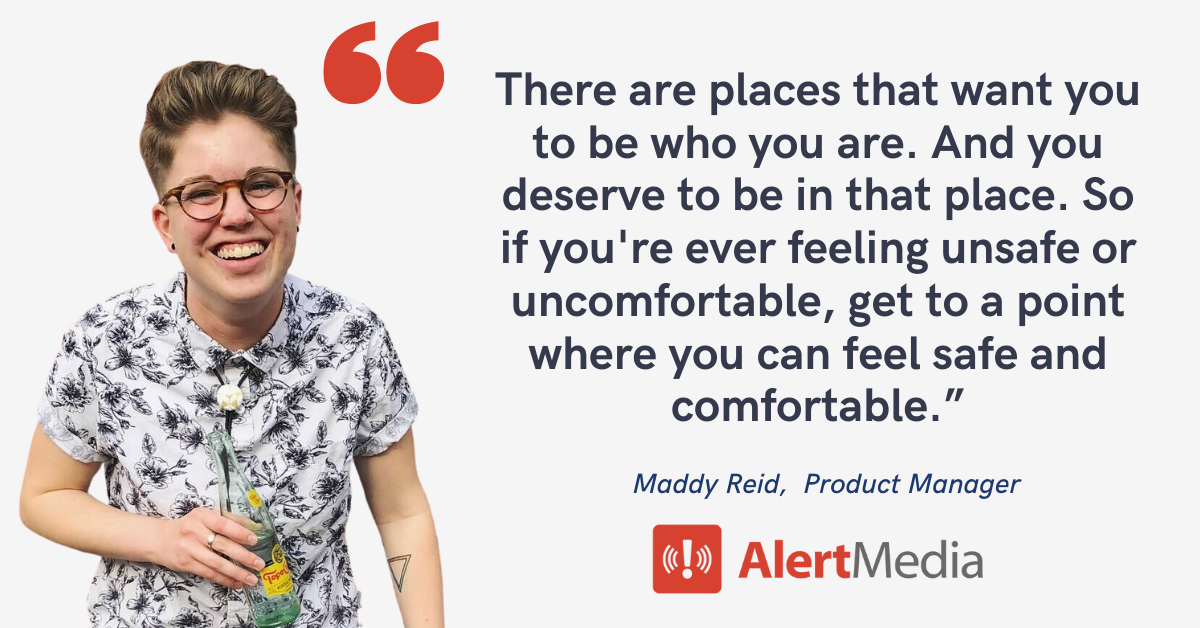 AlertMedia
Insight from AlertMedia's Maddy Reid
Maddy Reid was in a one-on-one with one of AlertMedia's customer success team leads when they were asked how they identify at work for the first time.
"It was within my first couple of weeks [at AlertMedia]," recounts Maddy, who had joined the emergency communication software company as a customer success manager.
Per Maddy, their manager turned to them and asked, "So, how do you identify?"
"I had never been asked that in a work setting before," says Maddy. "It was so cool. And I was like, 'Actually, now that you ask me that, I am nonbinary.' At work, I've never pushed that because people don't think to add that other option. But [my manager] had a child who's nonbinary, so it was a really cool moment for both of us."
We sat down with Maddy, who has since become a product manager at AlertMedia, to hear more about how they're building a career around good people and also about how others can embrace their identities at work and find companies that celebrate the diversity of their employees.
Finding the "really great humans"
Maddy started college thinking they'd become a math teacher. But an internship at a radio station introduced them to mass media, where they got to connect with others and be creative. "I realized talking to people could be fun! I wanted to do that continuously—talk to people who are nice to me," they say.
It was in college where Maddy first came out. "I came out as gay, because I thought lesbian was a bad word. I had a lot of unlearning to do. As a kid, I was afraid to identify as anything other than straight, cis lady. Now I've done the work, I'm feeling good," they say.
It took Maddy some time to find their ideal career, too. They left radio because it didn't pay well, then tried a few other customer-service based roles. They were working at a tech company they hated, sending out dozens of resumes a week, when they connected with a recruiter from Austin-based AlertMedia.
"Everything changed in that moment. She was just so kind. It didn't feel like every other phone call. It was very much like she was a friend calling me up and we were chatting," Maddy says. "And when I went in for the actual interview, the way the team is, they want you there and they want to get to know who you are, and it was incredibly welcoming and comfortable. I was like, 'Alright, sold, I'm in.'"
Their first few weeks on the job, Maddy was convinced their coworkers couldn't possibly be that nice. "I figured they were saying all these things because it's the nice thing to say," they note. "But then I would come in after a long weekend and they'd be like, 'Oh, how was your trip to go see your parents? How cold is it in Chicago right now?' I'm like, I barely know you and you actually care. It's pretty cool. Just a lot of really great humans."
Finding—and sharing—safety
After Maddy shared with their manager that they were nonbinary, they started noticing things. New people joined the company and added their pronouns to their Slack profiles, for one, which made Maddy feel like they could reach out and share their identity.
"It was like, 'I can tell you now, you've just shown me it's okay,'" says Maddy. "It's become more and more common that people outside of work, too, are willing to listen, willing to hear, and if they're not…do I want to associate with them? Probably not."
Maddy says that their coworkers will now step in and correct someone who uses the wrong pronouns on Maddy's behalf. "I've never been in an environment where we're always here for one another and we're uplifting each other not only professionally, but also personally," they say.
That sense of support helped Maddy grow from their original role in customer success into a product management role. They'd shown interest in the technical side of the product, and the director of product management noticed and asked if they were interested in transferring over to that side.
"I still work with customer success pretty often, because we're very customer-centered," says Maddy of AlertMedia's products, which include emergency communication software that allows organizations to send SMS pushes, mobile app notifications, and make phone calls to people in emergency situations.
"Right now we have a whole lot going out about the terrible winter weather," explains Maddy. "People are able to let their employees know about office closures or say, 'Hey, the roads are looking pretty dicey, respond back to us if you're having trouble getting to work.'"
3 approaches to finding places where you can be your full self at work
We asked Maddy what advice they have to share with other people who might not have always felt comfortable bringing their entire identity to work. Check out their perspective:
"Always work on your own timeline. You can put a lot of pressure on yourself when you're thinking about other people's expectations," says Maddy. "When I first started in radio, I wasn't even telling people that I was gay because I wasn't ready for it. Nobody had an issue with it, but I had a lot of self discovery to do and a lot of things to figure out for myself. With identifying as nonbinary, it wasn't until that conversation with my manager that I said, 'Okay, maybe I can get comfortable with it.' If you're not ready, then you're not ready, and you don't have to be. You don't owe that to anyone."
"Reach out to people who are reaching out to you. It really is a community thing. If someone is putting themselves out there, adding their pronouns to Slack or Zoom or their email signature, even if they're cis straight, they're saying, 'Hey, I'm a safe person; I'm welcoming you in any way that you are,' in regards to pronouns. Reaching out to those people is incredibly empowering because you have at least one person you can dip your toes in the water with and see how it goes."
"Remember you can leave. There are other jobs, there are other companies, there are places that want you to be who you are. And you deserve to be in that place. So if you're ever feeling unsafe or uncomfortable, get to a point where you can feel safe and comfortable."
If you're looking for a workplace where you can be your full self, check out AlertMedia now!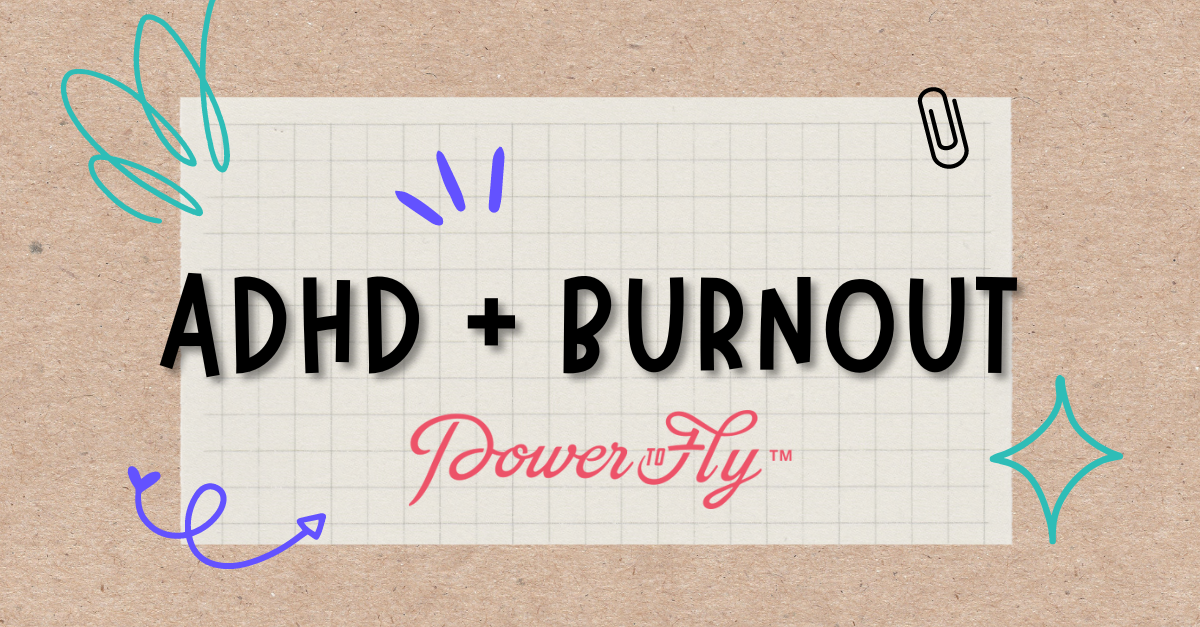 Diversity, Equity, and Inclusion
Have you ever been so exhausted that you quit your job?
You may have been experiencing burnout.
Burnout is characterized by overwhelming exhaustion, detachment from your work, and a sense of ineffectiveness.
And while anyone can experience burnout, if you have ADHD, you may be more susceptible to it.
Before you get to the point where quitting feels like your only option, there are steps you can take to set healthy boundaries and start feeling more like yourself again. Read on to learn how you can recognize burnout in yourself, and what to do if you're experiencing it!
How Does ADHD Burnout Feel?
There are some clear signs that you're burning out, but ADHD can make the descent to burnout harder to detect. These warning signs include:
Lack of motivation - not wanting to do the things you need to do or the things you love.
Exhaustion - feeling overly tired both mentally and physically.
Irritability and mental fatigue - feeling short-tempered, mean, or like you snap easily.
Physical discomfort - body aches, low energy levels, and general pain.
Negative outlook - the tendency to find something wrong with nearly everything.
Emotional dysregulation - feeling weepy, sad, or unable to smile or connect with others.
Generally, burnout starts with taking on too much. Exhaustion creeps in, and you feel like every day is working against you because you are constantly overwhelmed. You may start to feel like the entire world is spinning out of control, or like no matter what you do you can't keep up (or catch up).

If this resonates with you, you might be on the road to ADHD burnout.
Why People with ADHD Can Be More Susceptible to Burnout
So why does ADHD make some folks more susceptible to burnout? There are a few common ADHD traits that often result in behaviors correlated with burnout (taking on too much, working too long, etc.):
Hyperfocus - ADHD is not exclusively about attention deficits. In fact, hyperfocus is the opposite – a deep, intense concentration to the point of being oblivious to your surroundings. Per WebMD, hyperfocus is a state of highly-focused attention that lasts for an extended period of time. You concentrate on something so hard that you lose track of everything else going on around you. When hyperfocus sets in at work, it can be hard to unplug or be aware of the people and environment around you.
Time Tracking - Losing track of time is one thing, but if you find yourself losing track of hours without realizing it, that could be related to burnout. People with ADHD perceive time not as a sequence of events the way others usually do, but as a diffuse collection of events viscerally connected to the people, activities, and emotions that fill them.
Difficulty Prioritizing - Do you take on too much and then struggle to prioritize it? When someone asks for help, does everything often go to the wayside so you can jump in? Or maybe the daunting anticipation of the tasks ahead prevents you from starting. Per ADDitude, ADHD impacts your temporal processing abilities, which can affect executive functioning.
Combating ADHD Burnout
If you think you may be suffering from ADHD burnout, there are a few ways to take back control. Here are three tips for combating ADHD burnout:
Reserve Your Yeses - Pump the brakes when you recognize the early signs of ADHD burnout. Start reserving your yeses right away. Say no, and practice not apologizing. It is okay to say, "I have a lot on my plate right now and cannot take that on. Thanks for thinking of me." Saying no is nothing to apologize for, and it should be celebrated! You are working to protect your energy above all else.
Practice Over-Estimating - If you think you could knock something out in a day, give yourself a week. Overestimate on time and allow yourself the grace to have a little more time than usual to complete projects. Slowing down when starting a new job or role will help you produce high-quality work and prevent ADHD burnout.
Drop the Mask - Be honest with your employer and friends. Let them know that although you seem to keep up internally, you struggle. Identifying ADHD burnout from the outside can be extremely difficult. Your honesty and transparency will position you to determine if your environment is supportive and inclusive.
How to Support Colleagues Dealing with ADHD Burnout
The experiences above may not resonate with you personally, but perhaps you've noticed other people you work with describe or experience them.
If you're a manager, there are several ways you can support colleagues with ADHD (as well as neurodivergent employees more generally) to help prevent burnout. Ask for clarity on when they have felt the most supported at work. Discovery questions like, "how did you feel at that time?" or "how was the pace of that project?" can help you to understand their actual capacity.
Download this free guide
if you're looking for more ways to support your neurodivergent coworkers. Work with your DEIB and HR team to develop new neurodivergent inclusivity standards to help you stay ahead of the ADHD burnout cycle.
READ MORE AND DISCUSS
Show less
Loading...