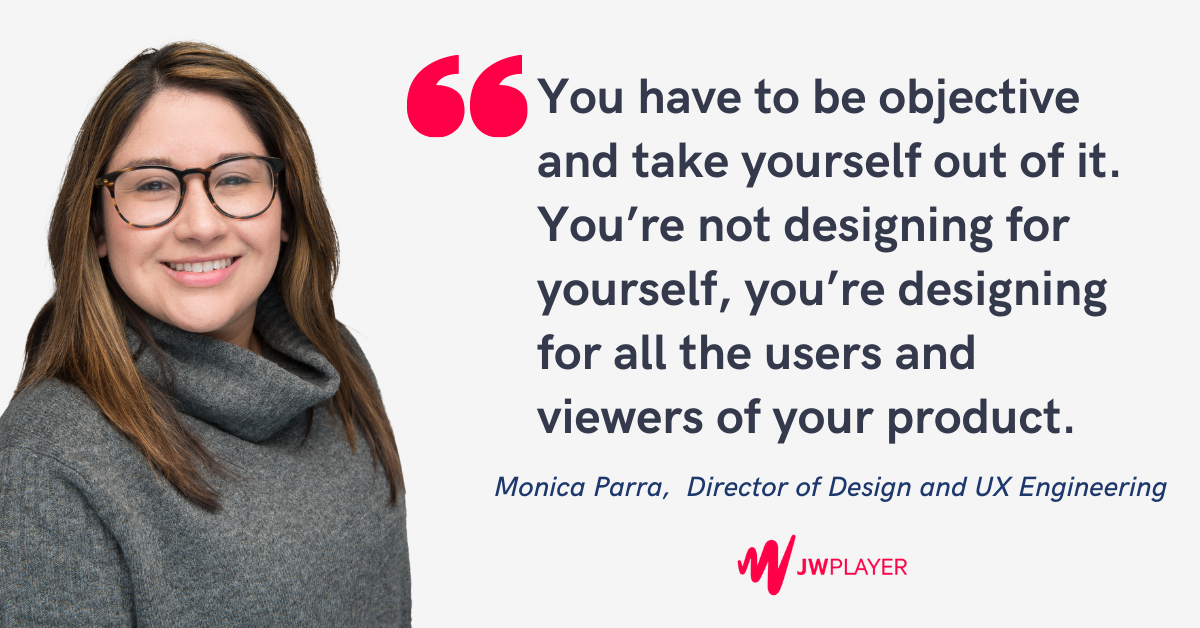 JW PLAYER
Insight from JW Player's Monica Parra
Monica Parra knows she wouldn't have had a successful career in art—and now in design and UX engineering—if she wasn't comfortable with conflict.
"It's actually quite required of us to disagree with each other, because we're after the best possible solution," she says of the creative process. "Healthy debate is really important, and I crave it, to be honest."
That's been true at every stage of her career, from when she made a late switch to art school to when she worked her way into the digital side of traditional media magazines to when she got into digital product design.
Now, Monica is the Director of Design and UX Engineering at video software and data insights platform JW Player.
As a woman working in tech, she's learned how to make sure her perspective is considered. "Men love to interrupt; women love to give people space," she says. "You fight for your voice at the table."
We sat down with Monica to hear more about how she fosters a spirit of healthy debate and collaboration, as well as the career path that brought her here and what advice she has for budding designers looking to find the path that's right for them.
Raising her hand
Monica was studying international business in college when she realized she didn't want to ever work in a cubicle farm. "I saw a future that looked like Dundler Mufflin, and I needed to pivot," she says, smiling. "The only other talent or hobby that I had at the time was graphic design."
She followed that interest, which had previously manifested itself in homemade flyers for family businesses and fun Photoshop projects, all the way into transferring into art school. By the time she graduated, she set out to work in publishing, so she could be a part of editorial storytelling.
Monica thought she'd be working on print magazines, but a recruiter pointed out that lots of publishers were hiring in their digital space. "I really wasn't confident, and they were like, 'Trust me; you have a portfolio. And you'll make more money because there's not so many people in the running for these roles,'" remembers Monica.
She ended up being part of the early design teams at magazines like Newsweek and Spin, and she credits those experiences with teaching her the importance of collaboration.
"We were working with editors, videographers, and photographers, and you got staffed and tried to do your work as fast as possible. That's where I got my hustle," she says. "It's where I learned what a real design team was. It was supportive, with camaraderie and not competition. Truly just a bunch of design nerds, we traded our skills to help each other, we stayed late if someone was on a deadline. The team culture I have today is definitely rooted in that first design team."
While Monica loved her experience in publishing, she felt the industry closing in around her, and once again, she raised her hand to try something new.
"I'd always thought product design was physical—like designing this ChapStick, essentially," she says, gesturing towards an example. "But there was this whole new wave of digital product design, which was a domination of software design and UX, and I had the chance to again be at the forefront of something that was not fully saturated with too many designers," she says.
Leaning into the differences between design and product design
When she moved into product, Monica had to learn not to run to a solutions space. "Instead of going straight into Photoshop and designing to your heart's desire, you start with understanding user goals. What are the requirements of this? How do we know the solution we've chosen is the right solution?," she asks.
She liked the change, saying, "as you get used to what the data can tell you, you start to crave more data."
In trading in her design aesthetic for user perspectives and feedback, Monica found that a lot of the core skills were the same. "You have to be objective and take yourself out of it. You're not designing for yourself, you're designing for all the users and viewers of your product," she says.
When Monica joined JW Player, it was because she was ready for a product design role where she could be more creative. She knew she'd have the chance to build a team, and was excited to do so at the intersection of design and tech for a company whose tech stack and product she really believed in.
"When I started at JW Player, I had friends ask me, 'Why aren't you applying for creative director jobs?' But at the time, I wasn't ready to let it go, to be hands-off," she says. So her first year on the job was focused on digging into product and really creating the kind of design culture she came from and appreciated.
But then it was time to move into a directorship, and Monica knew she was ready. "It's an uncomfortable feeling, but it's a pretty great place to be, when you're ready to be challenged," she says.
3 key skills for being successful in design in tech
Monica has hired both designers and engineers to work on her product team, and here are some of the common markers of success she's seen:
An ability to communicate. "If you don't know how to communicate your design philosophy or thoughts, communication from designer to engineer can break down pretty quickly," she says.
An interest in the other side. Monica looks for designers who are excited to "sit with an engineer and look at every pixel to make sure it's perfect," she says, and engineers who are excited to participate in the creative process.
A belief in compromise. "We cannot be precious about what we built and we cannot insert ourselves as the user for what we're building," says Monica. "This is a career that's not for the faint of heart. You get a lot of hard feedback. I always say I'm very open to being convinced of being wrong, but you have to put in the work to convince me."
Interested in joining the team at JW Player? Check out their open roles!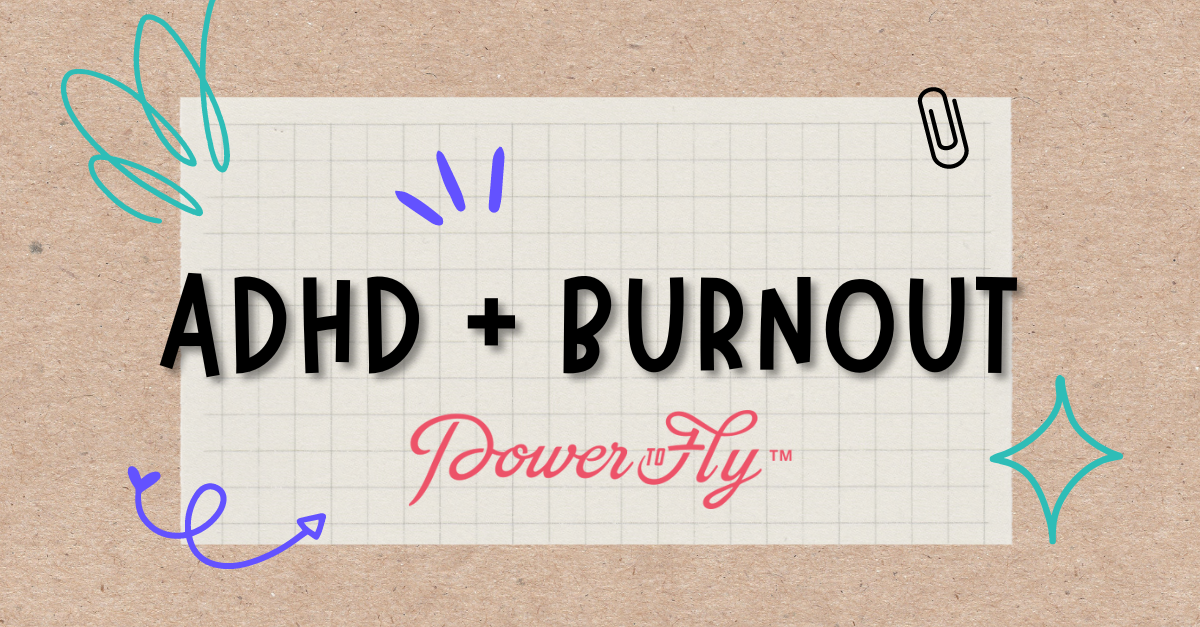 Diversity, Equity, and Inclusion
Have you ever been so exhausted that you quit your job?
You may have been experiencing burnout.
Burnout is characterized by overwhelming exhaustion, detachment from your work, and a sense of ineffectiveness.
And while anyone can experience burnout, if you have ADHD, you may be more susceptible to it.
Before you get to the point where quitting feels like your only option, there are steps you can take to set healthy boundaries and start feeling more like yourself again. Read on to learn how you can recognize burnout in yourself, and what to do if you're experiencing it!
How Does ADHD Burnout Feel?
There are some clear signs that you're burning out, but ADHD can make the descent to burnout harder to detect. These warning signs include:
Lack of motivation - not wanting to do the things you need to do or the things you love.
Exhaustion - feeling overly tired both mentally and physically.
Irritability and mental fatigue - feeling short-tempered, mean, or like you snap easily.
Physical discomfort - body aches, low energy levels, and general pain.
Negative outlook - the tendency to find something wrong with nearly everything.
Emotional dysregulation - feeling weepy, sad, or unable to smile or connect with others.
Generally, burnout starts with taking on too much. Exhaustion creeps in, and you feel like every day is working against you because you are constantly overwhelmed. You may start to feel like the entire world is spinning out of control, or like no matter what you do you can't keep up (or catch up).

If this resonates with you, you might be on the road to ADHD burnout.
Why People with ADHD Can Be More Susceptible to Burnout
So why does ADHD make some folks more susceptible to burnout? There are a few common ADHD traits that often result in behaviors correlated with burnout (taking on too much, working too long, etc.):
Hyperfocus - ADHD is not exclusively about attention deficits. In fact, hyperfocus is the opposite – a deep, intense concentration to the point of being oblivious to your surroundings. Per WebMD, hyperfocus is a state of highly-focused attention that lasts for an extended period of time. You concentrate on something so hard that you lose track of everything else going on around you. When hyperfocus sets in at work, it can be hard to unplug or be aware of the people and environment around you.
Time Tracking - Losing track of time is one thing, but if you find yourself losing track of hours without realizing it, that could be related to burnout. People with ADHD perceive time not as a sequence of events the way others usually do, but as a diffuse collection of events viscerally connected to the people, activities, and emotions that fill them.
Difficulty Prioritizing - Do you take on too much and then struggle to prioritize it? When someone asks for help, does everything often go to the wayside so you can jump in? Or maybe the daunting anticipation of the tasks ahead prevents you from starting. Per ADDitude, ADHD impacts your temporal processing abilities, which can affect executive functioning.
Combating ADHD Burnout
If you think you may be suffering from ADHD burnout, there are a few ways to take back control. Here are three tips for combating ADHD burnout:
Reserve Your Yeses - Pump the brakes when you recognize the early signs of ADHD burnout. Start reserving your yeses right away. Say no, and practice not apologizing. It is okay to say, "I have a lot on my plate right now and cannot take that on. Thanks for thinking of me." Saying no is nothing to apologize for, and it should be celebrated! You are working to protect your energy above all else.
Practice Over-Estimating - If you think you could knock something out in a day, give yourself a week. Overestimate on time and allow yourself the grace to have a little more time than usual to complete projects. Slowing down when starting a new job or role will help you produce high-quality work and prevent ADHD burnout.
Drop the Mask - Be honest with your employer and friends. Let them know that although you seem to keep up internally, you struggle. Identifying ADHD burnout from the outside can be extremely difficult. Your honesty and transparency will position you to determine if your environment is supportive and inclusive.
How to Support Colleagues Dealing with ADHD Burnout
The experiences above may not resonate with you personally, but perhaps you've noticed other people you work with describe or experience them.
If you're a manager, there are several ways you can support colleagues with ADHD (as well as neurodivergent employees more generally) to help prevent burnout. Ask for clarity on when they have felt the most supported at work. Discovery questions like, "how did you feel at that time?" or "how was the pace of that project?" can help you to understand their actual capacity.
Download this free guide
if you're looking for more ways to support your neurodivergent coworkers. Work with your DEIB and HR team to develop new neurodivergent inclusivity standards to help you stay ahead of the ADHD burnout cycle.
READ MORE AND DISCUSS
Show less
Loading...