GET EMAIL UPDATES FROM POWERTOFLY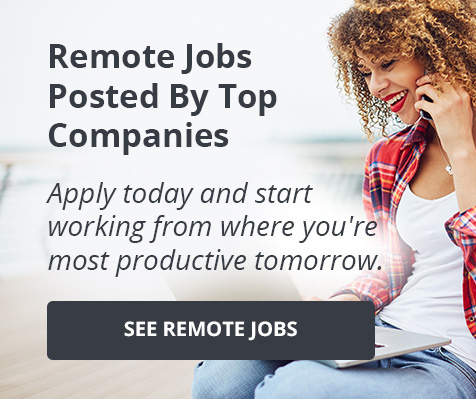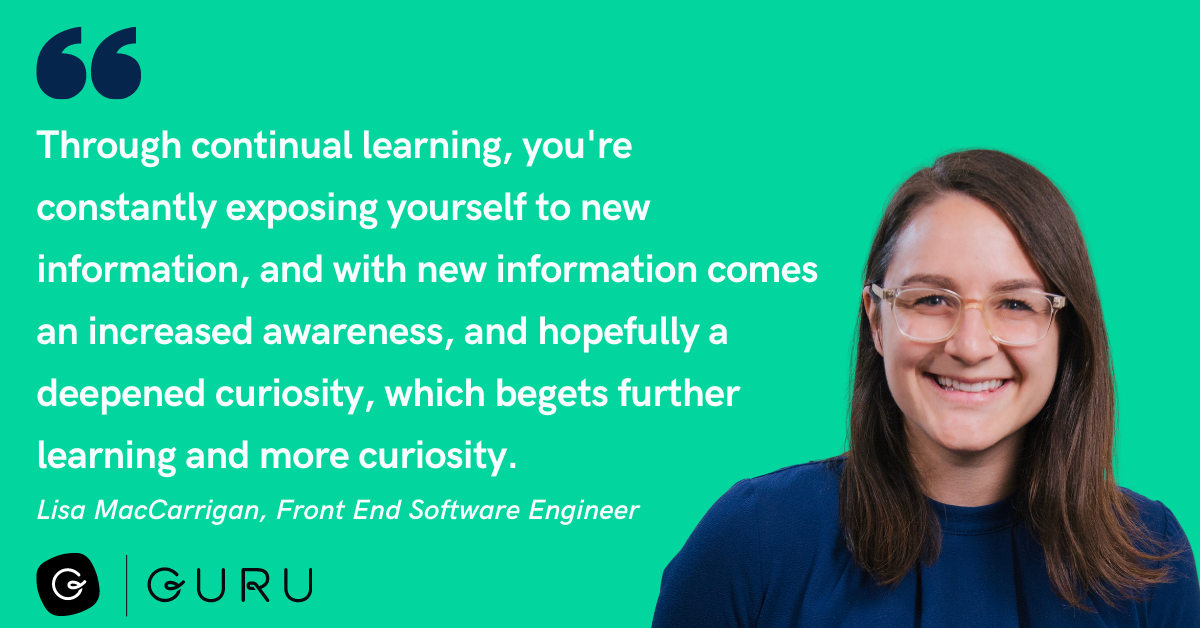 March 22, 2021
Guru
3 Tips for Continual Learning in Tech from Guru's Lisa MacCarrigan
Lisa MacCarrigan thinks about her career like a navigation app.
You know when you put an address into Google Maps and it shows you several different ways to get there? And how if you make an unexpected turn or miss an exit it'll show you yet another way?
---
That framework has helped Lisa navigate some of the seemingly major career decisions—including a pivot from land use and environmental planning to coding—that led her to her current role as a front end software engineer at knowledge management software company Guru.
We sat down with Lisa to talk about the growth mindset behind her Google Maps metaphor, how she pursues new skills that help her at work and at life, and what advice she has for other engineers looking to find intellectual and job satisfaction in the ever-changing world of tech through continual learning.
Finding her kind of problem-solving
After college, Lisa started working in the field of land use and environmental planning and quickly realized that her favorite part of her job was using geospatial data to help make informed decisions.
"I continued to find myself falling into immersive flow states—like when you're five years old and doing something and forgetting the world around you. Time wasn't a thing. That would happen when I was working with data," she says, smiling.
Lisa wanted to learn more, so she took a computer programming course at a local community college, as well other courses. She was soon convinced that her passion lay in programming, so she left her career in government to join a coding boot camp—and has been working happily as a developer ever since.
Learning on screen and on stage
When Lisa joined Guru as a front end software engineer, she'd worked in tech long enough to know what kinds of technical problems she wanted to get better at solving. She also knew she wanted to improve on certain soft skills, too, particularly listening, presenting, and collaboration.
So she signed up for a year of improv classes.
An unorthodox approach, perhaps, to improving on-the-job skills, but one that definitely worked. Lisa says she's always had a dry sense of humor and a fondness for levity, but that diving into improv classes was a perfect mix of scary and comfortable that allowed her to work on what she'd set out to learn.
"I've woven my learnings into my daily work interactions," says Lisa. She's since identified four major skills from improv that map neatly onto her work in software development—active listening, support, trust, and collaboration—and encourages other engineers to follow suit.
But even for people for whom the prospect of soliciting audience prompts and acting out impromptu scenes is terrifying, Lisa believes that trying something new, whether it's improv or pottery or boot camp, is worth it.
"Those experiences affirmed just how essential continual growth is, whether it's derived through work or play," she says. "Through continual learning, you're constantly exposing yourself to new information, and with new information comes an increased awareness, and hopefully a deepened curiosity, which begets further learning and more curiosity."
3 tips for other engineers to always be learning
1. Find a mentor with slightly more experience than you. Lisa suggests 2-3 years. "There's a lot that you can learn from that person. And there's also a lot that they can learn from you," she says. "But most importantly, when you're looking at someone two years ahead of you, they don't have to reach too far back into their own experiences to know exactly where you're at and what will help you grow."
She also appreciates that Guru's culture is built around pair programming from the very beginning. "You pair program when you're new; you'll pair program to get quickly onboarded and to understand, at a high level, the architecture and how all the pieces fit together," she says. "But also when we're stuck on things, we might tap a coworker and just say, 'Hey, I'm really struggling in this area. I see that you've worked in this area.' I really enjoy it, personally."

2. Tackle problems that interest you—and stretch your skills. Lisa has done this at Guru by joining working groups that form to tackle specific problems.
Recently, she's been doing that by contributing to Guru's continuous integration pipeline (which deals with automating the integration of code changes into a shared code repository) in support of code quality and reporting initiatives. "I just raised my hand and I was like, I'll take this piece and figure it out," she says.
She's also taking advantage of the book clubs and professional development budget that Guru grants to each employee for use on everything from conferences to coaching to courses to mentorship programs. Those training programs are especially useful to Lisa because of her non-traditional background, she says. "I've studied data structures and algorithms and discrete mathematics, to deepen my understanding, because they are foundational to Computer Science," says Lisa.
3. Protect your deep work and focus time. Lisa loves that Guru's status as a tech company focused on optimizing knowledge trickles down to how workflows and schedules are set up, too, noting that most team members in the tech org have a three-hour block in either the morning or afternoon for focused time. "You have the ability to immerse yourself in whatever you're working on," she says. Those blocks are actually when she does some of her best learning, says Lisa, because she has real-life examples to apply new concepts to: "If you encounter a new concept, don't skip over it. Go right to the docs and read about it. It's more likely to stick in that moment since it's contextually relevant to what you're working on," she advises.
Lisa manages her growth with Guru's engineering growth framework that includes multiple perspectives: a self-assessment, her manager's assessment, peer reviews, biannual reviews, and biweekly 1:1s. The regularity helps keep her accountable, but it's not why she keeps pushing to learn new things—that's something more innate to who she is.
"I don't lose the spark because I have a growth mindset," she explains. "And with that mindset, I believe I can just keep going and learning and consequently, the spark just stays lit. "
Making learning a team sport
One of the things Lisa is working to learn right now is negotiation. "[Work] is constantly a negotiation," she says. "Figuring out priorities, estimating how long tasks will take, and negotiating what will be included in the timeline and delivery."
With her track record of learning what she sets out to get better at, we wouldn't be surprised if Lisa negotiates her way into starting an improv group at Guru. "I think it could be a lot of fun when many of us are back in the Philadelphia office. I would be the natural person to get that conversation started," she says.
And she's got the perfect, tongue-in-cheek name for an improv team at a knowledge management platform: "Shoulder Tap."
Learn more about Guru's culture and open roles.
Related Articles Around the Web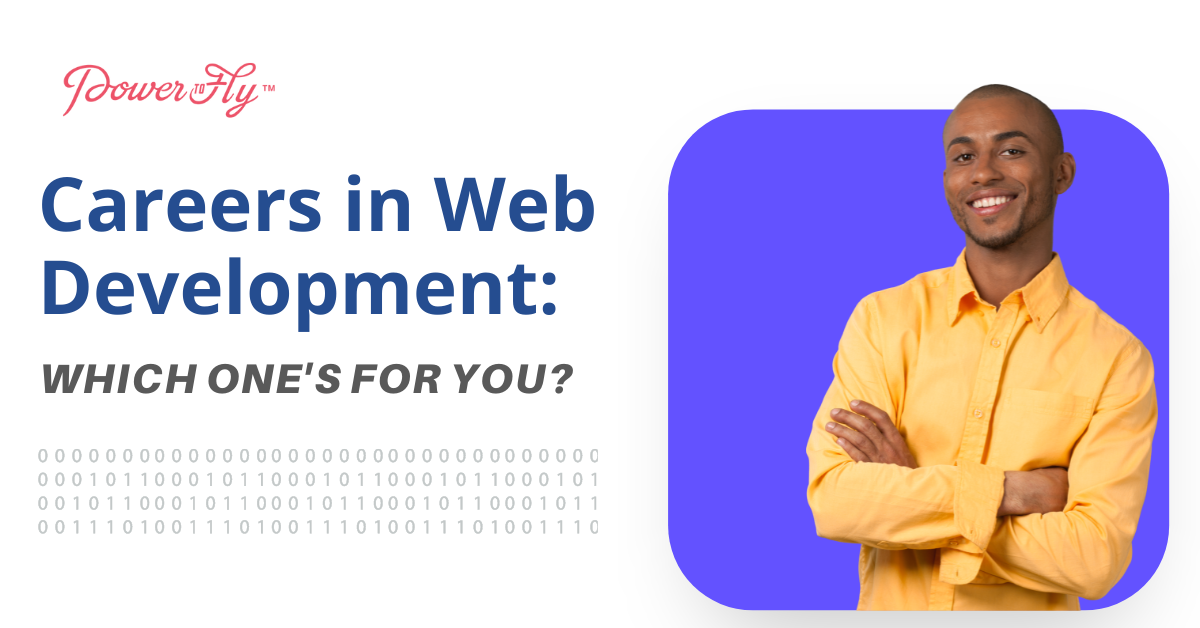 Upskilling and Development
We all have our favorite websites– the ones we frequent, bookmark, and recommend to others. You might even enjoy some website features so much that you've found yourself wondering why they aren't more popular. Or maybe you've experienced times where you were frustrated with a website and wished you could add features or even design your own!
If you've ever found yourself intrigued at the prospect of designing and developing your own websites, then a career as a web developer might be just for you!
As a web developer you would be responsible for coding, designing, optimizing, and maintaining websites. Today, there are over 1.7 billion websites in the world and, in turn, the demand for web developers is on the rise. In order to figure out what kind of web development work best suits you let's start with an introduction to the three main roles in web development that you can choose from.
The Three Types of Web Development Jobs
Front-End Web Development: The Creative Side
Think of front-end development as the décor of a house. The color scheme, furniture, manicured lawns, and overall aesthetic. In terms of a website, front-end development is laser-focused on the appearance of a website and its presentation on different devices. If you're considering a role in front-end development, it's important to learn programming languages such as HTML, CSS, and JavaScript. These three languages go hand-in-hand. HTML allows you to create user interface elements, CSS helps you with stylistic elements, and JavaScript allows you to incorporate online tools and connect your website to back-end functions.
In addition to programming skills, front-end developers need to be detail oriented, creative, willing to keep up with the latest trends in web development, cyber security conscious, and geared toward user-friendly designs. The median salary for a front-end developer can reach well into the $90,000 to $100,000 range.
Back-End Web Development: The Logical Counterpart
While a house can be beautifully decorated, it's incomplete without a solid foundation and efficient infrastructure. Similarly, a well-designed website depends on logical and functional code to power the features of that website. Back-end web development is code-heavy and focused on the specifics of how a website works. If you enjoy the analytical challenge of creating the behind-the-scenes code that powers a website, then back-end development is for you.
Since this role is more code-heavy, it's important that you learn numerous programming languages and understand algorithms and data structures. Some languages that are essential to back-end development are Ruby, Python, SQL, and JavaScript. Back-end developers also ensure that users can successfully retrieve and access data. This requires creating and using APIs (Application Programming Interfaces) which act as messengers that relay data related requests. Additionally, developing the code for the inner workings of a website also requires back-end developers to be conscious of the user interface features designed by front-end developers and to internally mitigate potential security risks. Due to the increased technical aspect of this position, back-end developers normally earn higher salaries than front-end developers. The average median salary for this role is around $118,000 per year.
Full-Stack Web Development: A Little Bit of Everything
A full-stack developer is essentially the Jack (or Jill)-of-all-trades in web development. Full-stack developers need to be knowledgeable about both front-end and back-end roles. This does not necessarily imply that you would need to be an expert in both roles, but you should fully understand the different applications and synergies they each imply. In order to work in this position, you will need to know the programming languages used by front-end and back-end developers. In addition to these languages, full-stack developers also specialize in databases, storage, HTTP, REST, and web architecture.
Full-stack developers are often required to act as liaisons between front-end and back-end developers. Full-stack developers need to be both problem solvers and great communicators. The end goal for a full-stack developer is to ensure that the user's experience is seamless, both on the front-end and on the back-end. In return, you can expect to earn a median salary of $100,000 – $115,000 a year for this role.
Taking the Next Step
Web development is both in-demand and lucrative! All three roles described above contribute to specific aspects of web development and the scope of each one can be customized to the industries and positions you feel best suit you. Regardless of which role you choose, all of them need a foundation in programming.
To gain the programming skills needed in each role, you can enroll in courses or learn independently. Coding bootcamps are a great way to boost your skillset quickly and efficiently.
Click here for some of our highly rated programming bootcamp options! Make sure to check out the discounts available to PowerToFly members.
READ MORE AND DISCUSS
Show less
Loading...