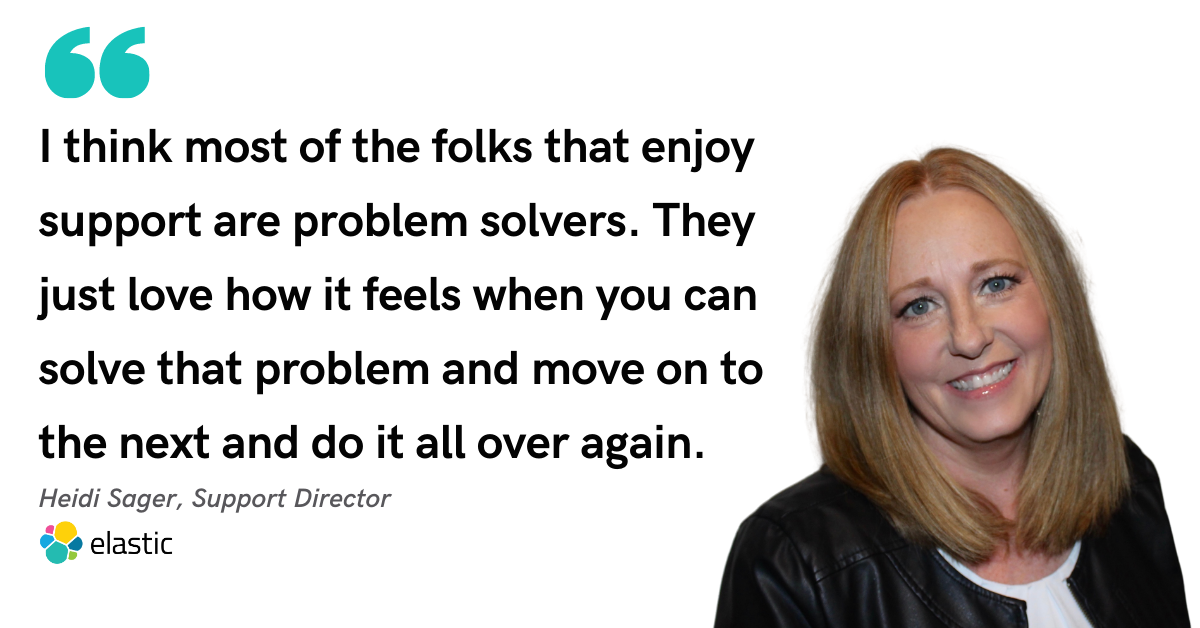 Elastic
Heidi Sager loves math, but she also loves working with people.
She always has, which is why she enjoyed her part-time job working at the IT department of the University of Colorado while she was studying electrical engineering. (She'd started in computer science, but explains that it "wasn't for her" and switched her major.) She helped students and professors with word processors, basic programming, and software checkout, and took a full-time job after graduation as a UNIX system administrator.
---
"I'm definitely not the kind of person who could be heads down coding all day or, you know, in a lab all day long," says Heidi, who is currently a Support Director at Elastic. "I really like personal interaction and helping people solve their problems."
The technical challenges and interpersonal opportunities of tech support were perfect for Heidi, who became a support manager relatively early in her career after a battlefield promotion. "Someone thought it was something I might be good at, and it turned out they were right!" she says.
At Elastic, Heidi explains that her number-one responsibility is making sure that their team of support engineers has everything they need to be able to support Elastic's customers. "We clear roadblocks and things for them so that they can do what they're best at," she says. Second to that is her responsibility to evolve the business of support at Elastic. "We're developing tools and changing processes and procedures to make sure that we're as efficient and scalable as possible," Heidi explains.
Heidi is also responsible for hiring support engineers for her team. She's hosting a PowerToFly event on January 27 at noon EST to connect with other women in tech and talk more about open roles on her team (if you'd like to be considered for an invite, you can email us at events@powertofly.com!). Ahead of the event, we sat down with Heidi to learn more about what support at Elastic looks like, what she's hiring for, and what she loves to see (and not see!) in candidates.
Support at Elastic is a team sport
Her team works with internal teams like sales, while also interfacing directly with external customers, and it's Elastic's human-first approach that Heidi appreciates when it comes to customer interaction. "I've been at places where the customer's always right, regardless. And I've been at other places where it's 'we do the right thing' regardless of what that means," she says. "At Elastic, we're very much on the 'do the right thing' side, which is awesome."
That means that the support team often works together to solve issues. "There's going to be times when you make mistakes; everybody's human. As long as you did it with the right intent, that's all that matters. Somebody's got your back and they'll help you navigate, whatever that means," explains Heidi.
Heidi loves to bring new engineers on the team. It's when she really gets to see teamwork in action. "They always start off a bit nervous," she says, "asking a lot of questions and feeling like they are being a drain on the team. But then comes a point when somebody really senior asks a question and the new person is the one to answer it. It's the best! Not everyone can know everything. And we're very open to asking for help."
The team approach is supported by a culture of feedback. Heidi's engineers have regular 1:1s with their managers and every week, her team publishes all of the customer satisfaction surveys they've received for the company. "It goes out to the entire organization. All the details, good or bad, and what we're doing about it. It's great. Sometimes we mess up and we own that. We apologize and try to do better. Sometimes there's a product gap or a product defect or something that needs to be addressed. Sometimes the customer is just not aligned with what we can deliver," she says.
Along with regular check-ins and feedback on how they're doing in their day-to-day responsibilities, Heidi also hosts quarterly conversations focused on her team's broader career and personal goals. She's developed many career paths within and outside of her team and helps each engineer find the path that's right for them. Those paths include becoming support developers who work on the internal tools her team uses, like an automated case assignment feature; managers on her team and others; consultants and trainers for customers; marketers; solutions architects who travel with the sales team to demo products; or developers and engineers on other teams.
For Heidi, the support team is the best long-term place to be. "It's new all the time. We have new products, and new services that are coming to us. Every customer uses our software a little bit differently, too. It keeps it interesting and not repetitive day after day," says Heidi. "I think most of the folks that enjoy support are problem solvers. They just love how it feels when you can solve that problem and move on to the next and do it all over again."
What Elastic is looking for: 3 paths, 5 key skills, and 4 dos and don'ts to keep in mind
There are a few archetypes of people that Heidi sees finding great success in support:
Developers who want more human interaction. Should we just call this the Heidi path?
Customer support professionals. "Some people with a support background decide they really want to focus on the technical side; maybe they've gone back to school for some technical certificate or degree, but they still want to use their soft skills and customer support skills," explains Heidi.
Managers who want to be "responsible for [their] own destiny." Heidi explains that she's had people who explored technical management but realized that they wanted to stay more of an individual contributor, and really ended up enjoying the support engineer role.
And regardless of what track they're on or where exactly they come from, there are a few things Heidi looks for in applicants:
Potential over specifics. Don't have deep knowledge of the Elastic Stack? That's fine. You can learn. Though Heidi does suggest looking into the free download of Elastic's software and digging in a bit before your interview. "We love when we folks that come in can ask questions or explain what was challenging; it shows great initiative."
A base of technical know-how. You don't need to be a developer, but you do need to have been in a technical environment before. "If you have an understanding of how distributed systems work, that's great," says Heidi.
Strong communication skills. Written is more important than verbal, since the team communicates through tickets, but both matter. "You need the ability to communicate to various levels of customers—very technical to not technical at all—and convey a message, ask the right questions, and be able to interpret the answers."
Conflict management skills. While sometimes Heidi's team works with customers who are planning ahead and need some help, oftentimes they're called in for crises when something's not working. "There can be heated situations, so the ability to diffuse that and talk through it is key," says Heidi.
Follow-through. "If you say you're going to do something, like get back to [a customer] in a couple of hours, you need to get back to them in a couple of hours," Heidi says.
Heidi also has a few dos and don'ts for applicants to keep in mind:
Do: Review Elastic's Source Code. "It's the guiding principles for how we do the things that we do; it's what's most important to us," explains Heidi.
Don't: Skip doing your homework. "My number one frustration is someone who is there for a job, but not for the specific job. When someone really doesn't know what Elastic is about or what our software does, even at a high level, I don't love that," says Heidi.
Do: Be yourself. "I love when somebody is really, truly being themselves, when you can see that they're showing you what they're all about and not trying to fit a certain mold. We really don't want a hundred of the exact same person," says Heidi.
Don't: Disqualify yourself. "Don't assume that we're looking for someone who has been running the Elastic Stack for five years and knows everything there is to know about it. There's a lot more in support then than just that technical side and we're open and excited to bring in junior people all the way up to senior people," says Heidi.
If Elastic sounds like the right place for you, learn more about their open roles and ask for an invite to their Jan. 27 event.
Related Articles Around the Web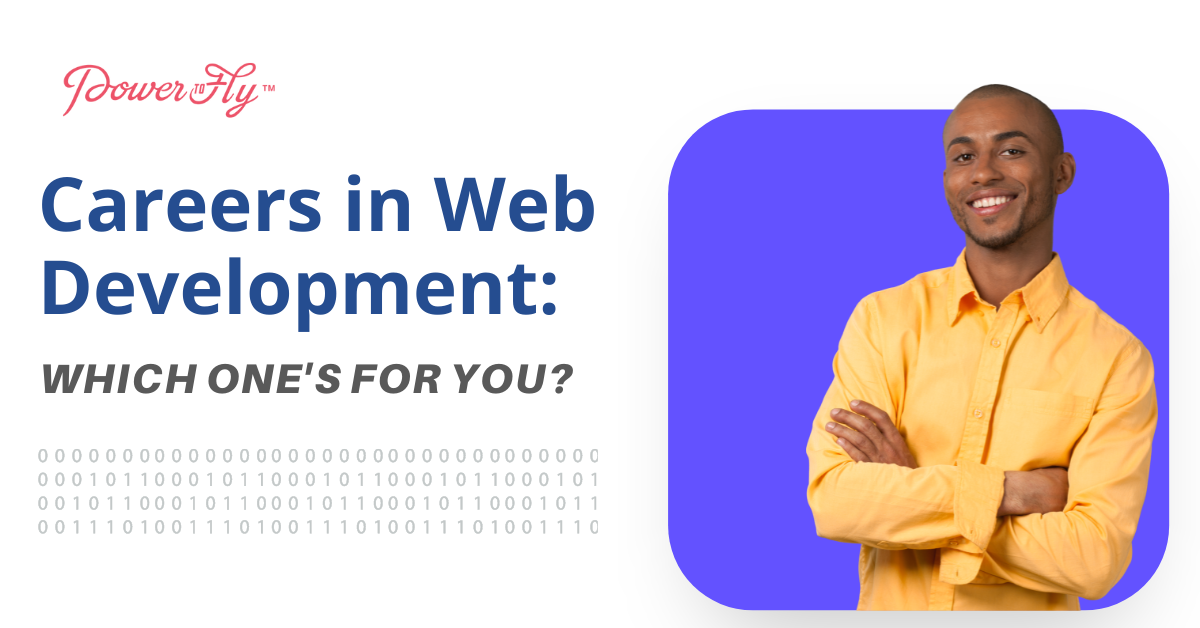 Upskilling and Development
We all have our favorite websites– the ones we frequent, bookmark, and recommend to others. You might even enjoy some website features so much that you've found yourself wondering why they aren't more popular. Or maybe you've experienced times where you were frustrated with a website and wished you could add features or even design your own!
If you've ever found yourself intrigued at the prospect of designing and developing your own websites, then a career as a web developer might be just for you!
As a web developer you would be responsible for coding, designing, optimizing, and maintaining websites. Today, there are over 1.7 billion websites in the world and, in turn, the demand for web developers is on the rise. In order to figure out what kind of web development work best suits you let's start with an introduction to the three main roles in web development that you can choose from.
The Three Types of Web Development Jobs
Front-End Web Development: The Creative Side
Think of front-end development as the décor of a house. The color scheme, furniture, manicured lawns, and overall aesthetic. In terms of a website, front-end development is laser-focused on the appearance of a website and its presentation on different devices. If you're considering a role in front-end development, it's important to learn programming languages such as HTML, CSS, and JavaScript. These three languages go hand-in-hand. HTML allows you to create user interface elements, CSS helps you with stylistic elements, and JavaScript allows you to incorporate online tools and connect your website to back-end functions.
In addition to programming skills, front-end developers need to be detail oriented, creative, willing to keep up with the latest trends in web development, cyber security conscious, and geared toward user-friendly designs. The median salary for a front-end developer can reach well into the $90,000 to $100,000 range.
Back-End Web Development: The Logical Counterpart
While a house can be beautifully decorated, it's incomplete without a solid foundation and efficient infrastructure. Similarly, a well-designed website depends on logical and functional code to power the features of that website. Back-end web development is code-heavy and focused on the specifics of how a website works. If you enjoy the analytical challenge of creating the behind-the-scenes code that powers a website, then back-end development is for you.
Since this role is more code-heavy, it's important that you learn numerous programming languages and understand algorithms and data structures. Some languages that are essential to back-end development are Ruby, Python, SQL, and JavaScript. Back-end developers also ensure that users can successfully retrieve and access data. This requires creating and using APIs (Application Programming Interfaces) which act as messengers that relay data related requests. Additionally, developing the code for the inner workings of a website also requires back-end developers to be conscious of the user interface features designed by front-end developers and to internally mitigate potential security risks. Due to the increased technical aspect of this position, back-end developers normally earn higher salaries than front-end developers. The average median salary for this role is around $118,000 per year.
Full-Stack Web Development: A Little Bit of Everything
A full-stack developer is essentially the Jack (or Jill)-of-all-trades in web development. Full-stack developers need to be knowledgeable about both front-end and back-end roles. This does not necessarily imply that you would need to be an expert in both roles, but you should fully understand the different applications and synergies they each imply. In order to work in this position, you will need to know the programming languages used by front-end and back-end developers. In addition to these languages, full-stack developers also specialize in databases, storage, HTTP, REST, and web architecture.
Full-stack developers are often required to act as liaisons between front-end and back-end developers. Full-stack developers need to be both problem solvers and great communicators. The end goal for a full-stack developer is to ensure that the user's experience is seamless, both on the front-end and on the back-end. In return, you can expect to earn a median salary of $100,000 – $115,000 a year for this role.
Taking the Next Step
Web development is both in-demand and lucrative! All three roles described above contribute to specific aspects of web development and the scope of each one can be customized to the industries and positions you feel best suit you. Regardless of which role you choose, all of them need a foundation in programming.
To gain the programming skills needed in each role, you can enroll in courses or learn independently. Coding bootcamps are a great way to boost your skillset quickly and efficiently.
Click here for some of our highly rated programming bootcamp options! Make sure to check out the discounts available to PowerToFly members.
READ MORE AND DISCUSS
Show less
Loading...