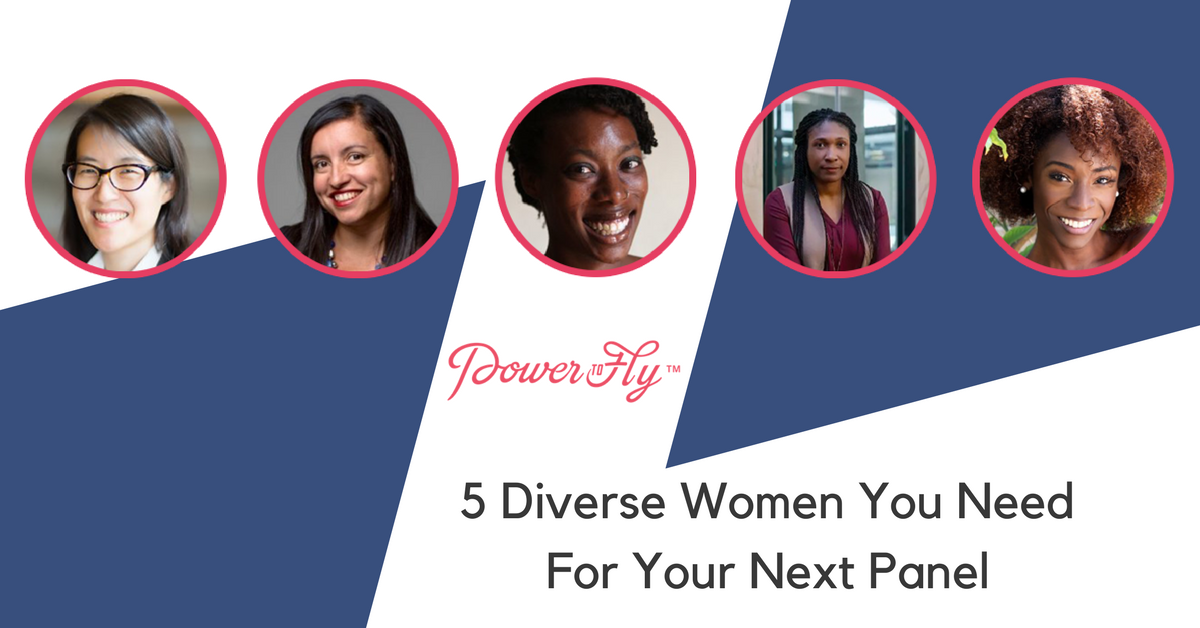 Random
It's no surprise that  tech panels, even if they're not filled with men, are still overwhelmingly white. This isn't to say that men's or white women's ideas and input aren't incredibly valuable, rather, it's a critique of the lack of diversity of experience that continues to be presented across the nation's biggest conferences. Our different identities, both visible and invisible, mean we bring a wide variety of qualities to our jobs, private lives and communities. Panels should reflect that. So no more excuses. Here's a list of diverse women who should be on your next tech panel.
---
Angelica Ross - Based in Los Angeles, CA - She's the founder of Trans Tech Social Enterprises Inc., a firm that empowers trans people with the resources and community they need to find employment. When she's not advocating for LGBTQ people, you can find her boosting trans visibility while acting in the HerStory Web Series and the upcoming TV show Claws.
Candice M Morgan - Based in San Francisco, CA - Candace is an expert on diversity and inclusion and uses her talents to optimize products and create inclusive environments as the Head of Diversity and Inclusion Pinterest. With nearly a decade of experience, she's been honing her skills to make way for and to support the diverse talent the tech industry needs.
Ellen K Pao - Based in San Francisco, CA - Ellen is currently the Chief Diversity and Inclusion Officer at the Kapor Center, but you probably know her from her previous stints at giant tech companies. Also a founding member of Project Include, her LinkedIn profile description simply says "making a difference." Check out her writing for her thoughtful takes on the state of diversity and inclusion in tech.
Gretel Perera - Based in Silicon Valley - Gretel Perera handles Global PR, which connects travellers with vacation rentals. Her commitment to supporting fellow Latinas led her to found Latinas in Tech with Rocío Medina in 2014. Since launching, they've provided a community of nearly 1000 women from 12 countries with the resources to succeed in the tech industry.
Y-Vonne Hutchinson - Based in Oakland, CA - She refers to herself as a Diversity Evangelist, and we couldn't agree more. From being a founder of ReadySet, a consulting firm that helps tech companies attract and retain diverse talent to being a founding team member of Project Include, a non-profit pushing for diverse and inclusive initiatives at tech companies, diversity and inclusion is in her blood.
Did we miss someone? Let us know who you'd like to see on the next tech panel on Twitter" @powertofly or Email: hi@powertofly.com
Pax8
💎 How to build trust in your team? Watch the video to the end to find out!
📼 How should you work to build trust in your team? Play this video to get three top tips that will help you. You'll hear from Veronica Setzke, Senior Director of People Ops at Pax8, who shares tips and tricks she learned through years of coaching.
📼 How to build trust with peers in your team? Tip #1: Relationships. There's no better way to start forming relationships than having regular one-on-ones. It doesn't have to just be with your supervisor. It can be with your coworkers. It can be with those people that you collaborate regularly with. And it's really important in these one-on-ones that we're spending time listening. Take the time to be present and listen. Also, spend time together not working. Have lunch together. Go for coffee. Take a five-minute walk around the building and just have a conversation. Relations are a key element to trust!
📼 How to build trust? Open yourself in your team Tip #2: Vulnerability. Allow yourself to be vulnerable. Ask for feedback, whether it's feedback about a project, a process, or even maybe a leadership behavior that you're trying to master. This allows those on your team and those around you to see you as willing to be vulnerable. Trust and vulnerability go hand in hand. It doesn't mean that you're weak, but rather that you're open. It allows your team to understand that it's a safe place for them to also be vulnerable.
How To Share To Build Trust In Your Team - Tip #3: Clear Is Kind
Keep the team informed and say as much as you can about what you know. There are times that we hold information that could be shared. We could share that information that impacts others' work and have them have the opportunity to use that to do better. If you've learned something that could help your colleague make a better decision, share that! Try to ensure that your communication with others is clear. When you make the effort to be clear about your intentions, your work, and your roadblocks, it opens others up to do the same.
📨 Are you interested in joining Pax8? They have open positions! To learn more, click here.
Get to Know Veronica Setzke
She works as a People professional because she sincerely believes that people want to be excellent, and it is her role to help move the obstacles to their achieving success. She believes the employees deserve a culture that values their work and will respond to such a culture by creating amazing results. If you are interested in a career at Pax8, you can connect with Veronica on LinkedIn. Don't forget to mention this video!
More About Pax8
The company simplifies the way organizations buy, sell, and manage cloud solutions, empowering its partners to achieve more with cloud technology. At Pax8, they know that they are only as great as their people. They realize that every individual has unique personal and professional aspirations, which is why they strive to offer a complete and competitive Total Rewards offering for their members and family.
READ MORE AND DISCUSS
Show less
Loading...