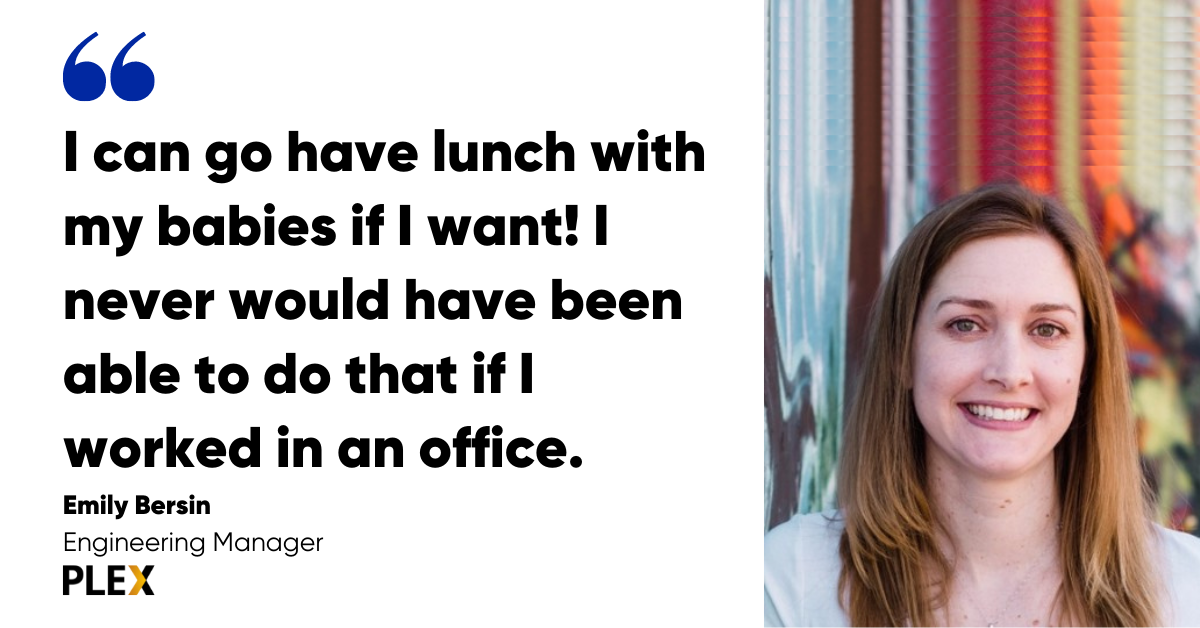 Plex
To Emily Bersin, pre-pandemic life and pre-babies life exist in the same hazy set of Before Times memories, and she's fully accepted that neither one is ever coming back.
The new mom had twins 18 months ago, right as the COVID-19 pandemic was starting. It was (and still is) tough to balance motherhood with work and surviving a pandemic.
But Emily has been working remotely for 13 years, four of which she has spent at all-remote media streaming company Plex, where she's currently an Engineering Manager. So she didn't have to learn how to switch her day-to-day work into a remote setting. She just had to figure out how to manage it alongside new obligations—like breastfeeding.
"It's very challenging with twins," explains Emily. "I hated pumping. It was really nice to work for a company that didn't care if I was like, 'Okay, every three hours, I'm going to be gone for 20 minutes to feed my babies.' I never would've been able to do that if I worked in an office."
We sat down with Emily to hear more about her career journey, what she loves about Plex's remote culture, and what advice she has for others who have made a permanent switch to remote-first work and want to make sure they are set up for success.
Exploring the Software Lifecycle
Emily's career in software engineering may have been fated. Her parents are both engineers, and she loved math, science, and programming classes in high school. It wasn't until she got on-the-job experience, though, that she realized the kind of role she most preferred.
She started out in a tech support function, and while she was only there for about six months, she credits it with several important lessons for her development. "It taught me that we make software to improve someone's life somehow, even if it's just making their job a little easier. It taught me how to think from the user's perspective," she explains.
When that first company was acquired, she moved into a development role—and also moved to Austin, Texas. She thought she'd stay in Austin for a year, but a decade and a half later, it seems like a more permanent decision.
She learned relatively early on that while she liked being an engineer deployed to solve problems, she liked figuring out what those problems were even more—so she moved into a product architect role at her next company.
"I like making sure that we're developing the right thing for the user," explains Emily. And now, as an Engineering Manager at Plex, she's able to continue doing that work. "I have even more of an ability to shape what features we're going to work on and the direction of the product."
Why Plex?
When Emily was ready for her next challenge, she started by looking for roles on PowerToFly.
"I took my time to look around for something I really wanted, at a company I wanted to work for, with a product that I found interesting," says Emily. "I found a posting for Plex on PowerToFly and applied."
Emily liked Plex's product, and how user-focused it was. "We allow people to access their media how and where they want, and that makes their day a little bit better. If it works properly and it has the features they want, then that is something that makes them happy, makes their life better," she explains.
And getting to know the company behind the product, Emily was inspired. "The company culture I saw in interviews was really amazing. Once I was offered the position, it was an easy decision to accept it."
Emily loved Plex's commitment to being kind, helpful, and humble, and their remote-first approach to work was the cherry on top.
"I'd been working from home since 2008, but with coworkers who were in the office," explains Emily, who originally went remote to enjoy more freedom and not be stuck squeezing vacations into limited holiday time. "You're kind of isolated that way. At Plex, everyone has the same challenges and the company works really hard to solve them and make us all feel like we're a team."
This influences everything the company does, from meeting structure to communication. "Rather than having emails that are private or having little discussions in offices that no one else is privy to, most of the channels [on Slack] are open for anyone to join, [so you] can read what they're discussing and get up to speed," Emily says, highlighting the importance of transparency when working remotely.
5 Keys for Success in a Remote Work Environment
Over the years, Emily has developed her own best-practices guide for successful remote work. Here's what she suggests:
Separate your workspace. Emily is originally from Cape Cod, and she goes back every summer to see her family. During that trip and others like it, she works from wherever she can set up a temporary office. But the rest of the time, she's got a set workspace that lets her really focus on her work. "It's easy to be interrupted by people otherwise. It's harder to switch your brain back between regular life and work if you're doing it from your living room," she says.
Go outside every day. "When I first started working from home, there were days I would go out at 6 p.m. to check the mail and be like, 'Oh, the door is locked, I haven't left the house yet today,'" says Emily. Now, even if it's just to go for a walk or to sit on the porch in the sunshine for a few minutes, she makes sure she gets outside.
Get the equipment you need. In her engineering manager role, Emily is still responsible for code, and having the tech she needs to troubleshoot and test things is key. "I have a big, beefy development system I keep in my house," says Emily. "When I'm here, I work on it directly, but I'm also able to remote into it so I can go work from wherever on my laptop, as long as I have good internet."
Be thoughtful about communication. "Maybe technically I'm a millennial, but I didn't really grow up with sharing myself online. And I'm not naturally extroverted. So it can be hard to make connections with people when you're working remotely," says Emily. She consciously tries to over-communicate—and to use emojis whenever possible—to address that.
Set boundaries. Having kids helped with this one, says Emily. Before she had the twins, she would sometimes find herself checking email at dinner, or doing work in the evenings while watching TV. Now, the nanny leaves at five, so Emily and her husband have to stop working and switch into childcare and family time.
And a bonus one: take advantage of the work-life balance opportunities that remote work provides. "I can go have lunch with my babies if I want!" says Emily, smiling. "I never would have been able to do that if I worked in an office."
If Plex's culture, product, and remote-first approach appeal to you, too, check out their open roles!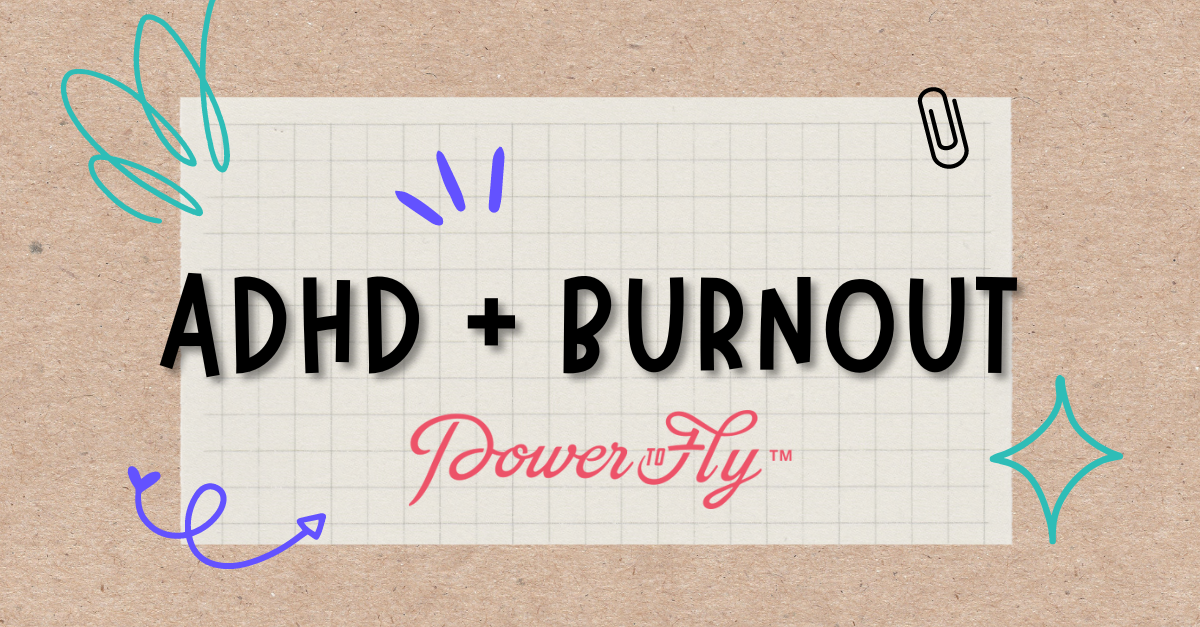 Diversity, Equity, and Inclusion
Have you ever been so exhausted that you quit your job?
You may have been experiencing burnout.
Burnout is characterized by overwhelming exhaustion, detachment from your work, and a sense of ineffectiveness.
And while anyone can experience burnout, if you have ADHD, you may be more susceptible to it.
Before you get to the point where quitting feels like your only option, there are steps you can take to set healthy boundaries and start feeling more like yourself again. Read on to learn how you can recognize burnout in yourself, and what to do if you're experiencing it!
How Does ADHD Burnout Feel?
There are some clear signs that you're burning out, but ADHD can make the descent to burnout harder to detect. These warning signs include:
Lack of motivation - not wanting to do the things you need to do or the things you love.
Exhaustion - feeling overly tired both mentally and physically.
Irritability and mental fatigue - feeling short-tempered, mean, or like you snap easily.
Physical discomfort - body aches, low energy levels, and general pain.
Negative outlook - the tendency to find something wrong with nearly everything.
Emotional dysregulation - feeling weepy, sad, or unable to smile or connect with others.
Generally, burnout starts with taking on too much. Exhaustion creeps in, and you feel like every day is working against you because you are constantly overwhelmed. You may start to feel like the entire world is spinning out of control, or like no matter what you do you can't keep up (or catch up).

If this resonates with you, you might be on the road to ADHD burnout.
Why People with ADHD Can Be More Susceptible to Burnout
So why does ADHD make some folks more susceptible to burnout? There are a few common ADHD traits that often result in behaviors correlated with burnout (taking on too much, working too long, etc.):
Hyperfocus - ADHD is not exclusively about attention deficits. In fact, hyperfocus is the opposite – a deep, intense concentration to the point of being oblivious to your surroundings. Per WebMD, hyperfocus is a state of highly-focused attention that lasts for an extended period of time. You concentrate on something so hard that you lose track of everything else going on around you. When hyperfocus sets in at work, it can be hard to unplug or be aware of the people and environment around you.
Time Tracking - Losing track of time is one thing, but if you find yourself losing track of hours without realizing it, that could be related to burnout. People with ADHD perceive time not as a sequence of events the way others usually do, but as a diffuse collection of events viscerally connected to the people, activities, and emotions that fill them.
Difficulty Prioritizing - Do you take on too much and then struggle to prioritize it? When someone asks for help, does everything often go to the wayside so you can jump in? Or maybe the daunting anticipation of the tasks ahead prevents you from starting. Per ADDitude, ADHD impacts your temporal processing abilities, which can affect executive functioning.
Combating ADHD Burnout
If you think you may be suffering from ADHD burnout, there are a few ways to take back control. Here are three tips for combating ADHD burnout:
Reserve Your Yeses - Pump the brakes when you recognize the early signs of ADHD burnout. Start reserving your yeses right away. Say no, and practice not apologizing. It is okay to say, "I have a lot on my plate right now and cannot take that on. Thanks for thinking of me." Saying no is nothing to apologize for, and it should be celebrated! You are working to protect your energy above all else.
Practice Over-Estimating - If you think you could knock something out in a day, give yourself a week. Overestimate on time and allow yourself the grace to have a little more time than usual to complete projects. Slowing down when starting a new job or role will help you produce high-quality work and prevent ADHD burnout.
Drop the Mask - Be honest with your employer and friends. Let them know that although you seem to keep up internally, you struggle. Identifying ADHD burnout from the outside can be extremely difficult. Your honesty and transparency will position you to determine if your environment is supportive and inclusive.
How to Support Colleagues Dealing with ADHD Burnout
The experiences above may not resonate with you personally, but perhaps you've noticed other people you work with describe or experience them.
If you're a manager, there are several ways you can support colleagues with ADHD (as well as neurodivergent employees more generally) to help prevent burnout. Ask for clarity on when they have felt the most supported at work. Discovery questions like, "how did you feel at that time?" or "how was the pace of that project?" can help you to understand their actual capacity.
Download this free guide
if you're looking for more ways to support your neurodivergent coworkers. Work with your DEIB and HR team to develop new neurodivergent inclusivity standards to help you stay ahead of the ADHD burnout cycle.
READ MORE AND DISCUSS
Show less
Loading...