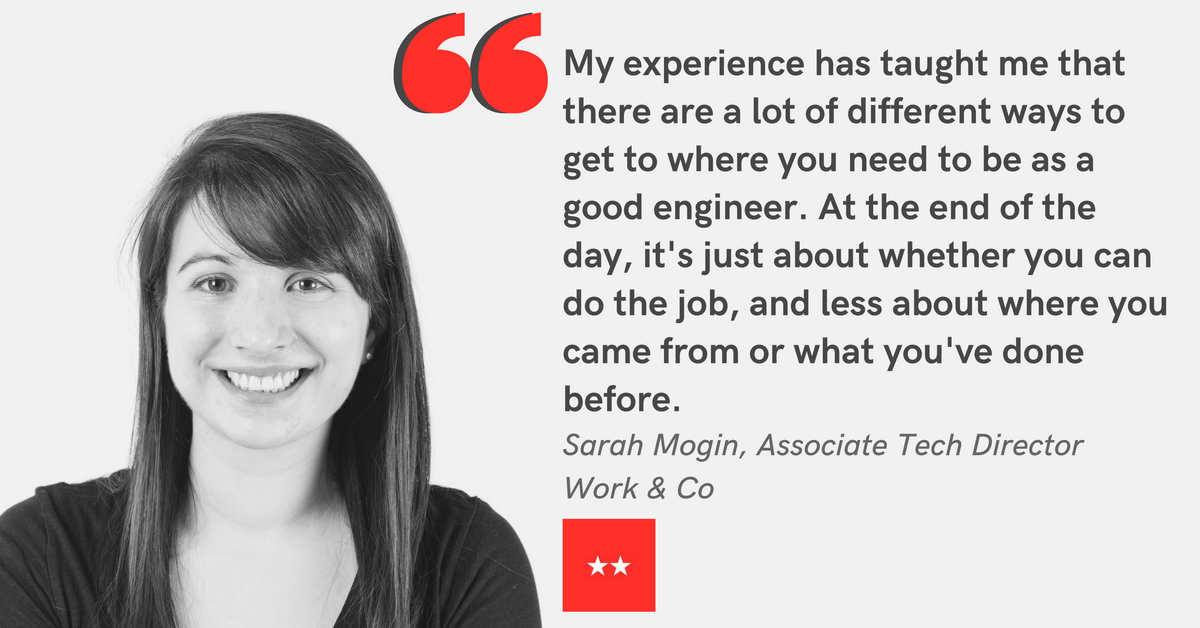 Work & Co
Sarah Mogin never used to like writing open-ended essays in school. She found herself much more motivated by tangible problems.
Calculus had some of those—she never had trouble with her math homework—but when she was in school she never envisioned just how much she could incorporate that love of solution-finding into her daily work, much less that she would have a career as a developer one day.
"I've always gotten a lot of motivation out of solving complex problems of any sort," says Sarah.
After college, Sarah made a big move to New York and found herself in a job working at a digital marketing agency. From there she began to gain a better sense of the pathways to new opportunities that existed in the digital space and took the steps she needed to make a significant life switch.
Now, as an Associate Tech Director at design and development company Work & Co, she's able to work on a diverse set of projects and apply a creative lens that makes use of all of her past-life knowledge.
We sat down with Sarah to hear more about her career switch and what advice she has for other people with non-tech experience who are looking for ways to make the most of all they know.
Taking risks to capitalize on opportunities
When Sarah first moved to New York, she got into digital marketing via a $10-an-hour Craigslist ad. With plenty of opportunities to learn practical skills like search engine optimization, social media marketing, and writing online press releases, she came up the curve quickly.
"I wasn't super passionate about those things, but I appreciated having a job and concrete tasks, so I dove in," she says. After a few more years there, she had started a PR department, written training documents and marketing materials, and hosted webinars and seminars.
"It was just kind of a time in my life where I kept saying yes to things and experimenting. It was a way to keep learning," says Sarah, who realized that she wanted to continue her learning in more formal ways, too, like going back to school.
Having spent some time honing her skills in communication and social media, she realized she wanted to tap more deeply into other aspects of the digital space. She had long had an interest in web development and programming. "I didn't have a class on it in high school. I didn't know anyone whose parents were programmers," she says. "I had some hesitancy about making the change, but I wanted to have a skill and combine what I could do naturally with someone teaching me an advanced skill or trade."
So she took a risk and left her job and enrolled in a 12-week coding bootcamp.
Dealing with imposter syndrome
The bootcamp ended up being a great decision, says Sarah, but that wasn't immediately apparent. Finding a new role coming out of her training was tough. She filled out 100 job applications and found that many companies didn't want to take a chance on someone with a non-traditional background. "They just didn't understand that I was this well-rounded person with a lot of skills already but now had added coding, and I was good at it," she says.
Eventually, Simon & Schuster bit, and Sarah got her first official role in tech, coding in Ruby on Rails (and enjoying free books that came with the job).
After she'd gained enough experience there and when it came time to leave that company and look for something new, though, Sarah was daunted by having to prove herself all over again.
She wanted to work somewhere that could meld strong creative and design foundations with technology, thinking a job like that would fit her interests and abilities well. When she heard about Work & Co, she knew it was the place for her—but wasn't sure if they would agree.
"I liked that there was a defined focus on products and experiences, that everything they built was intended to be an enduring product that people could use every day. To me, that was going to be fun to work on. But, in addition to being a tech outsider, I was also an agency outsider," she says. "I had only worked in-house."
Sarah ended up getting a job offer from Work & Co, which was open to her self-taught background. Without a ton of code samples under her belt yet, she started as a developer but quickly moved up with team members around her acknowledging that she was at a higher skill level than they initially thought.
She was able to take on a range of complex projects, in sectors ranging from education to nonprofit to retail and on products that span websites and CMS platforms to e-commerce and chatbots. It's been seven years since she made the switch and today Sarah is not only still a hands-on developer with a diverse toolkit, but she's also an award-winning technology leader and mentor to other employees.
5 tips for making a career switch work for you
Sarah kept—pleasantly—surprising her team. From being able to lead client projects (leaning on her digital marketing agency experience) to knowing how to hire new team members, she was able to lean into the skills she honed in her past roles and make an even bigger impact.
Here's the advice she has for other people looking to do the same thing:
Recognize that as a career-switcher, you're bringing much-needed updated thinking. "Even when I was a new engineer and sometimes thought of myself as an imposter, coming from a bootcamp, I had a more up-to-date engineering background than some of the other developers," reflects Sarah.
Be confident about what you bring to the table. Sarah says her past experience has allowed her to confidently volunteer for new roles and to share her opinion. "I have context from my prior life that can be helpful," she says. "It's good to have those skills in your back pocket in addition to what people are just expecting you to have as an engineer."
But start with crushing your main job first. "It's easy to get excited about initiatives like helping to recruit or leading meetings or events. I really love doing those things, but you have to make sure you're doing your day-to-day responsibilities really well," says Sarah. "It's a lot easier for people to invest in you if they already see your success."
Manage up by taking initiative. "Sometimes people have trouble relinquishing control or figuring out how you can help," says Sarah, who recommends just getting started. "Rather than proposing an idea to someone, you can show them something you've already put together. Instead of saying, 'I want to write a post on our company blog,' you can say, 'Here's an outline for a post.'"
Pay it forward via recruiting. "I wanted to be involved [in hiring] right away because as someone who had just broken into the industry, I wanted to help people like me, or even people different from me, but who felt like outsiders for any other reason," says Sarah. "My experience has taught me that there are a lot of different ways to get to where you need to be as a good engineer. At the end of the day, it's just about whether you can do the job, and less about where you came from or what you've done before."
Interested in working at Work & Co? Check out their open roles!
From Your Site Articles
Related Articles Around the Web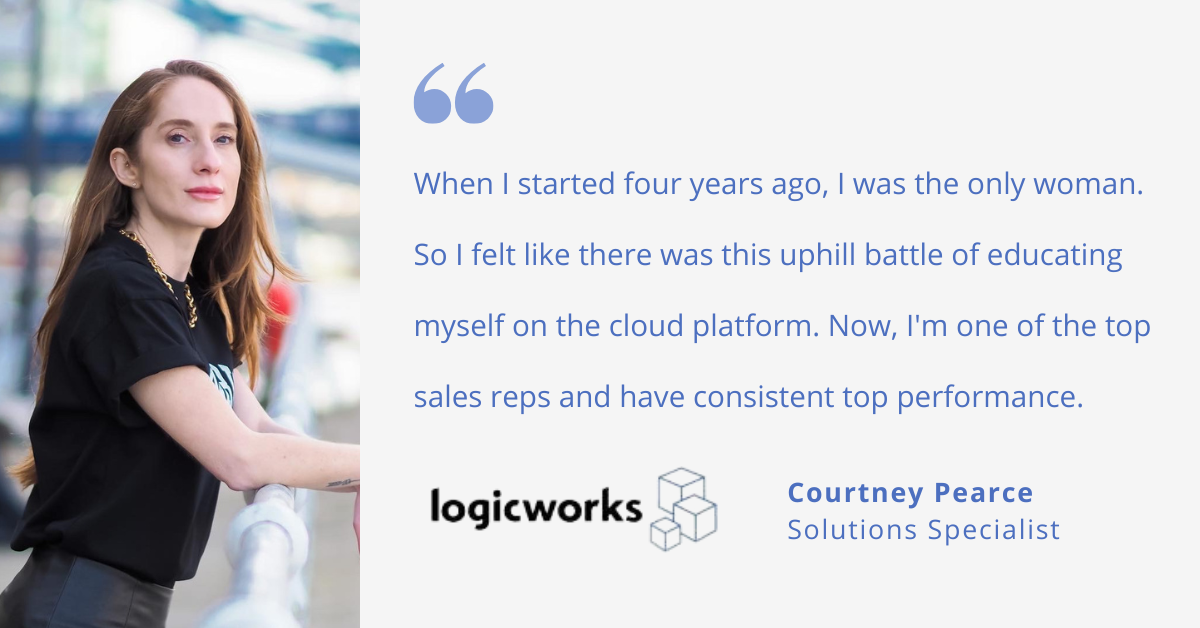 Logicworks
Courtney Pearce's background isn't one you'd expect to find in a tech sales position. But as a motivated self-starter, it makes all the sense in the world that she's been so successful in her role as Solutions Specialist at Logicworks.
If you ask her what she's most proud of about her time so far at Logicworks, she'll say her growth over the last four years.
"Even though I came from a technology company that was selling software, selling infrastructure and infrastructure managed services is very different. There was a learning curve. And when I started four years ago, I was the only woman. So I felt like there was this uphill battle of educating myself on the cloud platform. Now, I'm one of the top sales reps and have consistent top performance. So I'm most proud of my growth over the last four years."
Courtney has a lot of wisdom to impart to those interested in taking on the sales side of tech. We sat down with her to learn more about how she broke into the tech world by utilizing her retail experience.
An Unexpected Path Into Sales
Courtney started college as an Orthodontics major but eventually realized that science wasn't her calling.
"Although I'm a great student, science and math were difficult subjects for me," she admits. "I ended up taking a random textile and clothing elective and it was my favorite class."
She enjoyed the breadth of the program and decided to become a Textiles and Clothing major.
"You got the opportunity to learn the sociology behind why people wear clothes, the chemistry behind dying, how to make fabric, then creating a line from start to finish and marketing that to the class," she shares.
Although fascinated by the program, her career journey didn't lead her to the fashion industry but rather to an adjacent career in retail.
"I ended up accepting a leadership position for a big box department store," she says. "At 23 years old, I ran a 35 million dollar store. It was a great experience and I learned a lot."
After two years of working in retail for various name brands, she found her way into a tech company through a recruitment role.
Breaking Into the Tech World
While Courtney was working at a recruiting firm, she was approached by a security tech company with a position as a technical recruiter. She was interested in the role and applied, but didn't get an immediate response.
"I didn't hear back, but continued to follow up," she recounts. "One night, I got a phone call that said, 'You're not a good fit for the technical recruiter role, but we have this new group that we're building out called business development and they're working directly with sales. Based on your experience and the fact that you're willing to follow up, we think you'd be a great fit'."
At the time Courtney knew nothing about the tech space but that didn't stop her from interviewing for the position.
"I spent an entire week browsing the website, watching all their product marketing videos, and tried to wrap my head around what this security company did," she explains.
During the interview, she blew them away with her knowledge of the company.
"I gave my five-minute spiel and I think that impressed them," Courtney shares. "I had taken the time to research the company, and not having had a tech background, I tried to comprehend what they do."
Hired as a business development rep, she had the opportunity to build the team from the ground up.
Reaching New Heights at Logicworks
Courtney continued to rise in the ranks, but she eventually felt that she had hit a plateau. With a desire to try out something new, she looked to Logicworks who offered her the career advancement she was looking for.
"I had reached my potential with my previous employer. There wasn't anything new for me to learn. I wanted to figure out what was next in my career. There was an opening at Logicworks for a Solution Specialist to be based in Boston. That was enticing for me."
When Courtney moved to Logicworks she was able to explore job autonomy.
"It gave me the opportunity to move into a territory that I'd been working in for many years, but also run that territory like my own business," she explains. "There was nobody else working within that space, and I could create the process that I wanted to."
Now at Logicworks, she experiences the constant changes of a cloud system.
"I'm constantly learning," she shares. "We're constantly evolving our services, what products we're providing, and how our services are integrated as the cloud is maturing. It keeps me interested every single day."
Now as a sales lead, Courtney focuses on building relationships with current and potential clients.
Coincidentally, the relationship-building skills that Courtney uses on a daily basis come from her experience in retail.
"I think coming from retail, you have to be able to talk to anyone," she says. "You're getting a lot of different customer personalities, so it allows me to be comfortable talking to strangers, which I think is key in sales."
Along with sales experience, Courtney's internal drive has been key in propelling her forward.
"Being a self-starter and watching YouTube videos on what the cloud is, what AWS is, and taking that time on my own to learn and absorb as much as I can are, at the end of the day, the kinds of things that you can prepare you to enter the tech space," she explains.
Ultimately, it was the skills she learned in retail and her self-taught understanding of tech that have led to her success.
Advice for Entering the Tech World Through Sales
If you're looking to enter the tech world from a sales angle, Courtney offers this advice:
Find companies that resonate with your values. "Whether you like their product and think that product is solving a pain point in the marketplace, or you align with the company's values, work for a company whose mission you support," Courtney advises.
Be pleasantly persistent. "The biggest thing that helped me was when I reached out and nobody responded, and then I followed up and nobody responded, and then I followed up again and they called me. Being pleasantly persistent shows that you're interested and invested in the organization," she explains.
Do your research. "Take the time to figure out what the company does and what they are all about. Educate yourself above and beyond the basic training material to ensure that you have the right knowledge base to be successful in the role."
If you are looking to grow within the tech space, check out
these open positions at Logicworks
.
READ MORE AND DISCUSS
Show less
Loading...