GET EMAIL UPDATES FROM POWERTOFLY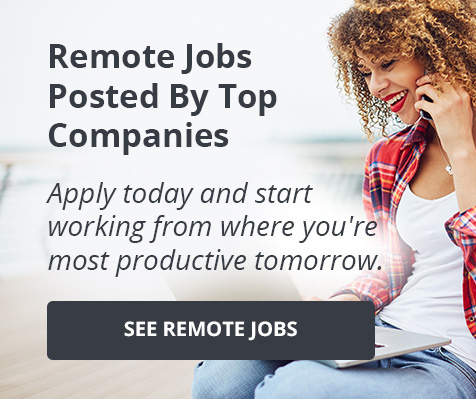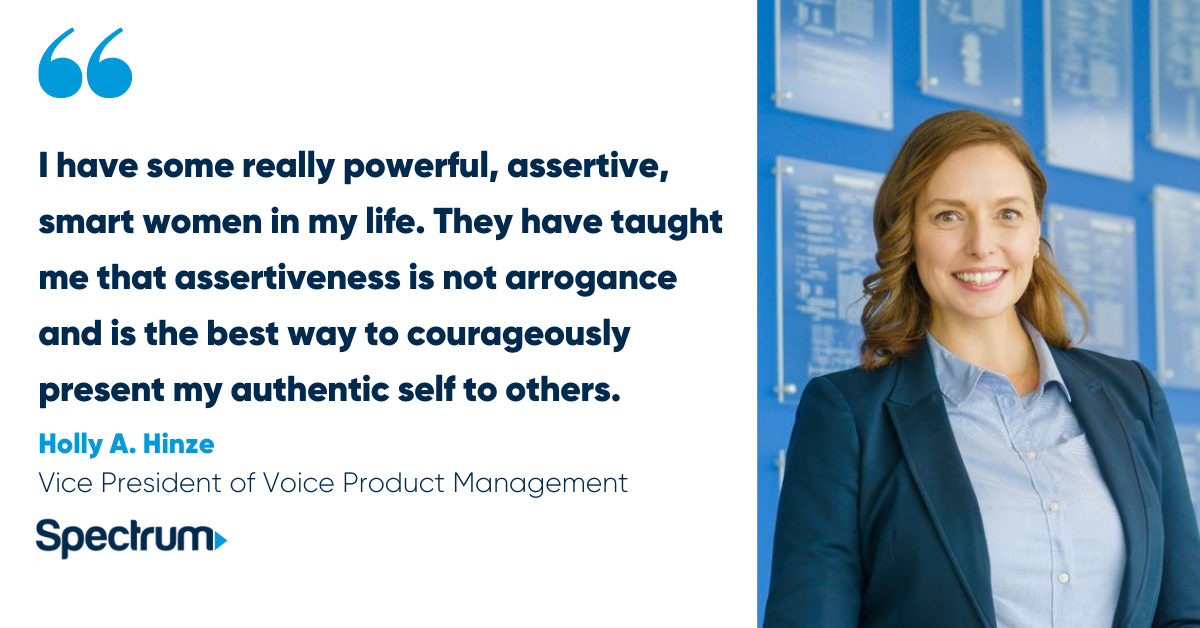 December 09, 2021
Spectrum
6 Lessons on Embracing Career Changes from Spectrum's Holly A. Hinze
Holly A. Hinze has made a career of leveraging change.
Having explored roles in recruiting, sales, marketing, and product while exploring new home bases in Wisconsin, Minnesota, Florida, and now, Colorado, Holly knows just how much growth comes from doing something new.
"Change is opportunity, in my eyes," explains Holly, who is currently Vice President of Voice Product Management at Spectrum. "It's easy to get stuck and long for things to change, but it's about seeing opportunities, setting a vision for what would be your best possible outcome, and navigating change with a very open mind."
That viewpoint has allowed Holly to grow her impact, income, and enjoyment at work, all without leaving her company. There's a common myth that job-hopping is the best way to get ahead, but Holly's 16-year run at Spectrum proves that you can also successfully manage yourself towards your dream career by taking advantage of what's right in front of you.
"It's about maximizing anything that comes my way: relationships, opportunities, my learning. Really zeroing in and focusing when given the opportunity, then applying those lessons and sharing them with others," she says.
We asked Holly to share more of her lessons-learned on how to pursue growth and pay her insight forward here.
Raising Her Hand
Holly originally had her eyes set on doing media production, and left her home state of Wisconsin to study at the University of Minnesota's journalism program. But the freezing-cold winter weather didn't appeal, so when she was looking for her first full-time job, she headed to Florida for a role as a marketing manager for a national brand.
This role let her engage in storytelling but also learn more about how a business worked, and she stayed there for a couple of years before switching into a recruiting role. It was that role that set her up to move into sales for a tech company, because connecting candidates with companies ended up being quite similar to connecting customers with the right products.
Holly decided to put herself forward for a role in technology because she knew it would help her get closer to her goals.
"I wanted to increase my earning potential. I liked the idea of having a bit more flexibility. And I wanted a challenge, somewhere with great products, culture and people," says Holly, who ended up accepting a role at the former cable company Bright House Networks.
Throughout her early career, two attributes were key to Holly's success: she wasn't afraid to leave something when it wasn't working for her, and she always put herself forward for new opportunities when she saw them come up.
"Every major shift or life change, you're giving something up," says Holly of getting used to not one, not two, but three new industries in her early career days. "It's natural to have stress or conflict over that, but as I've grown in my career, I've realized that it's wasted energy. It's important to stand in your power and be confident in your potential."
Pivoting into Product
Working in sales gave Holly significant exposure to her company's product team, since she often gave them voice-of-customer feedback and coordinated projects between product, operations, marketing, and sales.
"I hit this point where I needed a new challenge," remembers Holly. She talked to her managers and to other leaders within the company and heard about a product management role that seemed like a good fit, and was recruited internally for it.
Working in the product department allowed Holly to bring together all she'd learned from previous positions. "I'm still telling these stories," she says. "I'm not creating TV shows or movies, but the technology that we're managing and developing is really critical, and it's all grounded in communication. And the cool thing is I now have the opportunity to continually refine our products and make them better."
But when Bright House merged with Charter Communications, which operates the Spectrum brand of broadband connectivity products and services, Holly faced another choice. Did she want to go from being a generalist at a small product organization, with her hands in everything, to an expert in a narrower domain—and did she want to move to Denver to do it?
Spectrum's new product leaders wanted Holly to come work with them, and Holly was interested, but she knew the opportunity would have to be a compelling one to justify uprooting her husband and two kids. Specifically, that meant additional responsibility, a new title, and compensation package that would allow Holly to really level-up her career and her family's life.
"I have some really powerful, assertive, smart women in my life," Holly says. "They have taught me that assertiveness is not arrogance and is the best way to courageously present my authentic self to others. It's important to know who you are, know your experience, and be able to articulate your potential and the value you bring to an organization. It's not that I didn't have doubts—it's that I took a deep breath, threw my shoulders back, and said the thing that I wanted."
As it ended up, the senior director and the vice president who were trying to recruit Holly were both women, and were very amenable to what Holly wanted. And after meeting with the senior vice president, she knew the opportunity was the right one. "They were all absolutely phenomenal and super open-minded, and it was a natural fit from that point on," Holly remembers.
6 Lessons on Making the Most of Opportunities
Several career (and physical) moves later, Holly has some hard-earned advice on pursuing change for a fulfilling career:
1) Start by "contemplating what could be." Holly says her approach starts with seeing the positive in a potential career move long before the negative. "Instead of focusing too much on what you're giving up, you're creating the best possible outcome for yourself by having the right mindset," she says. "It's been a key differentiator as I navigate my career. Your beliefs determine your path, so if you believe you're stuck, you will be; if you believe that you have opportunities, you will."
2) Imagine without limits. There are probably things that feel off-limits. Don't think about practicalities at this point, says Holly, who shares what she asks herself: "What If I could double my earning potential? What if I could have a short commute to and from work? What if I could be in a great neighborhood for my kids? What if I could get a big promotion? It's amazing when you start to imagine what's possible and you put those things out there, especially when you start to verbalize them and to manifest them."
3) "Sell your potential." Before Holly took her first role in product, she'd never worked in the field, but she was able to articulate how her previous experience lined up with the role requirements and how her open-minded approach to feedback meant she would learn quickly from any mistakes.
4) Share your ambition with others. "It's not something you need to harp on daily, but set expectations about furthering your career and what that looks like for you," Holly says. "With me, it's never been a secret. I've been open with every manager that I've had about my ambitions to grow, but was willing to be patient and work hard to get there."
5) Create opportunities for others. Holly says she owes her latest promotions to that senior vice president, and those women leaders she mentioned earlier lifting her up as they advanced, and now she's looking to do the same thing for others.
6) Don't be afraid of the downside. If you're nervous about embracing change, says Holly, think about it in terms of the worst-case scenario. "If it's really not working out, rest assured that with the skills you have and the network you've built, you can carry on with confidence that you can build a future for yourself around a different change," she says.
If Spectrum seems like the right change for you, check out their 2,200+ open roles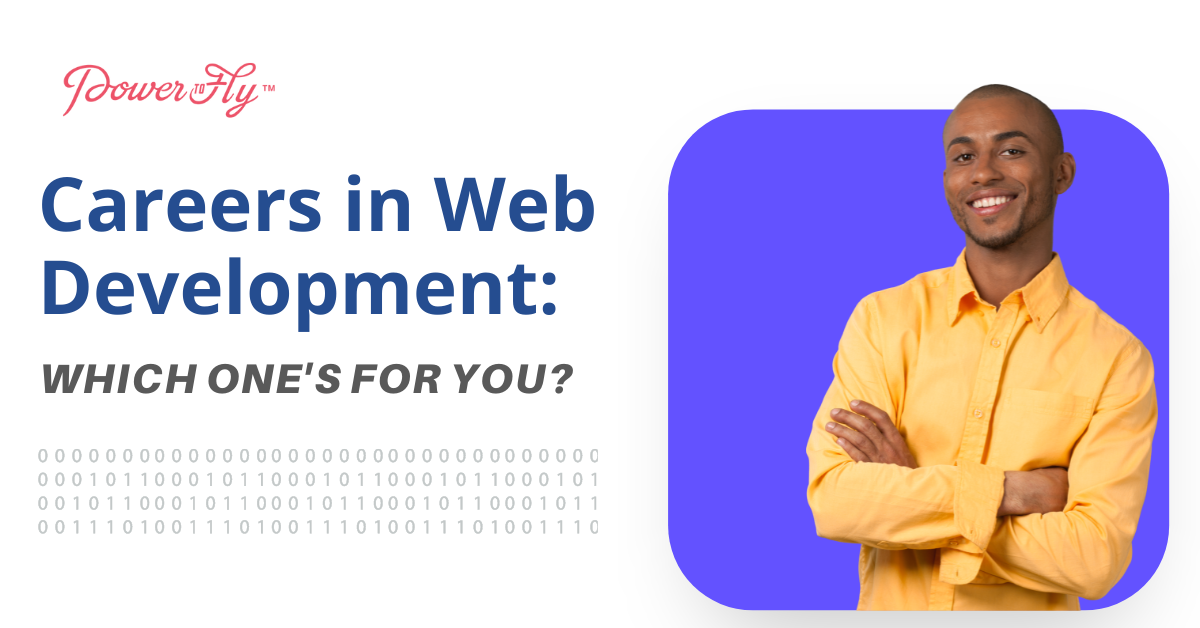 Upskilling and Development
We all have our favorite websites– the ones we frequent, bookmark, and recommend to others. You might even enjoy some website features so much that you've found yourself wondering why they aren't more popular. Or maybe you've experienced times where you were frustrated with a website and wished you could add features or even design your own!
If you've ever found yourself intrigued at the prospect of designing and developing your own websites, then a career as a web developer might be just for you!
As a web developer you would be responsible for coding, designing, optimizing, and maintaining websites. Today, there are over 1.7 billion websites in the world and, in turn, the demand for web developers is on the rise. In order to figure out what kind of web development work best suits you let's start with an introduction to the three main roles in web development that you can choose from.
The Three Types of Web Development Jobs
Front-End Web Development: The Creative Side
Think of front-end development as the décor of a house. The color scheme, furniture, manicured lawns, and overall aesthetic. In terms of a website, front-end development is laser-focused on the appearance of a website and its presentation on different devices. If you're considering a role in front-end development, it's important to learn programming languages such as HTML, CSS, and JavaScript. These three languages go hand-in-hand. HTML allows you to create user interface elements, CSS helps you with stylistic elements, and JavaScript allows you to incorporate online tools and connect your website to back-end functions.
In addition to programming skills, front-end developers need to be detail oriented, creative, willing to keep up with the latest trends in web development, cyber security conscious, and geared toward user-friendly designs. The median salary for a front-end developer can reach well into the $90,000 to $100,000 range.
Back-End Web Development: The Logical Counterpart
While a house can be beautifully decorated, it's incomplete without a solid foundation and efficient infrastructure. Similarly, a well-designed website depends on logical and functional code to power the features of that website. Back-end web development is code-heavy and focused on the specifics of how a website works. If you enjoy the analytical challenge of creating the behind-the-scenes code that powers a website, then back-end development is for you.
Since this role is more code-heavy, it's important that you learn numerous programming languages and understand algorithms and data structures. Some languages that are essential to back-end development are Ruby, Python, SQL, and JavaScript. Back-end developers also ensure that users can successfully retrieve and access data. This requires creating and using APIs (Application Programming Interfaces) which act as messengers that relay data related requests. Additionally, developing the code for the inner workings of a website also requires back-end developers to be conscious of the user interface features designed by front-end developers and to internally mitigate potential security risks. Due to the increased technical aspect of this position, back-end developers normally earn higher salaries than front-end developers. The average median salary for this role is around $118,000 per year.
Full-Stack Web Development: A Little Bit of Everything
A full-stack developer is essentially the Jack (or Jill)-of-all-trades in web development. Full-stack developers need to be knowledgeable about both front-end and back-end roles. This does not necessarily imply that you would need to be an expert in both roles, but you should fully understand the different applications and synergies they each imply. In order to work in this position, you will need to know the programming languages used by front-end and back-end developers. In addition to these languages, full-stack developers also specialize in databases, storage, HTTP, REST, and web architecture.
Full-stack developers are often required to act as liaisons between front-end and back-end developers. Full-stack developers need to be both problem solvers and great communicators. The end goal for a full-stack developer is to ensure that the user's experience is seamless, both on the front-end and on the back-end. In return, you can expect to earn a median salary of $100,000 – $115,000 a year for this role.
Taking the Next Step
Web development is both in-demand and lucrative! All three roles described above contribute to specific aspects of web development and the scope of each one can be customized to the industries and positions you feel best suit you. Regardless of which role you choose, all of them need a foundation in programming.
To gain the programming skills needed in each role, you can enroll in courses or learn independently. Coding bootcamps are a great way to boost your skillset quickly and efficiently.
Click here for some of our highly rated programming bootcamp options! Make sure to check out the discounts available to PowerToFly members.
READ MORE AND DISCUSS
Show less
Loading...