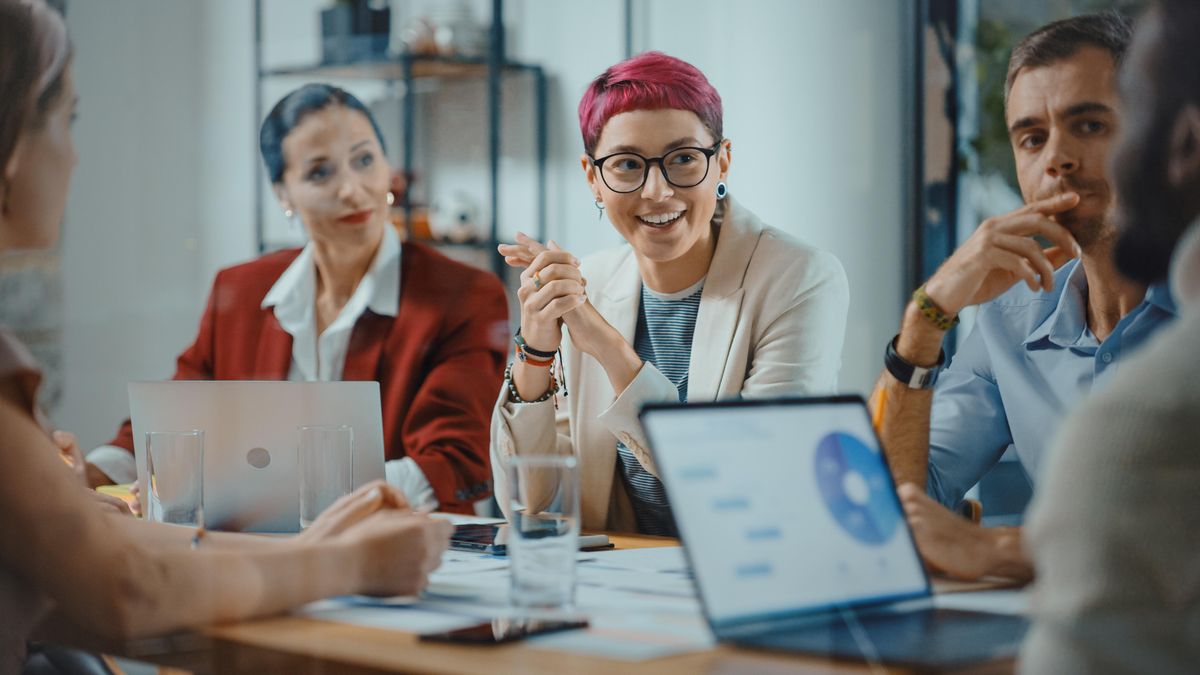 Diversity, equity, inclusion, and belonging (DEIB) work is sometimes in the details. A study by PowerToFly showed that although a majority (72%) of participating organizations have LGBTQIA+-focused employee resource groups, only 50% encourage gender pronoun identification. A mere 18% have held trainings to address gender pronouns at work.
As a company leader, you may feel confused over the best way to be sensitive. You are willing to meet the needs of your team members in an ever-evolving space, but you may simply not know how. Facilitating pronoun sharing at your organization will go a long way in creating an open and welcoming environment. Below, we'll walk through seven practical steps your company can take to practice more inclusive workplace communication.
Why do we talk about pronouns at work?
Why are gender pronouns at work important? Let's start by acknowledging that pronouns and identity are important concepts to people's lives in general. Outside a work setting, how people present themselves affects daily life. Every interaction is socially informed by how we are perceived by others. Being perceived as their correct gender (or as gender non-binary) makes a person feel seen. The same is true at work.
As decision-makers, we also know this hard truth about retaining talent: Happy employees stay, while unhappy people leave. Per a Catalyst report and McKinsey findings, 1 in 10 LGBTQIA+ employees reported leaving a job because of an unsupportive work environment. In fact, 50% of all LGBTQIA+ employees in the U.S. are closeted in the workplace because they are unsure or fearful that it wouldn't be a supportive environment. Whether we're talking about gender identity or sexuality, being seen affects our work.
Also, we talk about gender pronouns at work because it's our job to. Our work is to foster environments where our employees feel they can be themselves. Need stats to back it up? See the complete guide Inclusive Language: How to Talk about Gender & Sexuality at Work from PowerToFly. With the increasing use of non-binary or gender-nonspecific pronouns, making our employees feel welcome means leading education efforts and ensuring open communication around pronouns at work.
Face the reality
Normalizing the use of gender pronouns at work is key to creating a sense of belonging for everyone on the team. According to Pew, 42% of American adults know someone who is transgender. Half that number knows somebody who uses a gender-neutral pronoun like they/them. Since gender is a spectrum, the pronouns we use need to reflect that. Many people choose to use gender-neutral pronouns, multiple pronouns, non-traditional pronouns, or even no pronoun at all! Our pronoun choices reflect personal identity and should be respected at all times.
Safety is an absolute factor in the workplace. Since 2019, U.S. state legislatures have introduced a record number of anti-trans bills (more than 100 in 2021 alone) that discriminate and criminalize people based on gender identity. With 2021 being the deadliest year on record for transgender and gender non-confirming people, violence against trans people is on the rise. A concrete way for trans and gender non-conforming employees to feel safe (whether out or closeted) at work is to have their identities seen and respected in the workplace.
Know your team members
Some might ask "How do you avoid pronouns at work?" but this is not a solution. According to Harvard Business Review, the best approach to a respectful conversation about gender identity and pronouns at work is to stay clear, straightforward, and casual (and, of course, to not put folks in situations where they feel forced to disclose personal information).
It's also best to, when addressing people, use non-binary terms from the outset, so as not to exclude trans or non-binary team members by constantly being gender-specific. Don't assume people's pronouns based on their appearances, and stick to gender neutral language in group settings, too.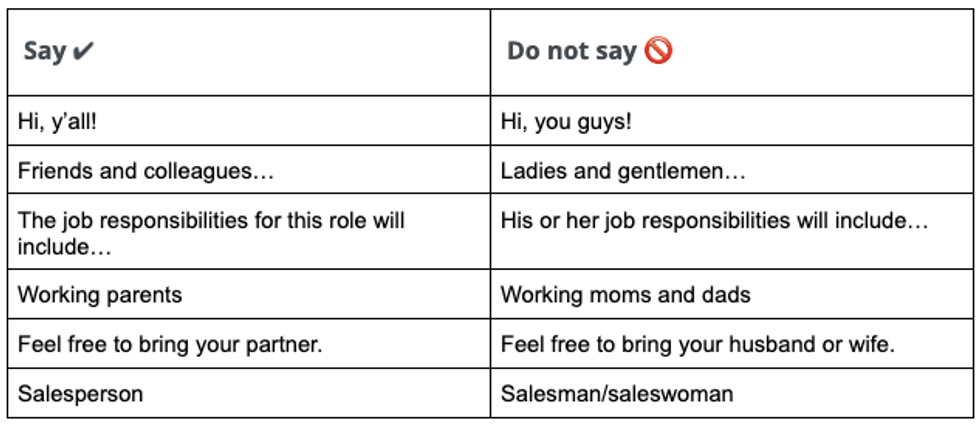 Sharing pronouns at work: 7 practical steps
How do you respectfully use gender pronouns in the workplace? A good place to begin as a leader is to start the conversation. Attitudes towards pronouns at work can be set by decision-makers like you.
1. Always share your pronouns first
How do you use pronouns at work? Create an open environment by sharing yours first. Remember to bring up pronouns when you introduce yourself one-on-one.
"I'm Trisha. I go by she/her pronouns. Nice to have you on the team."
2. Model, don't mandate
In a group, set the tone for introductions by leading with your pronouns, too. Cisgender people, or those who identify with their gender assigned at birth, may learn a thing or two about identity in the process. Note that it's best to model this behavior without explicitly requiring it; you, again, don't want to put anyone in the position of feeling forced to share.

"Let's go around and make introductions. I'm Trisha, my pronouns are she/her, and I'm the CEO." Versus: "Let's go around and share our names, titles and pronouns."
3. Include gender pronouns in your work email signature
Include your pronouns in all your work signatures, out-of-office, and away messages. Not sure how to structure it? A simple example is below. For a more uniform solution to use company-wide, you might consider reaching out to a DEIB-focused mentorship program for guidance.
"Caroline Mayo (she/her/ella)"
You can also add your pronouns to your name on platforms like Slack, Zoom, and LinkedIn.
4. Don't overcorrect
Addressing gender pronouns at work doesn't need to be uncomfortable. If you forget or aren't sure of a person's pronouns, just use that person's name. If you make a mistake when referring to them, stay calm. A quick apology and correction is fine before moving on.
"My mistake. When he is back after the break, Aiden will lead the team meeting."
5. Don't police without permission
What about when you hear someone else refer to a teammate by the wrong pronouns at work — what's the best way to respond here? Know that there really isn't a single, blanket solution, since not every person who's been incorrectly gendered will want the same type of response or intervention. People are individuals, and it's important not to lump all employees together who, for instance, use they/them pronouns by assuming they'll want the same thing. Whenever possible, it's best to hear directly from individuals themselves about how they'd like to be supported in these situations and at work in general.
That said, if you hear an incorrect pronoun used, the following example may be sufficient for the situation:
Colleague: "I was thinking we could ask Sara to take on this project. She's great at this sort of thing!"
You: "I think that they would be a great fit for this project, yes."
Colleague: "Sorry, yes! They would be perfect."
How about if you repeatedly hear someone refer to your colleague by their wrong pronouns, knowing that they've been made aware of what their correct pronouns are — what then? Don't go straight to HR without talking to your colleague who is being misgendered first. That's a classic example of how supposed "allyship" becomes harmful. You should be listening to what your colleague wants to do about a situation like this that impacts them, not making assumptions.
6. Audit the wording of your hiring processes
One of the most basic places to address pronouns at work is with your hiring process. How is your HR system presenting a gender pronouns list to potential applicants? Are you scaring away trans and gender non-binary individuals by including or excluding certain options? There are three ways to go here:
Add more options: The Human Rights Campaign Foundation suggests the addition of the more inclusive "Mx." if you already have "Ms." and "Mr." as options.
Offer a text box: Give candidates the option to self-identify.
Leave gender off: Consider eliminating gender from applications until further along in the process.
Remember that for some, their legal name isn't the name they go by professionally or socially. Include a space for names that aren't reflected by official identification documents. During the interviewing process, suggest that recruiters and hiring managers share their pronouns as well as ask candidates how they'd like to be addressed. Then, reflect that response throughout the process. If a candidate knows early on that the company is supportive of all pronouns, there is a strong foundation.
7. Make a plan for facilitating pronoun updates
Haven't yet managed someone who's updating their pronouns? Don't wait until you encounter this situation for the first time to know what your plan of action will be! Know in advance what logistical steps you can offer to take to support someone in this position, especially if a pronoun change is accompanying a larger gender identity update.
Common pronouns on job applications
Here's a short gender pronouns list with commonly used terms today.
He/him - traditional male pronouns
She/her - traditional female pronouns
They/them - gender-neutral pronouns
Ze/hir - gender-neutral pronouns borrowed from non-English languages
Keep in mind that pronouns continue to change and evolve over time. The list can grow. Some individuals are comfortable with multiple pronouns too; for example, "she/they." Note, too, that international workplaces with multilingual team members should consider seeking out further guidance, as from a global DEIB consultancy team like PowerToFly.
Continue to learn about emerging practices
As social theories evolve, so do the variations of gendered and non-gendered pronouns that we collectively use. By continuing to learn, keeping the conversation open, and incorporating emerging practices, employees at every level of your organization can enjoy an inclusive, safe, and identity-affirming work environment.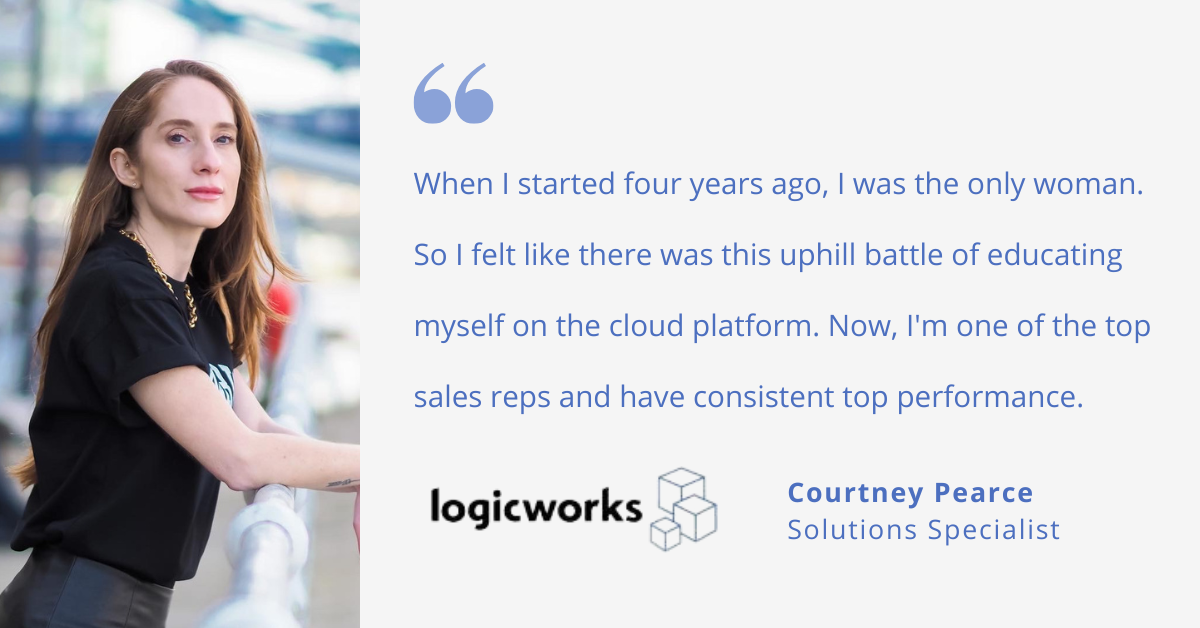 Logicworks
Courtney Pearce's background isn't one you'd expect to find in a tech sales position. But as a motivated self-starter, it makes all the sense in the world that she's been so successful in her role as Solutions Specialist at Logicworks.
If you ask her what she's most proud of about her time so far at Logicworks, she'll say her growth over the last four years.
"Even though I came from a technology company that was selling software, selling infrastructure and infrastructure managed services is very different. There was a learning curve. And when I started four years ago, I was the only woman. So I felt like there was this uphill battle of educating myself on the cloud platform. Now, I'm one of the top sales reps and have consistent top performance. So I'm most proud of my growth over the last four years."
Courtney has a lot of wisdom to impart to those interested in taking on the sales side of tech. We sat down with her to learn more about how she broke into the tech world by utilizing her retail experience.
An Unexpected Path Into Sales
Courtney started college as an Orthodontics major but eventually realized that science wasn't her calling.
"Although I'm a great student, science and math were difficult subjects for me," she admits. "I ended up taking a random textile and clothing elective and it was my favorite class."
She enjoyed the breadth of the program and decided to become a Textiles and Clothing major.
"You got the opportunity to learn the sociology behind why people wear clothes, the chemistry behind dying, how to make fabric, then creating a line from start to finish and marketing that to the class," she shares.
Although fascinated by the program, her career journey didn't lead her to the fashion industry but rather to an adjacent career in retail.
"I ended up accepting a leadership position for a big box department store," she says. "At 23 years old, I ran a 35 million dollar store. It was a great experience and I learned a lot."
After two years of working in retail for various name brands, she found her way into a tech company through a recruitment role.
Breaking Into the Tech World
While Courtney was working at a recruiting firm, she was approached by a security tech company with a position as a technical recruiter. She was interested in the role and applied, but didn't get an immediate response.
"I didn't hear back, but continued to follow up," she recounts. "One night, I got a phone call that said, 'You're not a good fit for the technical recruiter role, but we have this new group that we're building out called business development and they're working directly with sales. Based on your experience and the fact that you're willing to follow up, we think you'd be a great fit'."
At the time Courtney knew nothing about the tech space but that didn't stop her from interviewing for the position.
"I spent an entire week browsing the website, watching all their product marketing videos, and tried to wrap my head around what this security company did," she explains.
During the interview, she blew them away with her knowledge of the company.
"I gave my five-minute spiel and I think that impressed them," Courtney shares. "I had taken the time to research the company, and not having had a tech background, I tried to comprehend what they do."
Hired as a business development rep, she had the opportunity to build the team from the ground up.
Reaching New Heights at Logicworks
Courtney continued to rise in the ranks, but she eventually felt that she had hit a plateau. With a desire to try out something new, she looked to Logicworks who offered her the career advancement she was looking for.
"I had reached my potential with my previous employer. There wasn't anything new for me to learn. I wanted to figure out what was next in my career. There was an opening at Logicworks for a Solution Specialist to be based in Boston. That was enticing for me."
When Courtney moved to Logicworks she was able to explore job autonomy.
"It gave me the opportunity to move into a territory that I'd been working in for many years, but also run that territory like my own business," she explains. "There was nobody else working within that space, and I could create the process that I wanted to."
Now at Logicworks, she experiences the constant changes of a cloud system.
"I'm constantly learning," she shares. "We're constantly evolving our services, what products we're providing, and how our services are integrated as the cloud is maturing. It keeps me interested every single day."
Now as a sales lead, Courtney focuses on building relationships with current and potential clients.
Coincidentally, the relationship-building skills that Courtney uses on a daily basis come from her experience in retail.
"I think coming from retail, you have to be able to talk to anyone," she says. "You're getting a lot of different customer personalities, so it allows me to be comfortable talking to strangers, which I think is key in sales."
Along with sales experience, Courtney's internal drive has been key in propelling her forward.
"Being a self-starter and watching YouTube videos on what the cloud is, what AWS is, and taking that time on my own to learn and absorb as much as I can are, at the end of the day, the kinds of things that you can prepare you to enter the tech space," she explains.
Ultimately, it was the skills she learned in retail and her self-taught understanding of tech that have led to her success.
Advice for Entering the Tech World Through Sales
If you're looking to enter the tech world from a sales angle, Courtney offers this advice:
Find companies that resonate with your values. "Whether you like their product and think that product is solving a pain point in the marketplace, or you align with the company's values, work for a company whose mission you support," Courtney advises.
Be pleasantly persistent. "The biggest thing that helped me was when I reached out and nobody responded, and then I followed up and nobody responded, and then I followed up again and they called me. Being pleasantly persistent shows that you're interested and invested in the organization," she explains.
Do your research. "Take the time to figure out what the company does and what they are all about. Educate yourself above and beyond the basic training material to ensure that you have the right knowledge base to be successful in the role."
If you are looking to grow within the tech space, check out
these open positions at Logicworks
.
READ MORE AND DISCUSS
Show less
Loading...