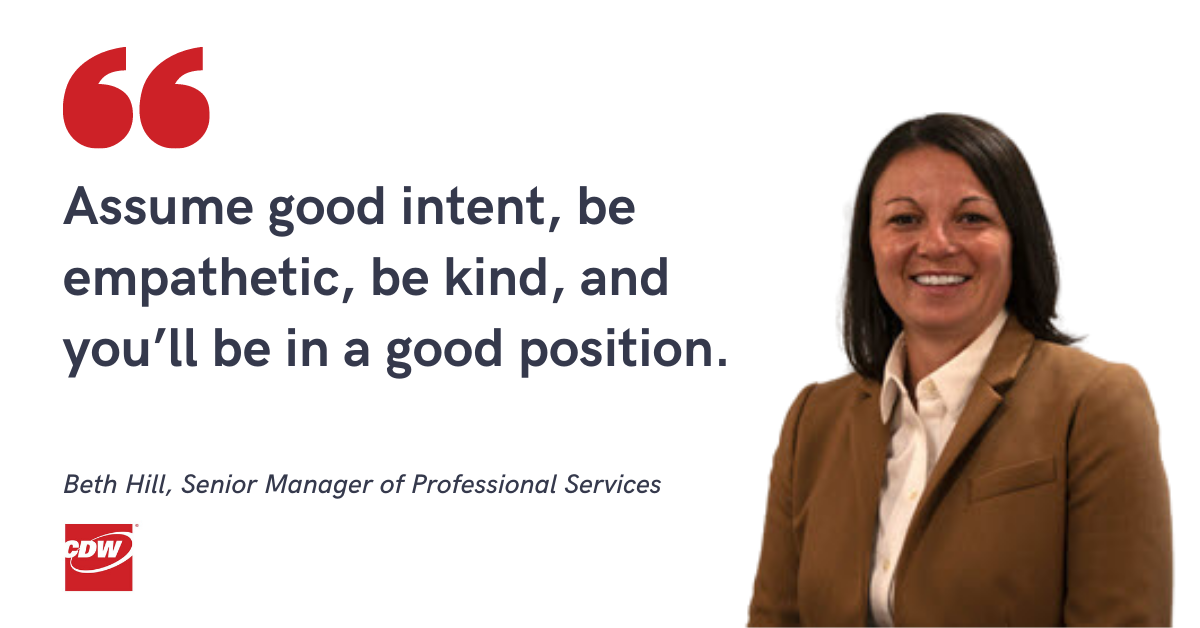 CDW
Beth Hill knows it's strange that she likes yard work.
But she does.
"I love gardening, I love planting flowers, I love mowing the grass," she says, laughing. The Senior Manager of Professional Services at IT solution company CDW even has a friendly competition with her neighbors about who has the greenest, thickest yard.
But Beth has always been a fan of hard work, and she recognizes the importance of putting in the effort to build something worthwhile, whether that's a beautiful lawn for her wife and daughter to play on or a satisfying career in tech.
We sat down with Beth to hear about how she's worked to find and nurture the right professional opportunities for her, and what advice she has for others who want to build a career they're proud of.
Getting Started
Beth grew up in a small town, and her high school curriculum didn't include exposure to computer science. She did like the hard sciences, so when she got to college, she pursued a biology degree.
"I graduated and thought, 'What in the world am I going to do with this?' Feel free to quote that," Beth tells us, laughing again. She started looking for jobs, and a family member referred her to Best Buy, where she got an offer as a salesperson after successfully "selling" the hiring manager a stapler.
As it turns out, Beth was great at talking to people and helping them solve their problems. She was promoted from home theater salesperson to supervisor of computer sales, which required her to learn about a whole new type of technology.
"I enjoyed it so much that I then decided to go back and pursue a two-year degree in computer science," she says.
Beth learned about CDW at a career fair. The company was hiring for their Associate Consulting Engineer program, which would allow her to use her people skills while also helping her apply and build on her technical understanding.
She was hired, and quickly became a full Consulting Engineer. Along the way, Beth continued to identify what she liked doing and what she was good at, which included mentoring and training others on her team. That set her up well to go for a technical lead position when it opened up.
"I knew I wasn't the most technical, but I knew to position myself and say, 'Here's why I think I'm the best person for this role,'" says Beth.
That positioning paid off, thanks to Beth's thoughtful approach. And now we've asked her to share that approach with you.
9 Tips for Finding and Earning Career Opportunities
As Beth has grown from that first promotion to technical lead to her current Senior Manager role, she's followed a version of the same approach:
Make sure your organization believes in supporting employee growth. Companies that show up at career fairs are companies that are willing to invest in brand-new, green college grads. That's a good indicator that they'll have space for you to keep growing, says Beth. "Companies that are willing to invest in you from the start, those are the types of companies you should say, 'Yes, I want to work for them.'"

Identify your strengths and interests. Beth knew she wanted to go down the technical lead route because she loved working with other engineers. Start by figuring out what you want to do more of, and then look for roles or careers that align.
Be strategic: see all the possible ins. Beth knew she was never going to be the most technical, but she also knew she could distinguish herself via a long-term strength: her hard work. "I decided to step up to a new challenge. There was a whole new technology within our Microsoft solution space that no one else had been delivering on yet. So I went and learned it and became the best at that, and created all the documentation and collateral to be able to present it to customers and deliver on it," recounts Beth. "That helped me position myself well for the next role, because we really needed people who could show others how to do that sort of engagement with our customers."
See your manager as a resource. As a manager herself now, Beth knows she can help her direct reports get their dream role a lot more easily if she knows what exactly that dream role is. "Ask your manager, 'Where do you see my strengths that maybe I don't see?'" she says.
Ask to shadow people in the role you're interested in. "The more you can ask questions about the role, the more you'll know whether or not that role is the right role for you—and the better prepared you'll be going into an interview," says Beth. She provides some questions to start with:

What do they enjoy about their job?
What skill sets do they need to possess to be in that position?
What are the challenges that they face every day?
What does the future look like in their eyes for that type of role?

Offer your expertise. If you've identified the role you want, see what you can do about getting hands-on experience in it right away. "Ask, 'Hey manager, I'm noticing you're really busy right now. What can I take off your plate to be able to assist you and give you some breathing room?' By doing that, you're stepping into the role, and you can later say it's an example of something you've already done that's required for the role," says Beth.
Sell yourself and sell your vision. Once you've created a solid case for yourself, figure out how you're going to deliver it to your manager or to other senior leaders. "Ask yourself what you've done to move into this new role, and remember it's got to be more than doing the same that everyone else has done," she says. "Share your vision and mission for the role or the team. How are you going to make the team better? What differences are you going to bring to that role to make it better than what it was yesterday?"
Leverage internal affinity groups. Beth joined CDW's Women's Opportunity Network early in her career there. "It's a great way to build your network and get to know your coworkers," she says. She ended up joining a committee, and being in that smaller group gave her even more opportunities to learn from her peers. "I heard stories about how these women have grown, what challenges they faced, how they overcame those hurdles. That opportunity to network with other women really helped shape who I wanted to be and who I was going to be," says Beth.
Pay it forward. Beth loves that she could email anyone at CDW—even VPs with chock-full calendars—and ask for mentorship, and that they'd respond and happily make the time. She encourages people to offer their help and assistance to others when they can, as well as to approach others with an initial sense of empathy. "Assume good intent, be empathetic, and be kind, and you'll be in a good position," she says.
Are you in the market for a company you can grow with? Check out CDW's open roles!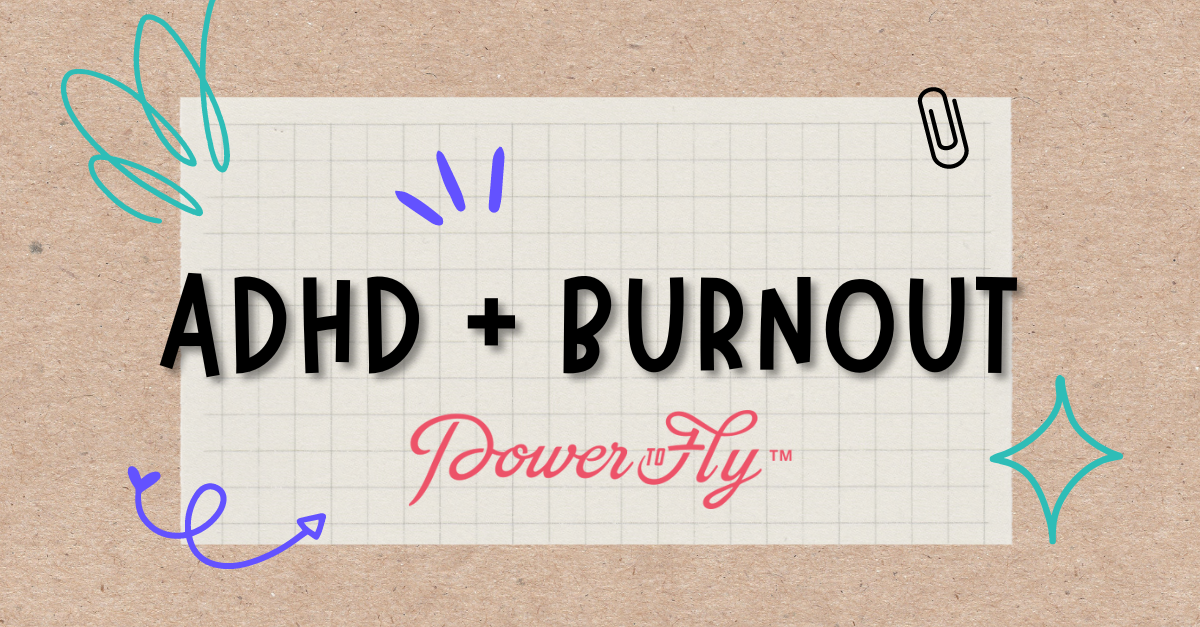 Diversity, Equity, and Inclusion
Have you ever been so exhausted that you quit your job?
You may have been experiencing burnout.
Burnout is characterized by overwhelming exhaustion, detachment from your work, and a sense of ineffectiveness.
And while anyone can experience burnout, if you have ADHD, you may be more susceptible to it.
Before you get to the point where quitting feels like your only option, there are steps you can take to set healthy boundaries and start feeling more like yourself again. Read on to learn how you can recognize burnout in yourself, and what to do if you're experiencing it!
How Does ADHD Burnout Feel?
There are some clear signs that you're burning out, but ADHD can make the descent to burnout harder to detect. These warning signs include:
Lack of motivation - not wanting to do the things you need to do or the things you love.
Exhaustion - feeling overly tired both mentally and physically.
Irritability and mental fatigue - feeling short-tempered, mean, or like you snap easily.
Physical discomfort - body aches, low energy levels, and general pain.
Negative outlook - the tendency to find something wrong with nearly everything.
Emotional dysregulation - feeling weepy, sad, or unable to smile or connect with others.
Generally, burnout starts with taking on too much. Exhaustion creeps in, and you feel like every day is working against you because you are constantly overwhelmed. You may start to feel like the entire world is spinning out of control, or like no matter what you do you can't keep up (or catch up).

If this resonates with you, you might be on the road to ADHD burnout.
Why People with ADHD Can Be More Susceptible to Burnout
So why does ADHD make some folks more susceptible to burnout? There are a few common ADHD traits that often result in behaviors correlated with burnout (taking on too much, working too long, etc.):
Hyperfocus - ADHD is not exclusively about attention deficits. In fact, hyperfocus is the opposite – a deep, intense concentration to the point of being oblivious to your surroundings. Per WebMD, hyperfocus is a state of highly-focused attention that lasts for an extended period of time. You concentrate on something so hard that you lose track of everything else going on around you. When hyperfocus sets in at work, it can be hard to unplug or be aware of the people and environment around you.
Time Tracking - Losing track of time is one thing, but if you find yourself losing track of hours without realizing it, that could be related to burnout. People with ADHD perceive time not as a sequence of events the way others usually do, but as a diffuse collection of events viscerally connected to the people, activities, and emotions that fill them.
Difficulty Prioritizing - Do you take on too much and then struggle to prioritize it? When someone asks for help, does everything often go to the wayside so you can jump in? Or maybe the daunting anticipation of the tasks ahead prevents you from starting. Per ADDitude, ADHD impacts your temporal processing abilities, which can affect executive functioning.
Combating ADHD Burnout
If you think you may be suffering from ADHD burnout, there are a few ways to take back control. Here are three tips for combating ADHD burnout:
Reserve Your Yeses - Pump the brakes when you recognize the early signs of ADHD burnout. Start reserving your yeses right away. Say no, and practice not apologizing. It is okay to say, "I have a lot on my plate right now and cannot take that on. Thanks for thinking of me." Saying no is nothing to apologize for, and it should be celebrated! You are working to protect your energy above all else.
Practice Over-Estimating - If you think you could knock something out in a day, give yourself a week. Overestimate on time and allow yourself the grace to have a little more time than usual to complete projects. Slowing down when starting a new job or role will help you produce high-quality work and prevent ADHD burnout.
Drop the Mask - Be honest with your employer and friends. Let them know that although you seem to keep up internally, you struggle. Identifying ADHD burnout from the outside can be extremely difficult. Your honesty and transparency will position you to determine if your environment is supportive and inclusive.
How to Support Colleagues Dealing with ADHD Burnout
The experiences above may not resonate with you personally, but perhaps you've noticed other people you work with describe or experience them.
If you're a manager, there are several ways you can support colleagues with ADHD (as well as neurodivergent employees more generally) to help prevent burnout. Ask for clarity on when they have felt the most supported at work. Discovery questions like, "how did you feel at that time?" or "how was the pace of that project?" can help you to understand their actual capacity.
Download this free guide
if you're looking for more ways to support your neurodivergent coworkers. Work with your DEIB and HR team to develop new neurodivergent inclusivity standards to help you stay ahead of the ADHD burnout cycle.
READ MORE AND DISCUSS
Show less
Loading...