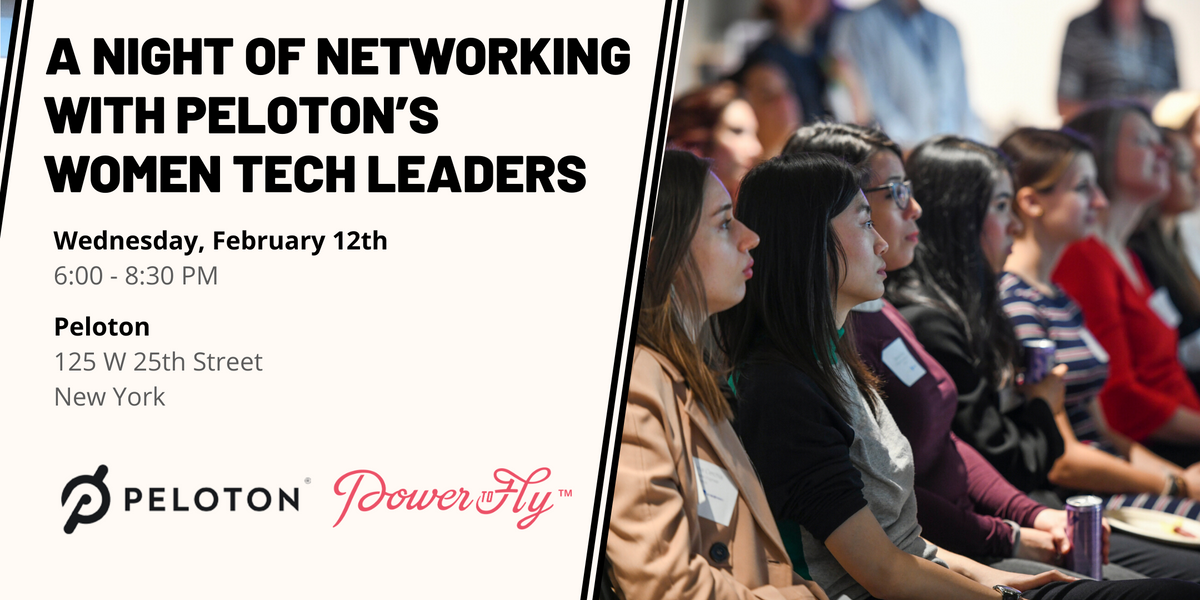 Whether you are a software engineer, fitness enthusiast or both, you won't want to miss PowerToFly's evening of product demos and networking with the women tech leaders and allies at Peloton.
Founded in 2012, Peloton brought top talent together in its Silicon Alley headquarters to create a new concept in fitness. In their words, "We loved cycling but had a hard time finding a workout that consistently fit our schedules, and our at-home workouts never felt quite up to par. So, we set out to create a world-class indoor cycling studio experience on your time, and in the comfort of your own home."
This event is your chance to hear directly from the women tech leaders and allies who make their revolutionary products like the Peloton Bike, Peloton Tread and Peloton App possible. We'll be devoting a large portion of the event to taking your questions and I know the Peloton team wants to hear from you!
The unique evening will take place on Wednesday, February 12th from 6pm to 8:30pm at 125 W 25th Street.
Agenda (subject to change):
6:00pm - Check-In & Networking over light Food and refreshments
6:30pm - Opening Remarks by PowerToFly
6:35pm - Keynote Address by Mindy Lieberman - VP of Enterprise Systems
6:45pm - Exclusive Behind-the-Scenes Product Demo by Christine Becker - Senior Software Engineer
7:00pm - Panel Discussion featuring leaders from Peloton
7:20pm - Audience Q&A
7:40pm - Networking continues over light Food & refreshments
While you don't need to be looking for new opportunities in order to attend this event, Peloton is hiring. Their benefits include a 401k plan with a 4% match, $100 a month towards your student loans, $100 a month towards a college savings plan, discounted bikes for you and your friends/family, and a great work-life balance.
About PowerToFly: PowerToFly is a women-run startup that works with companies to identify skilled professionals they'd like to network with. Over the past two years, we've produced over one hundred events across the world with brands like American Express, Microsoft, Deloitte, and Slack, which have resulted in countless hires. Visit http://powertofly.com to learn more.
About PowerToFly's Events: All RSVP'd attendees are welcome, regardless of race, color, religion, national origin, gender identity, pregnancy, physical or mental disability, or age. If you require accommodation to fully participate in this event, please email hi@powertofly.com, and we will contact you to discuss your specific needs.
Unfortunately, PowerToFly and Peloton cannot admit outside recruiters to this particular event. Please email hi@powertofly.com if you have any questions about this policy.
Tenable
💎For a successful job search you need to be very strategic, focused, and intentional about your career. Watch the video to the end to get advice on how to achieve it!
📼Be successful in your job search by identifying the career goals you'd like to achieve over the next 12 to 18 months. LaMont Price, Senior Recruiter, and Meg Fronckowiak, Senior Talent Acquisition Recruiter at Tenable, share with you the benefits of having a short-term career development plan and understanding your unique value proposition.
📼A successful job search requires you to take a deep dive into the job description. Look at your resume and try to match the skills and the qualifications and highlight that on your resume, so it stands out. Secondly, do your research. You want to make sure that you've taken a look at the company website. You've looked at the leadership of the company, the size of the company, and the culture of the company. And to go one step further, look at the interviewer. Look them up on LinkedIn, and take a look at their background. Recruiters always look for people who have great insightful questions that show the level of research the person did.
📼You'll be successful in a job search if you know how to face the interview process. Every interview includes some don'ts. Don't be late. There's nothing worse than showing up late for an interview. Dress Professionally. Try to be in a quiet place so that you're not distracted. Get through the interview process, show that you're engaged, and have good body language. At the end of the interview, you always want to ask if there's any question that maybe you weren't able to answer. And always ask about the interview process to get a good understanding of the timeline.
A Successful Job Search Requires Research - Learn About A Company's Values!
Recruiters need to know if you are aligned with the company's culture. If you want to apply to Tenable, you should know that its core values are diversity, equity, and inclusion. They work together and they win together, and this is an idea that resonates throughout the entire organization. Tenable celebrates all of its employees. This allows them to focus on the equal representation of women and minorities in technical roles, sales roles, and leadership roles. The company provides training for all of its employees in diversity, equity, and inclusion. This helps employees to understand how their behaviors can impact others. Make sure to show that you are aligned with these values during your interview!
🧑💼 Are you interested in joining Tenable? They have open positions! To learn more, click here.


Get to Know LaMont Price and Meg Fronckowiak
Over the last 25+ years, LaMont Price has researched, analyzed, and optimized services and products by exploiting the latest tools and tactics aligned with the strategic goal via Attention, Differentiation, Trust, and Memorability. Meg Fronckowiak has been working in the recruiting and talent attraction since 2003 and she spent the majority of her career working across all disciplines including, Building out GTM Teams, Accounting & Finance, Marketing, Operations, and Sales Leadership. If interested in a career at Tenable, you can connect with LaMont and Meg on LinkedIn. Don't forget to mention this video!
More About Tenable
Tenable empowers all organizations to understand and reduce their cybersecurity risk. Over 30,000 organizations, more than 50% being fortune 500 companies worldwide, rely on Tenable to help them understand and reduce cybersecurity risk. The company has some of the greatest minds. That's because they bring people who come from diverse backgrounds and give them the resources and support to partner together to bring new ideas to life.
READ MORE AND DISCUSS
Show less
Loading...