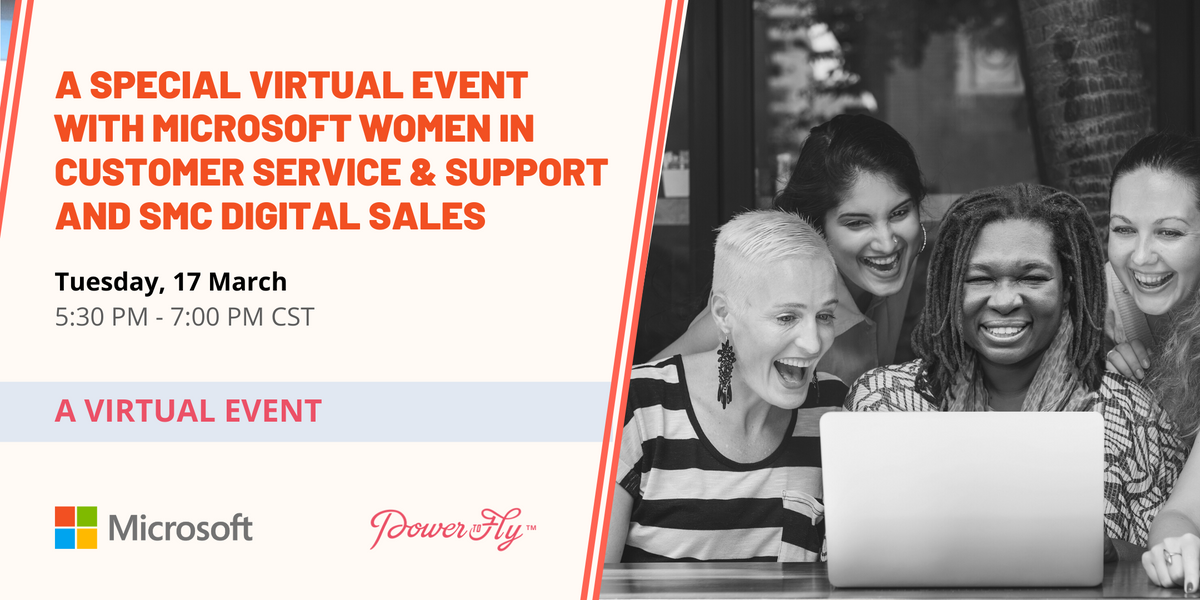 Microsoft Corporation
Microsoft has partnered with PowerToFly to present an intimate virtual event. Hear from a panel of business & technology leaders from the Microsoft Customer Service & Support (CSS) and SMC Digital Sales organizations, who will discuss their career journeys, current projects, answer audience questions and more.
The CSS and SMC Digital Sales organizations are seeking to grow their teams as part of a big tech transformation. This requires team members who are customer-centric, problem-solvers, strong collaborators, and risk-takers that embrace a challenger mindset. If this sounds like you, and you're interested in opportunities with Microsoft, we'd love to have you join our virtual event.
Join our virtual event hosted on Microsoft Teams on Tuesday, 17 March, at 5:30pm CST.
Agenda (subject to change):
5:30pm - Kick-Off from PowerToFly
5:35pm - Welcome Address by Microsoft
5:45pm - Panel Discussion & Audience Q&A

Emily Mantel (CSS) - Director Of Support Engineer Management
Giannina Mondragon (CSS) - Support Engineer
Kattia Fallas Montero (SMC) - Sales Representative Manager
Mauricio Goez (SMC) - General Manager - Digital Sales Latin America

6:15pm - Breakout sessions with the Microsoft hiring team
Microsoft is hiring! If you are interested and available, Microsoft will be asking select attendees to attend interviews in the two days following our event.
PowerToFly has been thrilled to partner with Microsoft on several past events. Check out photos from a past gathering in Seattle HERE. Here's what one attendee: "I brought my daughter who is also in IT. It was a wonderful evening for both of us. We loved the panel and they did make us feel that MS is now a more inviting place for women. We are now seeking employment at MS. The greatest thing about the evening was the opportunity to hang out with a room full of women IT professionals. How refreshing!"
About PowerToFly: PowerToFly is a women-run startup that works with companies to identify skilled professionals they'd like to network with. Over the past two years, we've produced over one hundred events across the world with brands like American Express, Microsoft, Deloitte, and Slack, which have resulted in countless hires. Visit http://powertofly.com to learn more.
About PowerToFly's Events: All RSVP'd attendees are welcome, regardless of race, color, religion, national origin, gender identity, pregnancy, physical or mental disability, or age. If you require assistance to fully participate in this event, please email hi@powertofly.com, and we will contact you to discuss your specific needs.
Unfortunately, PowerToFly and Microsoft cannot admit outside recruiters to this
particular event. Please email hi@powertofly.com if you have any questions about this policy.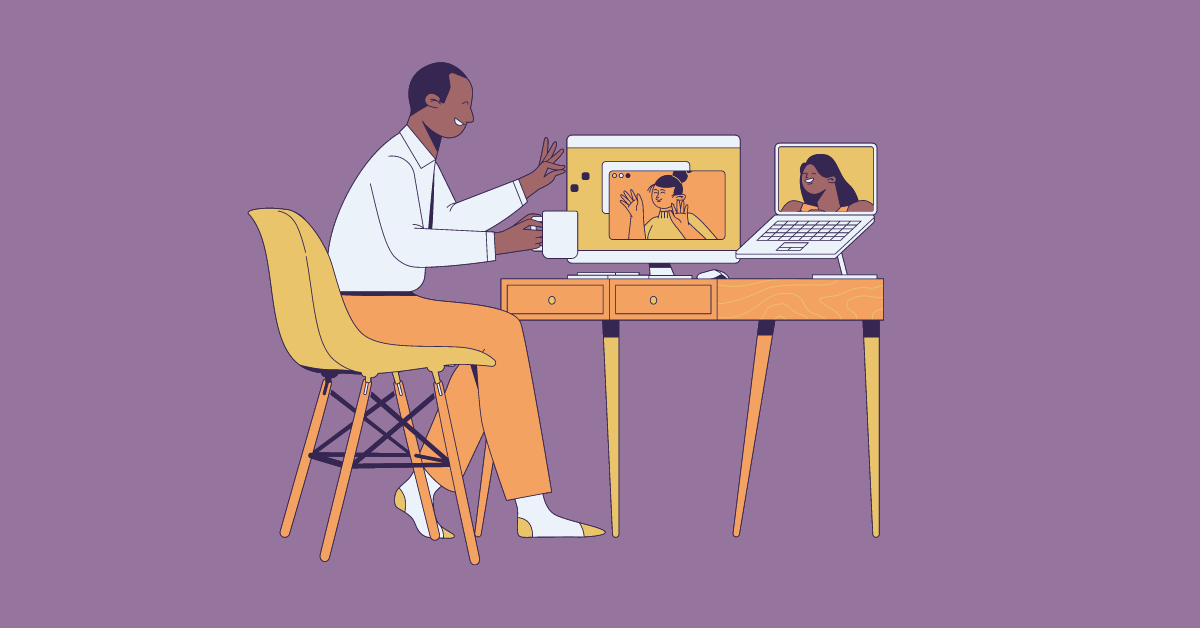 Upskilling and Development
As a result of the COVID-19 pandemic, millions of workers have turned to remote work. Before the pandemic in 2019, 22% of employers offered at least some remote work. Now in 2022, that percentage nearly doubled to 40%. The shift to remote work has become beneficial for me and many of my friends who are recent college grads starting their careers. It's allowed us to dictate our own time and save money from commuting, spend more time with loved ones at home, and have the flexibility to travel and build connections from anywhere. Remote working has also changed how people network for jobs. We have more options now.

Since remote networking is so new, it can be challenging to understand how to do it effectively. Read on to learn my top tips for networking for a remote job.
1. Connect with your high school or college.
The schools you went to want to see you succeed! Connect with old professors, classmates, or alumni on social platforms like PowerToFly or LinkedIn. You can find connections through sports teams, clubs, or topics of interest that will help you build stronger relationships. Don't be afraid to ask them for advice, mentorship, or even introductions.
2. Join a class!
Have you ever had a hobby that you never had the chance to pursue? Coding? Running? Painting? It's never too late to learn something new. Plus, spending time doing what you love will introduce you to other people who love the same thing. Not only will this help expand your social circle, it can also help your career! Once you feel comfortable, talk to your classmates about your work, and ask them about theirs. The perk of classes like these is that you will build relationships with people from all different career backgrounds which will help you determine your career path, especially if you are looking for a mid-career pivot.
3. Register for the Early Career Summit.
My friends and I are very excited to join PowerToFly's Early Career Summit this fall to meet the inspiring founders and CEOs of incredibly impactful companies. This is a great opportunity to get useful tips and learn about different perspectives, professions, and topics that you may be interested in.
4. Attend a virtual job fair and connect with leaders who inspire you.
Job fairs are great for meeting people who can be helpful because everyone attending is there to network! Job fairs at PowerToFly are a great place to meet hiring managers and recruiters from our sponsoring companies. If you come prepared with a resume it is an opportunity to make a great first impression with a company. After the virtual job fair, remember to connect with the people who stuck out to you and introduce yourself on PowerToFly or LinkedIn. Make sure to tell the recruiter who you are, and highlight what stood out to you about their talk.
5. Offer to help.
People really value your help (when it's needed). If you know someone in your network looking to hire a web designer and you know a great place to find one, don't be afraid to make the connection! If you see a job opening that would be great for someone in your network, let them know! Helping people in this way will help build your trust and credibility.
Remote networking has its differences from in-person networking, but it has never been easier to have access to social platforms that can help create connections. It will take some creativity and hard work, but once you have the appropriate mindset the options are endless.
READ MORE AND DISCUSS
Show less
Loading...