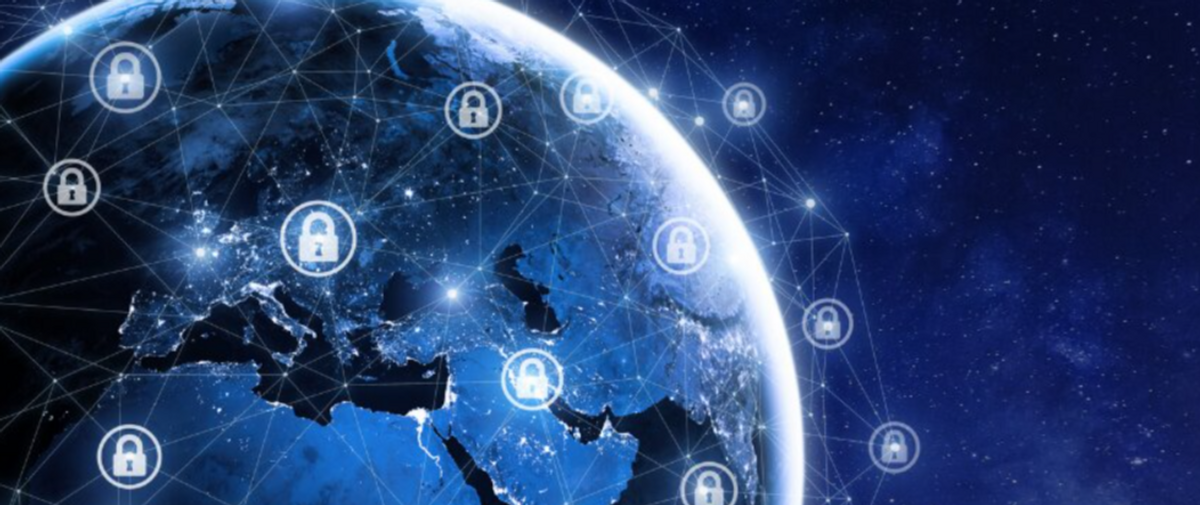 ActZero.ai
Below is an article originally written by Chris Finan and published on March 30, 2021, in ActZeroAI's blog. Go to ActZeroAI's company page on PowerToFly to see their open positions and learn more.
Our goal as a company is to get our customers to zero... zero breaches, zero threats, zero vulnerabilities, zero inadequate cybersecurity controls. We've committed to achieve this by continually investing to outpace the adversary across our technology, people and processes. Today, I'm excited to share insights about one of our highest priority investments: advanced ransomware protection.

The Ongoing Threat of Ransomware

You don't need to look far for evidence of this problem; ransomware (and the business disruption associated with it) is a top concern for IT leaders. My colleagues have spoken previously about the evolution of both the technology and tactics surrounding ransomware as well as measures you can take to combat this growing threat. In this post, I will describe the project, including the measures our threat hunters, data scientists, and security engineers are taking in order to solve this problem. I'll elaborate on the reasons we are 'betting big' on this solution. And, I'll share how we're leveraging these investments to help our customers drive their ransomware risks toward zero.
Priority Initiatives

We're making exciting investments across many facets of our service, including these three we believe will deliver the most impact for our customers in the coming months:
Expanded Coverage for Cloud and Network Attack Vectors

We've long touted the necessity of gathering telemetry across the entire environment. This wealth of data has enabled new detections and response capabilities for network and cloud detections specifically. We have also created new anomaly detection models that improve the precision and efficiency of our threat hunting; while this is important for us as a service provider, it's even more important for our customers, who benefit from faster detections and response, especially for unknown threats. This is how most ransomware attacks start: through account takeover, phishing and misconfiguration exploits; so expanding our detection coverage to address these vectors drives down ransomware risk.

Self-Service Security Maturity

We're constantly looking for new opportunities to help our customers stay ahead of increasingly sophisticated attacks that we're seeing target SMB organizations. To that end, we're also continuing to expand our maturity model functionality, which we now deliver through an interactive web portal. The maturity model helps our customers shift into a more proactive security posture while automating tedious compliance tasks. The portal, which serves as a vehicle for our detailed and prescriptive reporting, as well as self-directed evidence repository for customers, helps our customers reduce their attack surface further by removing and remediating vulnerabilities. Exceptional hygiene still plays a role in preventing ransomware - CSO magazine notes that 60 percent of breaches in 2019 involved vulnerabilities for which a patch was available but not applied. Following recovery of key systems after a ransomware attack, many organizations begin hardening their systems with these types of controls. You shouldn't wait until after an attack before you begin hardening your defenses. Our portal makes it easier for our customers to proactively drive down their risks.

A New Prevention Standard

Unfortunately, proactive hardening isn't always sufficient to stop advanced attacks, so we're complementing that with our newest investment initiative: Creating a new standard for ransomware and data extortion attack prevention. We're training our machine learning models on ransomware specifically, to yield detections that extend beyond what our security engineers could think to look for, and do so faster than our threat hunters could achieve without AI-augmentation. As our Threat Research division ramps up, and as more organizations engage us to help them with ransomware, we gain more data about attacks that enables us to continually raise our own prevention standard.
Collectively, we call these initiatives our Zero Ransomware Initiative because our goal is for customers to lose zero minutes of sleep over the thought of the paralyzing disruption of a ransomware attack. We aim to eliminate cybersecurity anxiety with an application of purpose-built technology and focused human analysis.
How We Will Get There

Our approach delivers an unprecedented detection and response capability for ransomware to SMB and Mid-Market organizations. And we're deploying new capabilities to ensure we deliver, including anomaly-detection based ransomware detections that adapt with dynamic attack techniques to remain effective, as described above. Beyond the aforementioned cloud and network detections, the endpoint remains a critical part of our pursuits. We'll be announcing an exciting new partnership in the coming weeks that will complement our endpoint capabilities with additional visibility, prevention and response capabilities.
Why Ransomware? Why Now?

Why invest so much of our time and money into ransomware protection? Quite simply, it is the category of attack that results in the highest material impact to those in the market we want to serve, small and medium sized enterprises. These organizations face the same threats as larger enterprises, but often without the people, processes and technology to defend against sophisticated attackers. And these types of attacks are growing in both sophistication and reach. According to Gartner, twenty-seven percent of all malware incidents experienced in 2020 can be attributed to ransomware. That's an especially concerning proportion when you consider the average ransom payment in just the second quarter of 2020 was $178,254 according to Coveware.
Now that we've begun deploying our new Zero Ransomware Initiative advanced ransomware capabilities to improve protection for our customers, we'll continue looking for new ways to improve their security posture. Our quest for zero breaches is never done, but we're taking another big leap forward with this initiative. For more on the problem of ransomware, check out The Rise of RaaS white paper.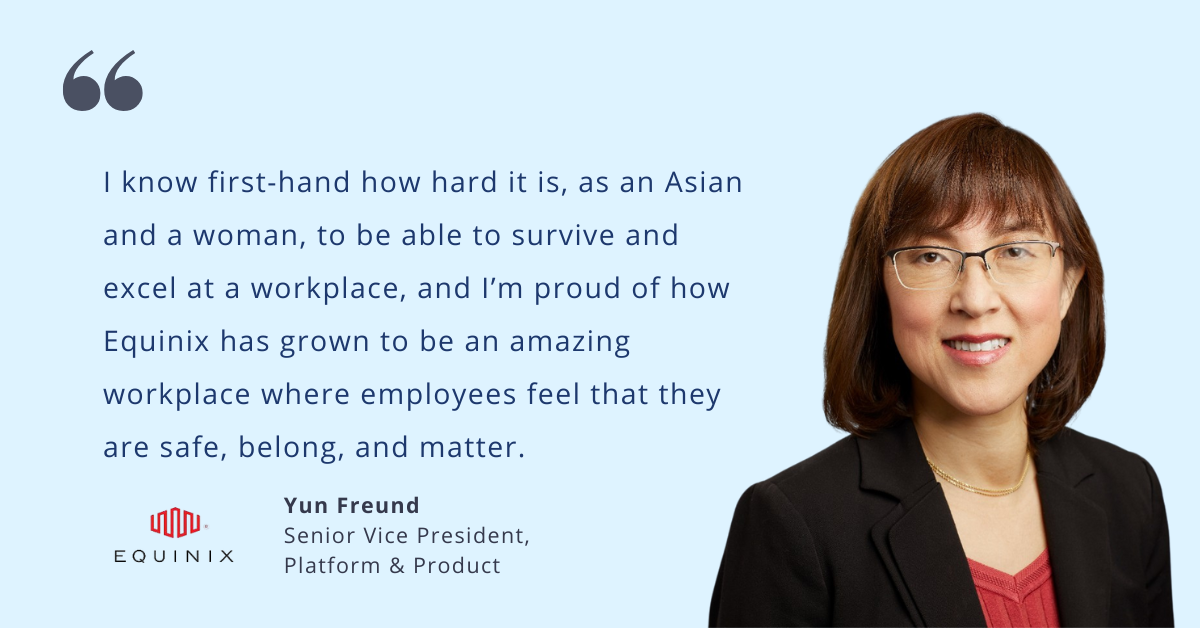 Equinix
Yun Freund considers her background to form the "typical immigrant story" — but sitting down with the SVP of Platform and Product at Equinix, it's clear she's made it her own.
"I came to the United States about 30 years ago with $80 in my pocket. I earned a CS degree from a Beijing university when computer science was new. I was good at math, so that's what I studied," explains Yun.
Fast forward a few decades, and Yun is now running one of the largest organizations at Equinix, a Fortune 500 digital infrastructure company focused on providing an interconnected platform to its global 10k customers. While focusing on external growth — the business has grown nearly 40% since her arrival — Yun has also invested in internal progress, especially when it comes to Equinix's Diversity, Inclusion, and Belonging (DIB) goals.
"I know first-hand how hard it is, as an Asian and a woman, to be able to survive and excel at a workplace, and I'm proud of how Equinix has grown to be an amazing workplace where employees feel that they are safe, belong, and matter," says Yun.
That's not just her opinion. Glassdoor confirms this, having given the company a "best place to work" distinction in 2021, and a special award for best places to work for LGBTQ+ equality list by the Human Rights Campaign Foundation.
We were excited to learn more about Yun's strategies for empowering her team — including her belief that making room for failure is just as important as celebrating success.
The Intersection of Technological Innovation and People Management
Yun first heard about Equinix through a recruiter. Decades into her career in tech leadership, she was looking for a role where she could drive innovation in both technology and people management.
"After many rounds of discussion with our executives, I realized Equinix is a company that's full of potential. It was doing a lot of innovation on interconnected SaaS products and networking products, and I thought I could really help drive, from a culture and process perspective, the company's digital transformation journey," reflects Yun.
Her first order of business? Building a strategy for scaling product development. Yun had long worked at the intersection of engineering and people management, and she embraced the challenge to scale a talent strategy as well as changing the culture.
That resulted in clear growth — not just for Yun's career, as in promotions and new responsibilities, but also in what the company was able to do.
"Helping to cultivate a DevOps culture, move products to the Cloud for high reliability and availability, and build operational excellence for our customers is contributing to us fulfilling our purpose, which is to be the platform where the world comes together, enabling the innovations that enrich our work, life and planet," says Yun.
Diverse Ways of Measuring Impact
Yun doesn't manage her team by the balance sheet alone.
"Improving the bottom line, or operating more efficiently, is just as important as improving the top line, or driving more revenue and more customer adoption," she says. "Sometimes it's not about how we get new products and services out the door, but how we run things more efficiently."
For Equinix, says Yun, that includes committing to becoming carbon-neutral by 2030.
"We're a company that really touches life every day, from online shopping, to sending emails and streaming movies, to smart cars," says Yun. "We want to be doing that sustainably. For example, by using AI and machine learning to lower our power consumption and using green sources of energy."
Yun knows that to drive the most impact, Equinix needs a diverse team. She has partnered with other senior leaders and employee connection groups and started driving a more coherent DIB strategy across the company. She is excited to see the progress and wants to continue the effort in building a diverse and safe workplace for everyone — including by leading through her own example.
3 Key Ways to Empower Your Team
When Yun says that it's important to empower your team, she doesn't mean that you simply transfer the responsibility to your team and call it done. Here's what she does mean:
Embrace failure. "It's easy to say, 'Ah, empowerment. Here's the purpose, go drive impact.' But sometimes it's not all rosy," she says. "The road to empowerment can sometimes be a failure. How do you support your employees along the way? When they fail, you should not blame them. You should be there, on their side, to help them do a retrospective and learn from it."
Show trust via delegation. "Giving your team the opportunity to make their own decisions helps give them a purpose. It shows them they can make a difference. Accountability and ownership will help drive your team to have deeper engagement and commitments, and ultimately deliver results."
Tie individual responsibilities to company OKRs (Objectives, Key Results). "I always communicate to my team that every engineer and individual contributor's work will have an impact on the business, no matter how small that is," says Yun. For example, if an engineer is working on a new digital experience component for the customers, their work will contribute to some kind of business outcome such as, hours saved from many customer support calls or customer satisfaction score improvement, and that in turn drives operational efficiency and customer experience improvement for the whole business. "When employees realize their impact on the business, it elevates their motivation as well as their state of mind."
Looking to join an empowerment-first culture? Check out Equinix's open roles!
READ MORE AND DISCUSS
Show less
Loading...