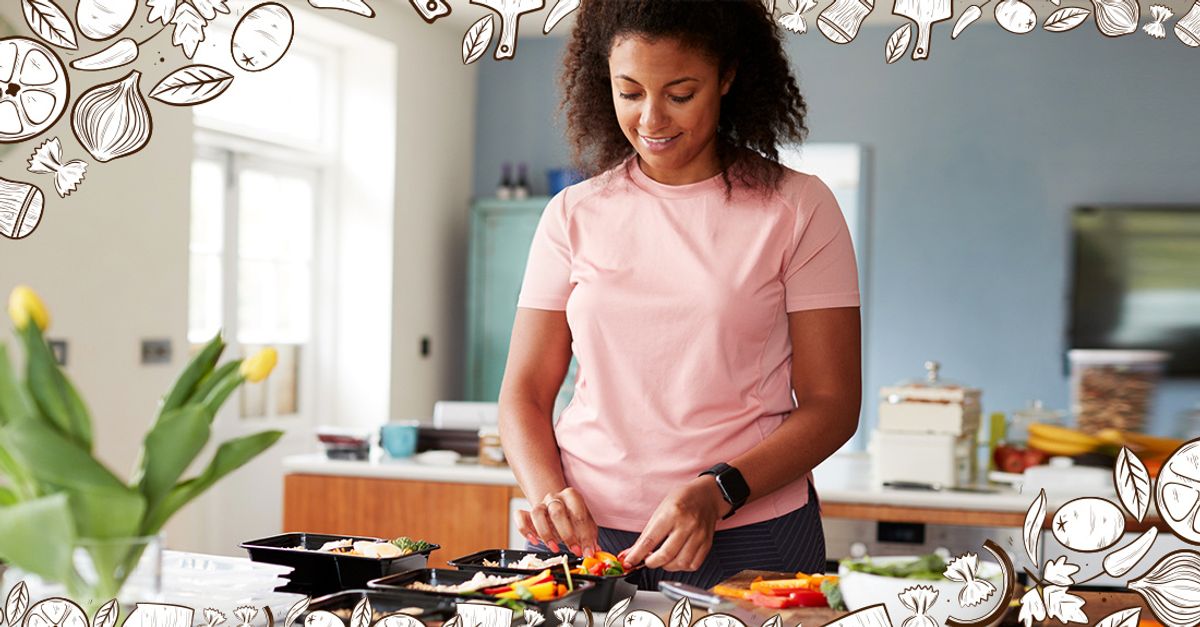 Career Growth and Advice
I have a friend whose discerning toddler refuses to eat her preschool lunch unless it's in a bento box. I get it; baby carrots are much more appealing when stacked in their little compartment than not. That made me think: when did adult lunchtime stop being fun? When did a soggy sandwich brought from home or a $12 bowl of greens, scarfed down in 10 minutes while scrolling through emails, come to define midday sustenance? Enter adult lunchables.
---
If you were a kid (or had a kid) in the 90s, you remember the original Lunchables: circles of meat, squares of yellow cheese, and a stack of crackers that you could build into little saturated-fat-heavy towers. This list of ideas and recipes for adult lunchables avoid the wasted plastic and cardboard of the children's product that inspired them and are healthier to boot.
Tips for making your adult lunchables work for you:
1) Invest in a good system. You can go with a bento box (a reusable lunch box with compartments for a main and sides that's common in Japanese cuisine) or use high-quality, food-safe glass or plastic storage containers. If you don't pick something with that comes with compartments, you may need to use multiple containers to keep ingredients separated.
2) Pick fruits and veggies that hold up to travel. Bananas may brown or get mushy, but apples, berries, and mandarin oranges, are good choices; lettuce can wilt, but carrots, celery, broccoli, cauliflower, and cherry tomatoes do well in transit.
3) You don't need to follow a recipe; just keep in mind core food groups. While the recipes below are beautiful, fun, and tasty—I chose them carefully!—don't worry if you're missing a few ingredients. You can make your own adult lunchables with whatever you have at hand. Try for 1-2 proteins (meat, hardboiled eggs, nuts, cheese, peanut butter), a veggie, a fruit, and a carb (crackers, pita, tortilla).
And onto the recommendations!
1) Adult cheese and crackers lunch from Project Meal Plan
Cupcake liners are a great option to keep crackers dry if you don't have a bento box or compartmentalized storage!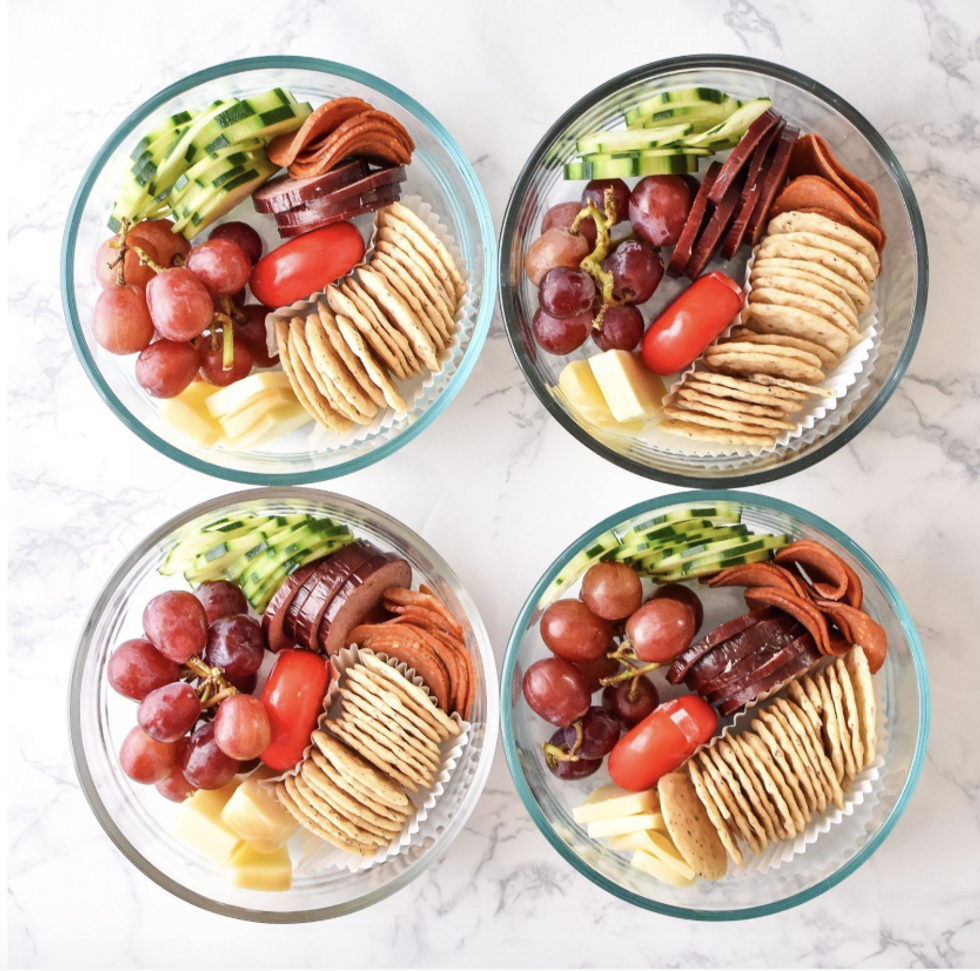 https://projectmealplan.com/turn-cheese-crackers-diy-adult-lunchables/
2) Chickpea salad lunchbox from Sweet Peas and Saffron
Make a big batch of protein-packed chickpea salad for the week, swap out your fruits and vegetables each day, and enjoy your very not-boring desk lunch situation.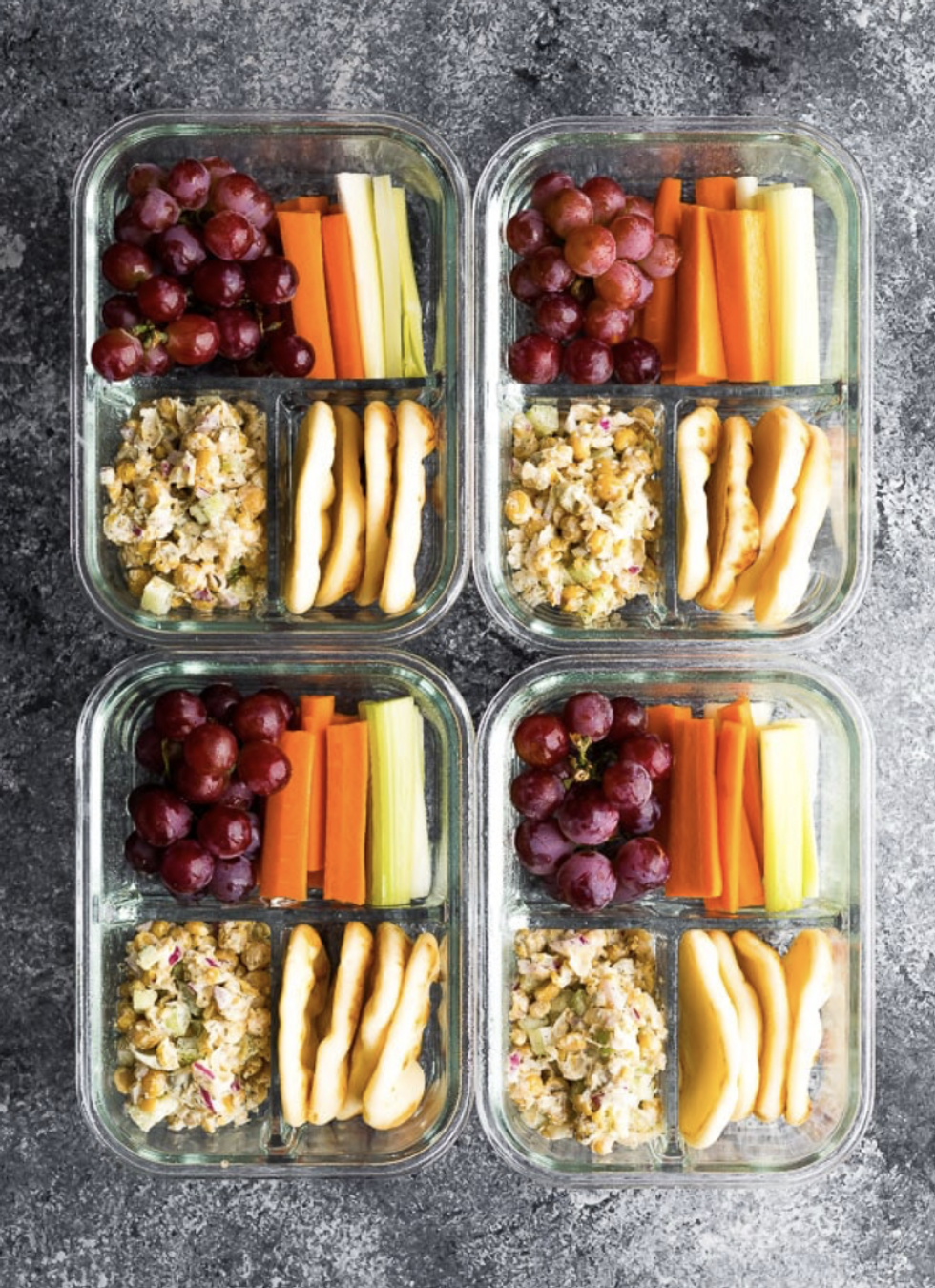 https://sweetpeasandsaffron.com/lunch-box-recipes/
3) Egg salad bento box from Celebrating Sweets
If you're not a fan of egg salad, 1. Why? It's so good; 2. Sub for tuna or chicken.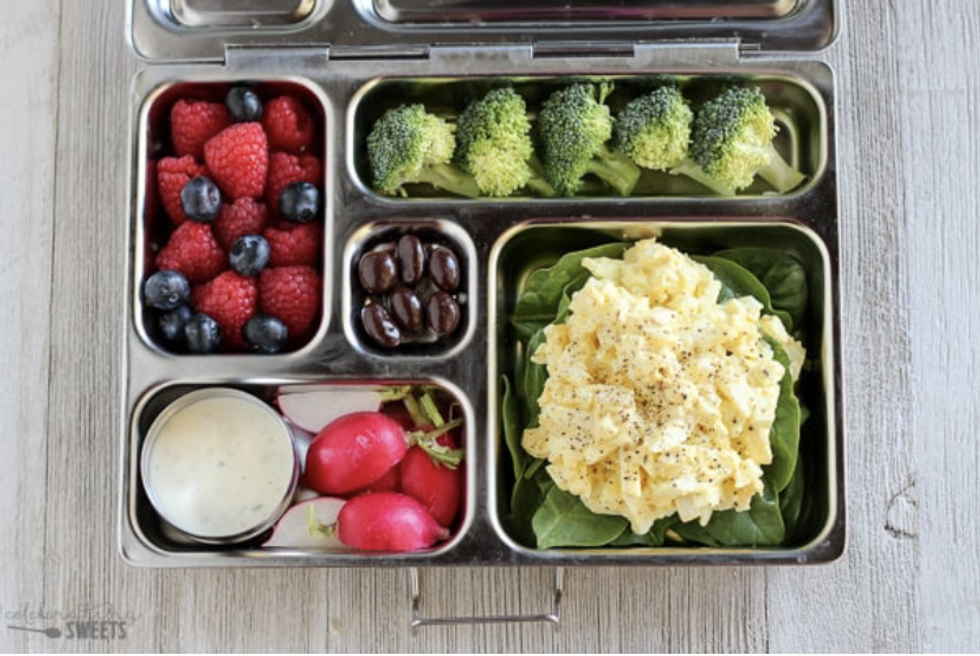 https://celebratingsweets.com/pimento-egg-salad/
4) Energy-boosting breakfast box from Gathering Dreams
Who says adult lunchables have to include lunch foods? Bring Greek yogurt, nuts, and berries for a delicious breakfast-inspired midday meal.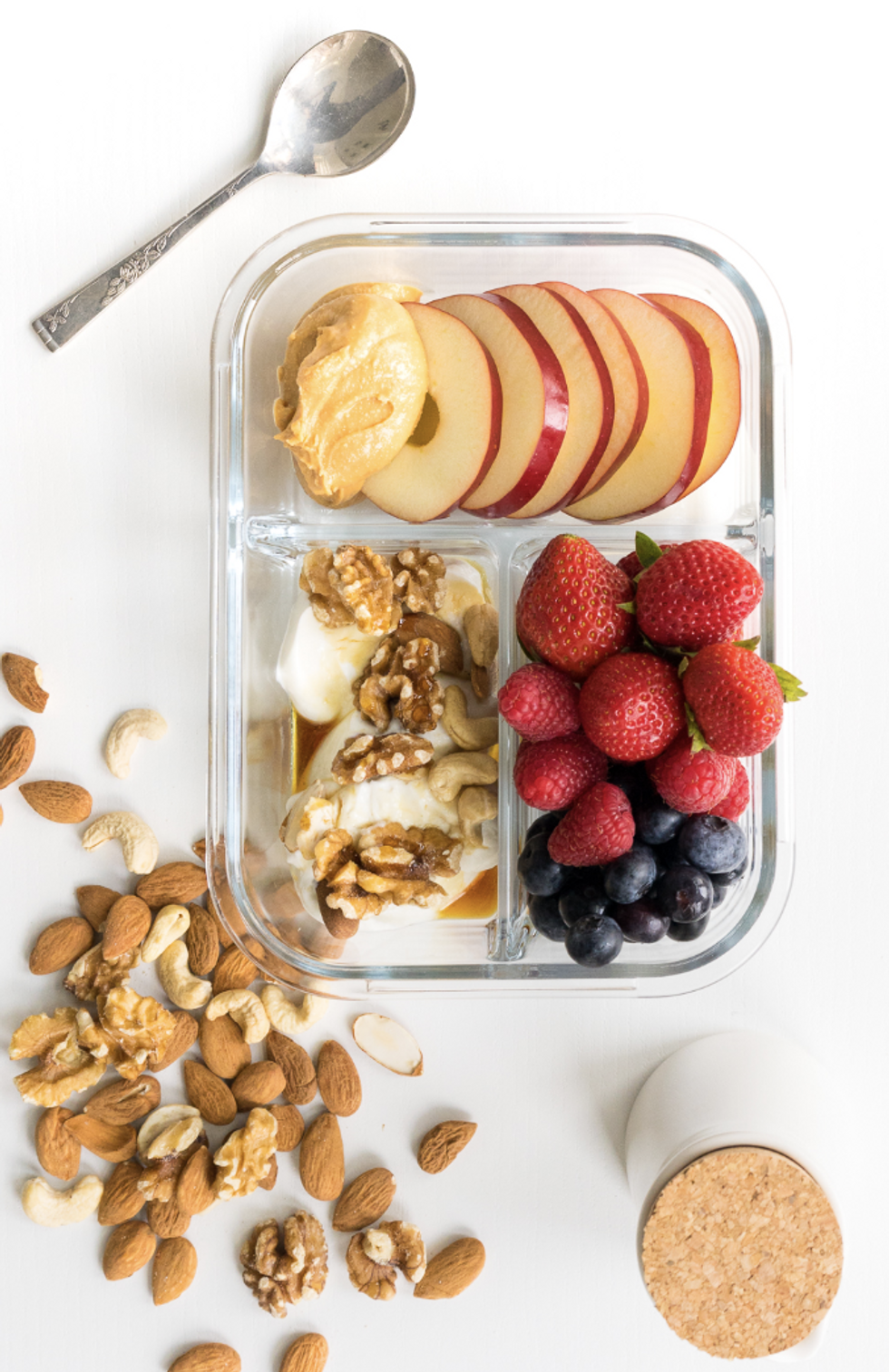 https://gatheringdreams.com/lunch-box-ideas-for-adults/
5) Chicken pesto pasta skewers lunch box from Project Meal Plan
All the greatness of a pasta salad, but with the ingredients separated so you can make the perfect bite. Genius.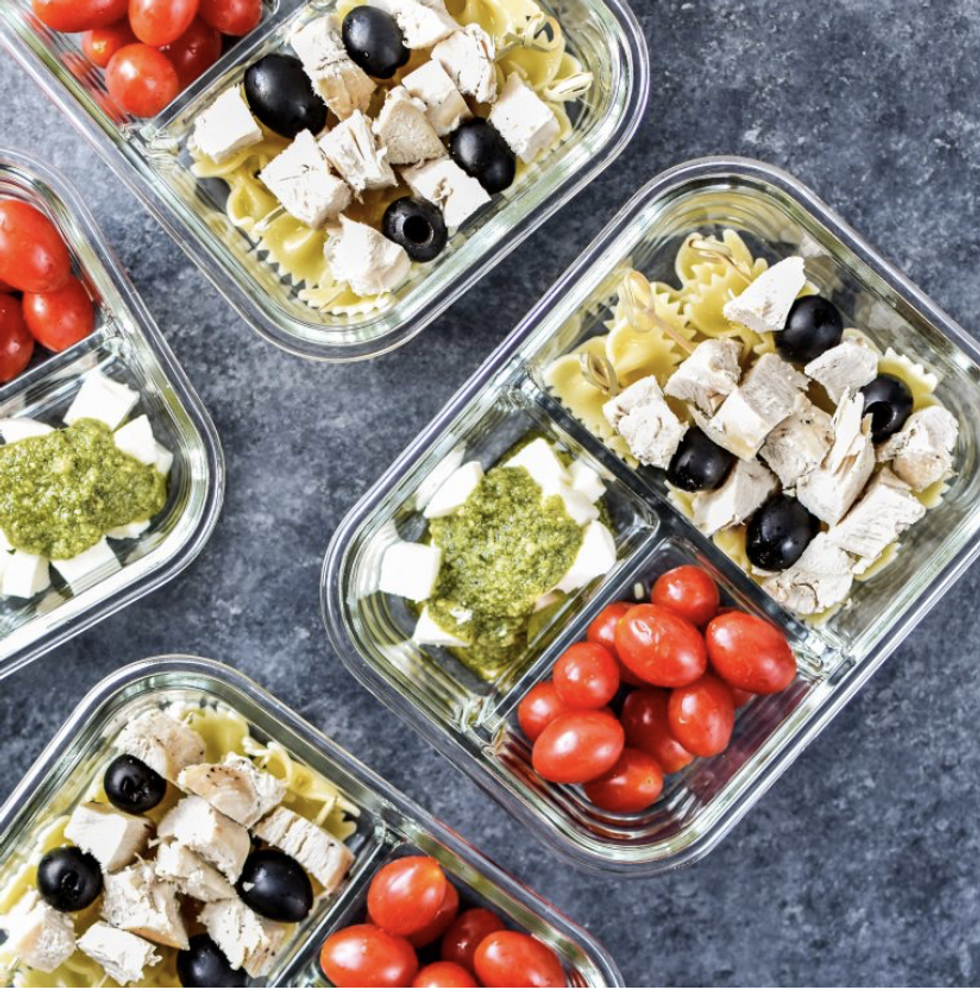 https://projectmealplan.com/chicken-pesto-pasta-skewers-meal-prep/
6) Mediterranean salad with crackers from The Nutritious Kitchen
Go for hearty crackers with scooping power so they can stand in for a spoon.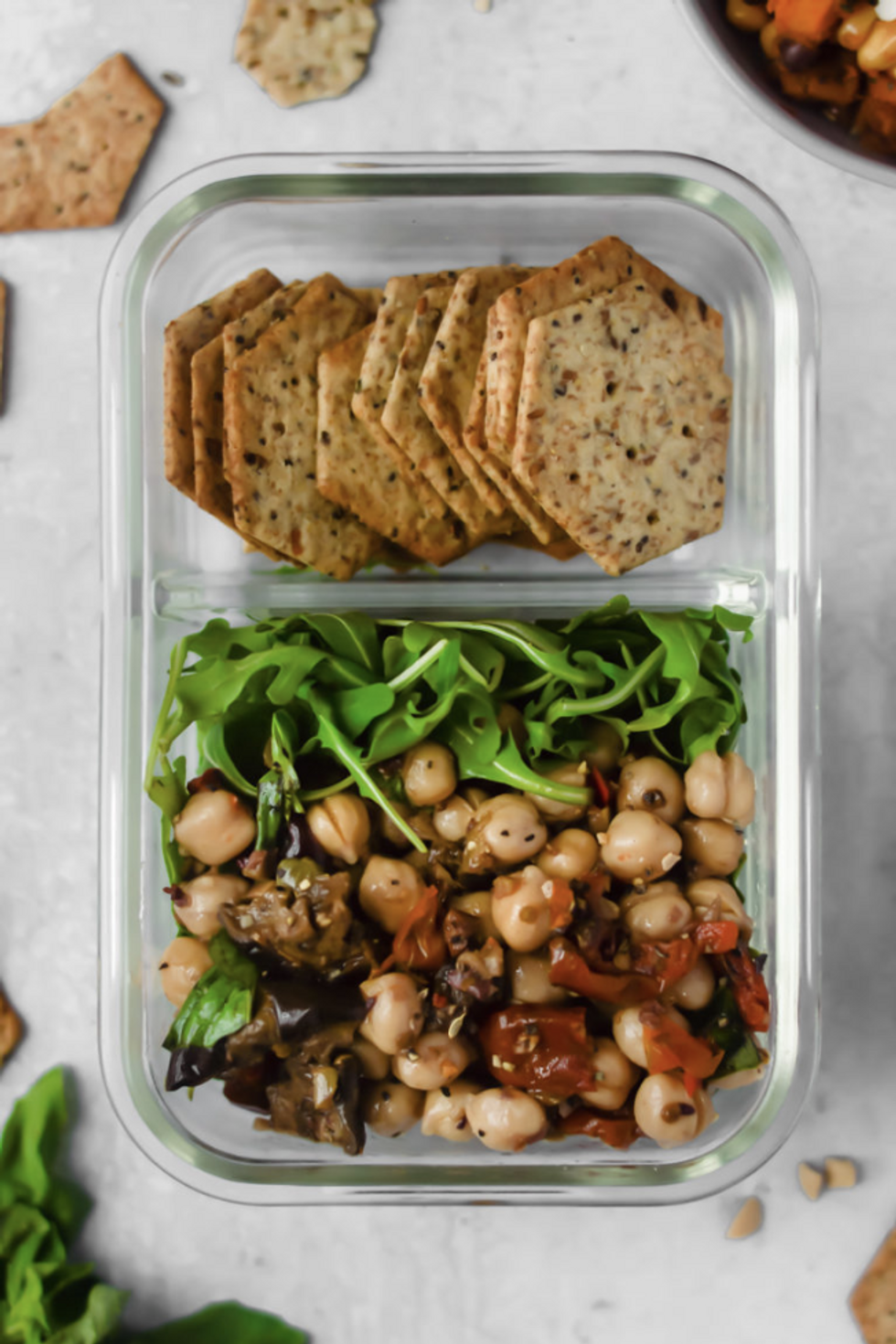 https://thenutritiouskitchen.co/wholesome-adult-style-lunchables-with-simple-mills-crackers/
7) Teriyaki chicken stir fry lunch box from My Food Story
Separate the ingredients when you prep your lunch so nothing gets too soggy, then mix to your heart's content when you're ready to eat.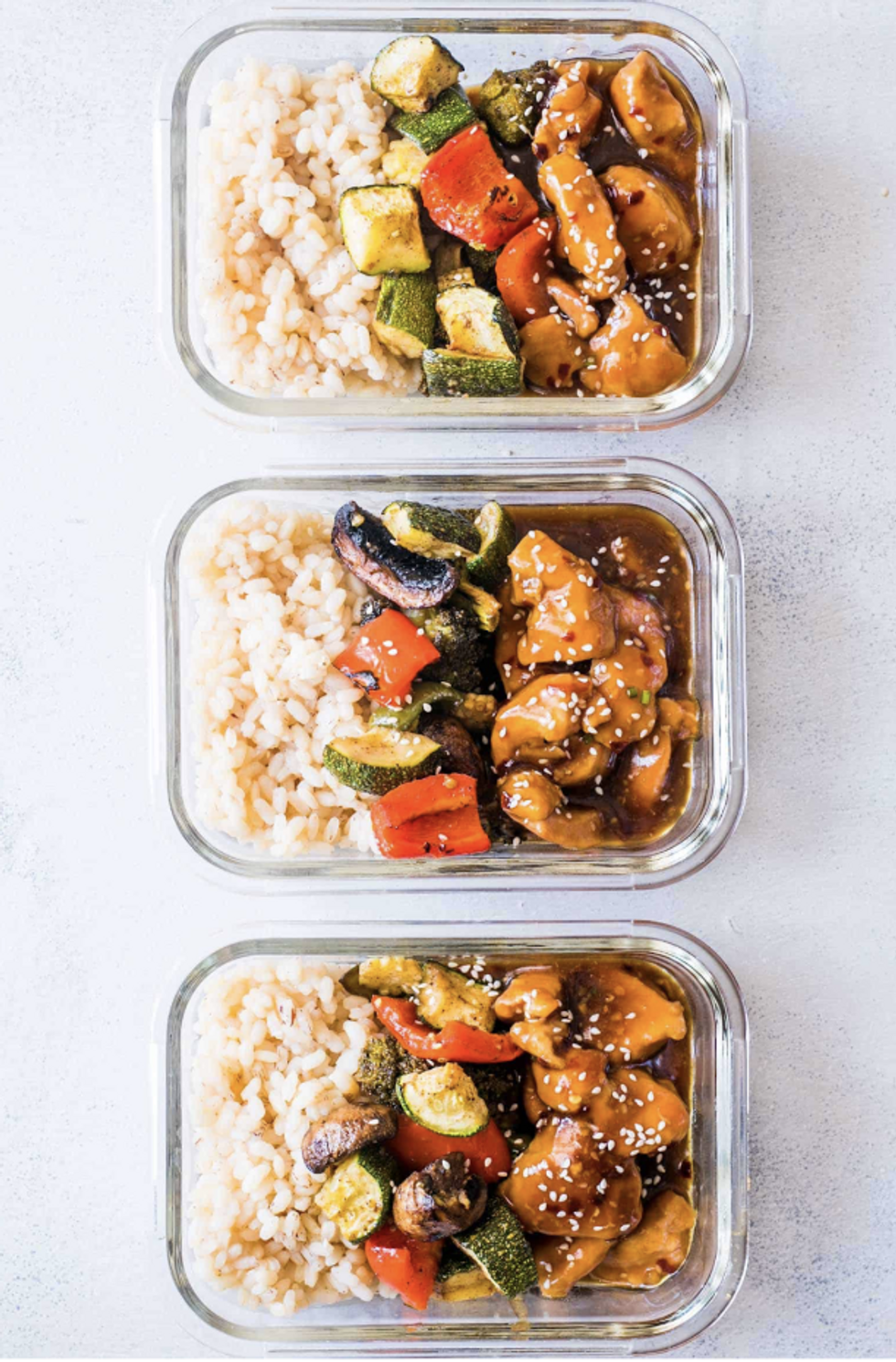 https://myfoodstory.com/teriyaki-chicken-stir-fry-meal-prep-recipe/
8) Smoked salmon and cream cheese keto roll-ups from The Kitchn
If you're on the keto diet, this high-fat, low-carb bento box is perfect for weekday lunches.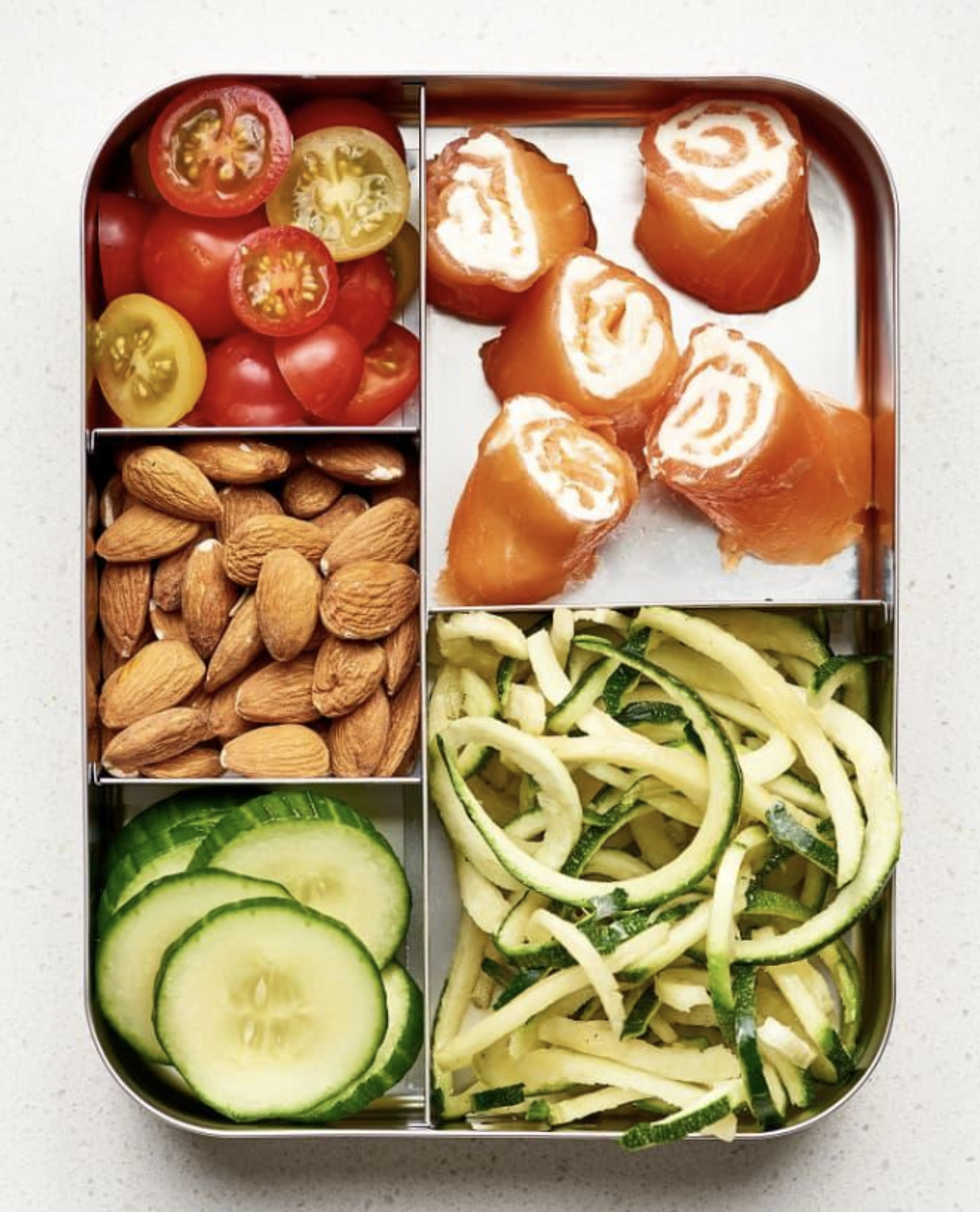 https://www.thekitchn.com/keto-lunch-ideas-2-260359
9) Vegan falafel wraps adult lunch box from The Green Loot
This vegan option should be appealing to eaters of all sorts. Just look at those colors!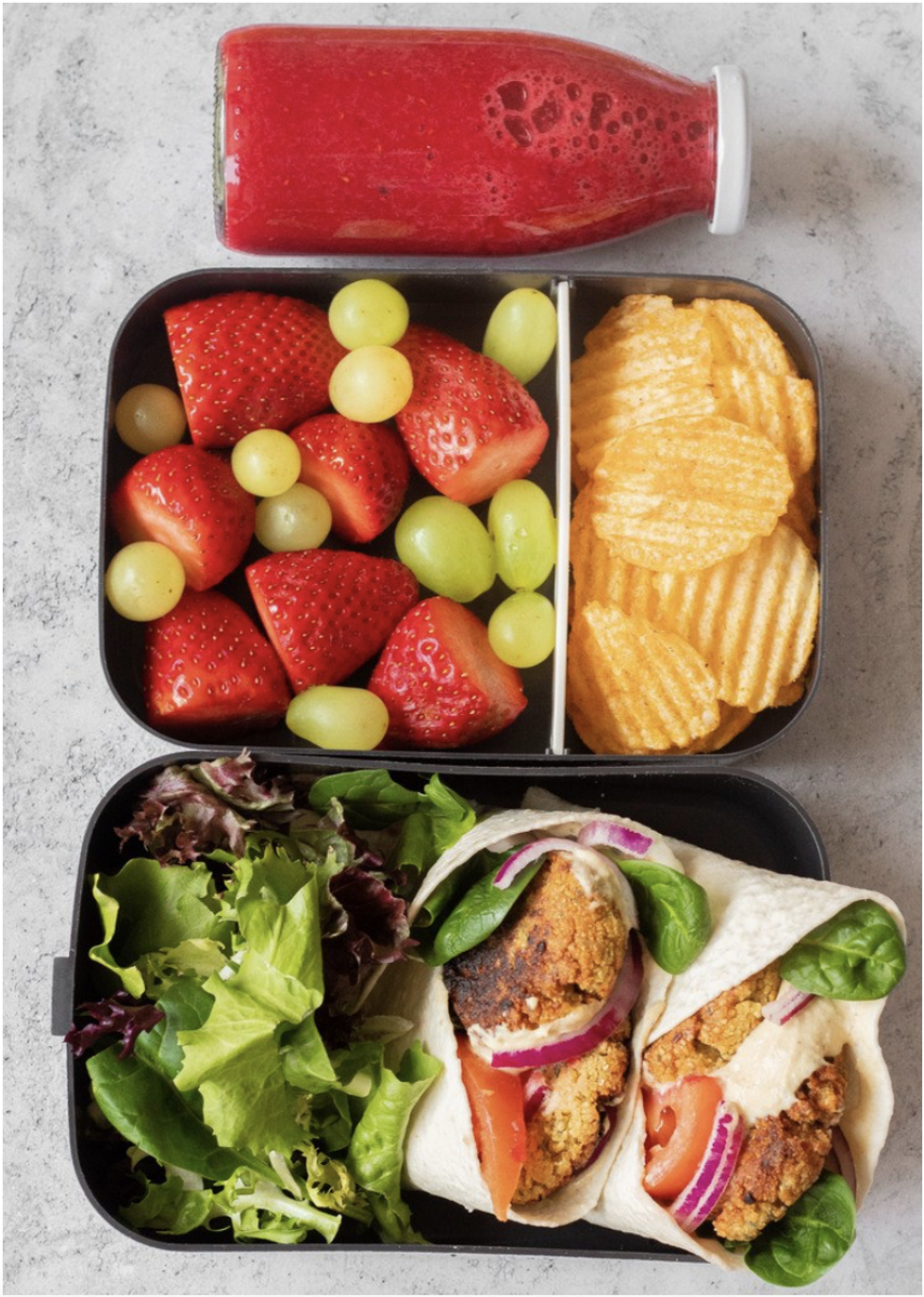 https://thegreenloot.com/vegan-lunch-box-ideas-work/
10) Sushi sandwich bento box lunch from Cooking Light
If you're ready to up your lunch box game, these sushi sandwiches—based off a Japanese dish called onigirazu—are calling.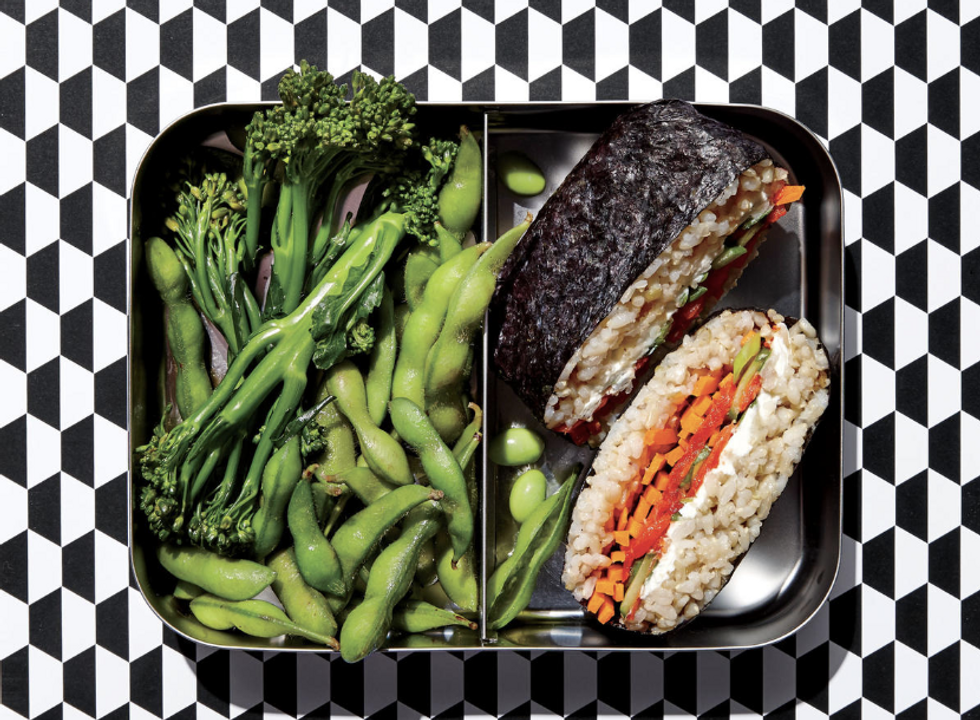 https://www.myrecipes.com/recipe/sushi-sandwich-lunch-box
Related Articles Around the Web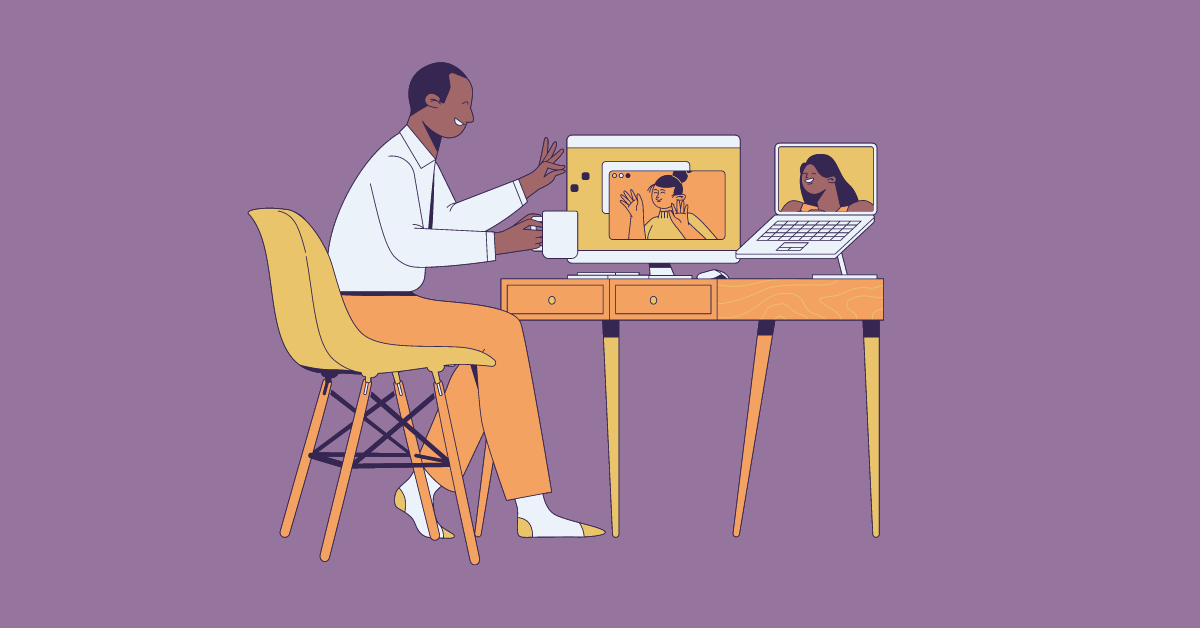 Upskilling and Development
As a result of the COVID-19 pandemic, millions of workers have turned to remote work. Before the pandemic in 2019, 22% of employers offered at least some remote work. Now in 2022, that percentage nearly doubled to 40%. The shift to remote work has become beneficial for me and many of my friends who are recent college grads starting their careers. It's allowed us to dictate our own time and save money from commuting, spend more time with loved ones at home, and have the flexibility to travel and build connections from anywhere. Remote working has also changed how people network for jobs. We have more options now.

Since remote networking is so new, it can be challenging to understand how to do it effectively. Read on to learn my top tips for networking for a remote job.
1. Connect with your high school or college.
The schools you went to want to see you succeed! Connect with old professors, classmates, or alumni on social platforms like PowerToFly or LinkedIn. You can find connections through sports teams, clubs, or topics of interest that will help you build stronger relationships. Don't be afraid to ask them for advice, mentorship, or even introductions.
2. Join a class!
Have you ever had a hobby that you never had the chance to pursue? Coding? Running? Painting? It's never too late to learn something new. Plus, spending time doing what you love will introduce you to other people who love the same thing. Not only will this help expand your social circle, it can also help your career! Once you feel comfortable, talk to your classmates about your work, and ask them about theirs. The perk of classes like these is that you will build relationships with people from all different career backgrounds which will help you determine your career path, especially if you are looking for a mid-career pivot.
3. Register for the Early Career Summit.
My friends and I are very excited to join PowerToFly's Early Career Summit this fall to meet the inspiring founders and CEOs of incredibly impactful companies. This is a great opportunity to get useful tips and learn about different perspectives, professions, and topics that you may be interested in.
4. Attend a virtual job fair and connect with leaders who inspire you.
Job fairs are great for meeting people who can be helpful because everyone attending is there to network! Job fairs at PowerToFly are a great place to meet hiring managers and recruiters from our sponsoring companies. If you come prepared with a resume it is an opportunity to make a great first impression with a company. After the virtual job fair, remember to connect with the people who stuck out to you and introduce yourself on PowerToFly or LinkedIn. Make sure to tell the recruiter who you are, and highlight what stood out to you about their talk.
5. Offer to help.
People really value your help (when it's needed). If you know someone in your network looking to hire a web designer and you know a great place to find one, don't be afraid to make the connection! If you see a job opening that would be great for someone in your network, let them know! Helping people in this way will help build your trust and credibility.
Remote networking has its differences from in-person networking, but it has never been easier to have access to social platforms that can help create connections. It will take some creativity and hard work, but once you have the appropriate mindset the options are endless.
READ MORE AND DISCUSS
Show less
Loading...