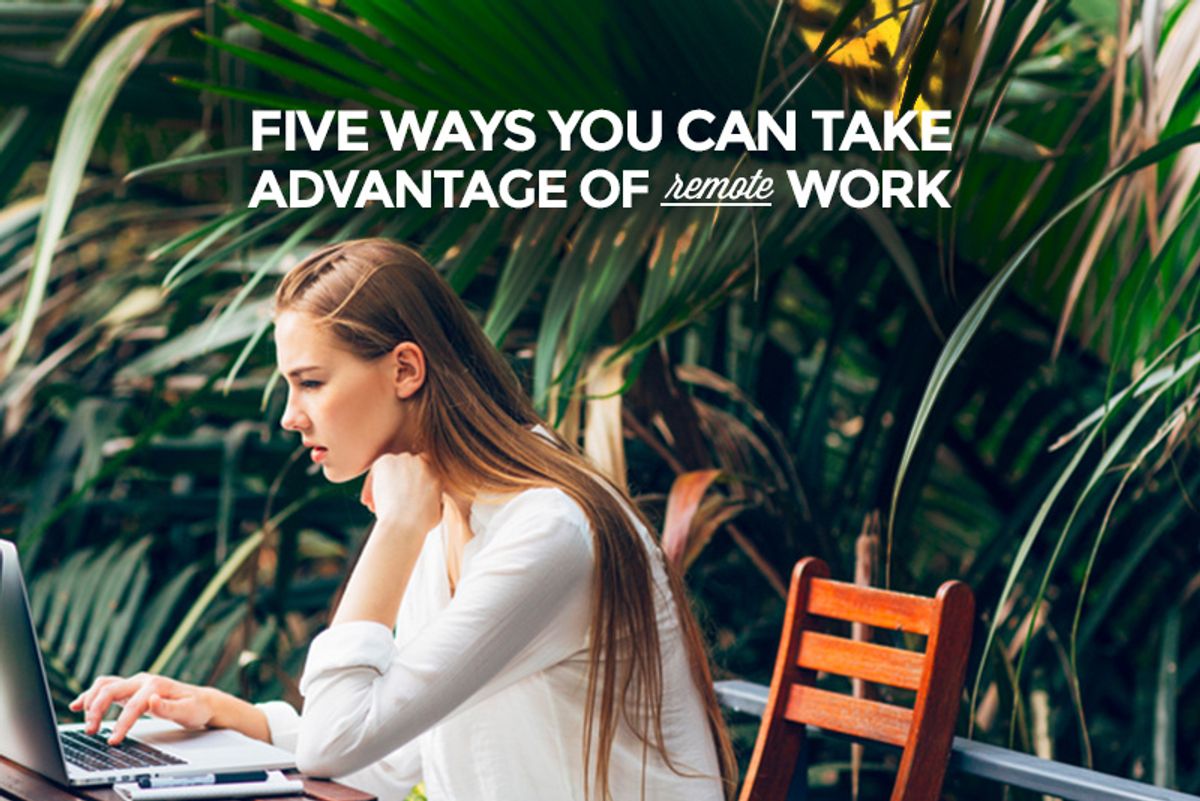 Work-Life Integration
A version of this article previously appeared on Skillcrush, an online education program for creatives, thinkers, and makers that gives total tech newbies the tools to make major career changes.
Cameron Chapman, Skillcrush
Real talk: I can't imagine what my life would be like now if I didn't have a remote job. As I type this, I'm sitting in a cafe about two hours from home with Randle, Skillcrush's Director of Content, who's traveling the country in an RV while she works.
How cool is that?
On a more "average" day, I'm working from home in a remote corner of Vermont, where local employment options are…limited.
And others on the Skillcrush team work from all over the US and abroad, from home, from coworking spaces, from their favorite coffee shops, and while traveling.
Remote jobs open up so many possibilities for where, when, and how you work. Here are a few ways remote workers can take advantage of the incredible flexibility their jobs allow.
Psst! Want the inside scoop on how to land your first remote job? Download the FREE Ultimate Guide to Landing a Remote Job You Love.
1. Take a work-cation
When you work in a typical "corporate" job, you get a certain number of weeks of vacation each year, usually something like 2–4. But what if you want to spend a month skiing in the Alps, two weeks on the beach in Hawaii, and three weeks driving cross-country with your BFF? Are you supposed to just take a bunch of unpaid days off? Would your boss even be okay with that?
With remote work, you can work while you're on vacation. Forget about limiting yourself to two weeks a year for traveling. Instead, travel when and where you want, working around your travel plans and other activities.
For tips on working while on vacation (and still enjoying your trip), check out this post: How to Spend Half Your Time on Vacation Without Getting Fired.
2. Work when you're most productive
For a long time after I started working remotely, I tried to stick to a rigid 9-to-5 schedule. But I learned pretty quickly that I'm not that productive in the afternoons. I get more done when I work first thing in the morning and then again later at night, but not so much between about 2pm and 6pm.
In a regular job, I'd be stuck in an office till 5 or 6, whether I was working at an optimal level or not. That means I'd either get less done overall, or I'd end up bringing work home with me anyway.
3. Don't miss as much time for sick days
This might sound like a downside at first, but when you think about it, it's actually great. How many times have you been feeling a little under the weather and decided to take the day off because by the time you get up, get dressed, and actually get into the office you'll be too exhausted to actually do anything—or you don't want to risk getting others in your office sick? Or, maybe your kid is sick and you end up having to take one of your sick days to stay home and take care of them.
Either way, there are times when you take a sick day when you could actually get work done, but you end up with a ton of work to catch up on when you get back to work. If you're working remotely, you can work from home in you're pajamas if you're feeling under the weather, and not have to interrupt your normal schedule too much when caring for a sick family member.
This is a big plus for those times when you hate to miss work because of the time you'll spend catching up, but you're just not able to go to the office.
4. Spend more time with your family
When was the last time you had to skip an important event in your family because of work obligations? A dance recital, basketball game, or school play? How many times have you wished you could get out of work at the same time your kids get out of school? How much would that save on daycare costs and how awesome would it be to have a couple extra hours with them every day?
Remote jobs mean you can skip out for a few hours in the afternoon for an event you don't want to miss, and then make up for it at other hours of the day. No more missing those recitals and games and plays.
Same goes for traveling for things like weddings or family reunions. You won't have to take a bunch of vacation time to participate in important events, and can work around everything else that's going on.
5. Get more done in less time
Without all the distractions of an office, you can get way more done in way less time. I'm a firm believer that putting in an 8 hour day at home is equivalent to working 10 or even 12 hours in the office, as far as output goes.
When you can set your hours around when you're most productive you can get so much more done in the same eight hours a day. Working when you're "on" allows you to truly focus on the task at hand without your co-workers popping into your office to "chat" about something that's only vaguely related to work, or falling down 3pm Instagram rabbit holes!
In reality, you can approach this in one of two ways: you can work the normal eight hours and get way more done than you would in an office. OR, you can work fewer hours a day while still getting a normal amount of work done. It all depends on your goals and what your employer expects.
There are tons of other ways you can adapt remote work to your lifestyle and how you want work to fit into your life. The big takeaway is that most remote jobs are flexible enough that you can make them fit your life, rather than constantly having to adapt your life to fit your work.
Be sure to get your copy of the Ultimate Guide to Landing a Remote Job You Love to get all the insight you need on starting your remote career.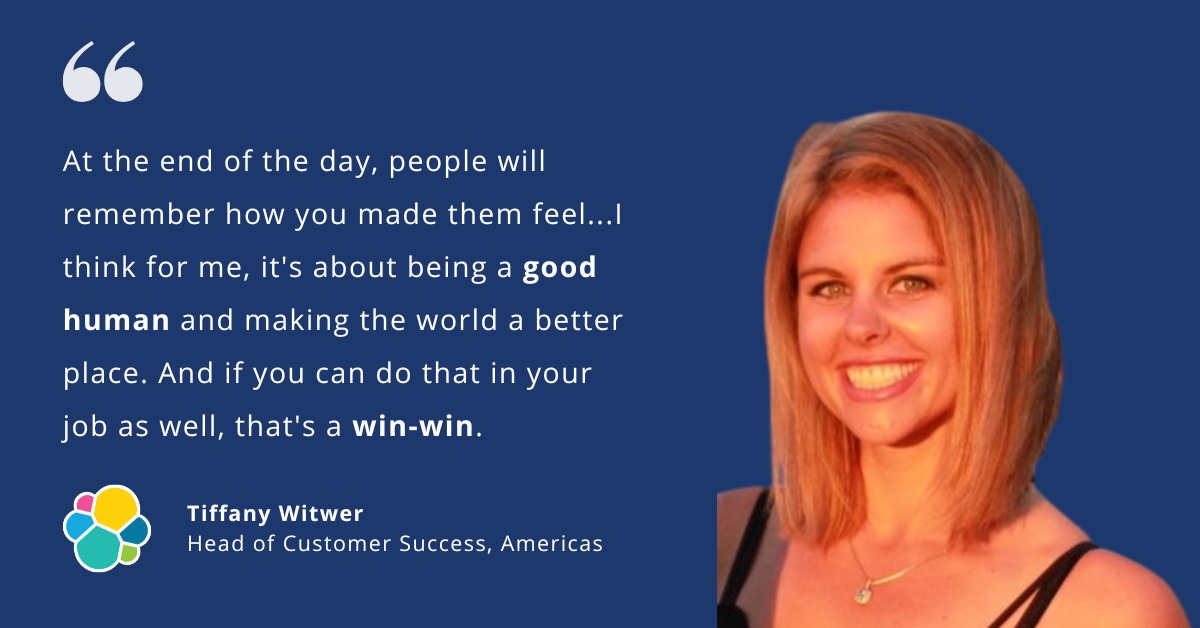 Elastic
Tiffany Witwer from Elastic is a proud mom of three.
"I enjoy being a parent because it teaches me patience and it gives me a different perspective," she shares. "It allows me to be more present, laugh more, and appreciate the small things."
In between her duties as a mom, she keeps herself mentally and physically healthy by running, biking, swimming, or doing yoga — all activities that help her start the day with gratitude. "It gives me the right perspective and attitude to go into the day," she says.
With an overall positive outlook on life, Tiffany brings that same energy to her customers at work as the Head of Customer Service for Elastic.
We sat down with Tiffany, who shared with us her career journey from civil engineering to customer service. Keep reading to learn top tips for creating happy customers.
Starting a Career in Engineering
Tiffany pursued an undergraduate degree in biological engineering.
"I was always really good at math and science, especially chemistry. And I love being outside in nature and learning about it," she shares.
It was a college professor's research on stormwater runoff that motivated her to pursue her master's degree in biological and civil engineering. "I liked his energy and attitude toward learning. It was contagious," she describes.
While working alongside this professor at North Carolina State University, she presented her work at a conference that helped lay the groundwork for her career. "I met a man who liked my presentation," she says, "and was hiring a civil engineer for a consulting company."
Taking on this new opportunity, she moved to New York City where she discovered her love of being surrounded by diverse people and cultures, in addition to her new job.
"I enjoyed doing the design work and meeting the customers," she explains. "I was always the one on the proposals, winning the design work, and building relationships with customers."
While emerging in the complex realm of storm waste engineering, Tiffany saw how the world was progressing and thought that knowing software and technology would be beneficial.
"So I learned to code, networked, and got a job at a business analytics and software company as a pre-sales systems engineer," Tiffany says.
Pivoting into a Customer Success Role
As she dedicated more time to customers, her interest in working with them soon began to increase. "What I loved most was that I was using my mind to solve problems, but I also got to interface with customers. I got to meet customers and hear what they were doing and hear how we could help them."
Tiffany spent 10 years in pre-sales engineering and sales. She then took a job in a different company where she helped build out their advisory services business.
It was there that she built a successful team with coworkers who would lead her to her position at Elastic.
Elastic is the leading platform for search-powered solutions. They help enhance customer and employee search experiences, keep mission-critical applications running smoothly, and protect against cyber threats.
As the Head of Customer Service, Tiffany is responsible for making sure customers are getting the most value out of their software. "It's not only about how customers are using the technology," she explains. "It's, 'how is a customer's experience with Elastic? Are we meeting their need for technology?' And, 'are we meeting their needs from a support and empathy standpoint?'"
In order to meet her customers' complex needs, she emphasizes how crucial communication is.
The Importance of Communication in Customer Success
Quality communication is a skill that can often be undervalued. "I think people underestimate how much time is needed for clear communication," she points out. "Just because you put a message out there, it doesn't mean it's clearly understood. You need to think through how people are going to respond to the information."
With the complexities of communication, Tiffany relies on setting clear intentions when communicating in meetings. "I always ask at the beginning, 'what is your goal for this meeting and what does success look like for you?'" she explains.
Communicating clearly what success looks like for both parties allows for a better outcome. "I think for communications, it's making a lot of time and clearly defining what you want to get out of the interaction."
Advice for Clear Communication with Customers
Tiffany's career journey has been a mixture of understanding technology and building relationships with people — learning how to explain the technology to customers and problem solve in an empathic way. This has led to overall customer success. To create clear communication, Tiffany offers this advice.
Be empathetic and listen to your customers: "If you think about it, you've been trained in your technology, you know it inside and out," she explains. "But when you meet with a customer, the technology may only be a small part of their job." Taking this perspective can help you to communicate with more empathy. "It's understanding people's vantage point and then using that to communicate to them."
Defining success and clearly communicating it: "I'm a strong believer in getting on calls and confirming the goals and what people want to get out of the call," Tiffany shares. "This way, you know, you are aligned on what success is no matter what type of call."
Be genuine: "At the end of the day, people will remember how you made them feel," she shares. "I think for me, it's about being a good human and making the world a better place. And if you can do that in your job as well, that's a win-win."
Get to know people: "Getting to know people, their perspectives, and growing with them is what has led me to customer success and to where I am in my career," Tiffany advises.
If you're looking to build valuable work relationships alongside your career, check out the openings at
Elastic
!
READ MORE AND DISCUSS
Show less
Loading...