GET EMAIL UPDATES FROM POWERTOFLY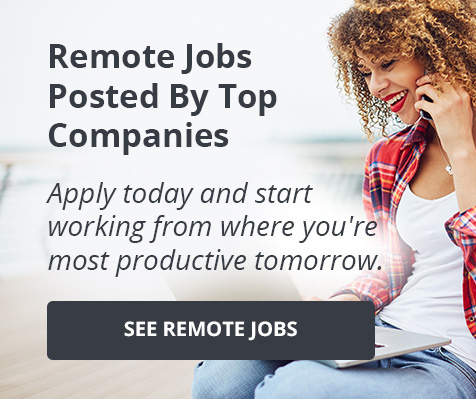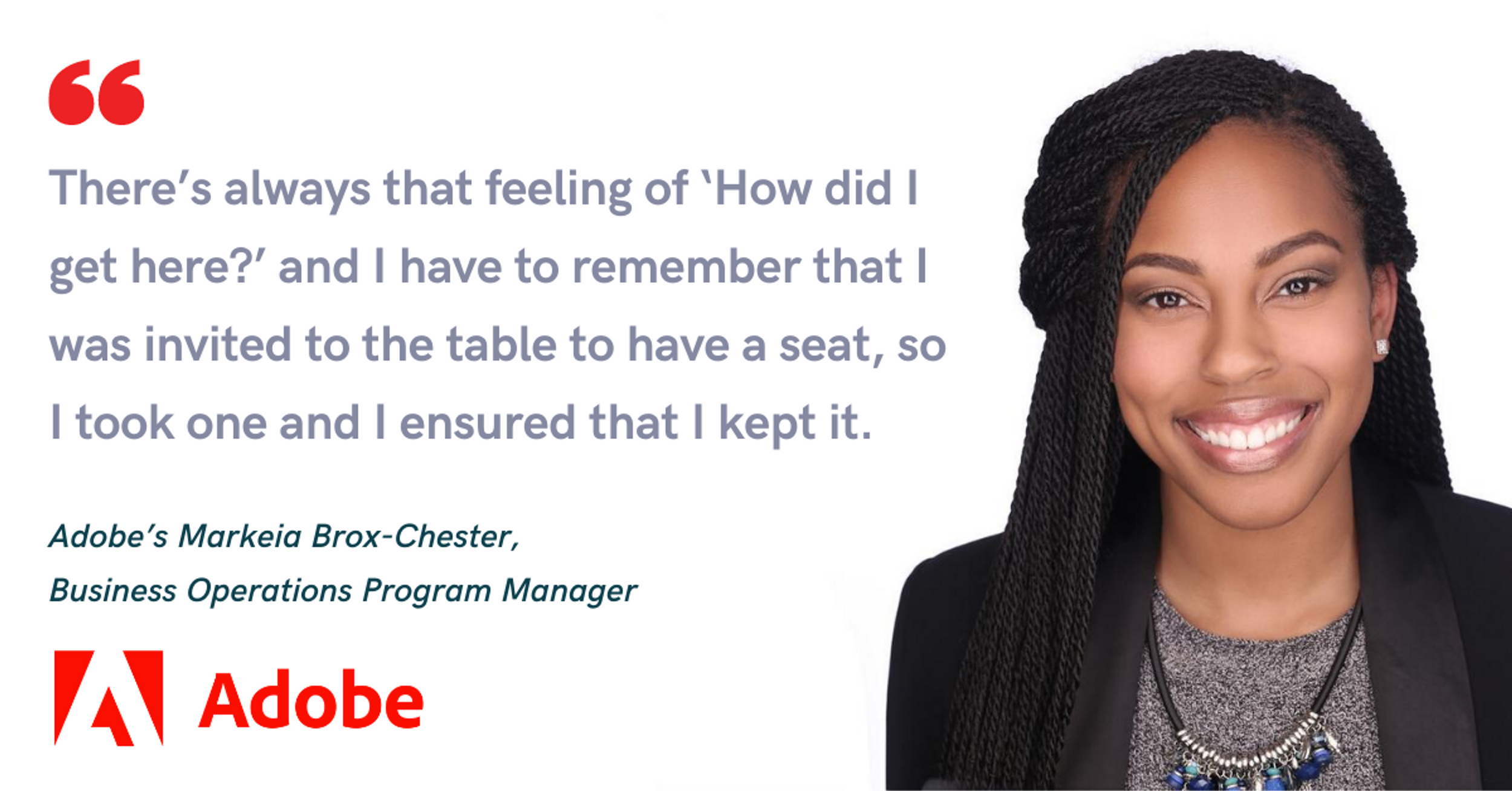 August 10, 2020
Black Community
How to Use Your Voice to Find Career Success: Advice from Adobe's Markeia Brox-Chester
There is only one Markeia Brox-Chester at Adobe.
---
So when Markeia was added to the invite for a meeting with thought leaders in her organization, the imposter syndrome that briefly made her wonder, "was this on purpose?" was quickly silenced.
"If someone adds me to an invite, it's not a mistake," says Markeia, reflecting on her initial reaction and the confidence that came after it. "I had to come to terms with that and to say okay, I have something to offer that they want to hear."
Markeia is a Business Operations Program Manager at Adobe, where she works with different departments to drive process improvements across the company. "My ultimate job description would be to look across the organization from a cross-functional perspective and look at the strategy, how we're measuring our success, and ultimately how we're driving towards our business goals," says Markeia.
Even though she's now very comfortable speaking up in big meetings, that wasn't always the case. "I'm an African American young woman, the youngest on my team," says Markeia. "There's always that feeling of 'How did I get here?' and I have to remember that I was invited to the table to have a seat, so I took one and I ensured that I kept it."
We talked with Markeia about how she's kept that seat by learning to use her voice, as well as how she encourages other people—especially those from minority backgrounds—to do the same.
Be unafraid to seek growth
Looking at Markeia's title and suite of responsibilities, you might not assume she's only four years out of undergrad. The 2016 University of San Diego grad first joined Adobe as an HR generalist, a role that saw her digging deep into different parts of employee relations at the digital media leader. "From that role, I determined that I like to drive projects and kind of see things more end to end," says Markeia.
She began to network within Adobe to see what other opportunities existed. She found a business ops role that interested her and applied, and credits her project management skills as what led to her offer. As she grew into the program manager role within that team, she says she honed her executive presence, strategic thinking, and time management skills.
Markeia has never shied away from an opportunity to learn something or to grow, even when those opportunities initially seem overwhelming or scary. "I'm very confident, but when you step into that new role, you're going to have that first day feeling of 'should I be here?'" she says. But she's learned to ride out that initial feeling: "Just be confident in your own ability to get yourself to the same place that you got yourself in previous positions," she advises.
For people seeking opportunities to advance in their own organizations, Markeia encourages them to just ask for what they need. "I personally have always had the philosophy of 'You don't know what you don't know unless you ask,'" she says, "And I have gotten pretty far with that. The reality is that if you don't ask, it's an automatic 'no.' If you do ask, it's a 50/50 chance of a 'yes.' I like the odds of going from a 100% no to a 50% yes."
She also recommends that people reach out directly to coworkers with job titles that sound interesting and ask about their own career paths, as well as have frank conversations with their managers about ways in which they're looking to grow and roles they'd want to grow into.
Invest in your community both within work and beyond
Markeia is from Oakland, California, and despite its proximity to all of the big tech companies in the Bay Area, she says working for those companies seems farther out of reach for the community, even though they are just across the water.
"When I look at myself as someone who came out of Oakland, my first thought is, 'I'm not special. I'm not any different. So what opportunities was I provided that are not being provided back to [others]? What was I taught or what knowledge did I get that really helped me get to this place that [other people from Oakland] might not be hearing about in their households or in their schools?'" asks Markeia. "And as someone who has made it into the tech world, what responsibility do I have to share that back?"
That's a rhetorical question, one that Markeia's already answered for herself: she has a big responsibility.
"I've always been very passionate about the community around me. I'm a product of my community. I will always want to see how I can give back to the community," she says.
Markeia pursues that responsibility both at work and beyond. Through Adobe, she takes advantage of volunteer opportunities to do community service with different Bay Area organizations, and she serves as the Black Employee Network (BEN) Site Lead for Adobe's San Francisco office.
"A lot of the various events BEN drives are meant to appeal to a community that may not have necessarily thought they had a place in tech," says Markeia. "Whether that's youth or individuals from nontraditional backgrounds, we're ultimately opening the doors of Adobe and bringing them into a conversation of possibility."
Markeia notes that she's especially passionate about encouraging young people to pursue a career in tech, and works to do so at Adobe by partnering with organizations in the Bay Area to present to students, bring them on site, participate in panel discussions, and serve as an example of what is possible. "It's about providing opportunities for these very talented individuals who may not have a connection somewhere to get their foot in the door of tech," says Markeia.
Within Adobe, Markeia says that BEN (Black Employee Network) works to create a community for Black employees. "It's about having a safe space to come and chat, to have friendships, to turn friends at work into family at work, and to have opportunities to share ideas, questions, and advice," she says. "We're moving with a common goal of revolutionizing the idea of Blacks in tech."
Outside of Adobe, Markeia recently joined the advisory board of a charter school, and is excited about the opportunity to positively impact that organization, too.
While she highly encourages others to get involved in initiatives that speak to their passions, Markeia has some advice on how to do that without burning out.
"I have some difficulty with not over-committing myself. I think we've all been there when you're passionate about something. You have a tendency to want to give your all," she says. "But you need to prioritize yourself as well—your well-being and mental health. Everybody needs to have moments to recharge and reconnect."
To help do that, she starts off small when she takes on new roles or gets involved with new organizations. "Instead of jumping into a leadership position because that might be the shiny, fun object, start by dipping your foot into the organization first and ensuring that it's a good fit," she advises.
Be hungry to learn
We talked to Markeia during the pandemic, where even though she's stuck inside and working from home, she's still actively pursuing her career growth goals. She's signed up for a data analytics bootcamp course and is loving the challenge.
"I thought, what's a better time than now, when we can't do anything, to sign up for something that's going to help me grow or move into a different position?" she asks.
(Our answer to that rhetorical question: there probably is no better time, Markeia, though we've definitely been using that time to watch extra Netflix instead of brushing up on our analytics chops. You've got the better idea, though!)
Markeia's course is reimbursed by Adobe's learning fund for employees, and Adobe's focus on learning is just one of the many reasons that Markeia enjoys her role there. "Adobe is doing so many things to equip employees to find their voice, see where their voice fits in the organization, and decide where they want their voice to be heard," she says. "They're giving employees resources to grow into whatever that is and get them there."
If you're interested in joining Markeia at Adobe, check out their open roles here!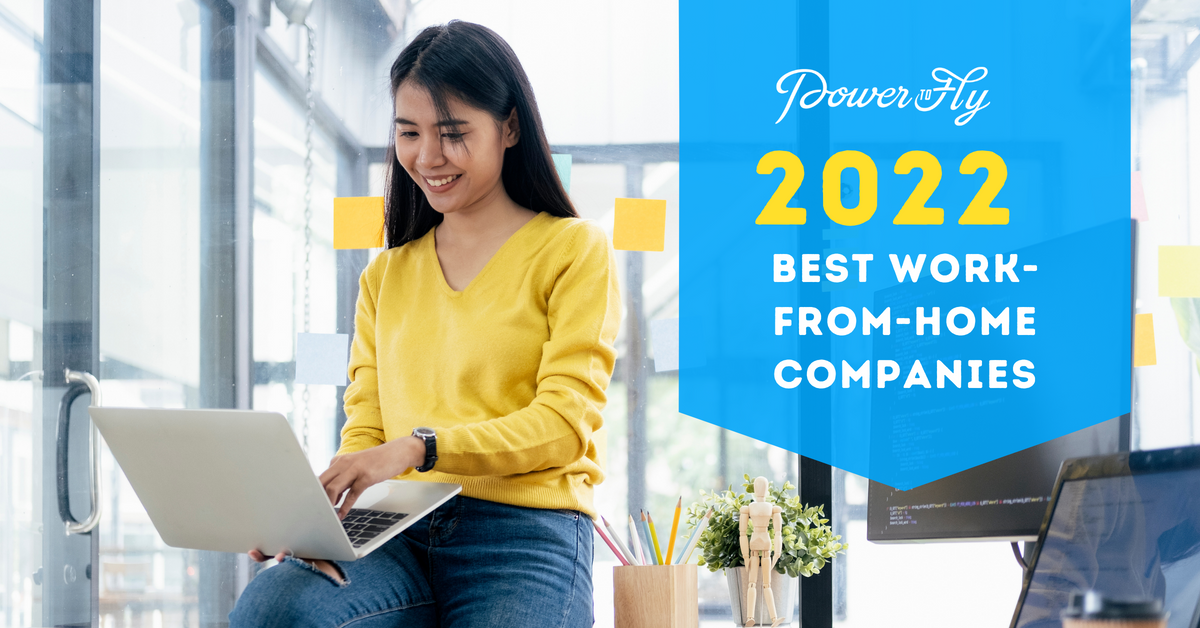 Featured Post
Every year, PowerToFly creates a list of the best work-from-home companies. Now that over half of the U.S. workforce is remote, compiling that list was a bit more challenging.
This year, we prioritized selecting companies that are remote-friendly—meaning they have both remote and in-person roles—but they have made long-term commitments to hiring and supporting employees who choose to work from home; and we think they have the perks, values, and organizational framework to allow all employees to flourish in their careers, regardless of location.
Keep reading to see our top 15 work-from-home companies for 2022, along with a description of what they do, why we like them, and who they're looking for.
PowerToFly's Best Work-From-Home Companies 2022:
Don't see what you're looking for? Check out a fill list of 5,000+ open remote roles here!
READ MORE AND DISCUSS
Show less
Nacelle
💎Want to learn more about the company's core values and how to align with them? Listen to Nacelle's team members share some valuable insights. Watch the video to the end to make sure you don't miss the interview tips that can help you land a job at Nacelle!
📼 Get ready to hear about Nacelle's culture and the company's core values, shared by their own team! Meet Madelyn Louipenn, Senior Manager of Talent Acquisition at Nacelle; Drew Clements, Front-end Engineer at Nacelle; Courtney True, Product Designer at Nacelle and Elizabeth Harris, Senior Manager of Professional Services Team at Nacelle. Together, they will share everything you need to know to stand out in the interview process.
📼 The first of the company's core values is continuous learning. The team at Nacelle is formed by curious individuals, who are often encouraging each other to step outside of their comfort zone and learn a new concept. Every Nacelle employee gets access to an online learning platform, whether it's learning a new programming language or expanding your knowledge in product marketing. There are endless opportunities for their employees to learn something new. As Courtney says, she's worn so many hats at Nacelle that she's gotten to see the company itself grow, which led her to a career path to also grow in as an individual.
📼To continue with the core values, the company's team members stress the importance of strong teamwork skills. This is what has allowed the team at Nacelle to move fast, to hit their aggressive goals, and to allow for an extremely collaborative workspace, even while in a remote environment. Another important skill to strengthen teamwork is the ability to give feedback: giving kudos to your fellow teammates, and creating the space to express gratitude to them is a priority at Nacelle.
Ownership and honesty, the company's final core values.
Nacelle often empowers its employees to take ownership over their work, step outside their comfort zone, try something new and build something that they're passionate about.
Everyone at Nacelle brings a high level of honesty and integrity into everything they do. They hold themselves accountable, keep their word, and most importantly, they show up to work as their authentic selves, knowing that they can be honest with one another. During his interview process, Drew said, "I know what I'm doing, I just don't interview well." He let the interviewers know ahead of time that he was going to be a nervous wreck, and they were very receptive!
Your interviews are a great time to ask more questions about the role and its expectations, and also to learn about your interviewers and their experience working at the company. That will allow you to understand how you fit into the larger Nacelle picture.
🧑💼 Are you interested in joining Nacelle? They have open positions! To learn more, click here.
Get to Know Madelyn, Drew, Courtney, and Elizabeth
With a degree in Psychology, one of Madelyn Louipenn's biggest passions is helping others develop an understanding of their mental processes and guiding them to overcome blockers. Drew Clements' passion is his job and he takes every project as an opportunity to learn and grow as creative. Courtney True has crafted websites and brands with visionaries in the social impact spaces such as energy & environment, health & wellness, social justice, scientific progress, arts & culture, education, and philanthropy. If you are interested in a career at Nacelle, you can connect with Madelyn, Drew, Courtney, and Elizabeth on LinkedIn. Don't forget to mention this video!
More About Nacelle
Nacelle was built for technology-forward merchants drawn to the benefits of a headless architecture but dissatisfied with the costs and complexity associated with adoption. Leaders at FTD.com, Boll & Branch, and Thinx use Nacelle to eliminate the typical maintenance costs and infrastructure complexities related to going headless while accelerating their time-to-market. Unlike traditional commerce solutions, their product is built on event-driven and elastic core technology optimized for flexibility, performance, and customization.
READ MORE AND DISCUSS
Show less
Loading...