GET EMAIL UPDATES FROM POWERTOFLY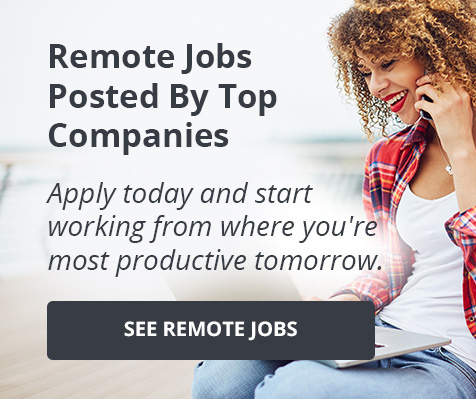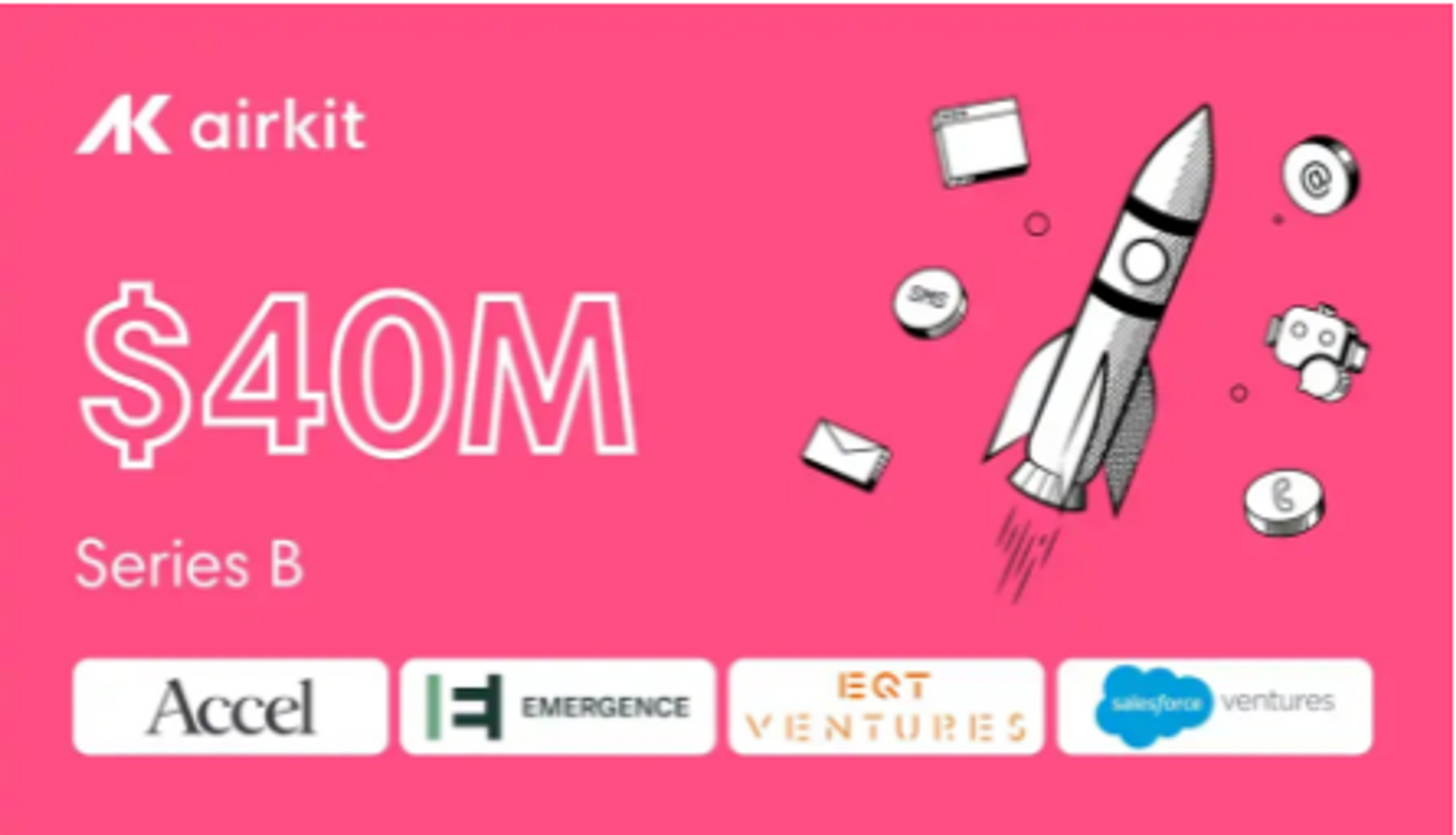 February 17, 2022
Airkit
Announcing Airkit's $40M series b: investing in future-proof CX
Below is an article originally written by Stephen Ehikian, CEO & Co-Founder of Airkit and published on May 11, 2021. Go to Airkit's company page on PowerToFly to see their open positions and learn more.
Today, Team Airkit could not be more excited to share the news of our $40M Series B funding round. Led by EQT ventures with Accel, Emergence Capital, Salesforce Ventures, and others, this investment not only recognizes the tremendous growth we've experienced since our launch in October but also fuels our opportunity to capitalize on the exploding demand for digital customer experiences. Our organization is expanding, our customers are multiplying, and our platform has never been more ready to empower leading brands to connect with their customers in a new, digital way. This recent funding allows us to continue building a world-class team and investing in our product.
We are equally thrilled today to announce our Kittyhawk product release. Kittyhawk speeds up the development of new customer-facing applications across an endless range of use cases, including sales scheduling, customer onboarding, paper form digitization, payment capture, WISMO, service dispatch, call deflection, and more. Customer experience has never been more central to an organization's success, and we intend to continue providing our customers with all the tools they need to not only meet but exceed their own clients' expectations for digital engagement.
Growing demand for a CX solution
Much has changed over the course of the past six months, but one thing has remained constant, and that is Airkit's steady growth. Despite the challenges of remote work and a pandemic, the Airkit team has continued to deliver results for customers with our powerful, low-code Digital Customer Experience platform. This focus on our customers' success is paying off.
In recent months, Airkit has nearly doubled our customer base, welcoming aboard organizations like OpenTable, Principal Financial, Royal Automotive Club, Bench Accounting, and more. Customers such as MetLife, Turo, ERC, and Reusability are expanding upon their initial applications, building new digital workflows to further improve their customer experience.
Exceptional digital customer journeys are no longer a nice-to-have. According to Gartner, customer experience drives over 66% of customer loyalty, more than brand and price combined, so it's no surprise that businesses are doubling down on curating great digital experiences. And, based on research done by PWC, when one in three customers say they'd walk away from a brand they love after just one bad interaction, that doesn't leave organizations much room for error.
This is perhaps why a customer experience solution like Airkit has seen such tremendous traction across all industries and among midsize and enterprise businesses alike. From helping Fortune 50 insurers streamline and digitize their insurance applications to ensuring car-sharing services automate their car return process, there really is no limit to what Airkit can empower companies to achieve with their digital CX.
Let's explore some of the ways our customers are relying on us to build their most important customer interactions.
AutoReturn, ERC, and Reusability shorten development cycles and improve their CX
The past year may have been an uncharacteristically slow one for some organizations, but this was not the case for business processing and outsourcing company, ERC. In the midst of increased contact center traffic, ERC was faced with the challenge of giving their remote workforce the tools they'd need to handle this increased volume securely and efficiently.
Airkit enabled the ERC team to do just that by creating a 100% PCI-compliant payment collection workflow across voice, email, and SMS. ERC contacts consumers all around the world, which meant there was an added layer of complication in abiding by local financial regulations. By integrating Airkit with their CRM, ERC was able to check where each customer was located and automatically add the correct, localized legal disclaimers into the self-service payment flow, saving their agents time and reducing risk of manual error. ERC CEO, Marty Sims, said of Airkit, "We see a ton of products on the market, and when we reviewed the platform we were very impressed. This solution allowed us to move quickly and provide better experiences for us and our clients without the heavy burden of technology resources."
Reverse logistics and reusable packaging company, Reusability, also saw game-changing results with Airkit. Reusability supplies reusable shipping and merchandising racks to retailers such as Home Depot, Lowe's, and Costco. During spring and summer months, demand for racks goes through the roof. Due to this increased demand, Reusability's contact center, which managed the delivery and recovery logistics of racks, was often overwhelmed. To scale while keeping call center footprint under control, and to improve return data accuracy, Reusability needed a CX solution.
By building a digital self-service workflow with Airkit, the Reusability team automated the rack exchange process for their customers, ultimately doubling agent efficiency, reducing the need for additional contact center headcount, and realizing 140% ROI within the first eight months.
Our customers come in all sizes and areas of expertise, and so do our users. The beauty of low-code is that you don't need to be an experienced developer to create great digital customer workflows. Customers like Bench Accounting, America's largest bookkeeping service for small businesses, are able to leverage existing components within Airkit Studio to create the customer journeys they want without extensive code. Bench's Senior Manager of Inbound Marketing, Dennis Pavlina, is a big fan of Airkit's. He explains, "We were able to leverage Airkit's digital experience platform to build out a great customer onboarding experience in less than a month. Airkit's platform has over 50 building blocks and preconfigured templates which make it easy to build and test workflows in weeks instead of months."
On the other hand, if you do happen to be a skilled engineer, Airkit allows you to shorten development cycles by up to 40x. AutoReturn is the nation's leading towing management systems provider, and with the help of Airkit's low-code Digital Customer Experience platform, AutoReturn CTO John Pendleton and his team were able to deflect 38% of calls to digital self-service. "Airkit fit into our environment easily, without impacting our developers' workload. The solution accelerated app development without the need to modify our existing call center. We've been able to transform our customer operations," John said.
For any and everyone interested in trying out the platform for themselves and getting started with app-building, Airkit offers a hands-on tutorial called Airkit Flight School. Flight School attendees learn platform orientation, where to start with experience building, and practical tips for digitally transforming their CX. You can view all upcoming sessions and register here.
Build CX 40x faster with Kittyhawk
Airkit has the power to improve every touchpoint along your customer's journey. And, it keeps getting better.
Airkit's latest product release, Kittyhawk, enables teams at leading brands to:
Develop faster with more pre-built, front end modules and templates to create great branded experiences more easily;
Connect immediately with the most popular customer data sources and tools like Talkdesk, Stripe, Plaid, Heap, and more;
Build customized experiences that span uninterrupted across web, voice, chat, etc. and that have industry-standard security and compliance built in.
Kittyhawk speeds the development of digital experiences connected to your existing systems and that maintain a customer's state across a specific conversation, even if that conversation switches from voice, chat, text or web. For example, if a consumer calls into an IVR to update the payment card for their order, then requests a text link that lands on a web payment form, that customer won't need to reauthenticate or re-enter their order number. Our platform maintains their identity and the progress of that thread, allowing them to choose when and how they complete their task. This is why Airkit's state management technology is so powerful.
CX for the future
We could not be more thankful to our investors for recognizing our potential and supporting us as we look to capitalize on the opportunity in front of us. We're also incredibly proud of our team, who, amidst the craziness of the past six months, has continued to foster an incredible culture, recently becoming a certified Great Place to Work.
Airkit is more than a platform for the here and now. 2020 brought challenges the likes of which most businesses had never seen before, but that is certainly not the last time the way in which we engage with customers will be turned on its head. There has never been a bigger need for flexibility, agility, and scalability in the world of customer experience, and Airkit is ready to help organizations meet it. The opportunity is ripe for the taking, and we can't wait to show the CX world what we're made of in the years to come.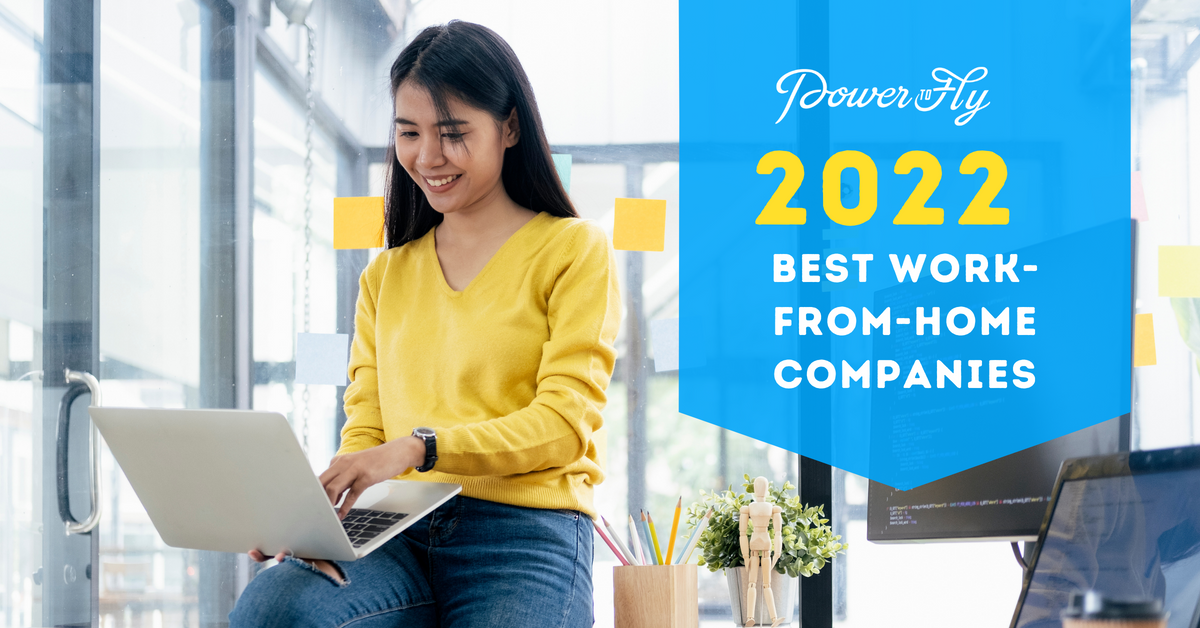 Featured Post
Every year, PowerToFly creates a list of the best work-from-home companies. Now that over half of the U.S. workforce is remote, compiling that list was a bit more challenging.
This year, we prioritized selecting companies that are remote-friendly—meaning they have both remote and in-person roles—but they have made long-term commitments to hiring and supporting employees who choose to work from home; and we think they have the perks, values, and organizational framework to allow all employees to flourish in their careers, regardless of location.
Keep reading to see our top 15 work-from-home companies for 2022, along with a description of what they do, why we like them, and who they're looking for.
PowerToFly's Best Work-From-Home Companies 2022:
Don't see what you're looking for? Check out a fill list of 5,000+ open remote roles here!
READ MORE AND DISCUSS
Show less
Nacelle
💎Want to learn more about the company's core values and how to align with them? Listen to Nacelle's team members share some valuable insights. Watch the video to the end to make sure you don't miss the interview tips that can help you land a job at Nacelle!
📼 Get ready to hear about Nacelle's culture and the company's core values, shared by their own team! Meet Madelyn Louipenn, Senior Manager of Talent Acquisition at Nacelle; Drew Clements, Front-end Engineer at Nacelle; Courtney True, Product Designer at Nacelle and Elizabeth Harris, Senior Manager of Professional Services Team at Nacelle. Together, they will share everything you need to know to stand out in the interview process.
📼 The first of the company's core values is continuous learning. The team at Nacelle is formed by curious individuals, who are often encouraging each other to step outside of their comfort zone and learn a new concept. Every Nacelle employee gets access to an online learning platform, whether it's learning a new programming language or expanding your knowledge in product marketing. There are endless opportunities for their employees to learn something new. As Courtney says, she's worn so many hats at Nacelle that she's gotten to see the company itself grow, which led her to a career path to also grow in as an individual.
📼To continue with the core values, the company's team members stress the importance of strong teamwork skills. This is what has allowed the team at Nacelle to move fast, to hit their aggressive goals, and to allow for an extremely collaborative workspace, even while in a remote environment. Another important skill to strengthen teamwork is the ability to give feedback: giving kudos to your fellow teammates, and creating the space to express gratitude to them is a priority at Nacelle.
Ownership and honesty, the company's final core values.
Nacelle often empowers its employees to take ownership over their work, step outside their comfort zone, try something new and build something that they're passionate about.
Everyone at Nacelle brings a high level of honesty and integrity into everything they do. They hold themselves accountable, keep their word, and most importantly, they show up to work as their authentic selves, knowing that they can be honest with one another. During his interview process, Drew said, "I know what I'm doing, I just don't interview well." He let the interviewers know ahead of time that he was going to be a nervous wreck, and they were very receptive!
Your interviews are a great time to ask more questions about the role and its expectations, and also to learn about your interviewers and their experience working at the company. That will allow you to understand how you fit into the larger Nacelle picture.
🧑💼 Are you interested in joining Nacelle? They have open positions! To learn more, click here.
Get to Know Madelyn, Drew, Courtney, and Elizabeth
With a degree in Psychology, one of Madelyn Louipenn's biggest passions is helping others develop an understanding of their mental processes and guiding them to overcome blockers. Drew Clements' passion is his job and he takes every project as an opportunity to learn and grow as creative. Courtney True has crafted websites and brands with visionaries in the social impact spaces such as energy & environment, health & wellness, social justice, scientific progress, arts & culture, education, and philanthropy. If you are interested in a career at Nacelle, you can connect with Madelyn, Drew, Courtney, and Elizabeth on LinkedIn. Don't forget to mention this video!
More About Nacelle
Nacelle was built for technology-forward merchants drawn to the benefits of a headless architecture but dissatisfied with the costs and complexity associated with adoption. Leaders at FTD.com, Boll & Branch, and Thinx use Nacelle to eliminate the typical maintenance costs and infrastructure complexities related to going headless while accelerating their time-to-market. Unlike traditional commerce solutions, their product is built on event-driven and elastic core technology optimized for flexibility, performance, and customization.
READ MORE AND DISCUSS
Show less
Loading...