GET EMAIL UPDATES FROM POWERTOFLY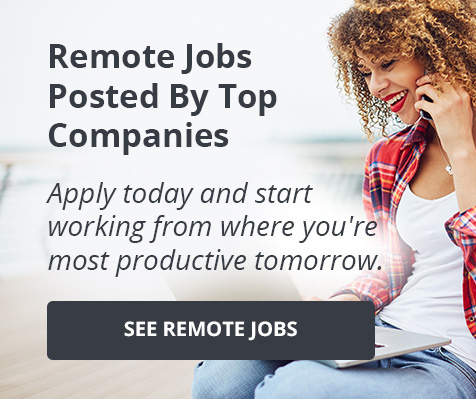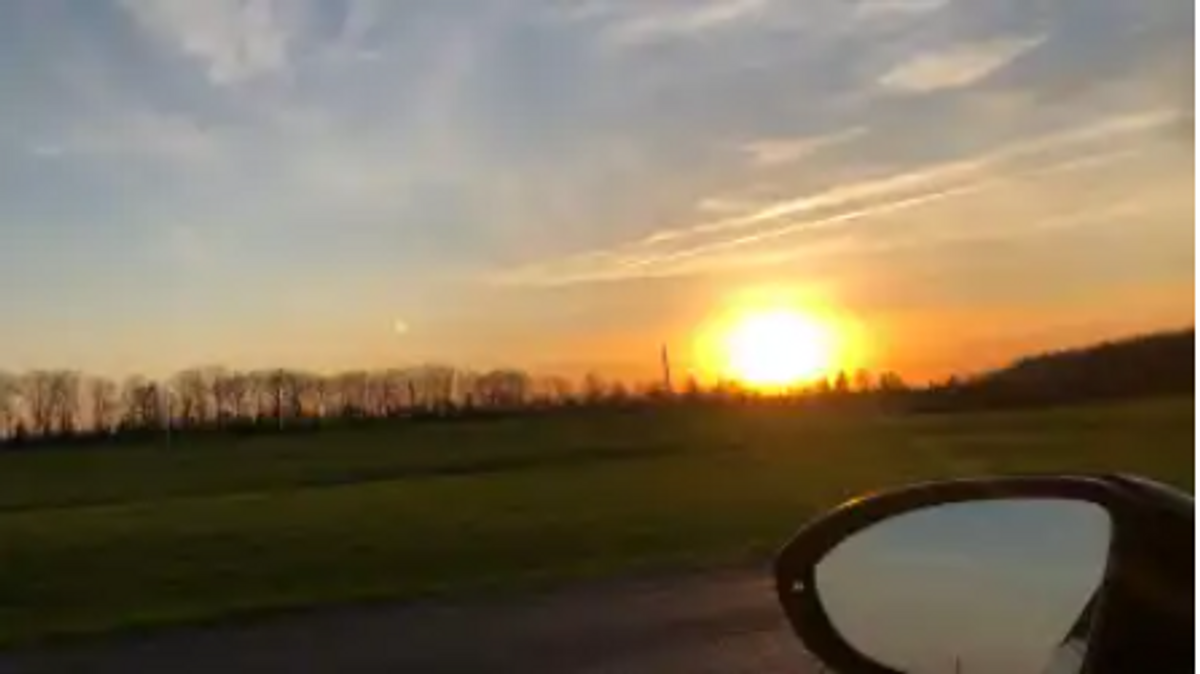 February 17, 2022
Airkit
Looking back on Airkit customers' success in 2021
Below is an article originally written by Kris Walls and published on January 10, 2022. Go to Airkit's company page on PowerToFly to see their open positions and learn more.
Most businesses have the same destination in mind. They want to continually surprise and delight their customers to keep them coming back. But, the journey to get there looks a bit different depending on what industry you're in, the level of scale you're operating at, and what your customers need.

This past year we had the pleasure and privilege of powering customer experience solutions for companies working across a wide variety of industries. Whether they were streamlining restaurant reservations, making insurance processes a breeze, or building out new digital workflows for customers, customer satisfaction was always on their mind.
We're here to recap some of our favorite customer success stories from the past year and explain what problem each customer was trying to solve, how they did it, and their success.
Let's dive in.
Savoring customers' success in 2021
Customer: OpenTable
Industry: Tech / Restaurant Operations
Problem: OpenTable has a double-sided marketplace consisting of 60,000 restaurants and over 31 million diners.

In 2021, they found it was getting difficult to manage the large volume of calls coming into their call center for issues the might be easily and swiftly resolved using an asynchronous, self-serve flow.
To serve both restaurants and diners in a scalable manner, while still delivering the same level of care and personal attention both parties expect, OpenTable turned to Airkit.
Solution: When customers, both diners and restaurants, called into OpenTable's contact center, OpenTable offered them the option of switching to live chat instead of waiting on hold. Simply by pressing a button while on a call, Airkit would send the customer a text to direct them to the live chat, freeing up call center agents, and getting customers answers to their questions faster.
Results: Using Airkit, OpenTable rerouted 10% of calls to their contact center by switching customers to livechat, resulting in tremendous cost savings on their call center costs, while driving up customer CSAT.
Customer: Metlife
Industry: Insurance
Problem: Before someone starts an insurance plan, they fill out a Statement of Health form. This series of questions gives insurance companies like MetLife a better picture of who their new member is and what they need.
But processing millions of these forms in a streamlined way is hard when you're using an analog medium like paper. MetLife wanted to find a way to make that process more efficient when sending SOH forms to their employee base.
Solution: Using Airkit, MetLife digitized the entire SOH form process, allowing their employees to fill out the form online in a digital setting. This cut down drastically on SOH processing time by eliminating manual data entry. Now, when an employee fills out the form, the data therein is sent securely to MetLife's database via Airkit.
Results: This new digital process led to 50% higher SOH completion results compared to the previous paper-based SOH process. Employees also strongly preferred the new Airkit-based flow with nearly 99% of SOH submissions coming from the digital flow.
Customer: AutoReturn
Industry: Automotive / Logistics
Problem: When someone discovers their car has been towed, they want to get it back as quickly and easily as they can. But, doing that requires the avenues of communication between several parties from the government agency that initiated the tow, to the towing company, and the car owner.
AutoReturn helps reunite car owners with their vehicles after a tow. To cut down on contact center costs and help that reunion happen a lot faster, AutoReturn needed the help of a digital CX platform.
Solution: Using Airkit, AutoReturn built a self-serve flow option within their call center's IVR menu. Now, instead of having customers call in and wait on hold to get critical details about where their car is, those customers manage all of that through a self-serve flow.
Pairing their API with Airkit to search for and deliver information via SMS or email, AutoReturn built a much faster way to give customers the information they need. Simply by opting to be sent a link in a text or email, customers can enter their car's VIN number and receive an update about where their car is on their channel of choice.
Results: After implementing their self-serve flow, AutoReturn reported deflecting 44% of calls and reducing their overall call volume by 20%. This saved the company a tremendous amount in contact center costs.
Customer: Bench
Industry: Finance
Problem: How do you deliver on your users' preferences without asking them what those preferences are? Bench was trying to figure out an answer to that question. Designing a new, elegant onboarding flow to delight their users turned out to be a fine art that required data, UX savvy, and the freedom to experiment with new user flows.
Solution: Using Airkit, Bench was able to experiment with new user onboarding flows without requiring engineering to intervene. This gave the marketing team more agency to design, implement and learn from experiments in an iterative manner, boosting CSAT scores and gathering vital customer data.
Results: Bench boosted their new leads rate by 20% and reduced the amount of leads dropping out of their user flow by 10%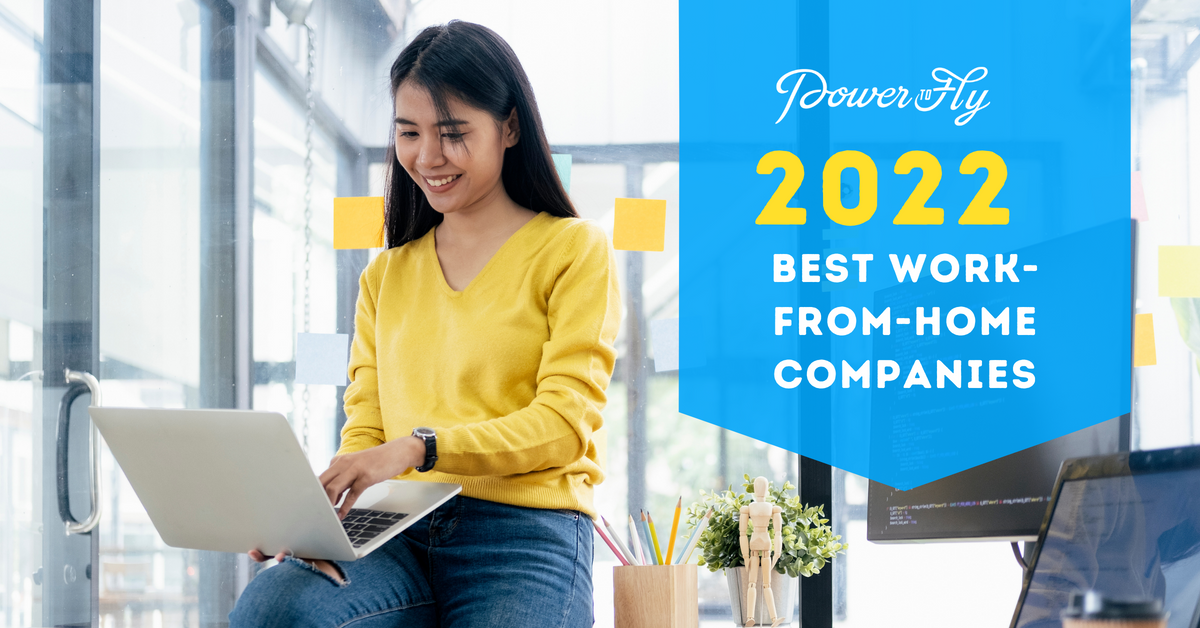 Featured Post
Every year, PowerToFly creates a list of the best work-from-home companies. Now that over half of the U.S. workforce is remote, compiling that list was a bit more challenging.
This year, we prioritized selecting companies that are remote-friendly—meaning they have both remote and in-person roles—but they have made long-term commitments to hiring and supporting employees who choose to work from home; and we think they have the perks, values, and organizational framework to allow all employees to flourish in their careers, regardless of location.
Keep reading to see our top 15 work-from-home companies for 2022, along with a description of what they do, why we like them, and who they're looking for.
PowerToFly's Best Work-From-Home Companies 2022:
Don't see what you're looking for? Check out a fill list of 5,000+ open remote roles here!
READ MORE AND DISCUSS
Show less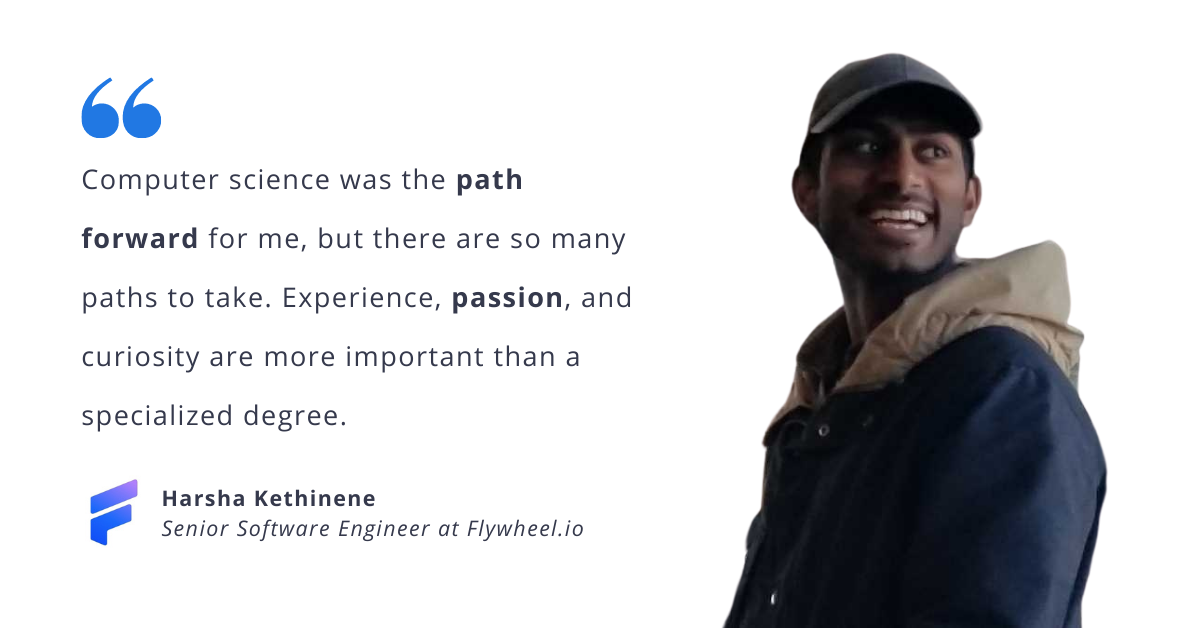 Flywheelml
Software development is in Harsha Kethinene's blood. "Both of my parents are in the computer science field," he says. "So when I was younger, they introduced me to programming." By the time he was in middle school, he was creating his own text-based video games. "I liked learning different languages and different ways of how to program, and by the time I was in high school, I knew I wanted to go into a STEM field."
And that's exactly what he did. Today, Harsha is a senior software engineer at Flywheel, a biomedical research data platform. We sat down with him to learn about his journey from college student, to intern, to engineer. Keep reading to hear his advice to smooth the transition from school to industry.
Figuring Out Next Steps
Harsha knew that he wanted to focus on science and technology in his career, so he originally opted for a double major in physics and computer science. "I had always been interested in astrophysics and space, and I wanted to learn more about that," he reminisces. "But then I took my first physics class and thought, 'alright, nevermind, we're going to stick to computer science.'"
With a new found focus, Harsha began tackling his classes and learning about different aspects of computer science, but he wasn't sure which area he wanted to focus on. "It got to a point where I thought, 'Is computer science really what I want to be doing?,' he explains. "Because what I was learning was interesting, but it didn't seem to fit with what I wanted to do."
That's when he decided to get some experience outside of the classroom to help him secure his career path. "It was my sophomore year, and I thought, 'I want to get an internship because it seemed like what smart people did,'" he laughs. After hearing about Flywheel from one of his colleagues at an on-campus student group, Harsha decided to apply for an internship.
After a series of interviews, they welcomed him on the team. He got the opportunity to dive into the industry and get insight on the different fields he could potentially work in. "Everything kind of clicked together and I thought, 'okay, this is what I want to be doing, software development.'"
Diving Into the Real World
This internship revealed some major differences between his development classes and the projects he was working on at Flywheel. "At Flywheel, what I was working on could change very fast," he elaborates. "At school you have a syllabus, you know what you are going to be working on."
While at university there were structured problems that had a neat solution, he realized that in the real world, he had to identify the problem first, and then try to solve the problem. "Sometimes you almost feel like a detective trying to figure out what's going on and why it's not working," he says. "So that's always fun. It keeps you on your toes."
"I'd say the hardest thing to learn, and what probably took me the longest to learn, is in school, when you write code, you just need to write it once, to get it to work, and then you can kind of ignore it for the rest of your life," he laughs. "You can't really do that in an industry. You need to write it and then make sure that six months from now you can still understand what you wrote."
Flywheel's dynamic, collaborative environment ultimately led Harsha to accept a full time offer as a software developer. Four years later, he's continued to climb the career ladder and is thriving in his current role as a senior software developer.
Tips for Transitioning Into the Industry
Harsha knows, first hand, that going from student to professional can be challenging. Keep reading for his advice to help smooth the transition.
Tip 1: Actively search for experiences and internships. Gaining real world experience is key to making the transition from student to professional smooth. One way to do that is through internships. "It feels very daunting when it comes to searching for an internship," Harsha confesses. "You see all of these postings online and you think, 'am I qualified for it?' Other times you get automated rejections."
When Harsha was looking for an opportunity to gain hand-on experience in the field, he relied on a network of support. "The reason I got my internship was by meeting somebody who mentioned this company that I'd never heard of." In addition to networking, Harsha recommends using other tools. "Try multiple avenues of looking for jobs and internships." Some of the avenues he suggests are industry meetups, school networking events, and conferences. "You need to break out of your shell a little bit to meet your people, to find these opportunities," Harsha advises.
Tip 2: Let your passions shine in the interview. After applying to a job or an internship, the second step is to prepare for the interview. Harsha's interview experience taught him that employers look for passionate people. "One of the people that interviewed me mentioned that they looked to see if candidates were doing any programming outside of school," he says. "That shows that you have a passion for it."
These days Harsha finds himself on the opposite side of the table as an interviewer. "When I'm sitting in on an interview, I tend to look for that [passion] as well, if they would enjoy working here in the software development industry."
Tip 3: Don't let your degree limit you. While Harsha pursued a degree in computer science, he's seen that there's no one correct path to a successful career in tech. "A computer science degree isn't really necessary at all," he elaborates. One of Harsha's former colleagues was a self-taught programmer. "He picked up small contract work online writing code and developing websites. Now, he's a software engineer at another startup."
Everyone's journey looks different, so there's no one-size-fits-all way to a successful career in tech. "Computer science was the path forward for me, but there are so many paths to take. Experience, passion, and curiosity are more important than a specialized degree."
Are you ready to put Harsha's tips into practice? Check out Flywheels' open roles here!
READ MORE AND DISCUSS
Show less
Loading...