GET EMAIL UPDATES FROM POWERTOFLY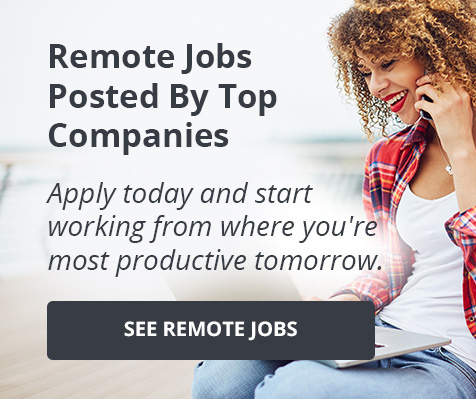 April 29, 2022
Automattic
Allyship In The Workplace Top Tips By Automattic
💎 Practicing allyship in the workplace is crucial to help build a diverse and equitable work environment where everyone's voice is heard. Watch the video to the end to learn some practical ways to accomplish it.
📼 Use these tips to improve your allyship practice in the workplace! To make people feel included and part of the group, you have to know how to become a better ally. Meet Jeffrey Zeldman, Principal Designer at Automattic, who shares his tips to be a better ally to underrepresented coworkers.
📼 Allyship in the Workplace - Tip #1: Research And Listen. Jeffrey starts by bringing up the old saying "you have two ears and one mouth for a reason" which means: you should listen more than you talk. Jeffrey's advice is to talk to people who are different from you- lots of them! Also: research! You can read articles, watch videos where people talk about diversity, look up inclusion and diversity, and specifically look for ways of making people feel at home. Ask questions and be prepared to continue to learn forever. The good news is you'll benefit from the creativity and insights of people who may think differently from you, be from different cultures from you. Above all, listen, learn, ask questions, and try to learn a little more every day.
---
📼 Allyship in the Workplace - Tip #2: Use Inclusive Language. Learn how to pronounce people's names: one of the things people love the most is hearing their own names correctly pronounced. When using inclusive language, you'll be going a long way toward making people feel more at home and included. So do the work! Use language that makes everyone feel wanted, accepted, and understood.
Allyship In The Workplace - Tip #3: Opportunity And Visibility
What folks from underrepresented groups want most it's the opportunity that you've had and they haven't. So you have an opportunity to help them up the ladder, to introduce them to people, and to recommend them for projects that come to you. Bring them in! As Jeffrey puts it: "sponsorship over mentorship". You can do that in your workplace just by inviting your coworkers to meetings, including them in plans and projects, and giving them a helpful push!
🧑💼 Are you interested in joining Automattic? They have open positions! To learn more, click here.
Get to Know Jeffrey Zeldman
Principal Designer, Automattic, Inc. Founder & Publisher, A List Apart "for people who make websites" (founded 1998). Co-founded the multi-city user experience design conference An Event Apart with Eric Meyer. Founder Emeritus of Happy Cog™, an award-winning digital design studio. Publisher and co-founder (with Jason Santa Maria) of A Book Apart—brief books for web and interaction designers. Blogger & web designer since 1995. He has written two books, notably the foundational web standards text, Designing With Web Standards, currently in a 3rd Edition co-authored by Ethan Marcotte. It has been translated into 15 languages. Faculty member on the MFA, Interaction Design program at School of Visual Arts, New York. Co-founder and host of the internet radio program The Big Web Show ("Everything Web That Matters"), twice named Podcast of the Year by .net Magazine. Former freelance journalist, The Washington Post & City Paper. Former copywriter & art director (DeVito Verdi, Grey Entertainment, Campbell-Mithun-Esty). Played Casio in DC's Insect Surfers. Composed & produced electronic scores for Upright Vertebrates Dance Co., and (with Robert Goldstein of Urban Verbs) for PBS. Former design columnist, MacWorld, PDN-Pix, Adobe. In 2012, was the first designer inducted in the SXSW Interactive Hall of Fame. If you are interested in a career at Automattic, you can connect with Jeffrey Zeldman on LinkedIn. Don't forget to mention this video!
More About Automattic
Automattic are the people behind WordPress.com, Jetpack, WooCommerce, Tumblr, and more. Founded in 2005, and valued at $3 billion, they were one of the first companies to pave the way in remote work culture. The company's 1,400+ people hail from 79 countries and speak 99 languages. Though the workforce is intellectually and geographically diverse, they're united by a shared passion to democratize publishing and commerce—so that anyone with a story can tell it, and anyone with a product can sell it, regardless of income, gender, politics, language, or country. And the company is growing rapidly!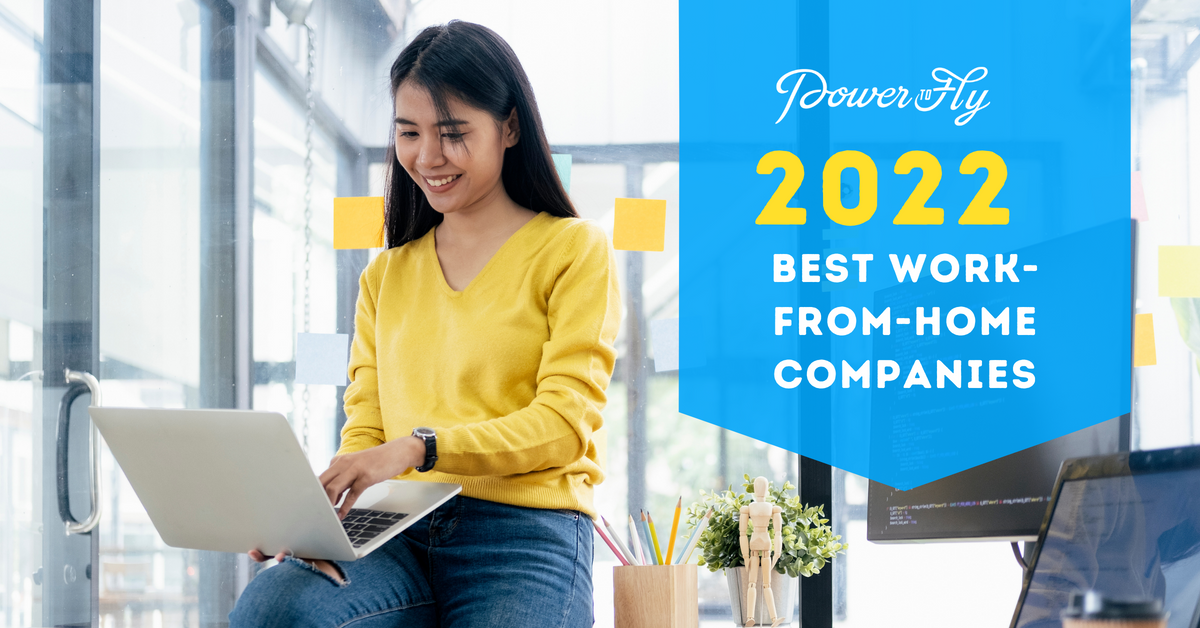 Featured Post
Every year, PowerToFly creates a list of the best work-from-home companies. Now that over half of the U.S. workforce is remote, compiling that list was a bit more challenging.
This year, we prioritized selecting companies that are remote-friendly—meaning they have both remote and in-person roles—but they have made long-term commitments to hiring and supporting employees who choose to work from home; and we think they have the perks, values, and organizational framework to allow all employees to flourish in their careers, regardless of location.
Keep reading to see our top 15 work-from-home companies for 2022, along with a description of what they do, why we like them, and who they're looking for.
PowerToFly's Best Work-From-Home Companies 2022:
Don't see what you're looking for? Check out a fill list of 5,000+ open remote roles here!
READ MORE AND DISCUSS
Show less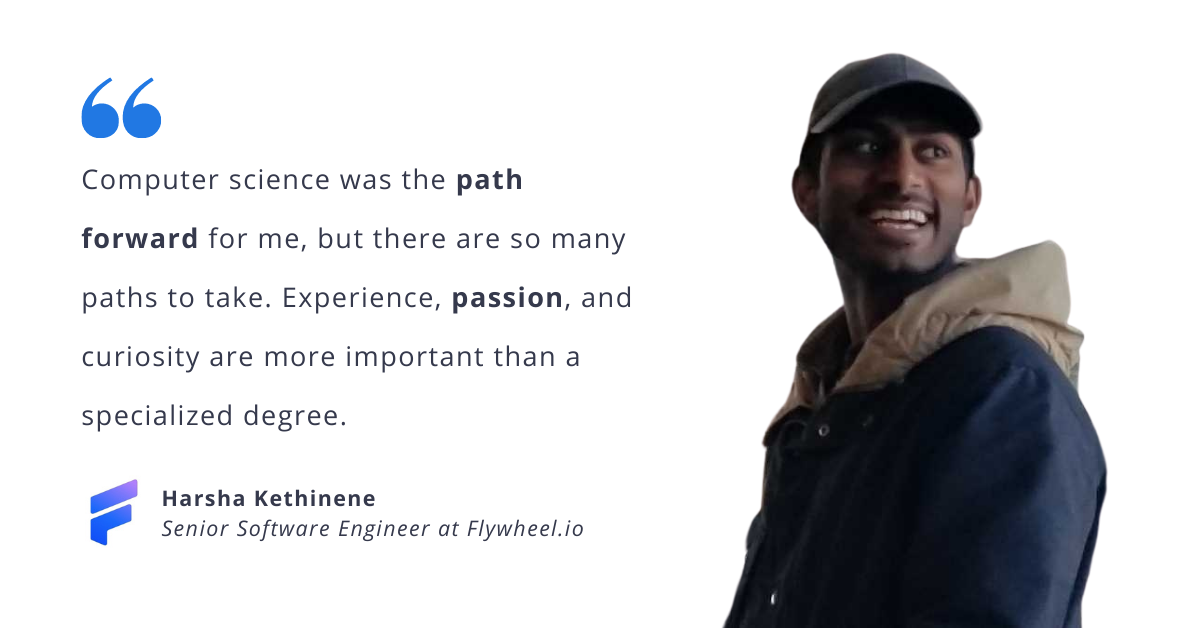 Flywheelml
Software development is in Harsha Kethinene's blood. "Both of my parents are in the computer science field," he says. "So when I was younger, they introduced me to programming." By the time he was in middle school, he was creating his own text-based video games. "I liked learning different languages and different ways of how to program, and by the time I was in high school, I knew I wanted to go into a STEM field."
And that's exactly what he did. Today, Harsha is a senior software engineer at Flywheel, a biomedical research data platform. We sat down with him to learn about his journey from college student, to intern, to engineer. Keep reading to hear his advice to smooth the transition from school to industry.
Figuring Out Next Steps
Harsha knew that he wanted to focus on science and technology in his career, so he originally opted for a double major in physics and computer science. "I had always been interested in astrophysics and space, and I wanted to learn more about that," he reminisces. "But then I took my first physics class and thought, 'alright, nevermind, we're going to stick to computer science.'"
With a new found focus, Harsha began tackling his classes and learning about different aspects of computer science, but he wasn't sure which area he wanted to focus on. "It got to a point where I thought, 'Is computer science really what I want to be doing?,' he explains. "Because what I was learning was interesting, but it didn't seem to fit with what I wanted to do."
That's when he decided to get some experience outside of the classroom to help him secure his career path. "It was my sophomore year, and I thought, 'I want to get an internship because it seemed like what smart people did,'" he laughs. After hearing about Flywheel from one of his colleagues at an on-campus student group, Harsha decided to apply for an internship.
After a series of interviews, they welcomed him on the team. He got the opportunity to dive into the industry and get insight on the different fields he could potentially work in. "Everything kind of clicked together and I thought, 'okay, this is what I want to be doing, software development.'"
Diving Into the Real World
This internship revealed some major differences between his development classes and the projects he was working on at Flywheel. "At Flywheel, what I was working on could change very fast," he elaborates. "At school you have a syllabus, you know what you are going to be working on."
While at university there were structured problems that had a neat solution, he realized that in the real world, he had to identify the problem first, and then try to solve the problem. "Sometimes you almost feel like a detective trying to figure out what's going on and why it's not working," he says. "So that's always fun. It keeps you on your toes."
"I'd say the hardest thing to learn, and what probably took me the longest to learn, is in school, when you write code, you just need to write it once, to get it to work, and then you can kind of ignore it for the rest of your life," he laughs. "You can't really do that in an industry. You need to write it and then make sure that six months from now you can still understand what you wrote."
Flywheel's dynamic, collaborative environment ultimately led Harsha to accept a full time offer as a software developer. Four years later, he's continued to climb the career ladder and is thriving in his current role as a senior software developer.
Tips for Transitioning Into the Industry
Harsha knows, first hand, that going from student to professional can be challenging. Keep reading for his advice to help smooth the transition.
Tip 1: Actively search for experiences and internships. Gaining real world experience is key to making the transition from student to professional smooth. One way to do that is through internships. "It feels very daunting when it comes to searching for an internship," Harsha confesses. "You see all of these postings online and you think, 'am I qualified for it?' Other times you get automated rejections."
When Harsha was looking for an opportunity to gain hand-on experience in the field, he relied on a network of support. "The reason I got my internship was by meeting somebody who mentioned this company that I'd never heard of." In addition to networking, Harsha recommends using other tools. "Try multiple avenues of looking for jobs and internships." Some of the avenues he suggests are industry meetups, school networking events, and conferences. "You need to break out of your shell a little bit to meet your people, to find these opportunities," Harsha advises.
Tip 2: Let your passions shine in the interview. After applying to a job or an internship, the second step is to prepare for the interview. Harsha's interview experience taught him that employers look for passionate people. "One of the people that interviewed me mentioned that they looked to see if candidates were doing any programming outside of school," he says. "That shows that you have a passion for it."
These days Harsha finds himself on the opposite side of the table as an interviewer. "When I'm sitting in on an interview, I tend to look for that [passion] as well, if they would enjoy working here in the software development industry."
Tip 3: Don't let your degree limit you. While Harsha pursued a degree in computer science, he's seen that there's no one correct path to a successful career in tech. "A computer science degree isn't really necessary at all," he elaborates. One of Harsha's former colleagues was a self-taught programmer. "He picked up small contract work online writing code and developing websites. Now, he's a software engineer at another startup."
Everyone's journey looks different, so there's no one-size-fits-all way to a successful career in tech. "Computer science was the path forward for me, but there are so many paths to take. Experience, passion, and curiosity are more important than a specialized degree."
Are you ready to put Harsha's tips into practice? Check out Flywheels' open roles here!
READ MORE AND DISCUSS
Show less
Loading...