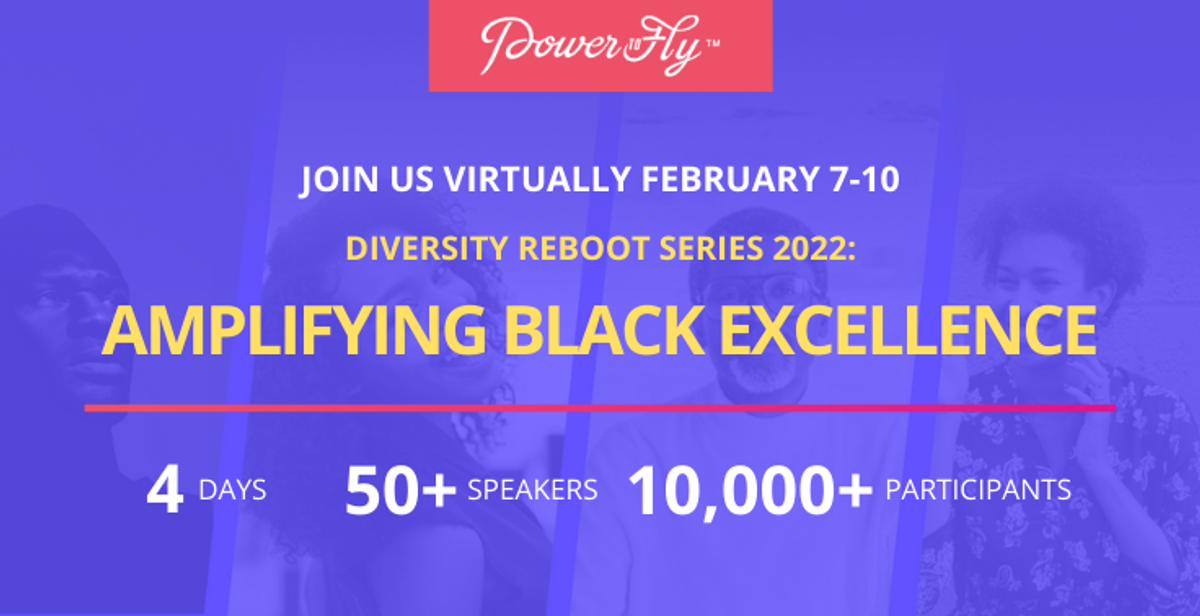 Learn more about the speakers and sponsors that contributed to our February 2022 virtual summit, Diversity Reboot: Amplifying Black Excellence; 4 days of fireside chats, panel discussions, networking sessions, and a 1-day virtual job fair.

Last week, we welcomed black leaders and their allies across various industries to share their experiences, insights, and expertise as to how black excellence can be amplified not only during Black History Month, but every day of every month, now and for years to come. In case you missed it, you can relive the entire experience
on our site.
A HUGE thank you goes out to our Gold sponsors who helped bring this event to life: American Express, Autodesk, and UnitedHealth Group, in addition to our influencer sponsors: WomenWerk, Startout, Amsterdam News, Pickens Creative, Skai Blue Media, and Sista Circle: Black Women In Tech.
At American Express, we know that with the right backing, people and businesses have the power to progress in incredible ways. Whether we're supporting our customers' financial confidence to move ahead, taking commerce to new heights, or encouraging people to explore the world, our colleagues are constantly striving to uphold our powerful backing promise to our customers and each other every day
Autodesk is changing how the world is designed and made. Our technology spans architecture, engineering, construction, product design, manufacturing, media, and entertainment, empowering innovators everywhere to solve challenges big and small. From greener buildings to smarter products to more mesmerizing blockbusters, Autodesk software helps our customers to design and make a better world for all.
Our mission is to help people live healthier lives and to help make the health system work better for everyone. A Fortune 6 company, we're focused on helping people live healthier lives while making the health system work better for everyone. Here, we seek to empower people with the information, guidance and tools to make personal health choices. We work harder and we aim higher. We expect more from ourselves and each other.
WomenWerk is a women's empowerment non-profit seeking to build power for women. We work with communities of color to bring intersectionality to the gender equality movement.
Both online and in person, StartOut offers education, networking, mentorship, and access to capital, in order to foster entrepreneurs and great business leaders in the LGBTQ+ community. Our programs are designed for you to gain confidence. With insider tips, personalized advice and inspiring events, you'll have the guts to take the leap. And to succeed.
The New York Amsterdam News was started more than a century ago, with a $10 investment. It has gone on to become one of the most important Black newspapers in the country and today remains one of the most influential Black-owned and -operated media businesses in the nation, if not the world.
A woman-led creative agency focused on sharing the dope people, places, and things that make the world go round. Pickens Creative collaborates with bold brands built on disrupting the status quo through PR, partnerships, and production.
At Skai Blue Media, we're intrapreneurs for both our company and our clients' brands. We are an extension of your brand and work creatively to present your story in ways you'd never imagine possible — to compel, resonate and sustain, move the needle, strike all the right notes, and most importantly make a meaningful difference. We are experts at delivering the strategy and exposure you need, on the platforms you covet, and maybe even some you haven't heard of yet. While you focus on building your business…We help you share your unique narrative, shape your brand and most importantly your legacy.
Sista Circle: Black Women in Tech is a solidarity group dedicated to supporting the work of Black Women in the technology (BWiT) industry from across the Diaspora. Established in April 2017, Sista Circle: BWiT is rooted in the deep history of fellowship groups of Black women in the United States.
Learn About Other Companies That Joined Us:
Check Out A Few Clips From Amplifying Black Excellence:
Meet These LGBTQIA+ Black Founders: Chris Witherspoon & Braxton Fleming
Bringing All of Who You Are to the Room www.youtube.com
How Black Writers are Gaining Ground in Publishing: Tamika Newhouse
Understanding Who You Are as an Artist www.youtube.com
Why Authenticity Is Key To Elevate Your Career: LaFawn Davis
You Have the Power to Demand a Safe Environment www.youtube.com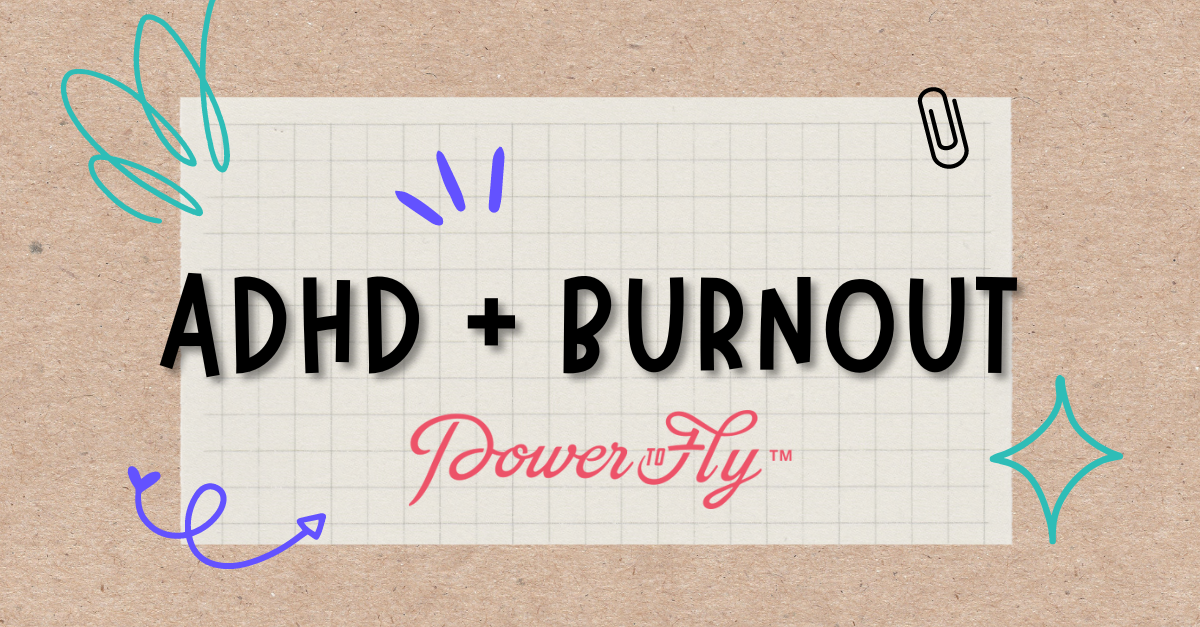 Diversity, Equity, and Inclusion
Have you ever been so exhausted that you quit your job?
You may have been experiencing burnout.
Burnout is characterized by overwhelming exhaustion, detachment from your work, and a sense of ineffectiveness.
And while anyone can experience burnout, if you have ADHD, you may be more susceptible to it.
Before you get to the point where quitting feels like your only option, there are steps you can take to set healthy boundaries and start feeling more like yourself again. Read on to learn how you can recognize burnout in yourself, and what to do if you're experiencing it!
How Does ADHD Burnout Feel?
There are some clear signs that you're burning out, but ADHD can make the descent to burnout harder to detect. These warning signs include:
Lack of motivation - not wanting to do the things you need to do or the things you love.
Exhaustion - feeling overly tired both mentally and physically.
Irritability and mental fatigue - feeling short-tempered, mean, or like you snap easily.
Physical discomfort - body aches, low energy levels, and general pain.
Negative outlook - the tendency to find something wrong with nearly everything.
Emotional dysregulation - feeling weepy, sad, or unable to smile or connect with others.
Generally, burnout starts with taking on too much. Exhaustion creeps in, and you feel like every day is working against you because you are constantly overwhelmed. You may start to feel like the entire world is spinning out of control, or like no matter what you do you can't keep up (or catch up).

If this resonates with you, you might be on the road to ADHD burnout.
Why People with ADHD Can Be More Susceptible to Burnout
So why does ADHD make some folks more susceptible to burnout? There are a few common ADHD traits that often result in behaviors correlated with burnout (taking on too much, working too long, etc.):
Hyperfocus - ADHD is not exclusively about attention deficits. In fact, hyperfocus is the opposite – a deep, intense concentration to the point of being oblivious to your surroundings. Per WebMD, hyperfocus is a state of highly-focused attention that lasts for an extended period of time. You concentrate on something so hard that you lose track of everything else going on around you. When hyperfocus sets in at work, it can be hard to unplug or be aware of the people and environment around you.
Time Tracking - Losing track of time is one thing, but if you find yourself losing track of hours without realizing it, that could be related to burnout. People with ADHD perceive time not as a sequence of events the way others usually do, but as a diffuse collection of events viscerally connected to the people, activities, and emotions that fill them.
Difficulty Prioritizing - Do you take on too much and then struggle to prioritize it? When someone asks for help, does everything often go to the wayside so you can jump in? Or maybe the daunting anticipation of the tasks ahead prevents you from starting. Per ADDitude, ADHD impacts your temporal processing abilities, which can affect executive functioning.
Combating ADHD Burnout
If you think you may be suffering from ADHD burnout, there are a few ways to take back control. Here are three tips for combating ADHD burnout:
Reserve Your Yeses - Pump the brakes when you recognize the early signs of ADHD burnout. Start reserving your yeses right away. Say no, and practice not apologizing. It is okay to say, "I have a lot on my plate right now and cannot take that on. Thanks for thinking of me." Saying no is nothing to apologize for, and it should be celebrated! You are working to protect your energy above all else.
Practice Over-Estimating - If you think you could knock something out in a day, give yourself a week. Overestimate on time and allow yourself the grace to have a little more time than usual to complete projects. Slowing down when starting a new job or role will help you produce high-quality work and prevent ADHD burnout.
Drop the Mask - Be honest with your employer and friends. Let them know that although you seem to keep up internally, you struggle. Identifying ADHD burnout from the outside can be extremely difficult. Your honesty and transparency will position you to determine if your environment is supportive and inclusive.
How to Support Colleagues Dealing with ADHD Burnout
The experiences above may not resonate with you personally, but perhaps you've noticed other people you work with describe or experience them.
If you're a manager, there are several ways you can support colleagues with ADHD (as well as neurodivergent employees more generally) to help prevent burnout. Ask for clarity on when they have felt the most supported at work. Discovery questions like, "how did you feel at that time?" or "how was the pace of that project?" can help you to understand their actual capacity.
Download this free guide
if you're looking for more ways to support your neurodivergent coworkers. Work with your DEIB and HR team to develop new neurodivergent inclusivity standards to help you stay ahead of the ADHD burnout cycle.
READ MORE AND DISCUSS
Show less
Loading...