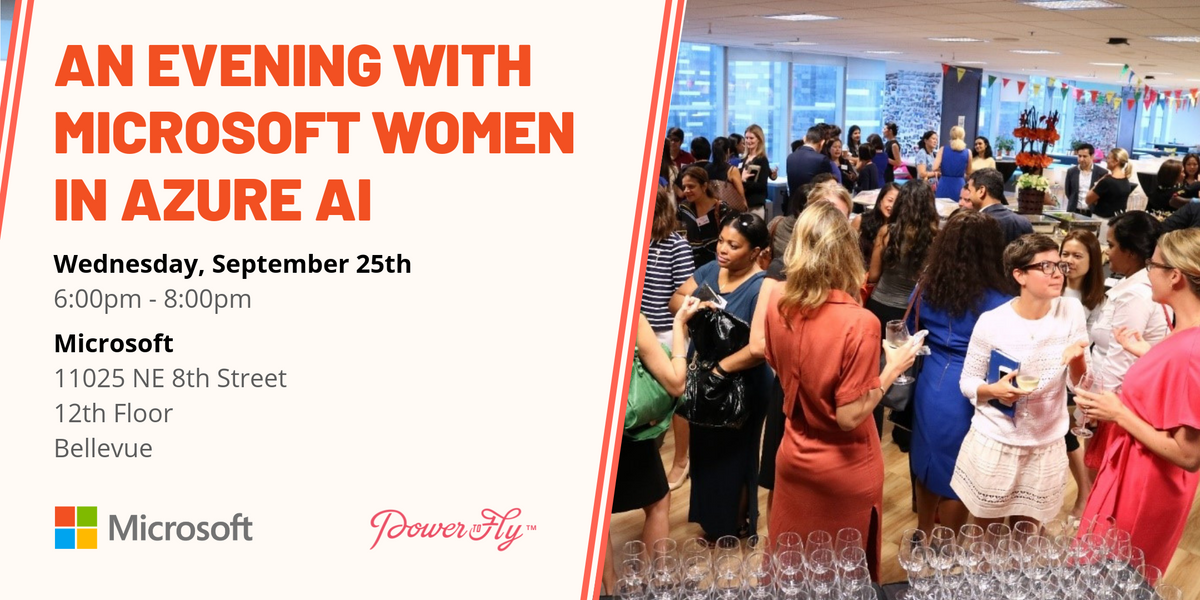 Microsoft Corporation
Microsoft has partnered with PowerToFly to present an intimate networking event to hear from a panel of business & technology leaders from the Microsoft Azure AI Platform organization who will discuss their career journeys and current projects.
The event will take place on Wednesday, September 25th from 6pm to 8pm at Microsoft, 11025 NE 8th Street, 12th Floor, Bellevue.
Agenda (Subject to Change):

6:00pm - Check-In & Networking over Light Food & Drinks
6:25pm - Kick-Off from PowerToFly
6:30pm - Keynote Address by Ria Kapila, Chief of Staff
6:40pm - Tech Talk by Aniththa Umamahesan, Program Manager
6:55pm - Panel Discussion featuring leaders from Microsoft
7:15pm - Audience Q&A
7:30pm - Networking Continues
PowerToFly has been thrilled to partner with Microsoft on several past events. Check out photos from a past gathering in Seattle HERE. Here's what one attendee shared: "I brought my daughter who is also in IT. It was a wonderful evening for both of us. We loved the panel and they did make us feel that MS is now a more inviting place for women. We are now seeking employment at MS. The greatest thing about the evening was the opportunity to hang out with a room full of women IT professionals. How refreshing!"
Whether you are looking for new opportunities (Microsoft is hiring!) or you just want to network with your peers, we hope you can attend this special mini-retreat.
About Microsoft Azure AI Platform: Microsoft's objective is to make Azure AI the best platform for 1st and 3rd party customers. We want to enable our customers to easily develop systems of intelligence anywhere: in the Azure cloud, on edge devices, and offline. Our customers expect our services to deliver the promise of the cloud: that is, to deliver globally available, compliant, secure, performant, scalable AI that can be deployed in high-volume enterprise applications. Through teamwork we create life-changing innovations that impact billions of lives around the world for the better. To learn more about our values and commitment to Diversity, Environment and Innovation click here.
About PowerToFly's Events: All RSVP'd attendees are welcome, regardless of race, color, religion, national origin, gender identity, pregnancy, physical or mental disability, or age. If you require assistance to fully participate in this event, please email hi@powertofly.com, and we will contact you to discuss your specific needs.
Unfortunately, PowerToFly and Microsoft cannot admit outside recruiters to this particular event. Please email hi@powertofly.com if you have any questions about this policy.
Pax8
💎 How to build trust in your team? Watch the video to the end to find out!
📼 How should you work to build trust in your team? Play this video to get three top tips that will help you. You'll hear from Veronica Setzke, Senior Director of People Ops at Pax8, who shares tips and tricks she learned through years of coaching.
📼 How to build trust with peers in your team? Tip #1: Relationships. There's no better way to start forming relationships than having regular one-on-ones. It doesn't have to just be with your supervisor. It can be with your coworkers. It can be with those people that you collaborate regularly with. And it's really important in these one-on-ones that we're spending time listening. Take the time to be present and listen. Also, spend time together not working. Have lunch together. Go for coffee. Take a five-minute walk around the building and just have a conversation. Relations are a key element to trust!
📼 How to build trust? Open yourself in your team Tip #2: Vulnerability. Allow yourself to be vulnerable. Ask for feedback, whether it's feedback about a project, a process, or even maybe a leadership behavior that you're trying to master. This allows those on your team and those around you to see you as willing to be vulnerable. Trust and vulnerability go hand in hand. It doesn't mean that you're weak, but rather that you're open. It allows your team to understand that it's a safe place for them to also be vulnerable.
How To Share To Build Trust In Your Team - Tip #3: Clear Is Kind
Keep the team informed and say as much as you can about what you know. There are times that we hold information that could be shared. We could share that information that impacts others' work and have them have the opportunity to use that to do better. If you've learned something that could help your colleague make a better decision, share that! Try to ensure that your communication with others is clear. When you make the effort to be clear about your intentions, your work, and your roadblocks, it opens others up to do the same.
📨 Are you interested in joining Pax8? They have open positions! To learn more, click here.
Get to Know Veronica Setzke
She works as a People professional because she sincerely believes that people want to be excellent, and it is her role to help move the obstacles to their achieving success. She believes the employees deserve a culture that values their work and will respond to such a culture by creating amazing results. If you are interested in a career at Pax8, you can connect with Veronica on LinkedIn. Don't forget to mention this video!
More About Pax8
The company simplifies the way organizations buy, sell, and manage cloud solutions, empowering its partners to achieve more with cloud technology. At Pax8, they know that they are only as great as their people. They realize that every individual has unique personal and professional aspirations, which is why they strive to offer a complete and competitive Total Rewards offering for their members and family.
READ MORE AND DISCUSS
Show less
Loading...