GET EMAIL UPDATES FROM POWERTOFLY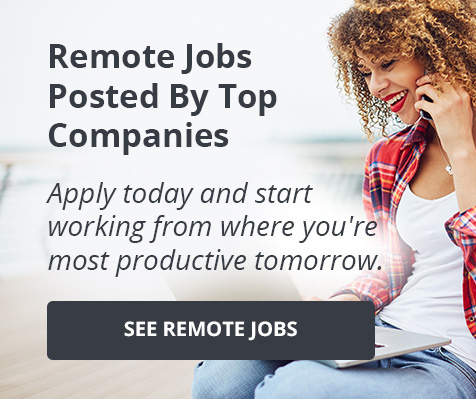 October 04, 2018
Asana
Ladies First: Asana is One of the Best Workplaces for Women
Below is an article originally written by Emilie Cole at PowerToFly Partner Asana, and published on September 14, 2017. Go to Asana's page on PowerToFly to see their open positions and learn more.
Today, Asana is proud to be named one of the Best Workplaces for Women by Great Place to Work® and FORTUNE. As a fast-growing company that's constantly striving to be the change we want to see in the workplace—which is radically inclusive—Asana believes building a diverse and inclusive company isn't just a moral imperative, but also key to our business success.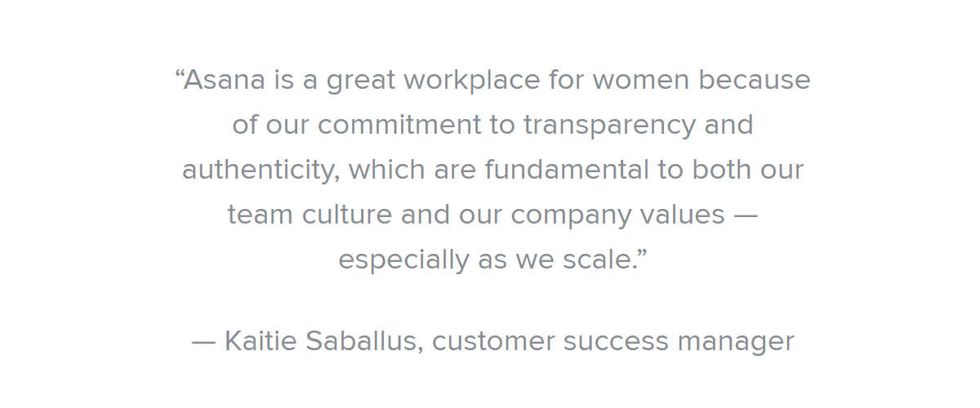 The work to achieve this vision rests on everyone's shoulders; each employee contributes to our success in creating an empowering and welcoming workplace culture. This is especially true in the employee resource groups (ERGs) at Asana, which focus on building a trusted and safe community, adding value through involvement in the wider community, and serving as a resource for professional development.
AsanaWomen ERG: On a mission to lift up the work of women in tech
Established last year, AsanaWomen has since grown into an active group, hosting internal and external events that range from monthly structured group discussions to candid conversations with industry leaders such as Ellen Pao.
To celebrate today's news, we sat down with women from across all areas of the company, including members and leaders of the AsanaWomen ERG, for an open discussion on everything from empowerment to why ERGs need to stay focused on intersectionality.
Why do you think Asana is a great workplace for women?
Kayla Treister, user operations agent: As a woman who came to Asana from a non-tech background, I've found it really encouraging to see that women around me have been given opportunities to grow and thrive; my manager is a woman and I've watched her career growth as well as my own. We both have a lot that we want to do, and Asana gives us the support to allow us to better ourselves.
Bella Kazwell, web engineering lead: A lot of focus goes into making sure quiet voices in the room have a chance to express their opinion. For example, our CEO pointed out that it's important to limit the meeting size so that quiet people can speak up. I was a beneficiary of this, which has allowed me to grow a lot more at Asana than at my previous company.
Nikki Henderson, marketing copywriter and co-lead of AsanaWomen: So many issues for women in the workplace don't get solved because there is no space to discuss and find solutions for them in the workplace. Because Asana has built diversity and inclusion into its business model, I'm comfortable building my career here. At a larger scale, it also gives me hope that we can help set the new standard for women at work, and inspire them to demand (and actually get) what they deserve.
Devon Watts, product marketing lead: There's minimal 'bro' culture and a lot of encouragement to 'bring your whole self' to work.
AsanaWomen's mission is to showcase the work and passions of women in the tech industry by providing a platform to celebrate their talents and spotlight role models. Can you talk more about the role of AsanaWomen in your workplace experience at Asana?
Lily Guy, customer success manager: I feel more empowered being a woman in a professional setting. The shared experience of AsanaWomen has become so important to me; being able to talk about all the highs and lows and navigating the waters together is incredibly powerful.
Joanna Miller, head of learning & development and co-lead of Gradient: AsanaWomen has done an excellent job of creating multiple entries points for female employees to connect with their community—from the more structured monthly lunches with facilitated discussion, to the Women's Saloon (a monthly co-working event)—that allows women from different teams in the company to interact as we grow.
Kaitie: AsanaWomen has become a valuable resource within the organization by providing safe places for judgement-free discussions and by connecting shared voices on issues and concerns that can be hard to speak up about alone.
ERGs are becoming a core component of workplace Diversity and Inclusion programs, especially in tech. Any tips for your peers in the industry hoping to activate or lead ERGs within their organization?
Joanna: The women's movement and by extension women's ERGs tend to be dominated by white voices. In many cases, women of color have different experiences and perspectives on gender-based issues but are rarely invited to share them. I encourage women's ERGs to self-audit their events, discussions, and assumptions by continuing to ask the question, "Who isn't in the room?"

Nikki: To echo Joanna, you have to stay intersectional. Women are at the heart of your group, but you need to understand that what a 'woman's experience' is, is radically different across all kinds of groups.
Kayla: Make sure that you're really careful to keep them inclusive; you don't want to end up cliquey.
Lily: Don't take it too seriously. This isn't to invalidate the real struggles women face professionally or personally. But you need to bring a little lightheartedness into the story. I think we do this pretty well and would encourage other ERGs to do so, too.
Finally, what's the one piece of advice you'd give other women in tech right now?
Bella: Pay attention to stories of women's equality or women not advocating for themselves; maybe they will inspire you to advocate for yourself and others. But, all this is for naught if you don't also spend the time becoming really good at your work.
Kaitie: Speak up more often, and find other ways to use your voice if you can't do that directly in every meeting. Diversity of opinions is important to innovation and to doing the right thing, and I think everyone would benefit if more women had a voice in the conversation.
Devon: Be your badass lady self. And when you see other women slaying at their jobs, lift them up. Congratulate them publicly for a job well done, reach out to their manager to share how much value they provide, and thank them personally for their contributions.

popular
According to a recent study, anti-Asian hate crimes have risen 150% since the pandemic started. But these acts of violence are not new — they are part of a much larger history of anti-Asian racism and violence in the U.S.
That makes celebrating Asian American and Pacific Islander Heritage Month (which was named a month-long celebration in May by Congress in 1992 "to coincide with two important milestones in Asian/Pacific American history: the arrival in the United States of the first Japanese immigrants on May 7, 1843 and contributions of Chinese workers to the building of the transcontinental railroad, completed May 10, 1869") this year all the more important.
As we reflect on recent events and how they fit into a much larger history of discrimination, we're also taking time to celebrate and acknowledge the many achievements of the AAPI community.
We asked several of our partner companies what they're doing to honor AAPI Heritage Month at work, and we were inspired by the range of responses, covering everything from campaigns to #StopAsianHate to educational events on AAPI history.
Here's what they're doing, in their own words:
READ MORE AND DISCUSS
Show less
Loading...