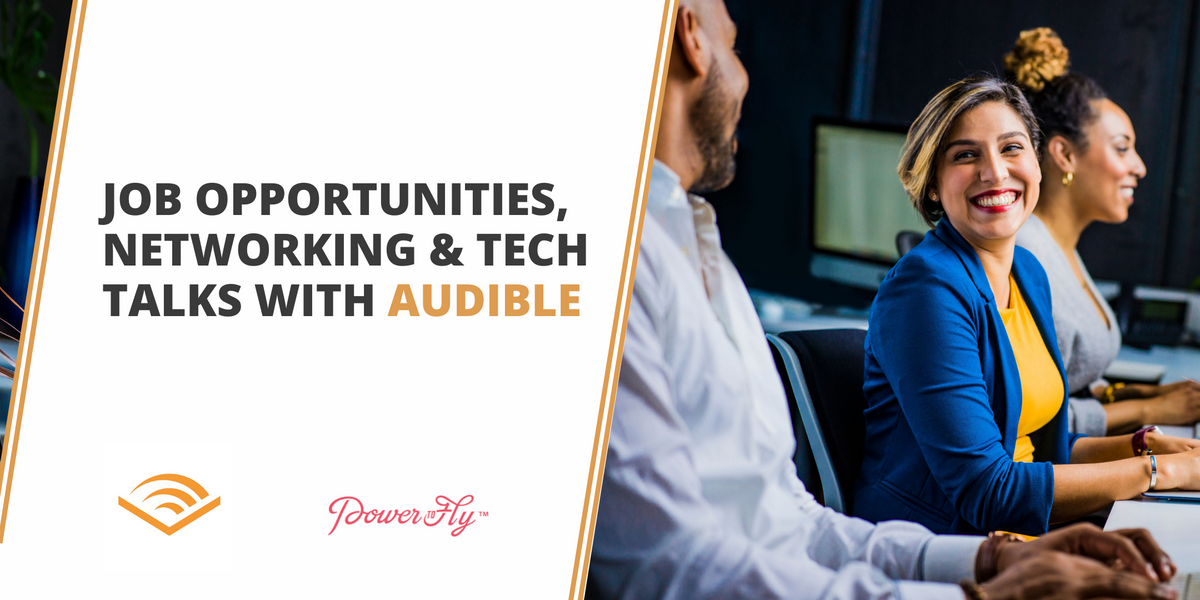 Audible
On February 3, 2022, PowerToFly hosted an esteemed panel of Audible's women leaders to share how using continuous integration can keep systems safe and secure. This networking and hiring event attracted software engineers interested in various opportunities at Audible.
Megan Alexander, Virtual Events Host at PowerToFly, kicked off the interactive session with a few words about the celebrated collaboration between Audible and PowerToFly.
Meg introduced Tanya Kravtsov, Senior Director, Quality Assurance, who moderated the remainder of the event. Tanya, who's been with the team for six years, leads the quality management organization at Audible.
"We love good stories; we spend our days seeking them out, dreaming up new ones, and creating incredible listening experiences," Tanya began.
Tanya gave the audience insights into best practices surrounding continuous integration testing and delivery. Noting that the pandemic accelerated the digital transformation and forever altered workplace culture, Tanya highlighted the need for advanced security in the process.
"It's important to identify and solve security issues early in the lifecycle, rather than after a product release," Tanya said.
After her address, Tanya passed the mic to Khushboo Kumari, Software Development Engineer. Khushboo noted that she's been with the Audible team for three years and loves it.
She explained Log4j features and vulnerability for her portion of the session. In addition, she described how exploitation works and discussed mitigation strategies.
Khushboo then invited Kaylee Kohlfeldt, Software Development Engineer, to present next.
Kaylee talked about continuous integration and continuous delivery (CI/CD), describing the differences between the two. She began by asking the audience questions about file copying to deploy things and joked about the frustration that often follows.
Then she gave a quick product demo using AWS CodeDeploy for an S3 static website. She walked the audience through the anatomy of a pipeline and explained code reviews and validations within developer environments.
Kaylee also reviewed the pitfalls to CI/CD, mentioning that the benefits far outweigh any headaches (mainly to avoid panic in the middle of the night when you find out your release process is broken!).
Tanya then returned to give an overview of integration testing, including best practices. She referenced the guard rails that catch critical issues and provided some handy references.
Afterward, the trio took on questions from the audience.
First, they discussed a day in the life of a Software Engineer. "No day is the same," Kaylee pointed out, mentioning that Audible's warm, approachable atmosphere welcomes and encourages curiosity. "It's very friendly; I feel like I reach out at least once a day to my teammates with questions."
The panel also addressed what they liked best about working at Audible. "Many things," Khusboo answered enthusiastically. "I would say the way we are encouraged to have a proper work-life balance. That's something Audible has respected; your manager gets very happy when you take time off to rest and recharge!"
"At the same time," Khusboo added, "you're contributing to such a good product that is changing lives."
The women leaders went on to discuss the coding tools they use and offered advice on Audible's interviewing process.
"Post your algorithms!" Khushboo advised. "Boost some of your system design capabilities and try to understand how a particular problem can be solved. Language doesn't matter."
Kaylee added, "One thing to practice is just talking through your reasoning and talking through the code as you're coding it. So it's great to practice with a friend!"
Finally, the women shared what they felt was most distinct about Audible's culture.
"I feel like the most distinctive thing about Audible's culture is the 'Activate Caring' element," said Kaylee, referring to Audible's People Principles. "I think people look at Activate Caring, and they think of going to volunteer and teaching kids to code and stuff. I think it is that, and we do have events like that, and they're very fun—but I think way beyond that, it's treating your colleagues with respect, coming to work and assuming the best of people. I think that's fairly unique."
Khushboo tacked onto Kaylee's sentiments. "I think Audible also brings out your inner child. It's just fun! Sometimes you get out of your day-to-day work and get back to your hobbies," Khushboo said. "Another aspect is the learning. I think here, what I have noticed is that you want to learn and you want to go to conferences."
For her part, Tanya elaborated on Audible's caring, collaborative culture. "I feel like it's really reflective of how everyone in the company treats each other. How managers care about their team members, how everyone cares about each other." Tanya also referenced the company's next-level perks. "It's definitely a great place to be."
Next, Tyler Mataya, Senior Tech Recruiter, joined the panel to talk about various opportunities with Audible. Tyler recruits primarily for the full-stack backend for mobile engineering teams. He thanked everyone for attending the virtual event and applauded the fantastic presentations given by his teammates.
Finally, the audience moved into Breakout Sessions, where they connected more intimately with the Audible team and hiring managers before the event concluded.
Visit the careers page at audiblecareers.com and apply for the role that best fits your background and skill set!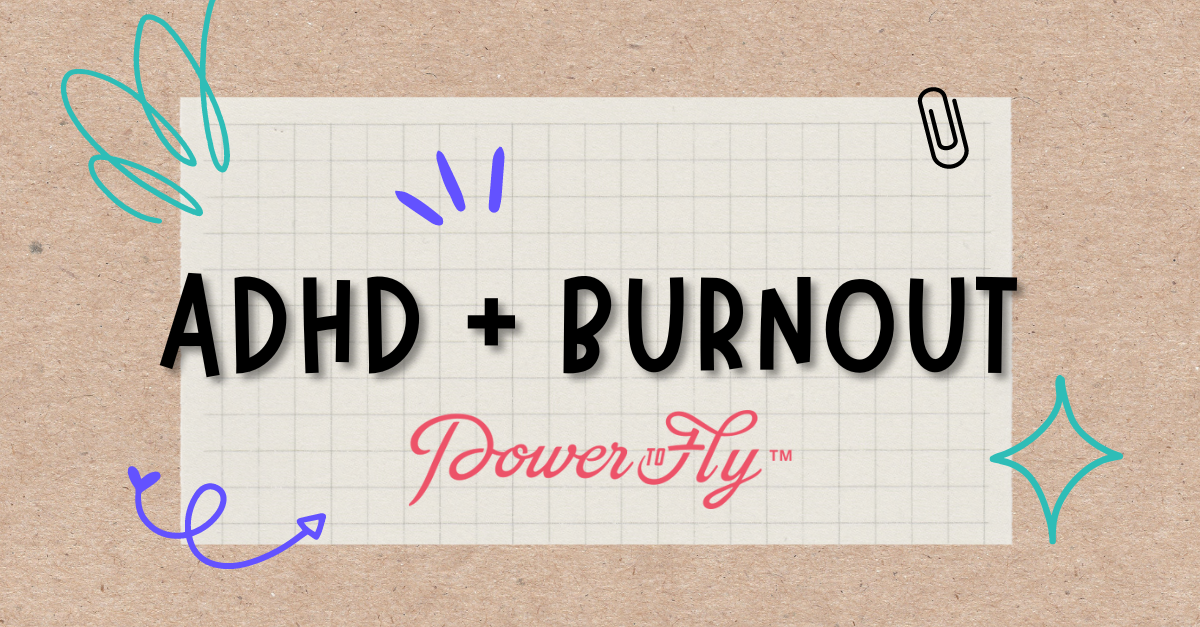 Diversity, Equity, and Inclusion
Have you ever been so exhausted that you quit your job?
You may have been experiencing burnout.
Burnout is characterized by overwhelming exhaustion, detachment from your work, and a sense of ineffectiveness.
And while anyone can experience burnout, if you have ADHD, you may be more susceptible to it.
Before you get to the point where quitting feels like your only option, there are steps you can take to set healthy boundaries and start feeling more like yourself again. Read on to learn how you can recognize burnout in yourself, and what to do if you're experiencing it!
How Does ADHD Burnout Feel?
There are some clear signs that you're burning out, but ADHD can make the descent to burnout harder to detect. These warning signs include:
Lack of motivation - not wanting to do the things you need to do or the things you love.
Exhaustion - feeling overly tired both mentally and physically.
Irritability and mental fatigue - feeling short-tempered, mean, or like you snap easily.
Physical discomfort - body aches, low energy levels, and general pain.
Negative outlook - the tendency to find something wrong with nearly everything.
Emotional dysregulation - feeling weepy, sad, or unable to smile or connect with others.
Generally, burnout starts with taking on too much. Exhaustion creeps in, and you feel like every day is working against you because you are constantly overwhelmed. You may start to feel like the entire world is spinning out of control, or like no matter what you do you can't keep up (or catch up).

If this resonates with you, you might be on the road to ADHD burnout.
Why People with ADHD Can Be More Susceptible to Burnout
So why does ADHD make some folks more susceptible to burnout? There are a few common ADHD traits that often result in behaviors correlated with burnout (taking on too much, working too long, etc.):
Hyperfocus - ADHD is not exclusively about attention deficits. In fact, hyperfocus is the opposite – a deep, intense concentration to the point of being oblivious to your surroundings. Per WebMD, hyperfocus is a state of highly-focused attention that lasts for an extended period of time. You concentrate on something so hard that you lose track of everything else going on around you. When hyperfocus sets in at work, it can be hard to unplug or be aware of the people and environment around you.
Time Tracking - Losing track of time is one thing, but if you find yourself losing track of hours without realizing it, that could be related to burnout. People with ADHD perceive time not as a sequence of events the way others usually do, but as a diffuse collection of events viscerally connected to the people, activities, and emotions that fill them.
Difficulty Prioritizing - Do you take on too much and then struggle to prioritize it? When someone asks for help, does everything often go to the wayside so you can jump in? Or maybe the daunting anticipation of the tasks ahead prevents you from starting. Per ADDitude, ADHD impacts your temporal processing abilities, which can affect executive functioning.
Combating ADHD Burnout
If you think you may be suffering from ADHD burnout, there are a few ways to take back control. Here are three tips for combating ADHD burnout:
Reserve Your Yeses - Pump the brakes when you recognize the early signs of ADHD burnout. Start reserving your yeses right away. Say no, and practice not apologizing. It is okay to say, "I have a lot on my plate right now and cannot take that on. Thanks for thinking of me." Saying no is nothing to apologize for, and it should be celebrated! You are working to protect your energy above all else.
Practice Over-Estimating - If you think you could knock something out in a day, give yourself a week. Overestimate on time and allow yourself the grace to have a little more time than usual to complete projects. Slowing down when starting a new job or role will help you produce high-quality work and prevent ADHD burnout.
Drop the Mask - Be honest with your employer and friends. Let them know that although you seem to keep up internally, you struggle. Identifying ADHD burnout from the outside can be extremely difficult. Your honesty and transparency will position you to determine if your environment is supportive and inclusive.
How to Support Colleagues Dealing with ADHD Burnout
The experiences above may not resonate with you personally, but perhaps you've noticed other people you work with describe or experience them.
If you're a manager, there are several ways you can support colleagues with ADHD (as well as neurodivergent employees more generally) to help prevent burnout. Ask for clarity on when they have felt the most supported at work. Discovery questions like, "how did you feel at that time?" or "how was the pace of that project?" can help you to understand their actual capacity.
Download this free guide
if you're looking for more ways to support your neurodivergent coworkers. Work with your DEIB and HR team to develop new neurodivergent inclusivity standards to help you stay ahead of the ADHD burnout cycle.
READ MORE AND DISCUSS
Show less
Loading...