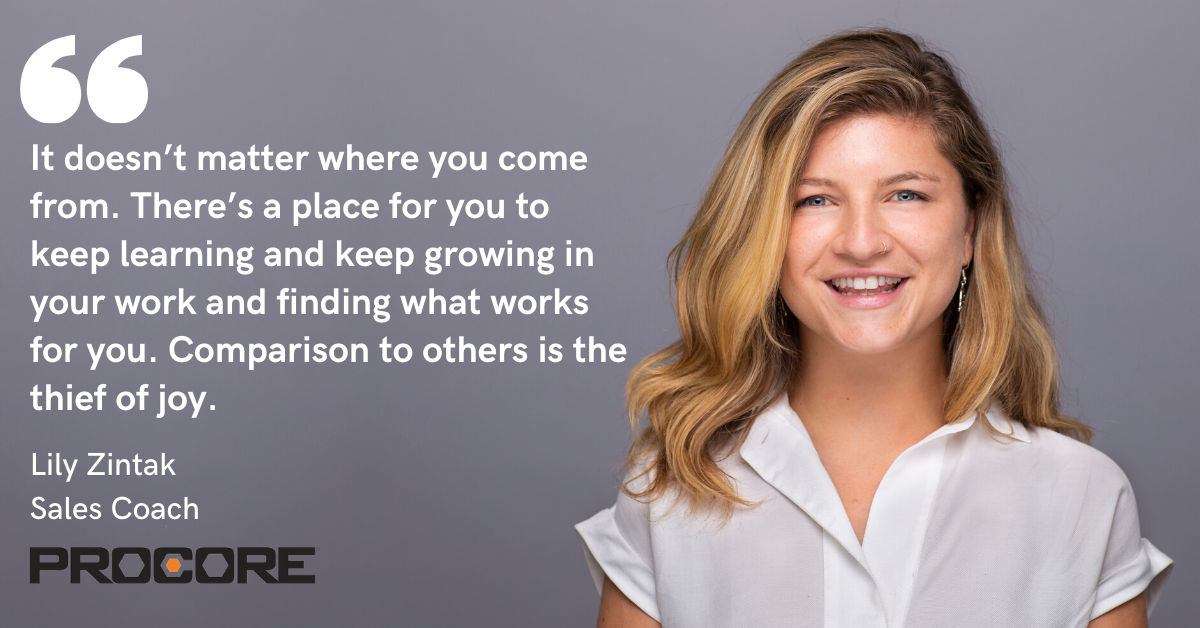 Procore Technologies Inc
A few months ago, Lily Zintak found herself at a crossroads.
She'd been working as a Sales Development Representative in construction management software company Procore Technologies' Austin, Texas office for the better part of 18 months. She'd watched the office grow from less than 200 people to more than 400—and even cut the ribbon when they opened a new floor of offices. She'd made 50-plus sales calls a day, honed an approach to prospecting and connecting with clients that worked for her, and found success. It was at this point in her career, where she had to make a tough decision.
---
Should she continue on the traditional sales path and pursue an Account Executive role, where she'd be running sales cycles and closing deals? Or should she explore a newly-created position, a Sales Coach, where she'd be partnering with entry-level hires to train them and help them develop their techniques?
On one hand, Lily was impressed by the women leaders on the sales team—her boss and her boss's boss, Procore's Director of Business Development, were both women who had advocated for her and supported her in her career—and she wanted to stay on a sales-heavy path to join their ranks. "A huge part of me felt that we didn't have enough women in closing roles, and I wanted to prove that women can do that role just as well," says Lily. She felt pressure to pursue the Account Executive role because it seemed like what she was "supposed" to do.
But the Sales Coach job piqued her interest in a way the Account Executive role didn't. "I felt so drawn to that," she explained. It was her manager, Beth, who Lily view as not only her part-time manager, but close mentor, who encouraged her to explore the Sales Coach role further and pursue whichever job felt like the best fit for her.
So she took Beth's advice and spent time shadowing and coaching new hires. "It felt so organic for me to transition from a sales development role, which very individually-driven work, to a role where I could support, uplift, and train people to help launch them into whatever career they wanted. That's what really spoke to me," explains Lily.
With the guidance and assistance of her leadership team, her peers, and the new hires she'd worked with in her sales development role, she applied for the Sales Coach position—and she got it.
Lily credits her excitement about her career path to Procore's focus on employee development: "I felt so cared about. So empowered to move forward. The care, attention, and resources that were available to me, and the leaders I had access to, were unbelievable."
From Backpacking to Business Development
Two years ago, Lily couldn't have predicted she'd fall in love with Procore's upbeat, fast-paced, always-changing sales environment.
She didn't always know she wanted to be in sales. She's never been very competitive, for one. "I wasn't very good at sports. I was on the ultimate Frisbee team, where there really is no competition," she says, laughing.
And though her dad was a commercial real estate developer who occasionally dragged Lily and her sisters to his construction sites, she didn't think she'd end up in construction. "Some nights he would take us to the top floor of a building that was still being constructed and show us the skyline of the city. And I loved how he was so involved in making the city what it was," she remembers.
Her dad was her first true exposure to sales, too: "Being in commercial real estate, he was also in sales. His whole life was taking phone calls, going to see clients — in essence, relationship building."
She went to college, and then she went backpacking around Asia and South America. After two years, she was ready to slow down and head back to a slightly less nomadic existence, but she wasn't sure where or how. "I worked at a tiki bar in Cambodia and I sold hammocks. But aside from that, throughout college and throughout traveling, the only real skill I came out with was relationship building," she says.
So things came full-circle: she started as a Sales Development Representative at Procore and put her relationship-building skills to the test.
Finding Her Groove in A Male-Dominated World
Lily learned early on that sales isn't all about big wins. Occasionally, she'd get off of a challenging call and get feedback from her male peers about what she could do better next time, recalls Lily.
So she'd turn back to her desk, put on her headset, and try their approach. "But it never felt natural to mimic their tactics. I found my strength was in being uniquely and entirely myself. I like to build rapport with people by getting to understand who they really are," says Lily.
Going her own way ended up working for her, and Lily credits her success in the intersection of sales, construction, and tech—to her novel approach to relationship building.
The majority of her prospects were male construction workers, and some would write her off, assuming that a woman didn't know much about their industry. But Lily was persistent to find a way to connect with her prospects. "I found this great angle," explains Lily. "It gave me credibility and showed that I did have insight into their industry." From there, "I'd use empathy and really get them to explain what was challenging them and I could then leverage that information to partner with our account executives who went on to close the deals," says Lily.
Lily believes having a variety of sales approaches will be vital to Procore's success as the company continues to grow. "If we don't continue to diversify, then we're just missing out on certain markets, because different people connect with different people. But if we have a very diverse makeup within our company, then the sky's the limit as far as the market that we're able to serve," she notes.
Being Empowered—And Now Empowering Others
One of the things Lily's looking forward to most in her new role as Sales Coach is mentoring and coaching new hires who find themselves in the same role she was just two years ago. "I can't wait to help them lay the groundwork for the rest of their careers," she says.
She'll have a chance to pay forward some of the guidance she received from women coaches and mentors. "Procore places a huge emphasis on female leadership, and I like to think it's for people like me, so we can envision ourselves in those positions at some point," says Lily. "W when you see a strong female protagonist on the big screen—you can put yourself in her shoes more easily. Seeing that my direct manager is a woman and her direct manager is a woman shows me that the road is paved for me."
In Lily's new position, she'll help connect new hires with some of the resources that aided her as she grew her career. "We have an entire department at Procore dedicated to learning and development, and their sole purpose is to continually collect and distribute industry knowledge, whether that's through doing job site walkthroughs so we can see what the software that we're slinging all day long is actually used, or organizing fireside chats with current clients and enterprise-level directors at the company."
Above all, she's excited to show new hires that there are a variety of ways to succeed in sales: "It doesn't matter where you come from. There's a place for you to keep learning and growing in your work and finding what works for you. Comparison to others is the thief of joy. You're the only one who can make you successful and you're in control of that—and that's incredibly empowering."
---
Have questions for Lily about starting a career in sales? Let us know in the comments!
And learn more about careers at Procore here.
Related Articles Around the Web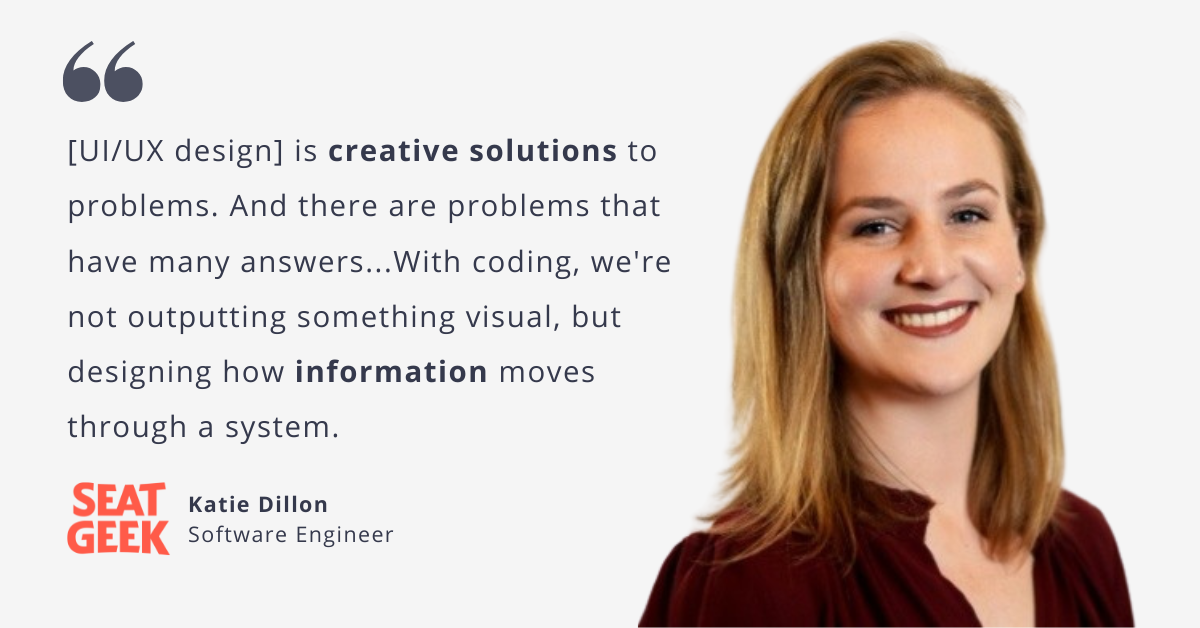 SeatGeek
Katie Dillon has many hobbies. During the pandemic, she picked up candle and jewelry making, opened an Etsy shop, learned new watercolor techniques, and poured hours into maintaining her vegetable garden.
And recently, her interest in the lindy hop community has been resparked. "Swing dancing is something I enjoy doing," she shares. "I used to travel for dance every other weekend. It was a huge part of my life. And I recently got inspired to get back into it."
Whether through crafting or dancing, Katie enjoys harnessing her creativity — a skill she also uses for her work as a Software Engineer at SeatGeek. We sat down with Katie to learn how producing effective code involves creativity and design thinking.
Following Her Interest in Design
Katie grew up within a family of software engineers. "My dad is a software engineer and my younger brother has always wanted to be a software engineer," she shares.
Katie, on the other hand, wanted to carve her own path. "I wanted to do the absolute farthest thing that I could think of from software engineering. There was no way that I was going to code."
In an effort to find her own voice, she joined a filmmaking program in high school. "It was film, design, and English," she explains.
After two years in the program, her mind was set on filmmaking and she applied to several university filmmaking programs. Although she was accepted to some reputable schools, she started having second thoughts.
"I thought I didn't know exactly what I wanted to do, so I wanted to go to a school that allowed me the flexibility to change my mind. I ended up applying to some design schools and then going to the University of Michigan," she says.
There, she pursued an art and design major and started on her career journey.
"I [ended up] doing graphic design, UI/UX stuff," she explains. "I was doing a lot of freelance design work and consulting for small businesses. I was full design and felt pretty good about that for my future."
Katie had regular clients and a full schedule with her design work, however, she felt inclined to take an intro to coding class to stay current—and keep up with her family's dinner table conversations about machine learning.
"[I thought to myself], 'I'd like to understand what this chaos is when my dad talks about it,'" she admits with a smile.
And after that first class, she was hooked.
Merging Creative Design With Coding
"I took one class and I [knew] this was for me," Katie shares.
"It opened my eyes to the fact that engineering can feel like adult Legos, where it's highly creative, but in a way that also tickles my organization brain," she explains.
Because of her newfound interest, Katie decided to finish her design degree with a minor in computer science. While working to achieve this, she got a first glimpse at what a career in tech could look like. This glimpse came from an internship for a company she was previously doing design work for. "It was a local company in Ann Arbor. [I told them] I wanted to code and it worked out great," she shares. She went on to describe the invaluable mentorship and support she received during her transition from design to code. "That internship really helped me envision what it would look like to work as a software engineer," she adds. "Something I'm still grateful for."
Because of her design background, Katie was able to draw similarities between designing and coding. From a design perspective, coding is "designing how a system is going to work or designing the flow of information," she explains.
She has always thought of design as a form of creative problem solving; understanding a problem or a pain point that needs to be solved, ideating different possible solutions, and then realizing those solutions.
Similarly, coding involves designing creative solutions to problems. In both cases, these problems often have many solutions. "With coding, we're not outputting something visual, but designing how information moves through a system," she explains.
The key is being able to design code that helps reach goals; and design thinking plays a crucial role in that. "There are so many different design choices that make good code."
Using Creativity to Code at Seatgeek
After her first experience with coding, Katie decided to expand her career and found SeatGeek through a job search. What caught her attention was the staff.
"Something that resonated with me was that there were these people in all different walks of life who, I felt, SeatGeek honored and encouraged to be their whole [selves] both inside and outside of work," Katie says.
SeatGeek is the live entertainment platform that's rethinking ticketing by caring more about fans, teams, and venues. With their technological savvy and fan-first attitude, they're simplifying and modernizing the ticketing industry.
Now as a Software Engineer, Katie uses creativity and design work in her coding process. "I use creativity more when I'm thinking about and planning code," she adds.
"[On my team] we try to think about these big problems and break down those problems into smaller chunks and that process is so creative to me. We're figuring out what needs to be solved and then designing some sort of solution."
Advice on Using Creativity to Power Your Code
Creativity is a beneficial skill — one that Katie uses on a regular basis.
"In my job, I end up wearing many hats and playing designer when writing frontend code," she explains. "It's always great when I'm able to collaborate with someone and have explicitly asked for design input on bigger projects, but when that's not possible, my design background allows me to still be effective and create user-friendly interfaces through conversations with stakeholders and an iterative design process."
Katie emphasizes that everyone should identify their own creative processes and harness those when designing and writing code, but she offers this advice for those searching to vary that creative spark:
When in doubt, draw it out. "This may not work for everyone but it works for me to have a physical pen to paper and be able to draw my ideas," says Katie. "Whether you're drawing a diagram or a doodle, it doesn't have to be perfect. This process can reveal the weak points and help you focus and iterate on your ideas."
Be open to collaboration. Having open and casual meetings with other engineers can create the space for innovation. "I think that some of the most effective and groundbreaking meetings don't really have a plan other than 'let's talk about this big idea and think about it,'" Katie shares. "Talking to other engineers during that unstructured design time is really helpful."
Do the big design work first. "Doing enough of the planning and design work ahead of time, I feel, lays the base to be more creative with the small things," shares Katie. "Once you have the structural pieces in place, you can utilize creativity by getting feedback and bouncing ideas off of other colleagues to fill in the missing components."
If you're ready to apply creativity and design to solve big problems, check out the open positions at SeatGeek.
READ MORE AND DISCUSS
Show less
Loading...