GET EMAIL UPDATES FROM POWERTOFLY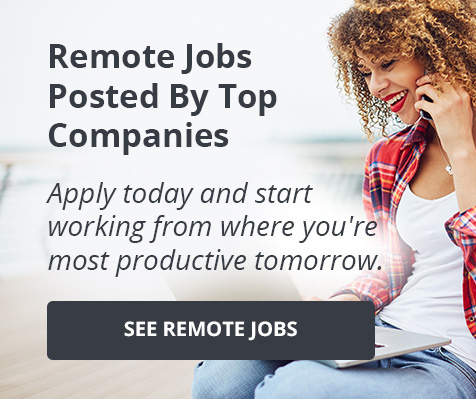 September 08, 2018
Stash
How To Be Productive When You're Working From Home
Below is an article originally written by the Stash Team, who is a PowerToFly Partner. Go to Stash's page on PowerToFly to see their open positions and learn more.
Working from home can be fantastic. You don't have to deal with a commute, a uniform, or the fuss of annoying colleagues. You might even be able to make your own schedule.
Here's the thing. It can be difficult to settle into the daily grind when you're only moving from your bed to your desk and you have the option to stay in your pajamas all day.
Here are some tips on how you can harness all the positives of working from home to have productive and industrious workday:
Office space
Even if you aren't lucky enough to have a home office, create an official workspace for yourself with everything you need, such as your laptop, phone, files, and whatever else. This will help get you into the working mindset when you've got to get down to business.
Even if it's just a desk in the corner or your tidy kitchen table, having a proper workspace is much better than flopping down on the couch while you work.
Get dressed
Getting dressed in the morning is a signal that the day has begun and you're officially "on," something which is easy to forget when you work from home. You don't have to put on a suit and do your hair, but by putting your pajamas away and changing into something fresh, you're telling your brain that work is about to begin.
Research suggests that this simple change can trigger much higher productivity in home workers.
Don't eat where you work
Make sure to set apart time for lunch and get away from your workspace when you aren't working. Make an effort to eat elsewhere, and get out of the house on your breaks when possible, so that you return to work with fresh eyes.
Don't sit down and eat in front of your computer and browse the internet. It can make it harder to get back on track.
Play office sounds
Working at home lets you have more freedom than you would in an office; you can chat to whoever else is at home, play music out loud, or even sink into the silence of an empty house. But these things can easily become distractions. Try sticking in your headphones and listening to office sounds on YouTube. The familiar sounds of a work environment will put you in the right mindset for a productive day.
Like working in coffee shops but can't get to one? Check out Coffitivity, an app that plays the sounds of your favorite java joint.
Stay accountable
One of the biggest killers of productivity when working from home is letting yourself get away with procrastination. When there's no one watching you or checking up on your work, it's easy to sit back and spend the afternoon watching videos or hanging out in bed.
Test out some free time management apps to keep you accountable and your work on track.
By getting your routine into shape, you'll be getting work done while also loving your workspace.
Talent
10 Full-Time Roles You Can Do Remotely!
Work-from-home jobs sometimes get a bad reputation: low pay, repetitive work, micromanagement... the list goes on. But if one good thing has come out of the pandemic, it's that it's redefined working from home. Remote work has come a long way, and the opportunities to work from home in 2022 are more promising than ever before.

If you're like me, and freelance, task-oriented remote jobs like article writing, data entry, transcription, or professional survey taking (yep, that exists), aren't your thing - don't worry. There are more full-time remote opportunities than ever before that offer you the freedom to manage your own time, the security of consistent monthly income, the support of a team, and the promise of growth. In fact, we've got over 5,000 on PowerToFly.
So, if you're looking for a remote opportunity in 2022 that will push you to develop professionally, look no further than our list of the 10 best work-from-home jobs. And by best, we mean fun, challenging roles that will help you grow, while making a respectable income.
All the jobs listed have average salaries between 45 and 119k, and have average or higher-than-average growth potential (based off of the U.S. Bureau of Labor Statistics' predictions for growth from 2018 to 2028 and/or LinkedIn's 2020 Emerging Jobs Report).
10 Best Work-From-Home (Remote) Jobs for 2022
Jobs sorted from highest to lowest average salary. (Salary data taken from ZipRecruiter, Glassdoor, LinkedIn, and/or the U.S. BLS depending on availability and specificity to remote roles.)
-----

Interested in one of the roles above? Check out these resources for landing your dream remote job and get ready to reap the full benefits of remote work in 2022— doing what you like, where you like. Good luck!
[A version of this article was originally published on Dec. 19, 2018]

READ MORE AND DISCUSS
Show less
Loading...