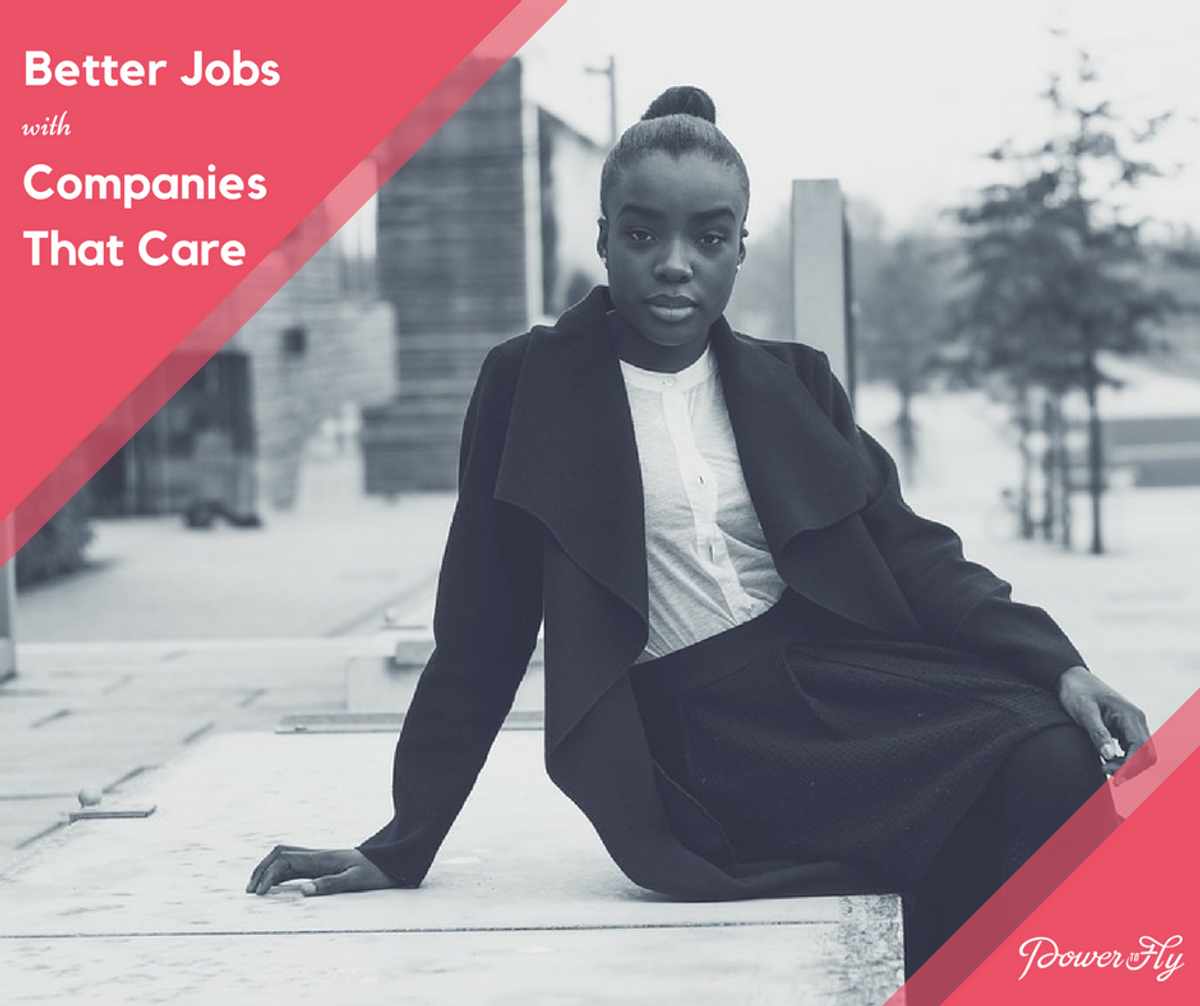 April 26, 2017
Companies That Care
Better Jobs With Companies That Care - April 26, 2017
Everyone wants to be recognized for their contributions, no matter how great or small. Recognition reaffirms our value, our worth, our capabilities and strengths. With our PowerPromoters program, that recognition can be had a-plenty, and is designed to help you in your work-life journey. So, pop some popcorn, sit back, and sign up. We'll be here waiting.
---
FEATURED COMPANY THAT CARES: VERIZON
Telecommunication giant Verizon wants YOU. Yup, you read that correctly. Their reach is massive, and they're looking at some of the best and brightest minds (aka you) to help them continue to prosper. What's in it for you, you ask?  Wellllll, have you ever thought of heading back to school? Check, they've got tuition assistance. Starting or adding to your family? Check, excellent parental leave policies. Secure your financial future? Check, 401k, bonuses and profit-sharing. All the boxes are checked off and more - what are you waiting for?
Here are more great opportunities from companies that care about women. For even more, be sure to check out our jobs page. It's ok, feel free to be greedy.
Cloud Operations DevOps Engineer (Multiple Locations) - Adobe
Software Development Manager / Senior Manager (Austin, TX) - Amazon.com
Software Development Manager - Amazon Tickets (Seattle, WA) - Amazon.com
Data Mining Scientist (Austin, TX) - Apple
Managing Producer, Retail Interactive (Santa Clara, CA) - Apple
Senior Software Engineer - Real Time Market Data and News Feeds (New York, NY) - Bloomberg L.P.
Senior Software Engineer, Backend (New York, NY) - Casper
Senior UX Design Researcher (Belmont, CA) - Future Center California for Audi, Porsche & VW
Software Developer: Java / C++ / Python (United States) - Goldman Sachs
Software Engineer, PHP Engineer (New York, NY) - Hearst Digital Media
Backend Engineer (Arlington, VA) - LiveSafe
Financial Business Specialist (Columbus, OH) - Nationwide Mutual Insurance
Java Developer (Columbus, OH) - Nationwide Mutual Insurance
Senior Automation Test Developer (Scottsdale, AZ) - Nationwide Mutual Insurance
Ribbon
💎 "What are you passionate about?" In an interview, you may have to answer this and other personal questions. Watch the video to the end to succeed in your job interview at Ribbon.
📼If asked "what are you passionate about?" in an interview you need to show how your passion can make you a good candidate for a job position. Ryan Key, Talent Partner at Ribbon, shares some tips and tricks for you to stand out!
📼Answering what are you passionate about in an interview is not the only thing you need to know how to do to succeed. You should try to make sure that you express your experience in a way that shows your interest in Ribbon's mission. Also, prove that you did your research and demonstrate to the recruiter that you understand exactly how your role affects Ribbon's purposes. Don't forget to share some ideas on how you intend to fulfill the company's mission!
📼 You are asked what are you passionate about in an interview, but this doesn't mean that you can't ask as well. You should feel empowered to ask any question you want during your interview process. It may be helpful to save certain questions for certain people. If you're in an interview with your potential manager, you should take that time to ask about their assessment metrics for the role and their management style. If you're speaking with a potential peer, this would be a great time to ask about their experience during training and to learn a little more about the team and culture.
What Are You Passionate About? Show In Your Interview That You Are Aligned With Ribbon's Values
The mission at Ribbon is to make homeownership achievable for everyone, especially communities traditionally left out of the homeownership story. One way Ribbon addresses diversity, equity, and inclusion in the workplace is through its support of employee resource groups. Remember to show that your passion is aligned with these core values!
🧑💼 Are you interested in joining Ribbon? They have open positions! To learn more, click here.
Get to Know Ryan Key
If you are interested in a career at Ribbon, you can connect with Ryan Key on LinkedIn. Don't forget to mention this video!
More About Ribbon
Ribbon is a first-of-its-kind real estate technology company transforming the real estate transaction by delivering certainty, transparency, and joy to the home buying process. Consumers and realtors deserve a better experience, and they have designed an open platform that welcomes everyone in the ecosystem to participate.
READ MORE AND DISCUSS
Show less
Loading...