GET EMAIL UPDATES FROM POWERTOFLY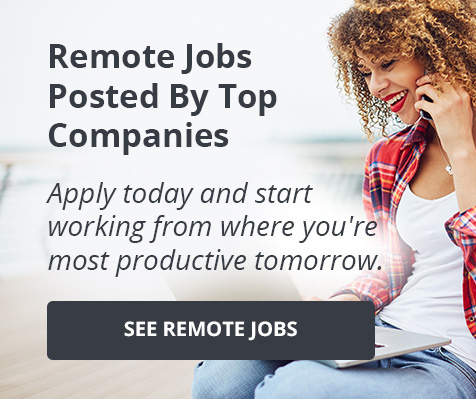 July 01, 2019
Braintree
Let's Get Together! On Meeting New People Where You Work
Below is an article originally written by Terri Shih, an Analyst at PowerToFly Partner Braintree, and published on March 7, 2018. Go to Braintree's page on PowerToFly to see their open positions and learn more.
For my first few months at Braintree, I struggled with meeting people outside of my team. As someone who enjoys building relationships with different people, this often made me feel alone.
I had a great team and enjoyed the work, but it was difficult to meet new people -- let alone get to know anyone I didn't work with directly. Most people ate lunch either at their desks or with their teams, and with a Chicago office of 500+ employees, you could easily walk across the floor and only recognize a handful of people. While I enjoyed socializing with people I already knew, the emotional energy required to meet new people was overwhelming because I'm naturally more of an introverted person. And since my role doesn't require much interaction with other teams, the thought of simply walking up and introducing myself to someone new seemed daunting.
As I started to work with others who are passionate about Diversity & Inclusion, I learned that many had, and continued to have, similar feelings even months into their job. We asked ourselves what would have made this transition easier for us, and that's how Let's Get Together was born.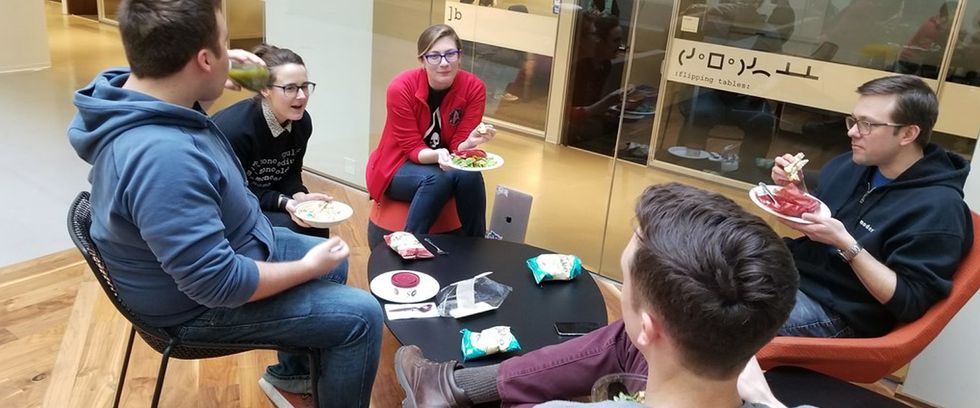 The idea behind Let's Get Together is simple: build a structured program that helps people in the same office meet each other. To get it started, we created an opt-in survey asking people their name, contact information, and location. I then built a simple random generator script in Python during an Open Dev day, which created groups of ~5 people by office. Each month groups are emailed out, and the individuals in that group find a time and place that works for them.
Our office serves lunch so that's always an easy place to start, but people have gotten more creative, going out for ice cream or boba tea, organizing holiday gift exchanges, or taking walks when the weather is nice. We've found that giving people flexibility to pick a time and activity works best, as it helps people with scheduled lunches/breaks or non-9am-5pm hours participate. New hires are now alerted to this program during their first weeks so that they can sign up.
Our program has been active now for over a year. In that time we've had more than 200 people across three offices sign up. The feedback, which we collect monthly, has been overwhelmingly positive. Over a 4-month period from June through October 2017, ~90% of survey respondents said they would or have recommend Let's Get Together to a coworker, and ~80% of respondents met someone new. Of course there have been a few hiccups here and there, but through collecting regular feedback, we have been able to make improvements.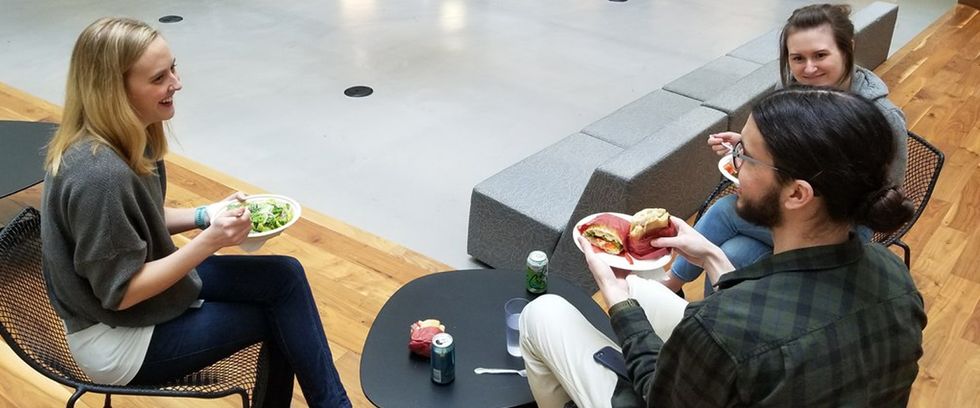 For anyone looking to implement this type of program, here are some learnings I've gathered:
Start simple. At first, I tried to write the most elegant script with every feature. Deciding what to prioritize for a future phase allowed us to get this program off the ground with very positive feedback.
Ask managers about their concerns. Managers of customer-facing teams expressed concern that team members with scheduled breaks/lunches may be left out. We therefore encourage people to consider activities beyond lunch and ask groups to be mindful of schedules when planning.
Get feedback, early and often. We didn't start collecting monthly feedback until 6+ months after the program started. I strongly believe that having people's input earlier could have helped to understand why some groups weren't meeting and what features we could add to improve this.
Send out regular reminders. We chose to send out new groups on a monthly basis since schedules are hard to coordinate. Based on survey feedback, we realized that if people didn't see their assignments right away they might not remember until the next month's email went out! This led us to send mid-month reminders to help improve participation.
Designate a group leader. Having someone to start communication and find a time that works for everyone is very helpful. Encourage partial groups to meet a couple of times if they can't find one time that works for everyone. We simplified this by designating the first person listed in each group to be the leader.
Create a calendar invite once the group has agreed on a time. It's much easier to remember and plan if it's in plain sight!
Choose a communication method. The one your company most frequently communicates with is probably best. Our groups are currently emailed out, but I quickly realized that chat is more integral to internal communication. In the future we're hoping to implement a chat feature that starts communication for groups each month and sends out reminders.
It's easy to fall back on advising someone to "try to meet new people." It's also easy to forget that that task can be daunting for some people. By implementing the Let's Get Together program, we've found that the simple act of providing people with a group of names they should try and meet each month has helped build connections and foster community -- these can be key components to any company's successful Diversity & Inclusion efforts.
Now if you'll excuse me, I have some folks I'm about to get together with!
***
Unstoppable Domains
💎 Partnerships in remote environments is one of the most important aspects to construct in a company. Watch the video to the end to get good tips on how to do it successfully.
📼Wondering how to create partnerships in remote environments? Play this video to get three top tips that will help you to achieve it. You'll hear from Olga Shvets, HR Business Partner, and Viktoriia Litvinchuk, People Team Operations at Unstoppable Domains, who will explain the essentials of this process.
📼How to build partnerships in remote environments? Tip #1: Communicate Effectively. Communication is the key to enabling your remote team to be successful. Choose the channel that works best. For this, chat with your employees and see what they use to communicate, that's how you find the best solution. Also, make sure your team is on board with your internal tools and they know what, how, and where they need to use them.
📼A requisite for building partnerships in remote environments is Tip #2: Show appreciation. Appreciation is shown through your actions. Let your employees know that you value everything they do for the company. Create a special gratitude channel where everyone can share their appreciation for their colleagues for some contribution. Celebrate some wins, promotions, and everything that is important for the company. If you appreciate the employees, employees do the same for the company.
Create Partnerships In Remote Environments Using Trust - Tip #3: Give Honest Feedback
Use engagement surveys! They are a quick and effective way to receive honest feedback from your team and you can see what's working well and what needs to be improved. Your main priority is to create spaces where managers and employees can share honest, relevant feedback.
📨 Are you interested in joining Unstoppable Domains? They have open positions! To learn more, click here.
Get to Know Olga Shvets
If you are interested in a career at Unstoppable Domains, you can connect with Olga on LinkedIn. Don't forget to mention this video!
More About Unstoppable Domains
Unstoppable Domains is bringing user-controlled identity to 3 billion+ internet users by issuing domain names on the blockchain. These domains allow users to replace cryptocurrency addresses with human-readable names, host decentralized websites, and much more.
By selling these domains direct to consumers for a one-time fee, the company is making a product that will change cryptocurrency and shape the future of the decentralized web by providing users control over their identity and data.
READ MORE AND DISCUSS
Show less
Loading...