GET EMAIL UPDATES FROM POWERTOFLY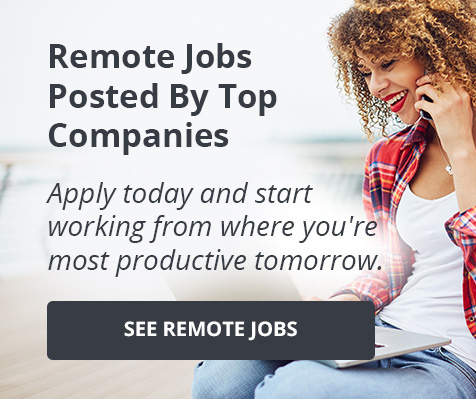 November 16, 2018
Career and Interview Tips
Are Jeans Business Casual For Women? One Of Life's Mysteries Revealed (Photos)
The dos and don'ts of denim in the workplace
I still remember what I wore on the first day of my first-ever internship: black dress pants, cute flats, and a tailored blouse. As I waited in the lobby to meet my boss, the other interns shuffled in. The guys were all rocking khakis and button downs (surprise, surprise), and my lone female counterpart was wearing a tailored blouse, cute flats, and to my horror, black jeans. I had a brief panic attack on her behalf - the welcome email from HR had clearly said we should all be dressed business casual.
Surely jeans didn't qualify… or did they?
I learned a major lesson that day: dress codes like business casual are highly context dependent.

So, are jeans appropriate business casual attire or not?
The short answer is they can be. A lot has changed since my internship nearly 10 years ago. American workplaces continue to relax their dress codes, and jeans (and even leggings) at the office are becoming more and more common. That said, whether or not you should rock denim depends on 1) the situation, i.e. where you work and the occasion and 2) the type of jeans and how you wear them. (And if all this talk about dress codes and jeans has you going nuts, check out these remote jobs where you're free to wear shorts, jeans, or no pants at all!)
When Not To Wear Jeans?
Interviews, first days, or if you work in an industry where the men dress like this: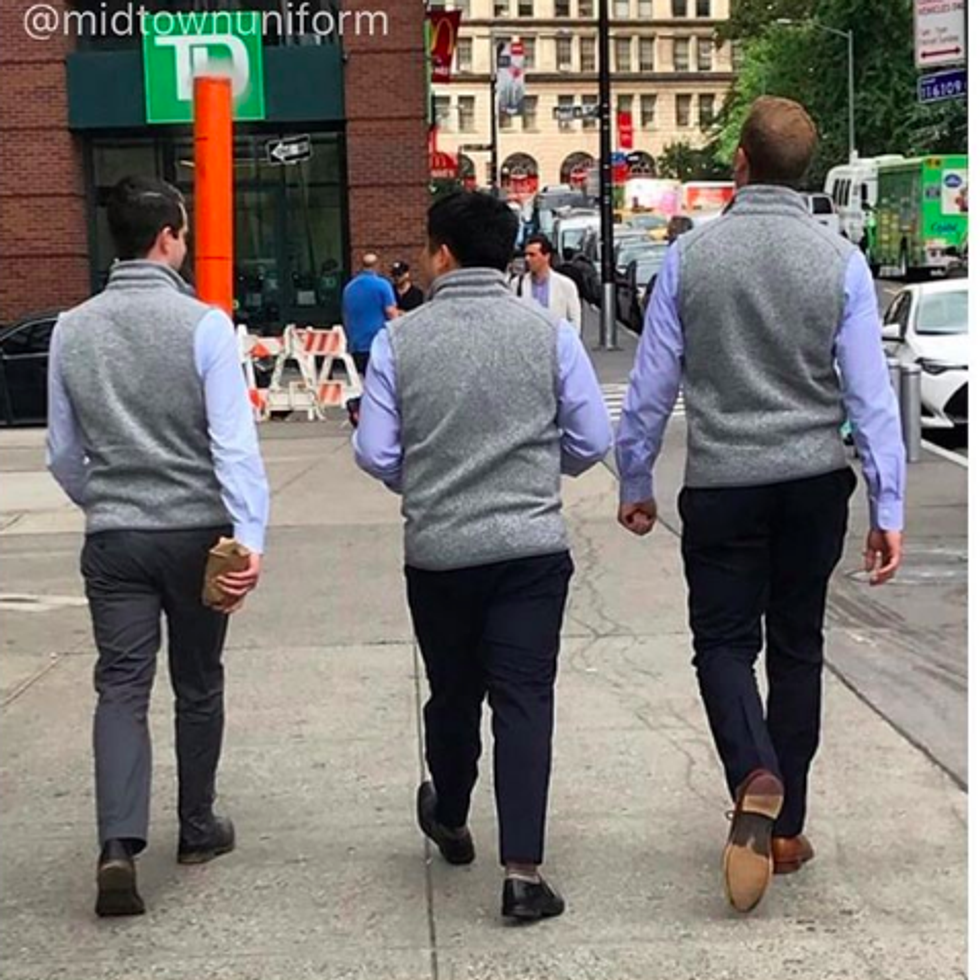 Photo Credit: @midtownuniform(Looking at you, finance and consulting)
When To Wear Jeans?
If most people (not just the tech team) are dressed like this: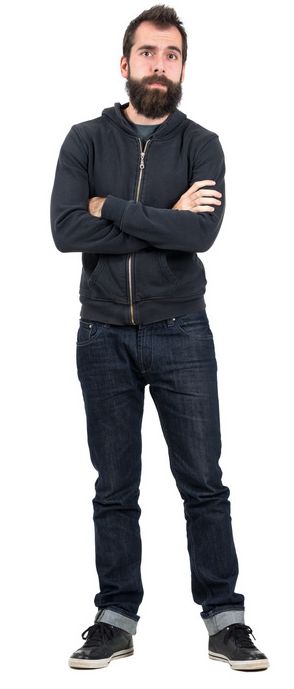 If you're dealing with a startup or tech company known for their less-than-business-casual attire, then jeans might be exactly the right choice for your interview/first day. That said, it still doesn't hurt to look a bit nicer by opting for casual slacks and a fitted top. Just because your interviewer's rocking a hoodie and a beard doesn't mean you have to...
Still not sure what your (potential) employer considers business casual?
If you're on the fence, go with a skirt or slacks so you don't have to wonder if you've done business casual right; you can hide your nerves behind a killer outfit. And let's be honest - a pair of tailored but loose fitting trousers are way more comfortable than suffocating skinny jeans anyway.
When Else Can You Wear Jeans?
Just about any other time!
Outside of the aforementioned industries and situations, there's no reason you can't incorporate jeans in your business casual rotation. The key, however, is to continue looking professional while you do.
Follow these tips to master the art of business casual denim:
1. Dress them up, not down - Balance casual bottoms with dressier tops and accessories, or pair your jeans with a blazer to create a crisp, professional look. A pair of heels or dressy flats can also help ensure your jeans don't look too casual.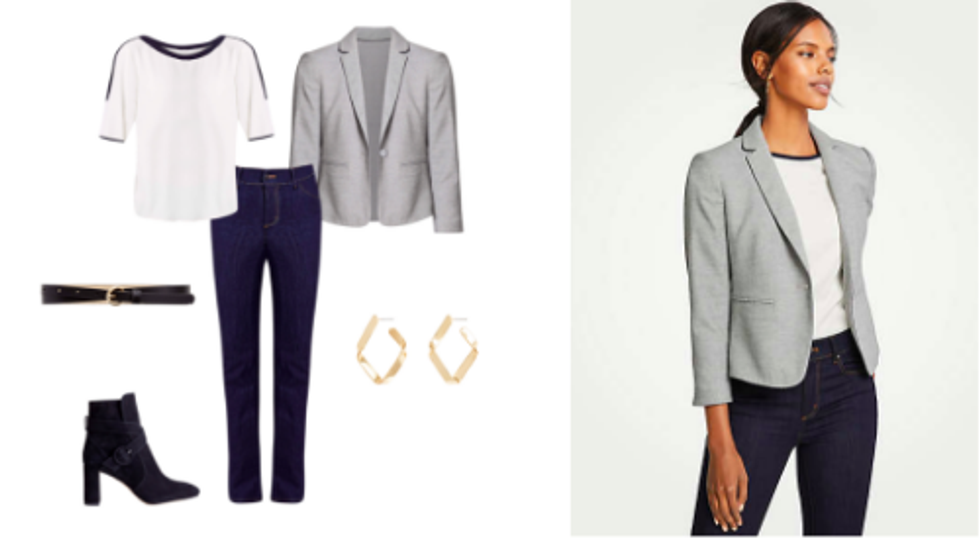 Photo Credit: Ann Taylor
2. Keep it neat - Make sure your jeans are free of any rips or tears (even the intentional ones), and steer clear of bleached or heavily faded looks.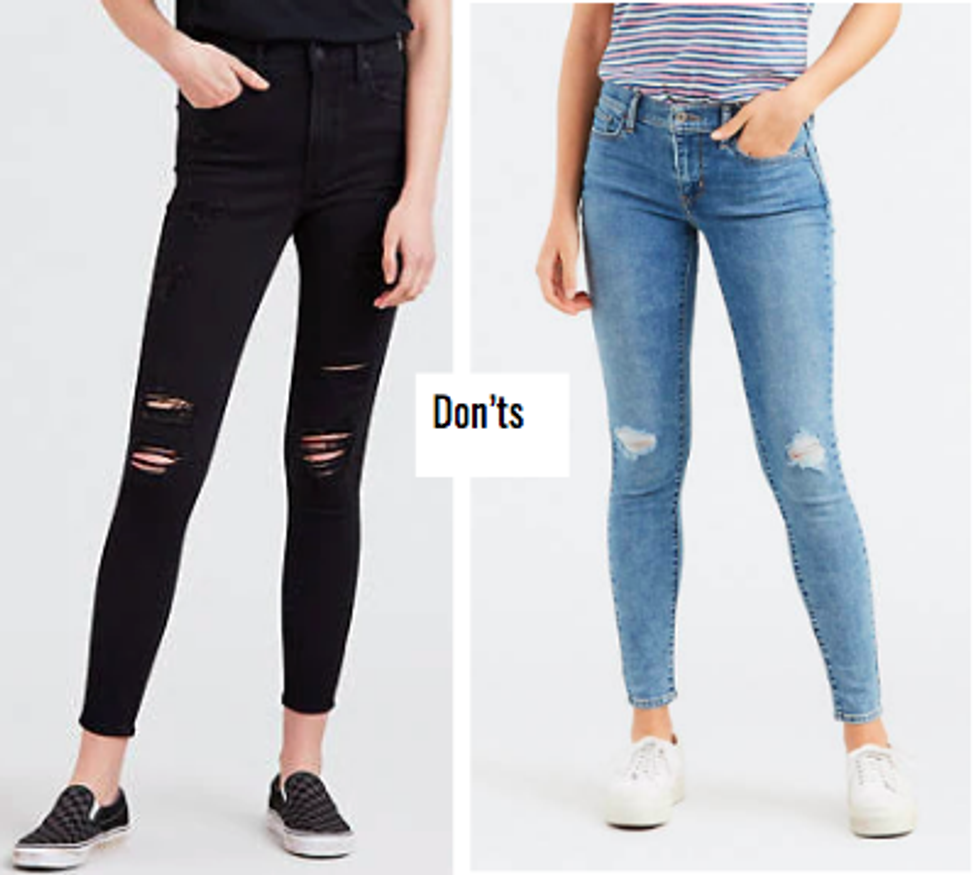 Photo Credit: Levi's
3. Find your fit - Unfortunately, as women, we're constantly playing Goldie Lox with our clothes - not too loose or too tight… just right. The same is true with jeans in the workplace. You want them to be fitted and flattering, but not so tight as to be uncomfortable or impractical (as someone who once ripped her pants wide open while squatting to lift a box in the office, trust me on this).
*Quick Tip* - when you're trying on jeans (or any clothes for the office), don't just walk around - sit down! If you feel your butt hanging out, go for a different pair. After all, you'll likely be seated most of the day and you don't want to be constantly worrying that your underwear's exposed.
4. Go dark - As a general rule, darker blue jeans look much more polished than light ones. And some black jeans are nearly indistinguishable from slacks.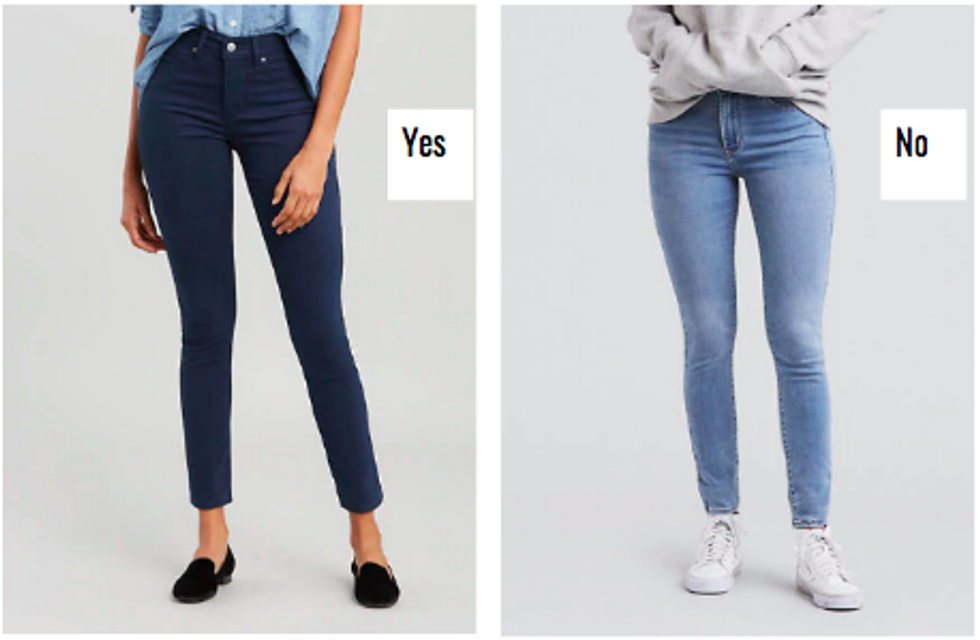 Photo Credit: Levi's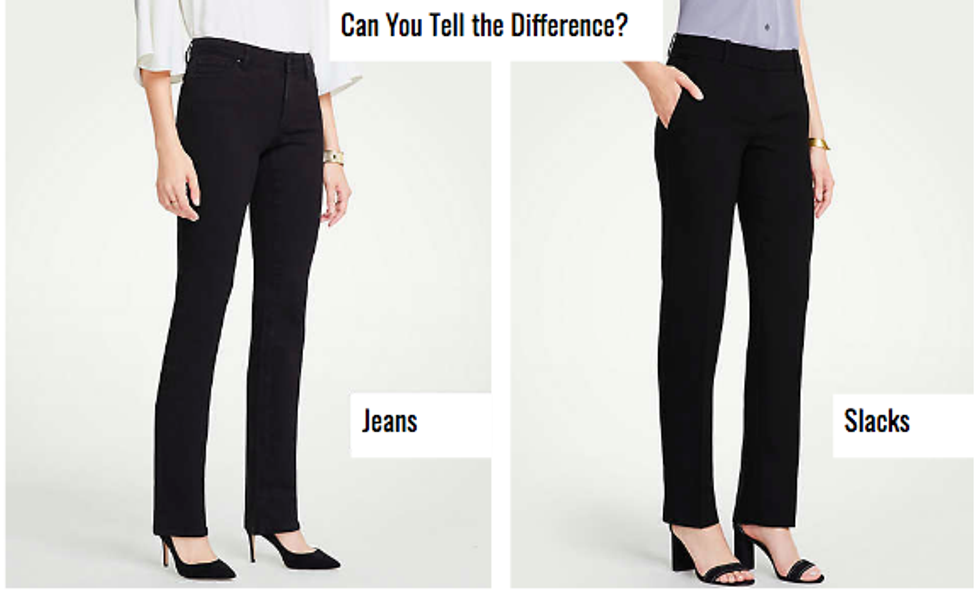 Photo Credit: Ann Taylor
Wrapping It Up

So, should my coworker have shown up in jeans on day one? Probably not. Was it the end of the world because she did? Definitely not. They were black, professional looking jeans and she clearly had put effort into her appearance.
As the definition of business casual continues to evolve and companies disregard business casual altogether in favor a more laid-back vibe, the most important thing is that you continue to feel comfortable. Whether that means blending in or standing out, dressing up or dressing down, make sure that you like how you look and feel good about yourself. Because while it's true that when you look good, you feel good, it's also true that when you feel good, you look good.
---
And again, if office dress codes have you stressed out, consider these remote jobs where you can wear whatever kind of pants you want, or none at all!
RISE UP THROUGH OUR FREE COMMUNITY
Network with top executives even if you aren't looking for a new role
First look at flexible, work-from-home, in-office roles
Join live chats led by expert women in your field and beyond
Sign Up
Related Articles Around the Web
Talent
10 Full-Time Roles You Can Do Remotely! [Updated Sept 2021]
[This article was updated September 20, 2021]
Work-from-home jobs sometimes get a bad reputation: low pay, repetitive work, micromanagement... the list goes on. But if one good thing has come out of 2020, it's that it's redefined working from home. Remote work has come a long way, and the opportunities to work from home in 2021 are more promising than ever before.
If you're like me, and freelance, task-oriented remote jobs like article writing, data entry, transcription, or professional survey taking (yep, that exists), aren't your thing - don't worry. There are more full-time remote opportunities than ever before that offer you the freedom to manage your own time, the security of consistent monthly income, the support of a team, and the promise of growth. In fact, we've got close to 5,000 on PowerToFly.
So, if you're looking for a remote opportunity in 2021 that will push you to develop professionally, look no further than our list of the 10 best work-from-home jobs. And by best, we mean fun, challenging roles that will help you grow, while making a respectable income.
All the jobs listed have average salaries between 45 and 119k, and have average or higher-than-average growth potential (based off of the U.S. Bureau of Labor Statistics' predictions for growth from 2018 to 2028 and/or LinkedIn's 2020 Emerging Jobs Report).
10 Best Work-From-Home (Remote) Jobs for 2021
Jobs sorted from highest to lowest average salary. (Salary data taken from ZipRecruiter, Glassdoor, LinkedIn, and/or the U.S. BLS depending on availability and specificity to remote roles.)
-----

Interested in one of the roles above? Check out these resources for landing your dream remote job and get ready to reap the full benefits of remote work in 2021 - doing what you like, where you like. Good luck!
[A version of this article was originally published on Dec. 19, 2018]

READ MORE AND DISCUSS
Show less
Loading...