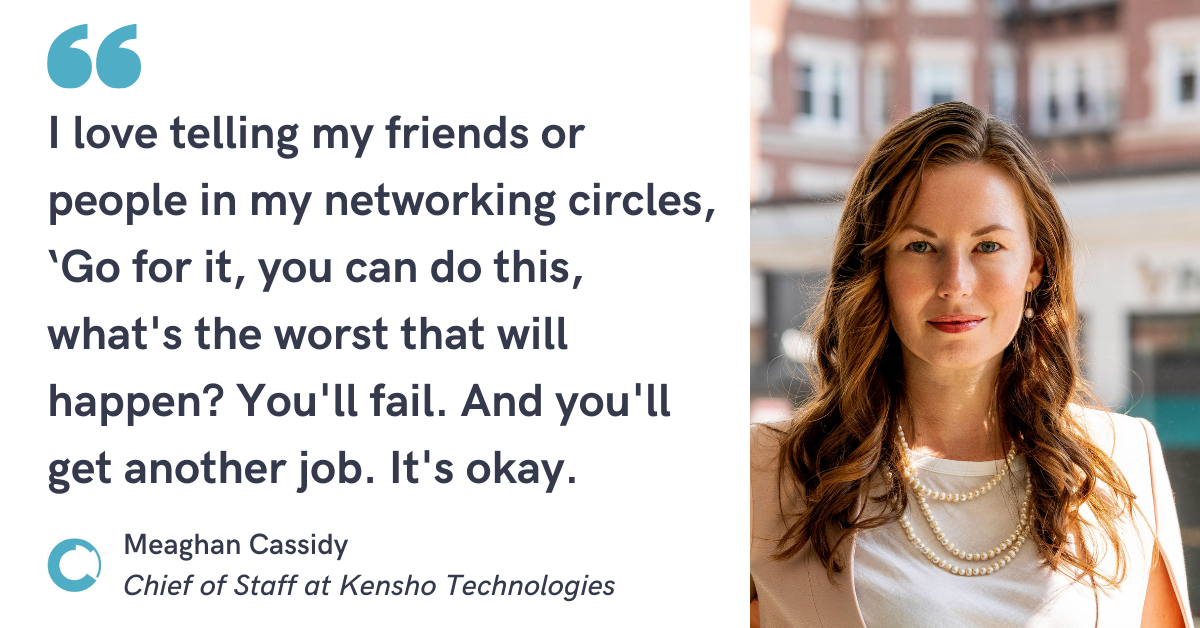 Kensho Technologies
Meaghan Cassidy had all the cool pandemic hobbies before they were cool pandemic hobbies.
She started baking sourdough years ago. She took up yoga and bouldering even before that. And when much of America was frantically googling "how to keep a plant alive," she was caring for her thriving vegetable garden and turning its cherry tomato harvest into a delicious and easy Caprese salad (served alongside fresh sourdough, of course).
It's no surprise, then, that Meaghan has been an early mover when it comes to her career, too—or that she's continuously pursued opportunities to learn and grow on the job.
In fact, she said yes to her current role—Chief of Staff to Kensho's CEO, Bhavesh Dayalji—specifically because Bhavesh said she didn't know how to do it.
"He said to me, 'You're a great PM, but you don't know how to run a business.' I remember bristling and thinking, 'Yes I do!' But he's right. I actually didn't," says Meaghan, who has been at the AI innovation hub of parent company S&P Global for the past 18 months. "The message was, 'You don't know how to do it now, but you can learn. Would you like to learn?'"
Meaghan said yes, and we sat down with her to hear more about that decision, as well as her path to Kensho and what their learning-focused culture looks like writ large.
Stepping into—and out of—PMing
Meaghan came up as a product manager when it was still a brand new field.
"I remember being an intern and asking to have the difference between project and product management explained to me," she says.
While she got her undergraduate degree in social entrepreneurship, she spent half of her last three years of school working at a med tech startup that had her straddling marketing and product. She joined them on the product side full-time after graduating because she thought it would give her the best opportunity to learn about running a business and one day being a CEO, which is still a goal of hers.
After working at a startup in Tanzania where she was employee number two on the ground, she came back to the U.S. to take a job at a slightly larger startup back in the Boston area, where she stayed until getting to experience the volatility of startup life firsthand.
"The co-founders called an all-company meeting one Monday and told us, 'Hey, we weren't able to close our latest round of funding. Everyone's going to be laid off at the end of the week,'" remembers Meaghan.
Over the course of her career, Meaghan has learned to value companies where she can see a real path for her own growth. "It was less about what I would be doing right at the start and more about evaluating the company's mission and vision. Where are they in their own growth trajectory? What opportunities would there be?"
Kensho's work in the ML and AI space excited her, as did the company's growth plan. "I thought I'd have the room to grow and try new things without too much bureaucracy, but also have the stability of not coming into the office on a Monday to hear, 'The funding round didn't go through.' It was a really nice balance and a good mix for me," she says.
She worked as a PM for her first year, and when Bhavesh asked her to be his Chief of Staff, a new position for Kensho, she said yes without thinking twice.
In her role now, her mandate is to solve problems before they hit the CEO's desk and oversee the company's culture, including Kensho's DEI initiatives focused on creating an inclusive environment where every Kenshin feels they can bring their full selves to work. Her PM roles, which required her to translate business goals and values into product strategy and to deeply understand customer problems, have set her up well to run her suite of executive projects.
Making the most of a culture of learning
Kensho is committed to continuous learning, says Meaghan. From monthly knowledge days where engineers take a day to upskill themselves to impactathons where Kensho employees do 1-2 day projects with ESG partners, she notes there are plenty of opportunities to keep pushing yourself to learn and do more.
"There's a sense of intellectual curiosity," she says. "It's about learning, staying motivated, coming from a place of self-improvement and just being able to try things and go for it."
Meaghan credits her can-do attitude, her bias for action, and her self-confidence when approaching learning opportunities (like her new job!) to her family and other people in her life that believed in her from the get-go. Now she tries to pay that forward.
"I love telling my friends or people in my networking circles, 'Go for it, you can do this, what's the worst that will happen? You'll fail. And you'll get another job. It's okay,'" she says, also recognizing that there's privilege in being able to take those kinds of risks.
"I like to challenge myself. I like things that are hard," she says.
For those who aren't lucky enough to get a 1:1 Meaghan pep talk, we asked her what advice she has to keep pursuing growth. Here's what she said:
Communicate your interest. "Sometimes you need help changing something to kickstart growth, and you shouldn't feel like you have to solve that on your own," she says. She recommends talking directly with your manager if you're in a healthy environment where they'd support you, or if not, finding a mentor or colleague who you can talk about career development goals with. "It can be as simple as, 'Hey, I'm looking for opportunities to be a lead on a project or learn Python.'"
Volunteer to help. Meaghan points to a Kenshin who put a meeting on Meaghan's calendar and asked if she needed help with any PMing. "She straight up told me she was looking for more PM experience, and my response was, 'Ok, cool, what can I offload to you to help me and help you?' After checking with her manager, of course!" says Meaghan.
"Sometimes it's just time to take a scary next step." If you feel like you've reached a learning ceiling, it might be time to leave, says Meaghan. "Eventually the time comes when you outgrow your current company. Parting ways is bittersweet, but it's also a time for celebration and reflection where you're looking back on all you've learned before you're onto something new."
If Kensho seems like a place you'd like to grow, check out their open roles!
Related Articles Around the Web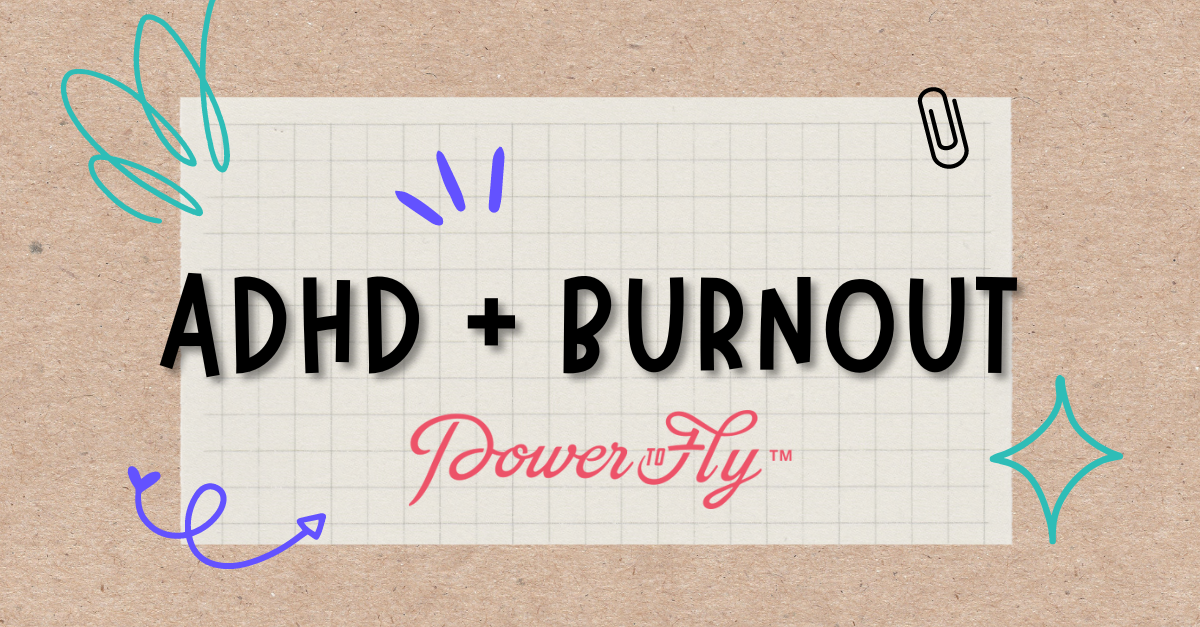 Diversity, Equity, and Inclusion
Have you ever been so exhausted that you quit your job?
You may have been experiencing burnout.
Burnout is characterized by overwhelming exhaustion, detachment from your work, and a sense of ineffectiveness.
And while anyone can experience burnout, if you have ADHD, you may be more susceptible to it.
Before you get to the point where quitting feels like your only option, there are steps you can take to set healthy boundaries and start feeling more like yourself again. Read on to learn how you can recognize burnout in yourself, and what to do if you're experiencing it!
How Does ADHD Burnout Feel?
There are some clear signs that you're burning out, but ADHD can make the descent to burnout harder to detect. These warning signs include:
Lack of motivation - not wanting to do the things you need to do or the things you love.
Exhaustion - feeling overly tired both mentally and physically.
Irritability and mental fatigue - feeling short-tempered, mean, or like you snap easily.
Physical discomfort - body aches, low energy levels, and general pain.
Negative outlook - the tendency to find something wrong with nearly everything.
Emotional dysregulation - feeling weepy, sad, or unable to smile or connect with others.
Generally, burnout starts with taking on too much. Exhaustion creeps in, and you feel like every day is working against you because you are constantly overwhelmed. You may start to feel like the entire world is spinning out of control, or like no matter what you do you can't keep up (or catch up).

If this resonates with you, you might be on the road to ADHD burnout.
Why People with ADHD Can Be More Susceptible to Burnout
So why does ADHD make some folks more susceptible to burnout? There are a few common ADHD traits that often result in behaviors correlated with burnout (taking on too much, working too long, etc.):
Hyperfocus - ADHD is not exclusively about attention deficits. In fact, hyperfocus is the opposite – a deep, intense concentration to the point of being oblivious to your surroundings. Per WebMD, hyperfocus is a state of highly-focused attention that lasts for an extended period of time. You concentrate on something so hard that you lose track of everything else going on around you. When hyperfocus sets in at work, it can be hard to unplug or be aware of the people and environment around you.
Time Tracking - Losing track of time is one thing, but if you find yourself losing track of hours without realizing it, that could be related to burnout. People with ADHD perceive time not as a sequence of events the way others usually do, but as a diffuse collection of events viscerally connected to the people, activities, and emotions that fill them.
Difficulty Prioritizing - Do you take on too much and then struggle to prioritize it? When someone asks for help, does everything often go to the wayside so you can jump in? Or maybe the daunting anticipation of the tasks ahead prevents you from starting. Per ADDitude, ADHD impacts your temporal processing abilities, which can affect executive functioning.
Combating ADHD Burnout
If you think you may be suffering from ADHD burnout, there are a few ways to take back control. Here are three tips for combating ADHD burnout:
Reserve Your Yeses - Pump the brakes when you recognize the early signs of ADHD burnout. Start reserving your yeses right away. Say no, and practice not apologizing. It is okay to say, "I have a lot on my plate right now and cannot take that on. Thanks for thinking of me." Saying no is nothing to apologize for, and it should be celebrated! You are working to protect your energy above all else.
Practice Over-Estimating - If you think you could knock something out in a day, give yourself a week. Overestimate on time and allow yourself the grace to have a little more time than usual to complete projects. Slowing down when starting a new job or role will help you produce high-quality work and prevent ADHD burnout.
Drop the Mask - Be honest with your employer and friends. Let them know that although you seem to keep up internally, you struggle. Identifying ADHD burnout from the outside can be extremely difficult. Your honesty and transparency will position you to determine if your environment is supportive and inclusive.
How to Support Colleagues Dealing with ADHD Burnout
The experiences above may not resonate with you personally, but perhaps you've noticed other people you work with describe or experience them.
If you're a manager, there are several ways you can support colleagues with ADHD (as well as neurodivergent employees more generally) to help prevent burnout. Ask for clarity on when they have felt the most supported at work. Discovery questions like, "how did you feel at that time?" or "how was the pace of that project?" can help you to understand their actual capacity.
Download this free guide
if you're looking for more ways to support your neurodivergent coworkers. Work with your DEIB and HR team to develop new neurodivergent inclusivity standards to help you stay ahead of the ADHD burnout cycle.
READ MORE AND DISCUSS
Show less
Loading...