GET EMAIL UPDATES FROM POWERTOFLY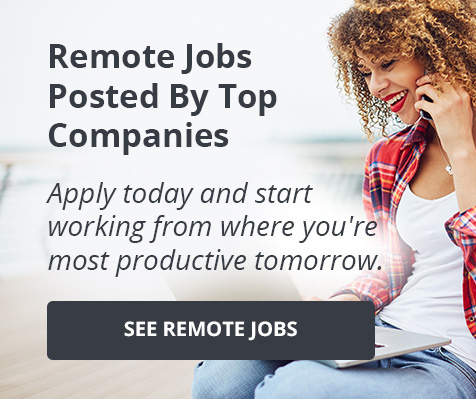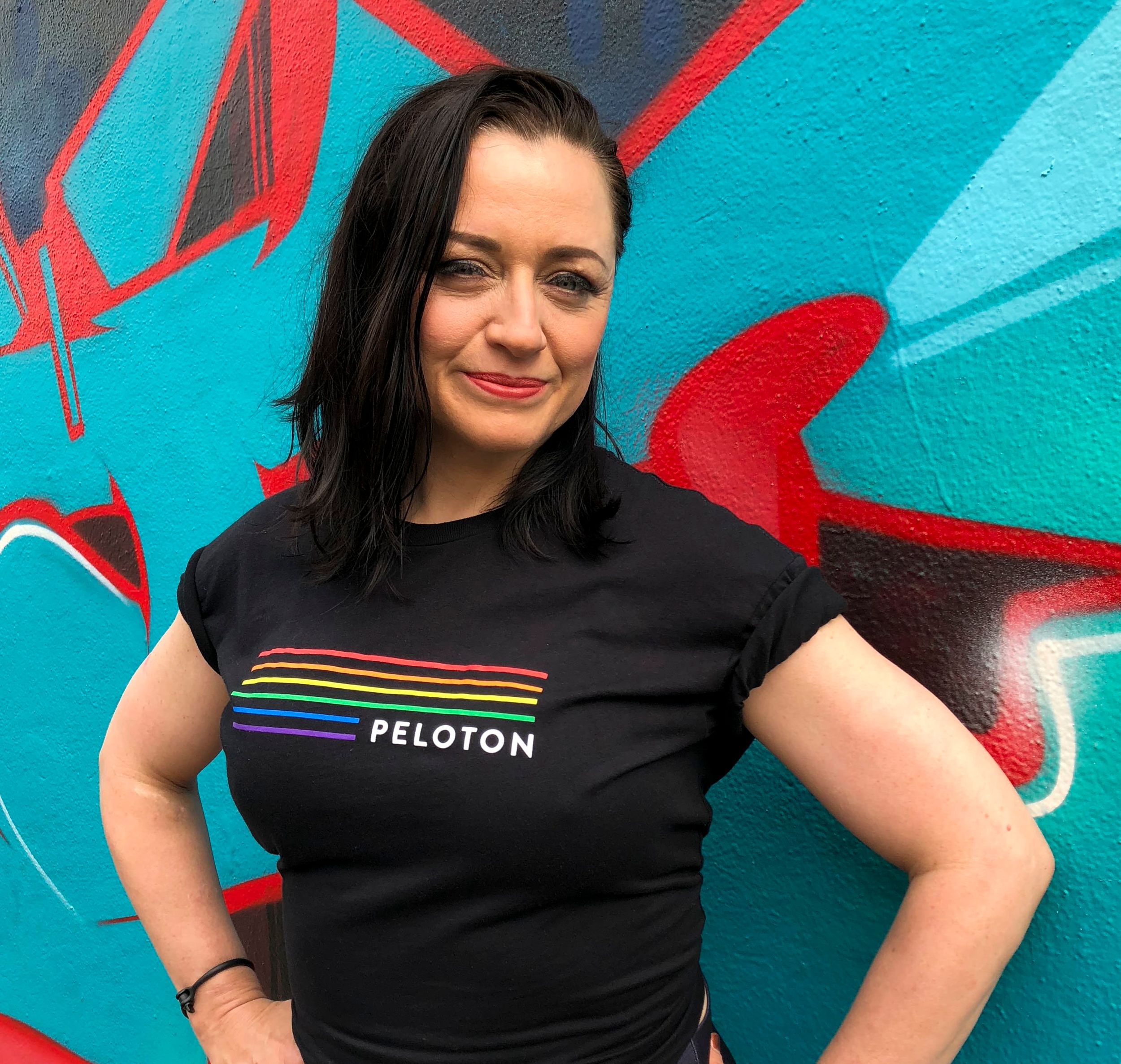 November 25, 2018
Peloton
Celebrating Pride With The Peloton Team
Below is an article originally written by PowerToFly Partner Peloton, and published on May 31, 2018. Go to Peloton's page on PowerToFly to see their open positions and learn more.
TRAVIS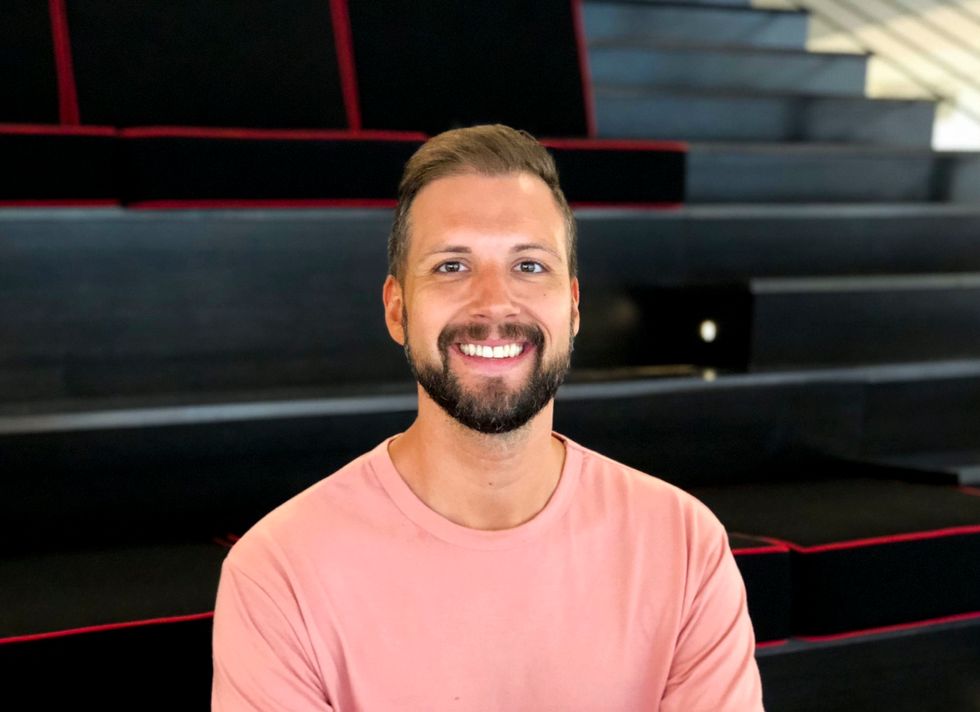 What does Pride mean to you?
Pride gives me the courage and confidence in myself and my tribe to continue to be proud of oneself. It's a moment out of 12 months a year that the LGBTQ community gets to come together and rejoice in the honor and pride we share as one.
What do you wish people knew about Pride?
That people knew that Pride is more than rainbows. There is a deep, rich and awe-inspiring history that has to lead us to where we are today and without those brave souls who stepped forward with passion, we as the LGBTQ community wouldn't be as accepted as it is today. There is still work to be done, just like anything else but there is a solid foundation to build upon.
What's your favorite Pride memory?
My favorite moment has to be in 2016 when the Supreme Court voted to legalize Gay Marriage in the United States. Being in New York it was a celebratory and exuberant day and weekend shared with loved ones from around the world.
How does Peloton support you in bringing your full self to work?
Every day I get to walk into any Peloton studio or office with my head high and my chest proud that I can be completely me. Being accepted for my individuality is one the greatest blessings I receive daily. I am known for my fashion-forward style and to truly know that it's okay to wear you and it feels so good.
How are you celebrating Pride on the bike this month?
Every time I hop on the Bike or Tread this month, I will be uniting with my fellow Peloton Members as we all work out towards a goal of feeling good mentally, physically and in spirit.
What are you most proud of in your life?
I am most proud of discovering and rediscovering my true raw being. Through my childhood a lot of burdens and roadblocks where presented in front of me and while I never knew where I would end up the next day I always knew deep within me that my dreams would become reality. Today, I can proudly say that they are coming to fruition from my co-creation.
CHRISTINE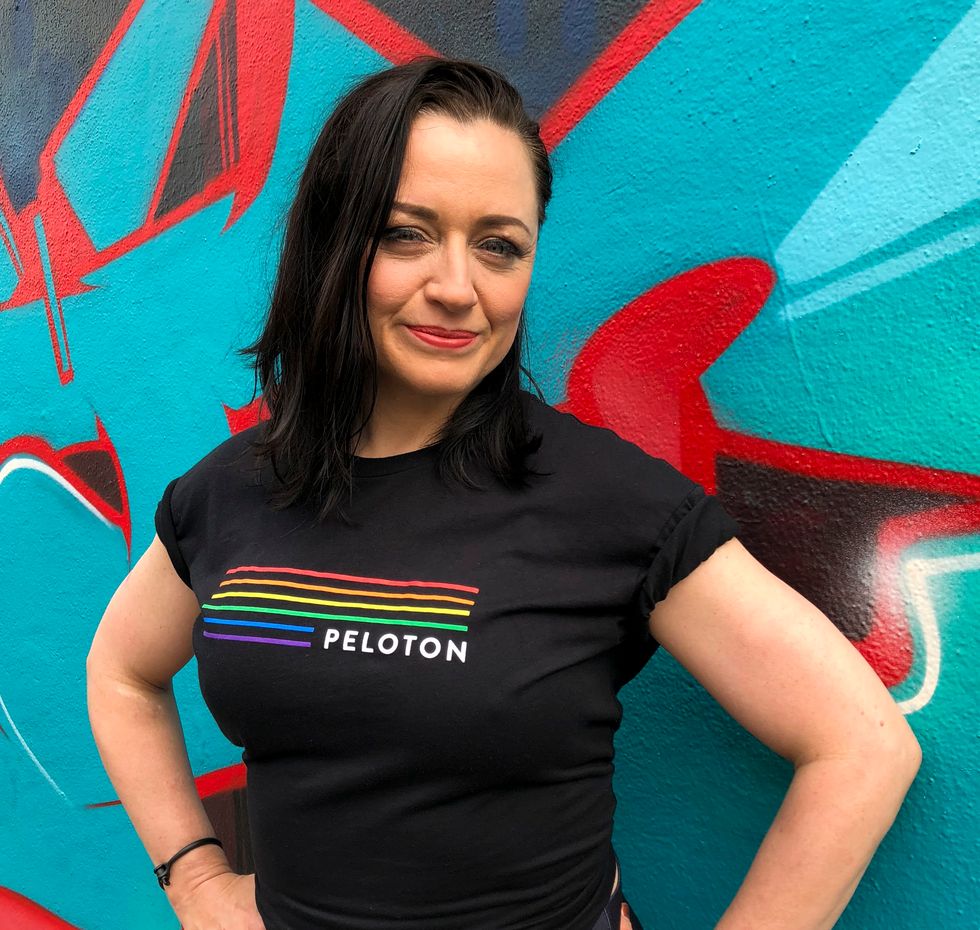 What does Pride mean to you?
Pride means speaking your truth even when it's something scary, taking a deep breath and listening to your gut – because your gut always knows. Allow yourself to actually say what's true for you.
How are you celebrating Pride this year?
I am celebrating Pride this year by getting back on my bike to race another season, going to national championships, going to world championships, and hopefully this time: gold!
How are you celebrating Pride on the bike this month?
I am celebrating Pride on the bike this month with a Pride ride, I cannot wait!
What's your favorite Pride memory?
My favorite Pride memory is when I took my daughter to the parade and it opened up all the possibility of people being able to express themselves and their absolute truth and be completely free. Her face lit up at the freedom of the dance and the costume, the joy, the fun and the play. That was one of my favorite memories.
How does Peloton support you in bringing your full self to work?
Peloton supports and encourages real-ness. We share our life, our stories, bringing our full selves to our riders every day. And I believe it's that principle of authenticity that we all operate from, that fosters the strength of the community we have created here.
What are you most proud of in your life?
I am most proud of every moment I was scared to do something and did it anyway. I am most proud of speaking my truth. I am most proud of how this has affected my daughter's perception of the world she lives in. She is growing up in a world where she sees that there are closets and that people are always in progress. They live inside and outside of those closets and that some closets have more than one door and that no one is to be judged.
NICK LORENZINI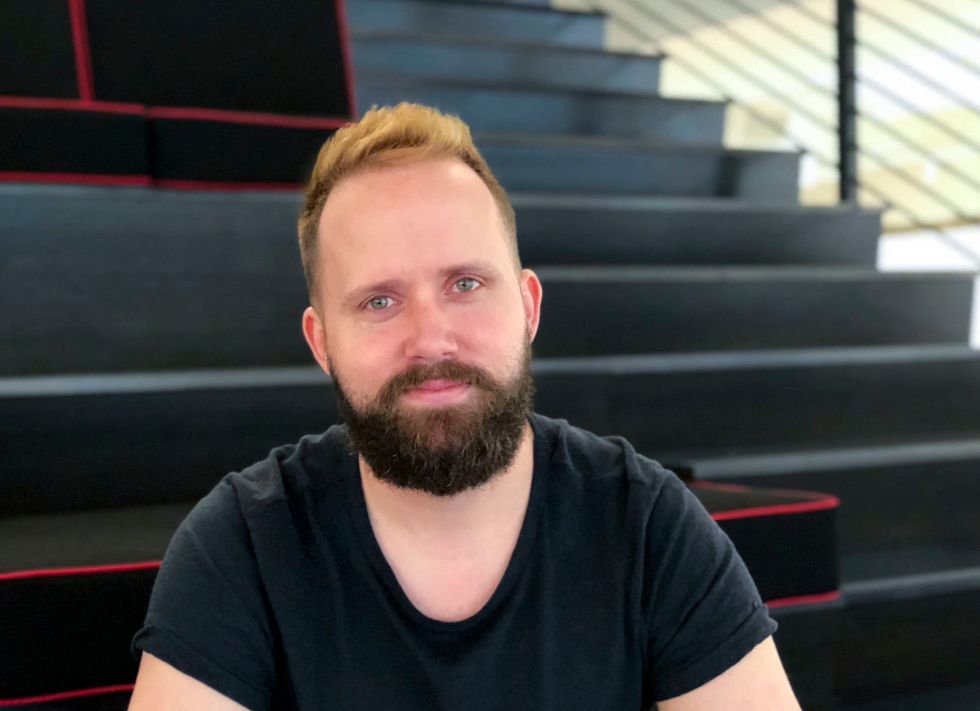 What does Pride mean to you?
Pride to me is a full-blown celebration of self-love. You betta work!
What do you wish people knew about Pride?
That any and all humans are welcome. The point is acceptance, equality and truly looking at others and appreciating them for their differences. The differences that make the world a beautiful place.
What's your favorite Pride memory?
My first Pride in NYC 2012. It was overwhelming and really made me realize how incredible NYC was. Seeing thousands of people flock to the streets for the sole purpose of having a good time and spreading love and PRIDE.
How does Peloton support you in bringing your full self to work?
By creating such a warm, all-inclusive environment. It's the little things such as proudly and loudly taking a big part in Pride. It's the team meetings where equality and diversity are often main talking points. It's all of the progressive, lovely humans who set the tone each day here at HQ.
How are you celebrating Pride on the bike this month?
I'm hoping to get into a class at the studio! If I could be in a Jess King, Live DJ, Ride during Pride…I think I would explode…..or turn into a Unicorn…or both.
What are you most proud of in your life?
The beautiful people I've encountered and am fortunate enough to call my family and friends.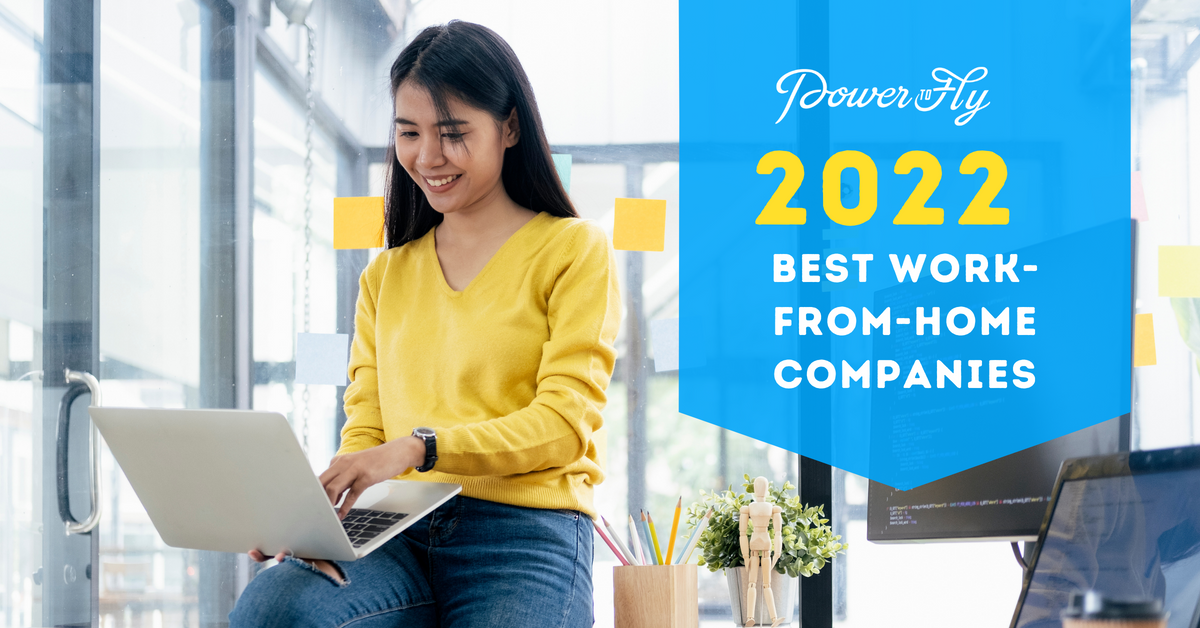 Featured Post
Every year, PowerToFly creates a list of the best work-from-home companies. Now that over half of the U.S. workforce is remote, compiling that list was a bit more challenging.
This year, we prioritized selecting companies that are remote-friendly—meaning they have both remote and in-person roles—but they have made long-term commitments to hiring and supporting employees who choose to work from home; and we think they have the perks, values, and organizational framework to allow all employees to flourish in their careers, regardless of location.
Keep reading to see our top 15 work-from-home companies for 2022, along with a description of what they do, why we like them, and who they're looking for.
PowerToFly's Best Work-From-Home Companies 2022:
Don't see what you're looking for? Check out a fill list of 5,000+ open remote roles here!
READ MORE AND DISCUSS
Show less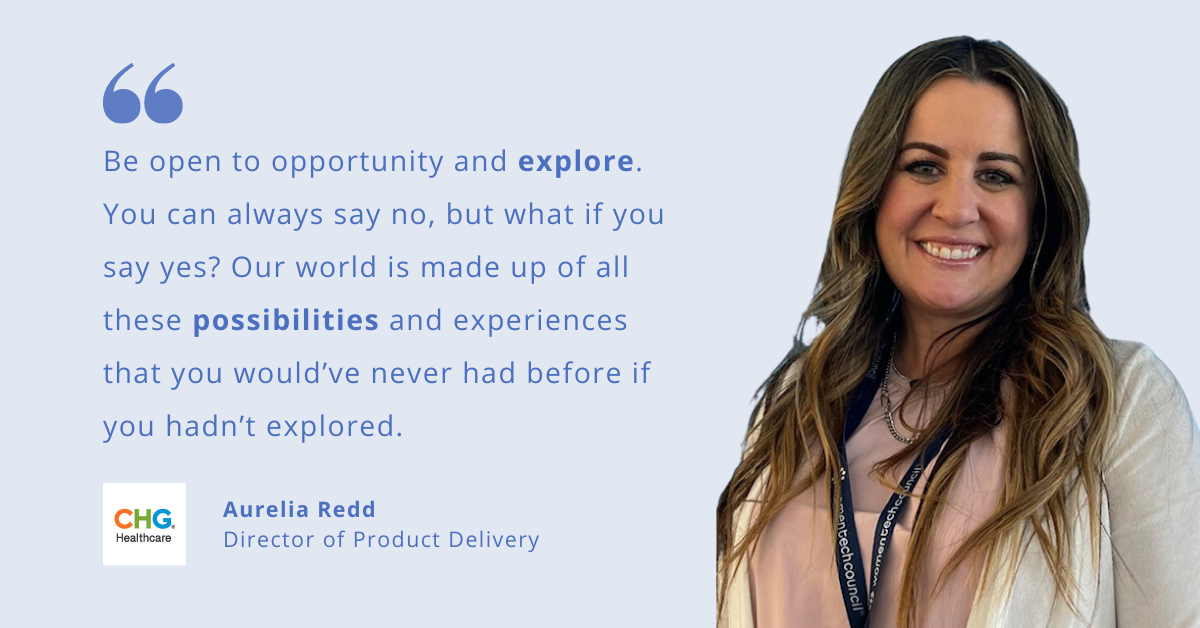 CHG Healthcare
Born and raised in the suburbs of Salt Lake City, Aurelia Redd is a wife, mom, and major fan of building meaningful connections. "I love to get to know other people — it's one of my favorite things in the whole world," Aurelia explains. "I could sit there for hours and listen to somebody who's had a different life than me. I get so excited about that and learn so much."
And as the Director of Product Delivery at CHG Healthcare, she makes it a priority to fortify connections with those on her team so she can understand how they want to grow and challenge them to step out of their comfort zone. Keep reading to hear her unique story and advice on fostering growth on her team.
Experience Will Open the Door
Nowadays, it's easy to get caught up with degrees and certificates to gain qualifications for a role. But Aurelia's career proves that experience in a field is invaluable for opening doors. "I'm a unique case. I was a young mom and I didn't have an opportunity to pursue a college education," says Aurelia. "I built my career on experience and (hopefully) good wit."
But not having a degree has not deterred her from forging her own path and steadily moving up the career ladder to multiple positions of leadership. "I'm so thankful that it hasn't stopped me from the roles that I've wanted to pursue," she elaborates. "The companies that I've worked for see me as a person and appreciate my experience."
She considers herself a life learner and has earned a number of certifications and trade classes throughout her career. "I love to learn and I never want to stop learning," she says. And she's excited to make it official. "My goal is to have my bachelor's degree by the time I'm 47 years old, she says. "It's never too late."
Jumping Into Opportunities
Healthcare and business first sparked Aurelia's interest in high school when she joined the Health Occupational Students for America and Future Business Leaders of Americas clubs. So when it was time to join the workforce, she looked for an opportunity where she could pursue both fields. That led her to a role as a customer service representative at a major health insurance company.
Over her 20 years at the company, she worked her way into many roles in various departments, including operations, claims processing, and supervisory roles. "After a while, I wanted to move up to a manager position." In a timely manner, a woman director from another department nudged Aurelia to apply for an open position as configuration supervisor.
"I knew nothing about configuration, like zero," says Aurelia. "But she told me, 'I'm not looking for somebody who knows configuration. I need a supervisor. You really should consider it.' And that changed my whole career — her stopping me and telling me I should consider something different."
This growth mindset led Aurelia to pursue multiple leadership roles and opportunities, eventually leading her to CHG Healthcare. CHG is a leader in healthcare staffing and the nation's largest provider of locum tenens services. They stand out because of their Putting People First value, which instantly attracted Aurelia. Frustrated with some things about her previous company, she wanted to find a place where her values aligned with her work place.
"I realized I was at the point in my career where culture, core values, and inclusion were so important to me." Aurelia says she interviewed with amazing people at the company, which convinced her to accept an offer soon after. "I've never looked back."
Culture Is Crucial
The mission at CHG Healthcare is to "make a difference in the lives of those we serve." They're committed to implementing benefits and strategies to "increase employee happiness and engagement." Some of these benefits include flexible schedules, onsite health clinics and gyms, tuition assistance, paid volunteer time, family-friendly benefits, rewards, and more. What really stands out about CHG, though, is its culture.
"Everyone pulls their weight. There is a willingness to help, and because we are pretty much all high achievers — every person brings their best self to work every day," elaborates Aurelia. The emphasis on servant leadership gives people the space to try new things and grow. Aurelia facilitates this growth mindset through her own leadership.
"As an individual, I play a role on so many different teams. So my days look different depending on which priority is coming up that week," she explains. Aurelia has several responsibilities, including meeting with individuals on a one-on-one basis and cultivating relationships across the organization. She also collaborates with product teams on strategic initiatives, coaches and directs the delivery leadership team, and works to build functional maturity on delivery.
As the company has grown, so has the technology they've released. And Aurelia leads a team of people who make sure those releases are well adopted on other teams. "I started on the project implementation team to help with change management and business readiness, so that we have high adoption and long-term sustainment," she explains. She built that team and led them through reorganizations, and has recently been able to transfer responsibilities to her delivery leadership team. . "They don't need me in the day to day operations anymore. They're doing a great job," says Aurelia. "I now get to be a servant leader to my leaders that are leading the individual contributors. And that allows me to work across the digital organization on other things like growth and development for our employees and leadership development opportunities. The growth and new opportunities have been so much fun!"
Apart from her daily responsibilities, Aurelia is constantly trying new things, such as creating and leading a coalition for women in tech leadership in 2020, where women got together to talk through different issues and provided each other with support. She encourages this kind of outside-of-the-box mindset by encouraging her teammates to be creative and find opportunities to serve others.
Fostering Growth
"I do believe that one person can make a difference in the world," says Aurelia. Because of this, she strives to find practical ways to challenge others to get out of their comfort zone. She gives us three tips:
1. Invest in your relationships. "Don't make assumptions about people. Ask questions, clarify their intent, and give the opportunity to answer and self-assess. This helps save so much time and unnecessary miscommunication, especially in our fast-paced virtual world," says Aurelia. "Having really good relationships with people is a great way to grow through a network, because you learn through other people's learnings and mentorship."
2. Let curiosity fuel you. "Eleanor Roosevelt said one of my favorite quotes of all time, 'Do one thing every day that scares you,'" she says. "Whether that's reaching out or asking a hard question, it's really important." To remind her to do this, Aurelia has a sign on her computer that says, 'Do one thing that makes a difference.' "If you're doing the same thing every single day, you're going to stay where you are and things are gonna keep going where they go," she elaborates. "You don't have to change up your whole world, but you can do one thing that you've never done before."
3. Always be open to opportunity. "You don't know when the next opportunity will come from, what space it has, or what shape it has," says Aurelia. "It's so fun to be open to opportunity and explore. You can always say no, but what if you say yes? Our world is made up of all these possibilities and experiences that you would've never had before if you hadn't explored."

CHG continuously gives its employees chances to grow, just like Aurelia. If you're interested, check out their current job openings here.
READ MORE AND DISCUSS
Show less
Loading...