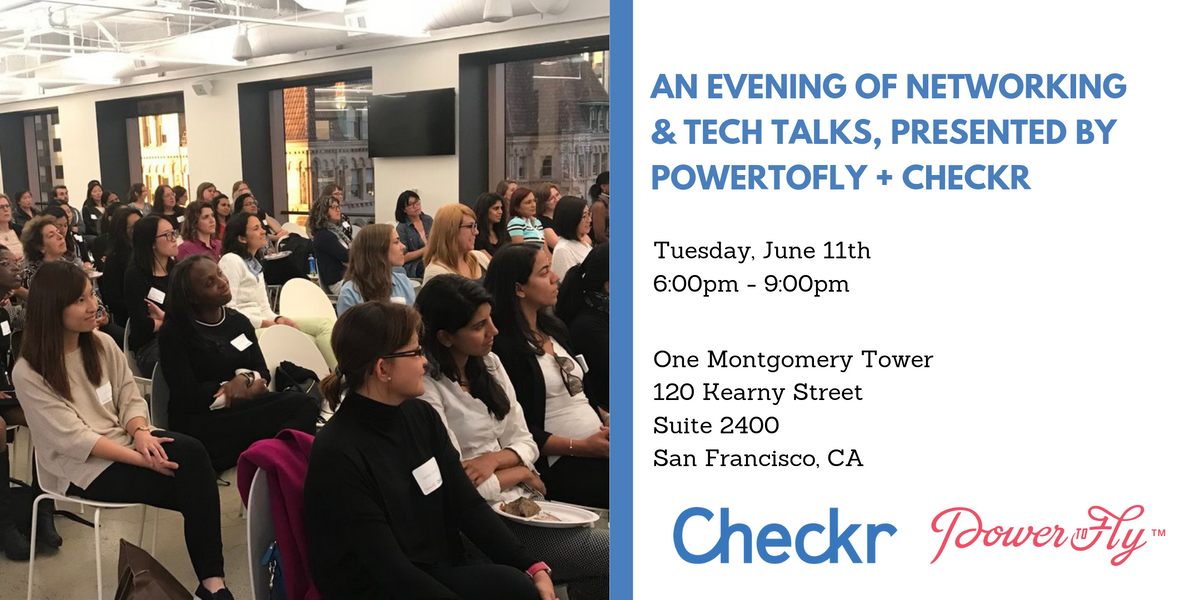 Checkr
If you live in the San Francisco area and you are interested in attending this event, please email events@powertofly.com to be considered for an invite.
After a sold-out event with Checkr's engineering team last year, PowerToFly have re-teamed with Checkr to present another invite-only evening of tech talks and networking with an impressive roster of women tech leaders.
The event will take place on Tuesday, June 11th from 6pm to 9pm at Checkr's HQ, located at 120 Kearny Street, Suite 2400, San Francisco.
---
Agenda (subject to change)
6:00pm - 6:25pm - Networking & Food
6:25pm 6:30 - Kickoff with PowerToFly
6:30pm - 6:40pm - Welcome message from Checkr's Co-founder & CTO Jonathan Perichon
6:40pm - 7:20pm - Tech Talk featuring: Melissa Lau & Ben Jacobson

API & Communication

We have found some limitations in only using JSON-based RESTful APIs to communicate between services. Moving to gRPC has allowed us to better document interfaces and enforce stronger boundaries between services. In this session we will share the lessons we have learned while incorporating gRPC into our application, walkthrough setting up a new rails project with gRPC support, and how we plan to expand our usage of gRPC in the future.

7:20pm - 7:30pm - Audience QA
7:30pm - 8:00pm - Tech Talk featuring: Faye Cheng & Katrina Lee

SAML, SSO & You

Ever wonder what mechanics lie behind Single Sign-On (SSO)? How you can log into an application once, and find yourself automatically logged in when you access another? Here at Checkr, the Identity team is enabling SAML integrations with our partners to achieve just that. SAML is a standard protocol used by web browsers to enable SSO through the use of secure tokens. We'll discuss how SAML allows for a safe exchange of authentication and authorization data between parties, and how browsers can trust and protect your identity information across applications.

8:00pm - 8:10pm - Audience QA
8:10pm - 9:00pm Networking
Why You Should Get to Know Checkr:
Checkr is making waves with their innovative hiring process! They're a platform that makes it easy for thousands of customers to hire millions of people every year. Today, only five years after Checkr started, the company is running one million background checks per month for more than 10,000 customers, allowing them to create a more efficient hiring process. Their impressive list of clients include Lyft, Grubhub and Zillow.
How You Fit In:
You may or may not be looking for new opportunities at the moment. Either way, we want you in the room with us! Also, Checkr is hiring, so we want to introduce women like you to their team and share stories and conversations.Their amazing benefits include flexible paid time off, meaningful equity, catered lunches, hands-on coaching and professional development, 12 weeks of paid family leave, and wellness & gym membership reimbursements.
Check out photos from our recent Checkr event HERE. Here is what one attendee had to say about our past event with Checkr: "I enjoyed the speakers and the content presented was great. I liked that the topics revolved around understanding women and diversity and how the company culture is fitting to involving more women. It looks like a very good company and full of great people."
About our Events: All RSVP'd attendees are welcome, regardless of race, color, religion, national origin, gender identity, pregnancy, physical or mental disability, or age. If you require accommodation to fully participate in this event, please email hi@powertofly.com, and we will contact you to discuss your specific needs.
Unfortunately, PowerToFly and Checkr cannot admit outside recruiters to this particular event. Please email hi@powertofly.com if you have any questions about this policy.
From Your Site Articles
Related Articles Around the Web
Pax8
💎 How to build trust in your team? Watch the video to the end to find out!
📼 How should you work to build trust in your team? Play this video to get three top tips that will help you. You'll hear from Veronica Setzke, Senior Director of People Ops at Pax8, who shares tips and tricks she learned through years of coaching.
📼 How to build trust with peers in your team? Tip #1: Relationships. There's no better way to start forming relationships than having regular one-on-ones. It doesn't have to just be with your supervisor. It can be with your coworkers. It can be with those people that you collaborate regularly with. And it's really important in these one-on-ones that we're spending time listening. Take the time to be present and listen. Also, spend time together not working. Have lunch together. Go for coffee. Take a five-minute walk around the building and just have a conversation. Relations are a key element to trust!
📼 How to build trust? Open yourself in your team Tip #2: Vulnerability. Allow yourself to be vulnerable. Ask for feedback, whether it's feedback about a project, a process, or even maybe a leadership behavior that you're trying to master. This allows those on your team and those around you to see you as willing to be vulnerable. Trust and vulnerability go hand in hand. It doesn't mean that you're weak, but rather that you're open. It allows your team to understand that it's a safe place for them to also be vulnerable.
How To Share To Build Trust In Your Team - Tip #3: Clear Is Kind
Keep the team informed and say as much as you can about what you know. There are times that we hold information that could be shared. We could share that information that impacts others' work and have them have the opportunity to use that to do better. If you've learned something that could help your colleague make a better decision, share that! Try to ensure that your communication with others is clear. When you make the effort to be clear about your intentions, your work, and your roadblocks, it opens others up to do the same.
📨 Are you interested in joining Pax8? They have open positions! To learn more, click here.
Get to Know Veronica Setzke
She works as a People professional because she sincerely believes that people want to be excellent, and it is her role to help move the obstacles to their achieving success. She believes the employees deserve a culture that values their work and will respond to such a culture by creating amazing results. If you are interested in a career at Pax8, you can connect with Veronica on LinkedIn. Don't forget to mention this video!
More About Pax8
The company simplifies the way organizations buy, sell, and manage cloud solutions, empowering its partners to achieve more with cloud technology. At Pax8, they know that they are only as great as their people. They realize that every individual has unique personal and professional aspirations, which is why they strive to offer a complete and competitive Total Rewards offering for their members and family.
READ MORE AND DISCUSS
Show less
Loading...