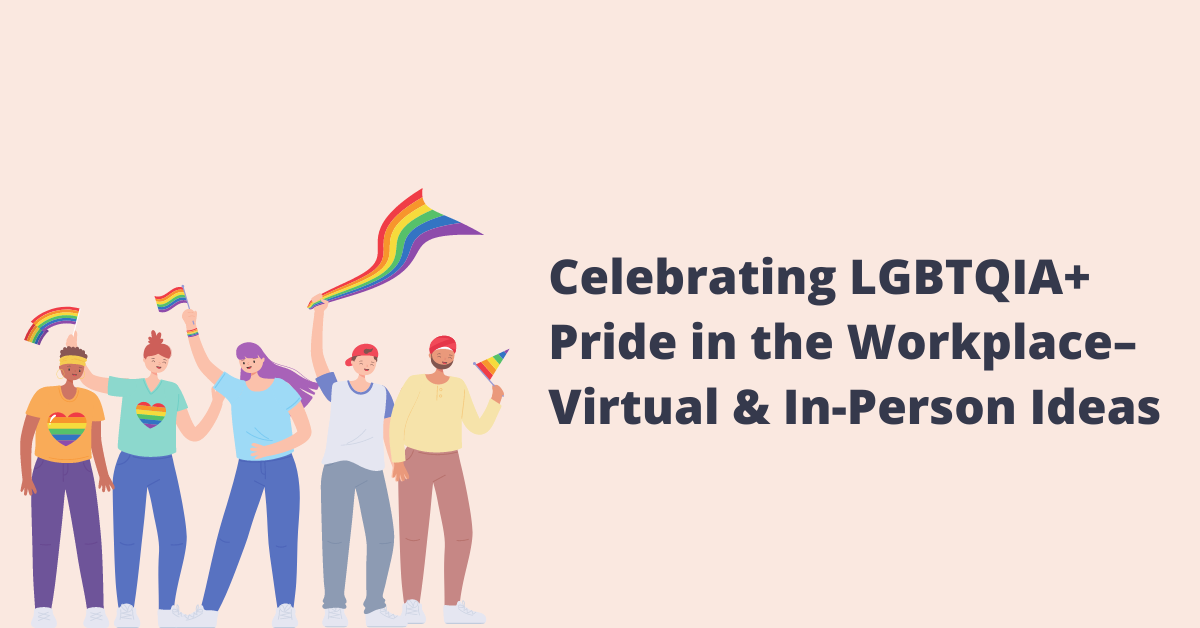 Diversity, Equity, and Inclusion
So much has changed in our workplaces over the past year, but the importance of DEIB hasn't. And neither has the importance of highlighting the value that each unique team member brings, no matter how they identify. June is LGBTQIA+ Pride Month — a perfect opportunity to put this into practice and celebrate the identities and intersectionalities of your LGBTQIA+ team members and allies.

This year, with some of us returning to the office and others staying remote, Pride celebrations might look different for everyone. So we asked some of our partner companies to see what they're doing to celebrate LGBTQIA+ Pride Month in their organizations. Keep reading for some ideas so that your remote, hybrid, and in-person teams can learn, uplift, and grow together while celebrating Pride Month 2022 — virtually and in person!
Clyde — launch an ERG
"Clyde just launched our newest ERG group, Pryde, to foster a welcoming culture and inclusive, safe environment for LGBTQIA+ employees, allies, and advocates. Pryde has been hitting the group running with the hopes of rolling out the following initiatives for the upcoming Pride month:
Highlighting internal benefits available such as mental health resources, 3-month paid parental / caregiver leave, and coverages accessible for transgender individuals.
Rolling our Understanding through Inclusion Series that focuses on weekly themes such as celebration, global perspectives, allyship, etc.
Launching a Pride Month Calendar filled with fun facts, resources, and upcoming internal events such as a Chicago / NYC event to benefit local LGBTQIA+ organizations.
Pryde is excited to support, foster, and further celebrate our culture that surrounds the LGBTQIA+ identities at Clyde."
Learn more about Clyde here.
CDW — amplify employee voices on social media

"Pride Month gives us the opportunity to celebrate the many accomplishments and contributions the LGBTQ+ community has made throughout the world and within our organization. Our Business Resource Alliance Valuing Equality (BRAVE) Business Resource Group is planning multiple events with the theme 'Family Matters' including a coworker panel discussion, a keynote speaker event featuring LGBTQ+ rights activists and a networking social event. Additionally, we will be amplifying coworker voices internally through an email campaign and externally on @CDWCareers social media."
Learn more about CDW here.
Samsara — volunteer with a local charity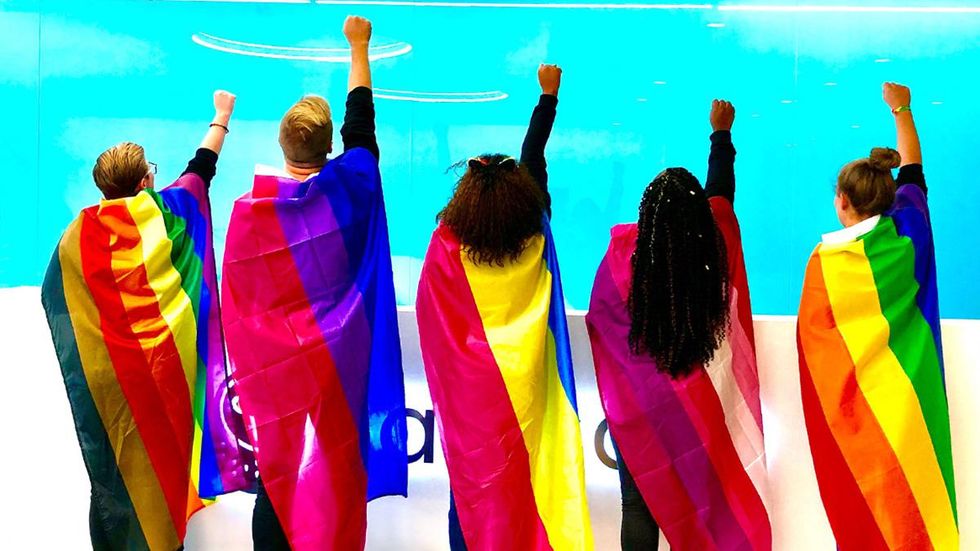 "This Pride Month, Samsara's Pride ERG and People team recognize the unique paths that have brought us together, the differences that make our strengths, and that we can accomplish anything through unity. Samsara will host a Q&A for the Pride ERG and allies to explore themes around trauma, belonging, and the human condition. We are partnering with Habitat for Humanity Bay Area—volunteering over several days in June. And lastly, we will have Pride celebration events, fun swag, trivia, and remembrances to celebrate and honor the history that has brought us here today."
Learn more about Samsara here.
Riot Games — showcase LGBTQIA+-themed content

"All of Riot's games will be celebrating Pride with unique in-game content. We want all players to feel their identities are represented. No matter where you live, who you are, or who you love, we want to make sure you can see yourselves while you play.
Our offices around the world will also be celebrating Pride in their own ways. For example, Rioters at our main campus in Los Angeles will be participating in the West Hollywood Pride Parade and Rioters in Brazil will be putting on a series of tournaments featuring players from LGBTQIA+ communities."
Learn more about Riot Games here.
UKG — join a local Pride parade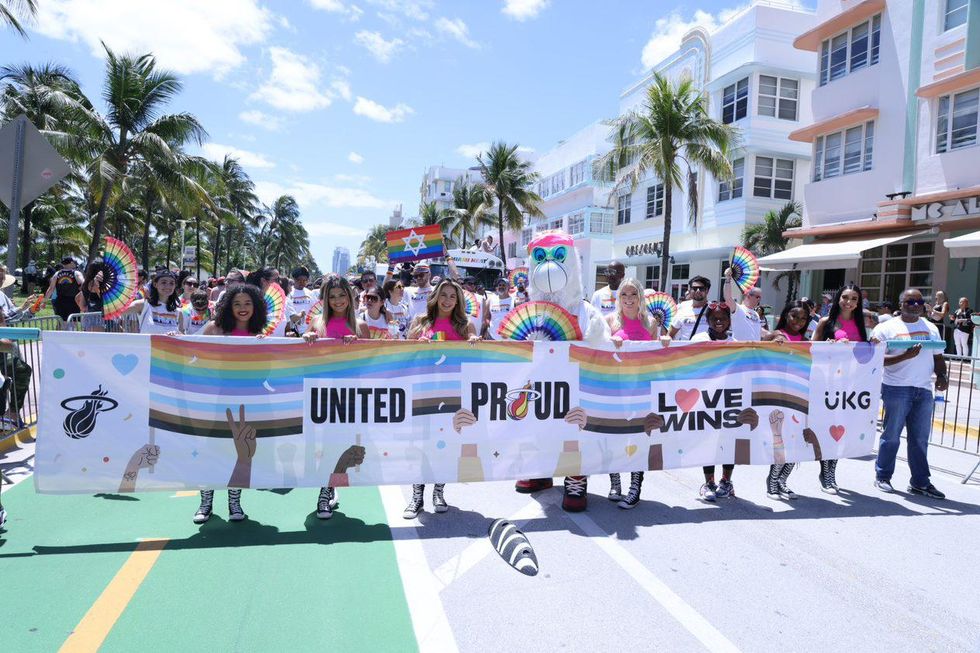 "At UKG, our Pride theme in 2022 is "Authentically U." Authentically U empowers you to live and celebrate your life authentically, whether you identify as lesbian, gay, bisexual, transgender, gender non-conforming, or an ally. The employee resource group PRIDE at UKG strives to create and foster inclusivity amongst our employees (also known as U Krewers) and will support special programming and events throughout June — such as local parades, webinars, and articles spotlighting U Krewers. We celebrate Pride all year, so follow Life at UKG on LinkedIn, Twitter, and Instagram for photos and stories."
Learn more about UKG here.
AlertMedia — host an in-office Pride celebration
"AlertMedia is excited to sponsor with Austin Pride this year and participate in the annual parade and festival. We will also be hosting a Pride event in-office so that our employees can celebrate National Pride Day together. This event will include food and goodies from local LGBTQ+ owned businesses.
In addition, our team has created Pride-themed Zoom backgrounds as well as t-shirts for those who want to show Pride all year-long. Lastly, we are thrilled to continue our partnership with our non-profit partner, Out in Tech, as well as kick-off one of our first Employee Resource Groups, LGBTQ+, in June!"
Learn more about AlertMedia here.
Teachers Pay Teachers — screen some LGBTQIA+ films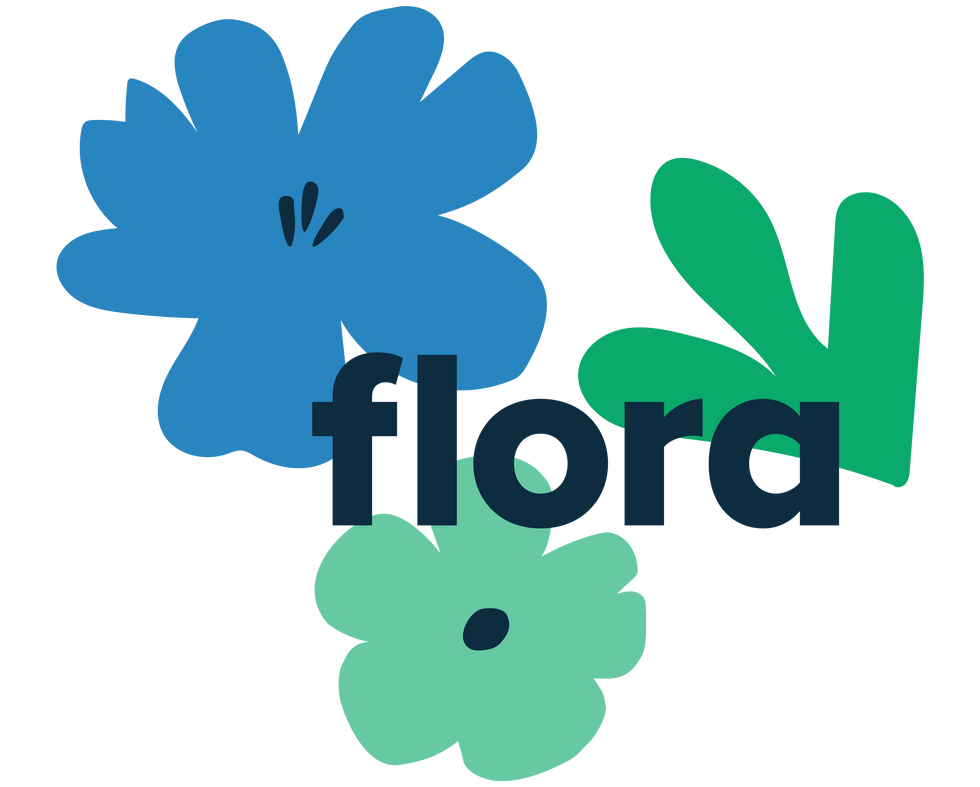 "TpT is excited to celebrate Pride Month with the help of Flora, our employee resource group for LGBTQ+ employees & allies! This year, Flora has several activities planned, including virtual Drag Bingo with Marti Gould Cummings, an in-person Happy Hour, astrology readings, and screenings of LGBTQ+ films. Flora will also co-sponsor a company-wide discussion on Florida's Parental Rights in Education bill.
Throughout Pride Month, TpT will also be highlighting and celebrating members of our Teacher-Author community who identify as LGBTQ+."

Learn more about Teachers Pay Teachers here.
Workiva — advocate for LGBTQIA+ rights by donating to local organizations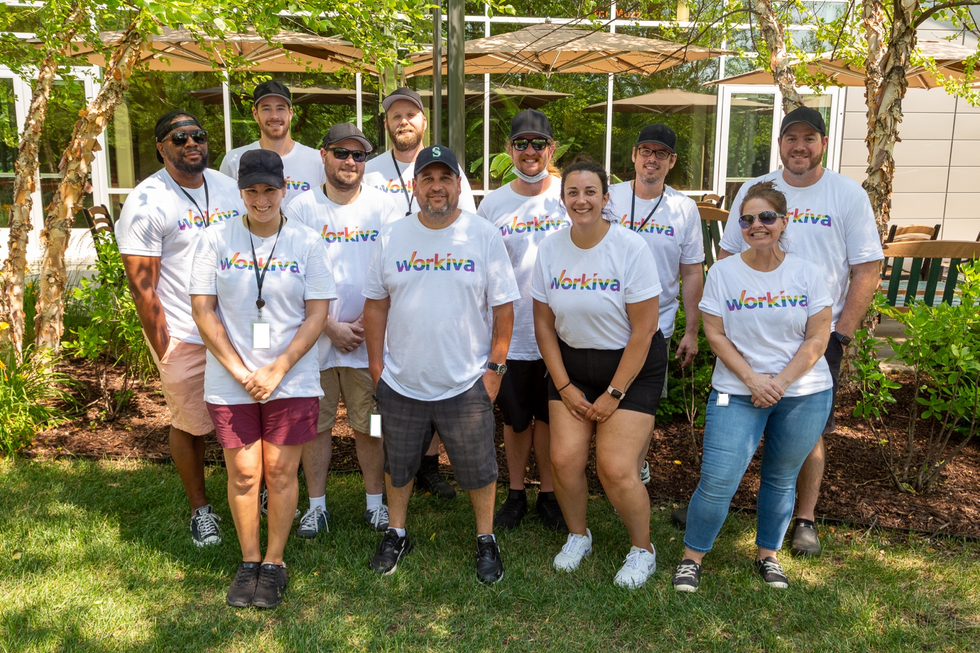 "To celebrate LGBTQIA+ Pride Month, Workiva is proud to participate in two local Pride parades in cities where our employees live and work. Employees in these locations – Denver and Amsterdam – also plan to support the cause by joining the parades and representing Workiva. Our Rainbow Business Employee Resource Group (BERG) will be sharing more about activities and ways to support the community on our company-wide intranet throughout the month. And we'll also work to advocate for LGBTQIA+ rights and amplify the voices of the community by sharing opportunities for employees to give back – both financially and through volunteerism to charities."
Learn more about Workiva here.
BlackRock — run workshops to amplify Pride beyond the workplace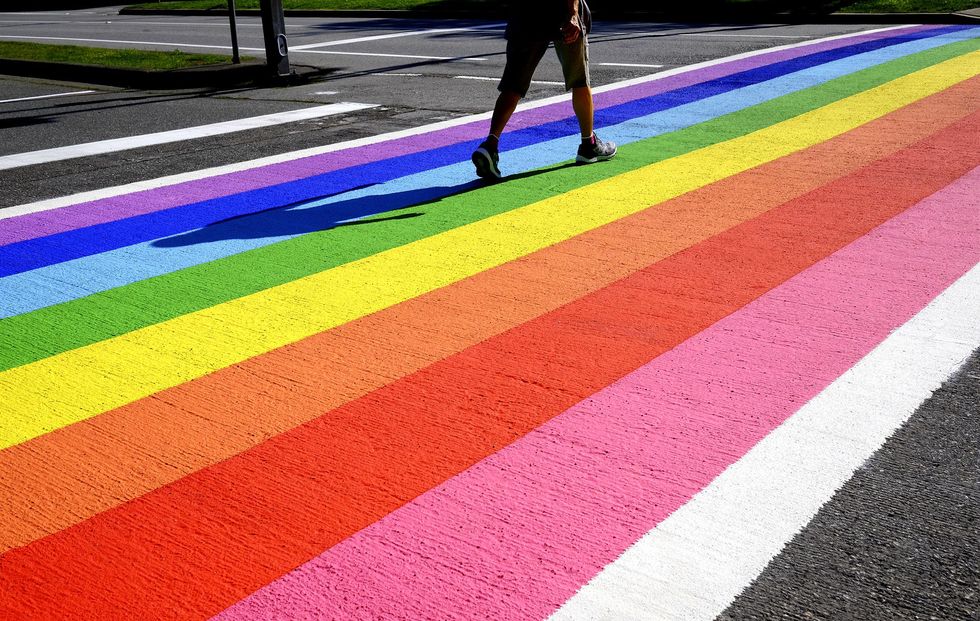 "This year, BlackRock is celebrating Pride Month throughout June under the theme, "Standing with Our Pride." Our employee network, Out & Allies, will host events, run workshops and fundraise for LGBTQIA+-focused nonprofits to amplify pride beyond our walls. It is important that we foster a workplace that is safe and inclusive, allowing for expression and celebration."
Learn more about BlackRock here.
Elastic — host a hybrid drag bingo happy hour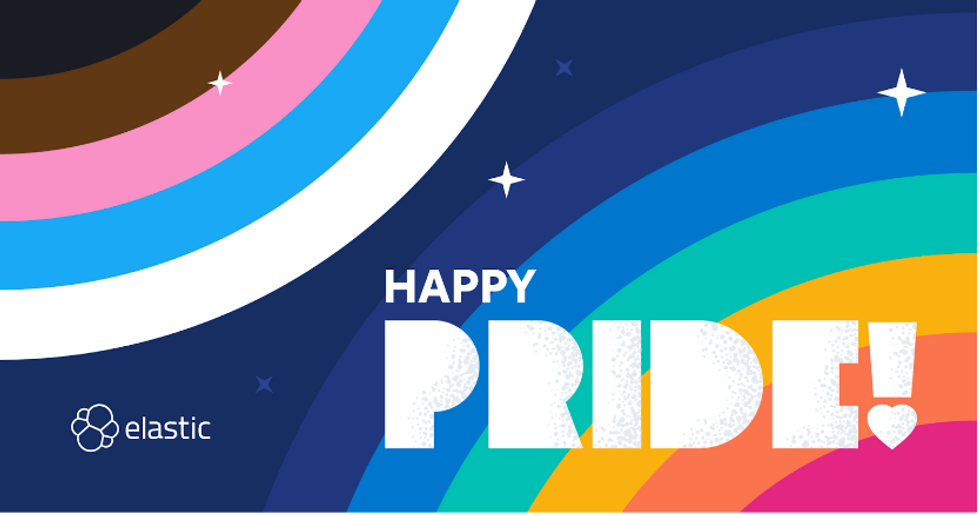 "Here at Elastic, "As You Are" is one of our values, what we refer to as our Source Code. We also believe in giving back and supporting the communities where we live and work.
Driven by our Rainbow Stack ERG, this Pride season, we will be pairing volunteer opportunities with special celebrations to encourage EVERYONE to come "As You Are" and take tangible steps to support our global LGBTQIA+ community. This year Elasticians will have access to volunteer opportunities in offices, donation opportunities, newly designed Pride stickers, and drag bingo happy hours locally (and virtually, all over the world)."
Learn more about Elastic here.
Thumbtack — host a virtual drag show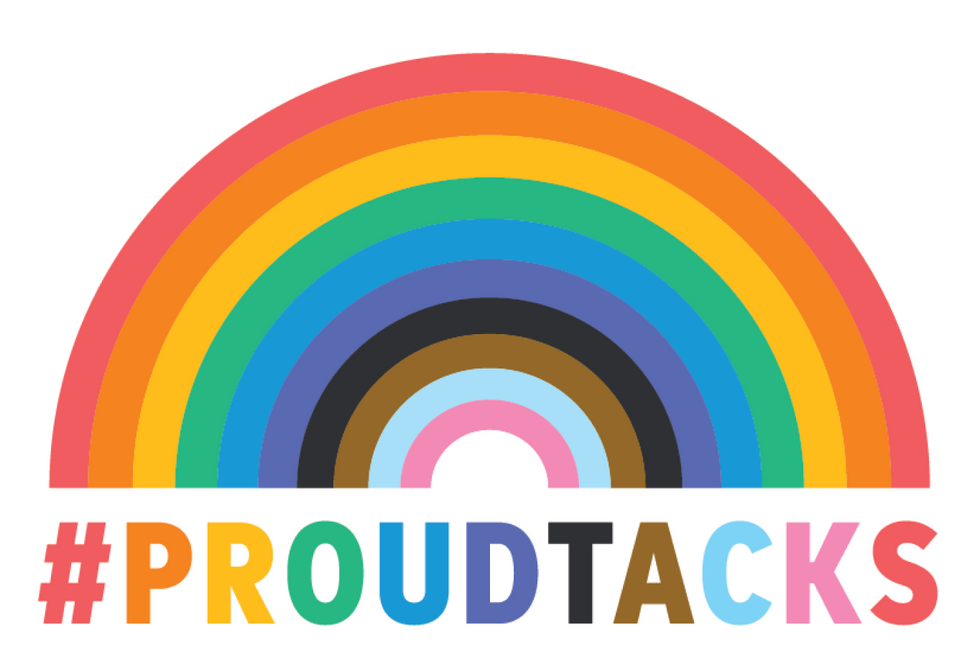 "Every year, Thumbtack's Proudtacks employee resource group leads our Pride celebration by creating company-wide events for our virtual-first employees! Our 2022 events include a virtual LGBTQ+ themed scavenger hunt and drag show, queer themed trivia, co-sponsored events with other Thumbtack employee resource groups and a happy hour. We also share a variety of queer themed facts throughout the month, such as the history of the Stonewall riots and Pride in the Philippines."
Learn more about Thumbtack here.
SeatGeek — amplify historically underrepresented queer figures
"QueerGeeks, SeatGeek's LGBTQ2SIA+ ERG, is organizing a few different Pride-focused events. We want to thoughtfully engage local and remote employees to make Pride an ongoing, educational, impactful, and celebratory experience. We're writing up content on historically underrepresented queer figures, inviting guest speakers to drop by company meetings, funding transportation to/from local volunteer events, and matching donations to the Trevor Project through our partnership with employee recognition app Bonusly. Thanks to our partners at NY Liberty and Portland Timbers, our members will also get to celebrate at some upcoming games."
Learn more about SeatGeek here.
SoftwareONE — create Pride-themed virtual meeting backgrounds and signature lines
"This Pride month –and throughout the year– SoftwareONE celebrates the contributions of the LGBTQ2IA+ community while acknowledging the unique struggles that many in the LGBTQ2IA+ community still face. We will continue our learning opportunities that focus on the perspectives of marginalized groups by hosting a 21-Day LGBTQ2IA+ equity challenge. Both internally and externally, SoftwareONE will highlight the contributions of our "SWOmies" and other trailblazers who belong to the LGBTQ2IA+ community. And, in a show of support and solidarity, we've created themed imagery, from virtual meeting backgrounds to signature lines, so we may all fly our Pride colors high."
Learn more about SoftwareONE here.
PagerDuty — host a live baking session with a Pride-themed trivia

"PagerDuty's LGBTQ+ employee resource group, RainbowDuty, holds Pride events yearly to educate, encourage community participation and create a sense of togetherness across our distributed team. This year, we will be sponsoring a mix of virtual events:
A panel with participation from external speakers
Partnering with our social impact team on donation matching campaigns for charities
Fun breaks with a live baking session and Pride-themed trivia
"Color-per-day" themed employee pictures during Pride Week, resulting in a rainbow collage featuring our team
Distributing a 2022 Pride t-shirt for employees to wear proudly wherever they go!"
Learn more about PagerDuty here.
PwC — host a Pride Summit watch party
"Throughout June, PwC is building on its culture of belonging through #PwCPride. The Pride Summit is back and PwCers have the opportunity to join in-person at an office watch party or turn in virtually! They'll find sessions featuring business leaders and celebrities who advocate and use their personal experiences to fight for LGBTQ+ equality during the summit. The PwC US National Shine Committee for the LGBTQ+ community and allies will also sponsor Pride Parades across the US and the firm's social media will highlight PwCers sharing what Pride Month means to them. Learn more about PwC here."
Learn more about PwC here.
Splunk — sponsor a LGBTQIA+-centered event
"Splunk's Pride Employee Resource Group has special programming and activities around the theme of: "Chosen Family."
We are excited this year to continue our intersectional celebrations throughout both June and July by sponsoring the inclusive drag festival of Oaklash, matching donations to LGBTQ+ organizations, offering educational workshops with Out & Equal, and speaking again at the Lesbians Who Tech Pride Summit.
Splunkers globally will also virtually come together for a zoom talk with Mercury Stardust the "Trans Handy Ma'am" trans activist and Tik Tok celebrity.
Join us as we build community and lift up our stories together!
#SplunkLife"
Learn more about Splunk here.
T. Rowe Price — educate your employees on fostering an inclusive environment
"This Pride Month, T. Rowe Price recognizes the valuable contributions of Lesbian, Gay, Bisexual, Transgender, and Queer (LGBTQ+) individuals across the world, and we reaffirm our commitment to standing in solidarity with the LGBTQ+ community in their ongoing struggle against discrimination and injustice. We are demonstrating our commitment to creating and sustaining an inclusive environment in respect of sexual orientation, gender and trans identity through global programming to educate and engage our associates and strategic partnerships to drive social good."
Learn more about T. Rowe Price here.
Autodesk — host a trans-inclusion workshop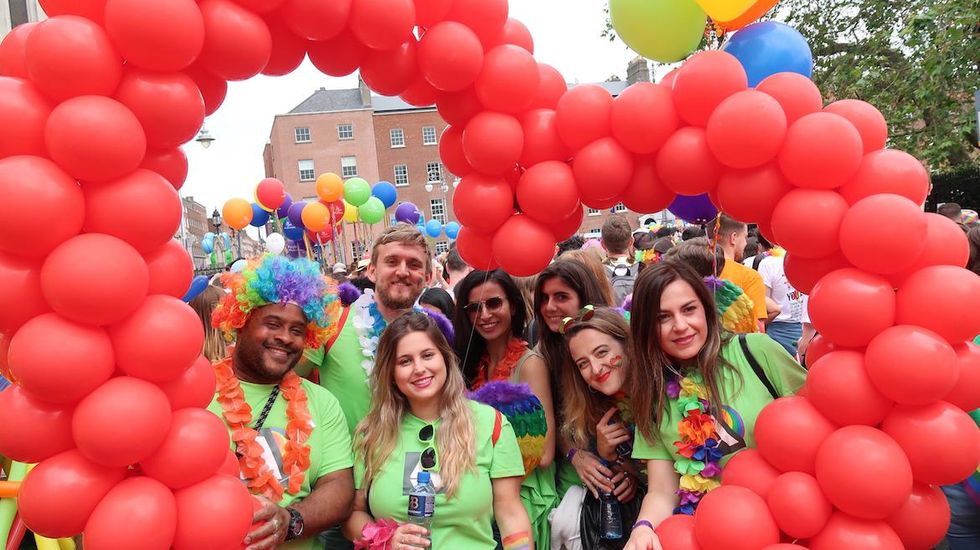 "In celebration of Pride month, Autodesk's Pride Network will be hosting both global and local events focused on the theme of community. Events will include a trans-inclusion workshop, panel conversation in partnership with Autodesk Black Network, and celebration with drag celebrity, Willow Pill. In addition to these internal events, Autodesk is a proud sponsor of this year's Lesbians Who Tech + Allies Global Pride Summit. Rita Giacalone, VP of Culture, Diversity, & Talent Development will present on Building a Culture of Inclusion in a Hybrid Workplace, and our Pride ERG will host a panel talk in our virtual booth."
Learn more about Autodesk here.
ServiceNow — enable employees to FULLY express themselves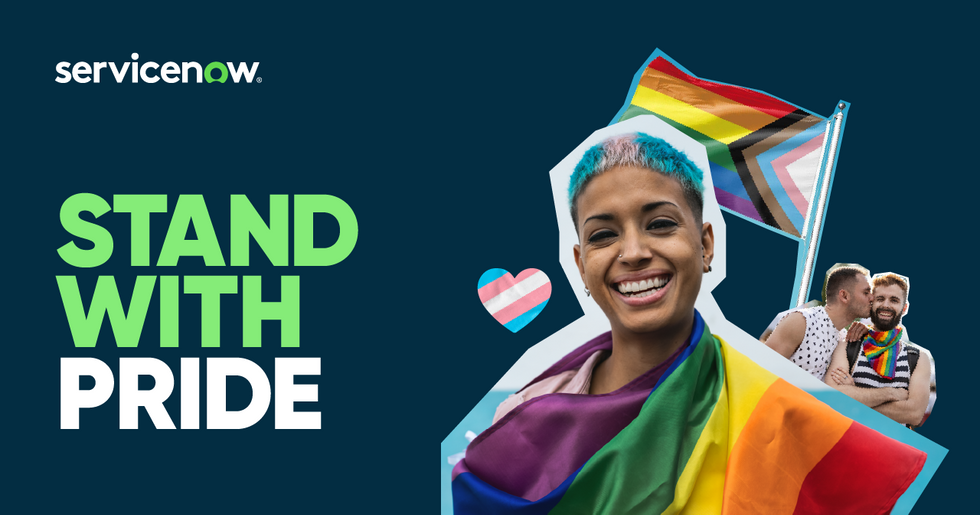 "At ServiceNow, we are committed to enabling our employees to fully and authentically express themselves. We celebrate Pride month today and every day by focusing on cultural awareness about the LGBTQIA+ community, open dialogue about issues the community is facing, barriers to belonging, and inclusive policies. Pride at ServiceNow Belonging Group and external platforms provide a safe space for this dialogue, employee activations, and allyship promotion. See how ServiceNow creates a safe space for LGBTQIA+ employees to embrace and bring their most authentic self to work.
Explore career opportunities with ServiceNow today."
Learn more about ServiceNow here.
Nestlé USA — host a global webcast around supporting safe spaces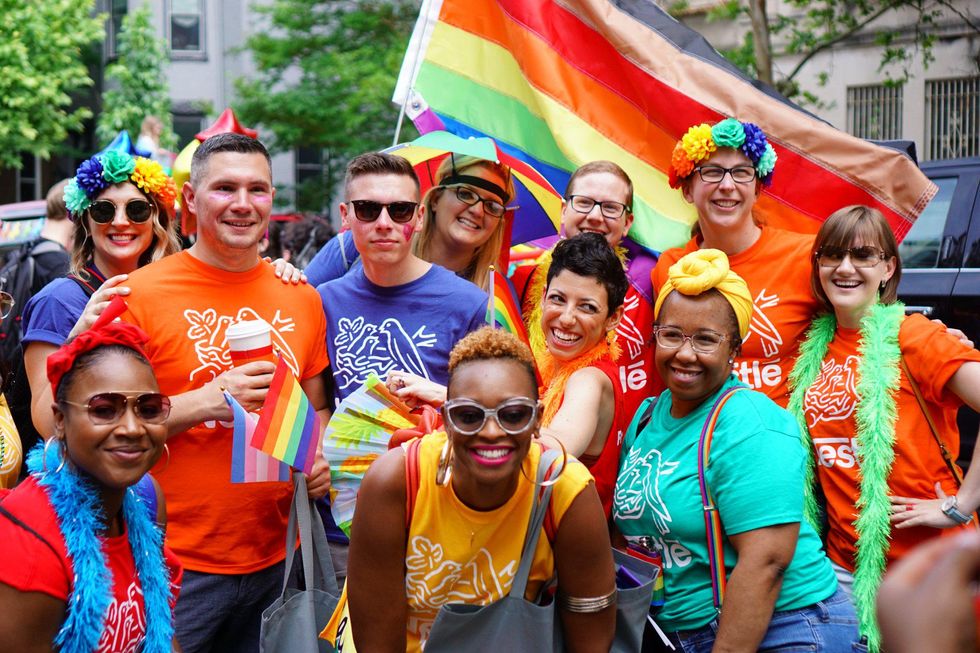 "Nestlé is excited to be sponsoring Pride Month activities in Washington, DC with Capital Pride Alliance and in Cleveland, Ohio, with Pride in the CLE! Employees and their families are invited to participate in our events in person for the first time since 2019, with parade groups organized for both locations by the Nestlé Pride Alliance! At Nestlé, Pride is a Global celebration too – a Global webcast is being held for all employees on Leading Together for LGBTQ+ Inclusion, where panelists will discuss how we're making our workplace an inclusive supportive safe space for our LGBTQ+ Community. #YouAreIncluded #NestlésGotPride"
Learn more about Nestlé USA here.
Siemens — host a 21- day challenge
"Did you know it takes an average of 21 days to build a new habit by adjusting your focus and how you spend your time? For 21 days in June, the Siemens Pride Challenge will push participants to shift their perspective and examine what they can do to promote inclusion and create a culture of belonging. Employees will receive one email per day with short but impactful content (podcasts, videos, articles, etc.) to deepen their understanding of LGBTQIA+ topics. The Siemens Pride Employee Resource group will also host several learning webinars."

Learn more about Siemens here.
Northrop Grumman — provide professional development opportunities for LGBTQIA+ employees
"Happy Pride Month! At Northrop Grumman, our Pride in Diversity Alliance (PrIDA) Employee Resource Group (ERG) works to support the quality of life for LGBTQIA+ employees and dependents, fostering and inclusive and equitable environment for all.
Our PrIDA ERG augments and ties into local community support while also providing professional development and leadership opportunities for LGBTQIA+ employees. During Pride Month, local and virtual PrIDA chapters host many events such as social hours, seminars on inclusion and intersectionality, and professional networking / career growth workshops. Here is what some of our employees are saying":
"Diversity and inclusion are cultural cornerstones at NG and the array of talent, ideas, experiences and authenticity of our employees propels our success. We're excited to celebrate PrIDA this month – and every day." Wendy Williams, Vice President, Space Systems, Propulsion Systems Division
"I've worked a lot of places, but Northrop Grumman is different. The PrIDA ERG members and the leaders who support them actually care about people like me. I can have a career, be successful, and (most importantly) I get to be myself!" Taylor Swensen, Program Integrator, Aeronautics Systems, Air Dominance Division
Learn more about Northrup Grumman here.
Collins Aerospace — raise the Progress Flag in the office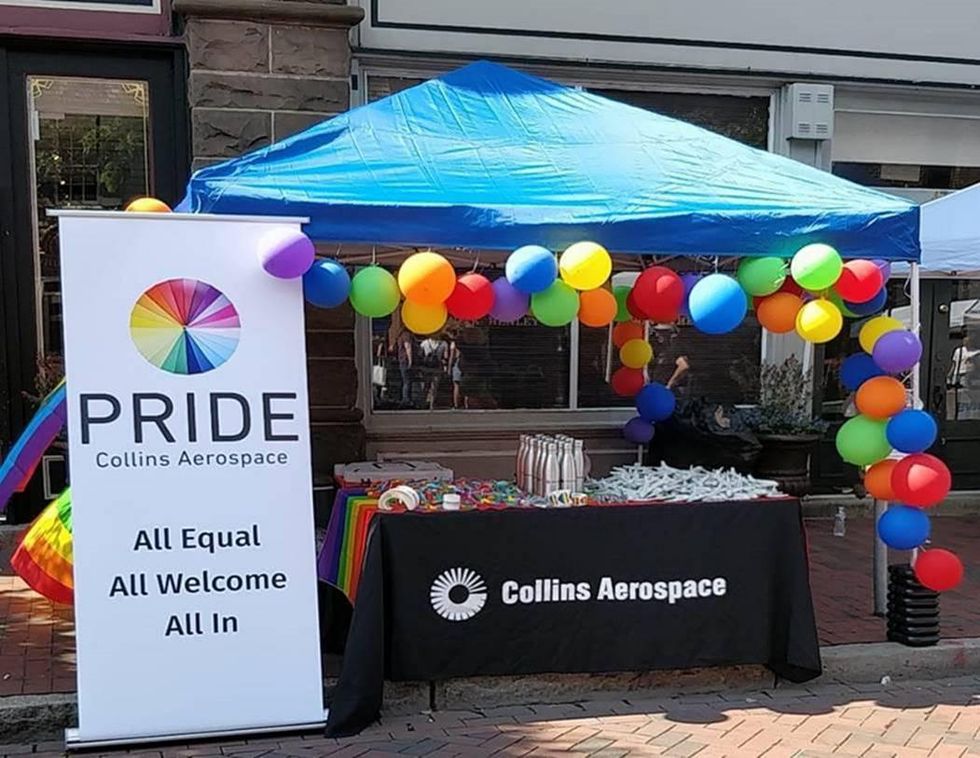 "Collins Aerospace and our PRIDE Employee Resource Group are proud to sponsor efforts through June that support and celebrate our LGBTQIA+ colleagues and community.
Raising the Progress Flag at many of our U.S. locations.
Sponsorship of local Pride festivities in our communities – parades, walks, wine tastings and more!
Educational programs for our employees through partners such as Out&Equal.
Ally workshops and pledge signings.
And talk about PRIDE! Our parent company, Raytheon Technologies, has been named a 2022 Best Place to Work for LGBTQ+ Equality by the Human Rights Campaign."
Learn more about Collins Aerospace here.
Moody's — promote articles and newsletters to boost awareness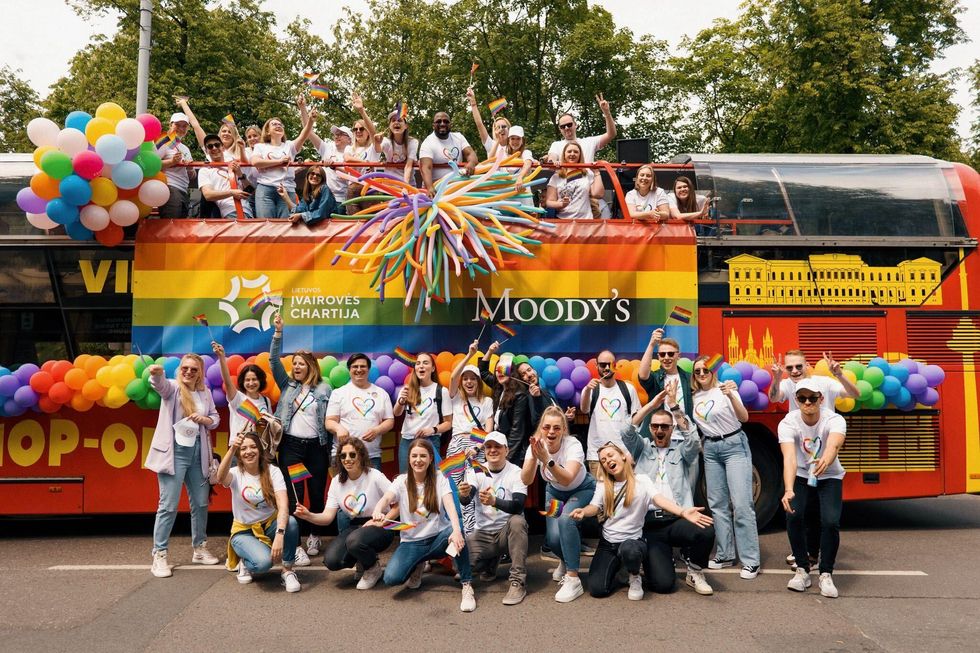 "Moody's is committed to advancing the cause of LGBTQ+ inclusion. Moody's Multicultural BRG promotes articles and newsletters that help create awareness and give us an inside into personal stories and testimonials with the purpose of advocating a work environment that respects, welcomes and supports lesbian, gay, bisexual, transgender and non-binary individuals. Also, Moody's is hosting several events like "The T in LGBT" that will be focusing on Social issues, Workplace issues, and Trans* benefits and the "Pride Month and Juneteenth celebration event"."
Learn more about Moody's here.
Equinix — highlight LGBTQIA+ families' stories
"Equinix is committed to being a leading employer for the LGBTQ community and in support of that goal, our PrideConnect employee connection network offers programming for connection and learning. This year, team members have invited the Equinix community to join them in a conversation, "The Modern Family: all genders, sexualities, and identities welcome!" In this event, participants will hear personal stories from a LGBTQ parent and their LGBTQ child, learn how a global insurance company adopts DIB practices, and see how a law firm supports the LGBTQ community, particularly in countries that don't recognize same sex marriage. We are proud of the great work of our EECNs like PrideConnect, this month and always."
Learn more about Equinix here.
15five — host an allyship book club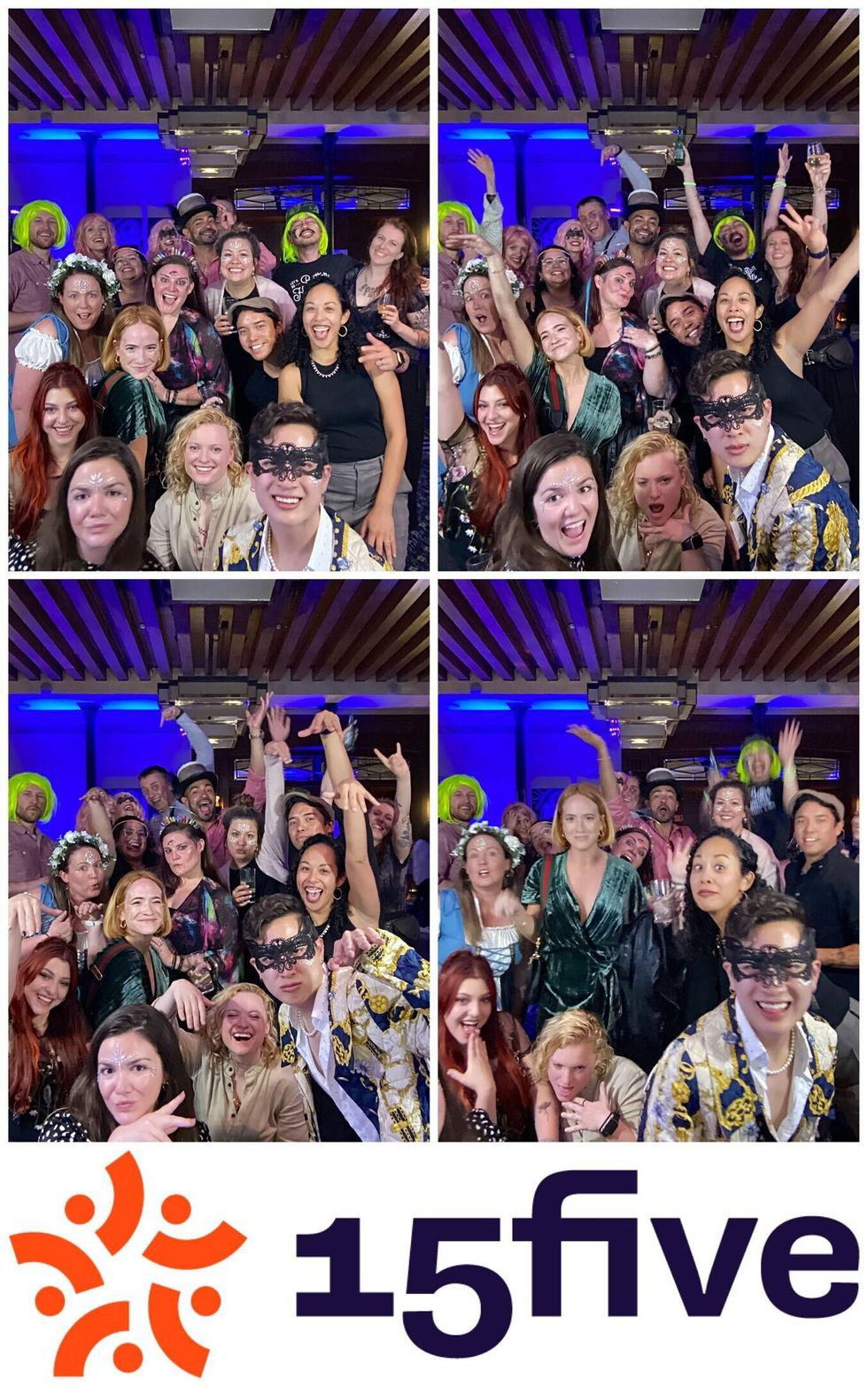 "For Pride Month, our LGBTQIA+ employee resource group is planning a fun virtual trivia event, a book club for those who want to learn more about becoming an LGBTQIA+ ally, and a presentation on the state of LGBTQIA+ rights in America in 2022."
Learn more about 15five here.
Spectrum — attend a Pride party event
"June is a month-long celebration of Spectrum's LGBTQ community. The Spectrum LGBTQ Business Resource Group is hosting an array of activities to further support our commitment to being an organization that fosters LGBTQ acceptance and equality.
Some of the activities throughout June are our Out and Equal Webinar - Fostering LGBTQ & Allyship at Work, several spotlights on Spectrum LGBTQ members with the theme "Your Story, Your Truth, Your Power," an internal inclusion talk, a discussion on Pride history, and the LGBT Tech Pride Party event in Brooklyn, NY that two Spectrum LGBTQ members will be invited to attend."
Learn more about Spectrum here.
Yelp — host a virtual concert featuring LGBQIA+ artists
"It's no secret that parenting brings its own set of challenges. Intersectionality has shown us how these experiences can be amplified by the layered identities many of us possess. This Pride Month, we're bringing together our Yelp parents and LGBTQ+ employee resource groups to shed light on the realities of parenting outside the heteronormative paradigm. We're also hosting another Drag Queen Story Time with Per Sia, a Latinx, nonbinary drag queen and storyteller. And, of course, we can't end the month without a celebratory virtual concert featuring LGBTQ+ artists."
Learn more about Yelp here.
Datadog — support and attend ERG-planned programming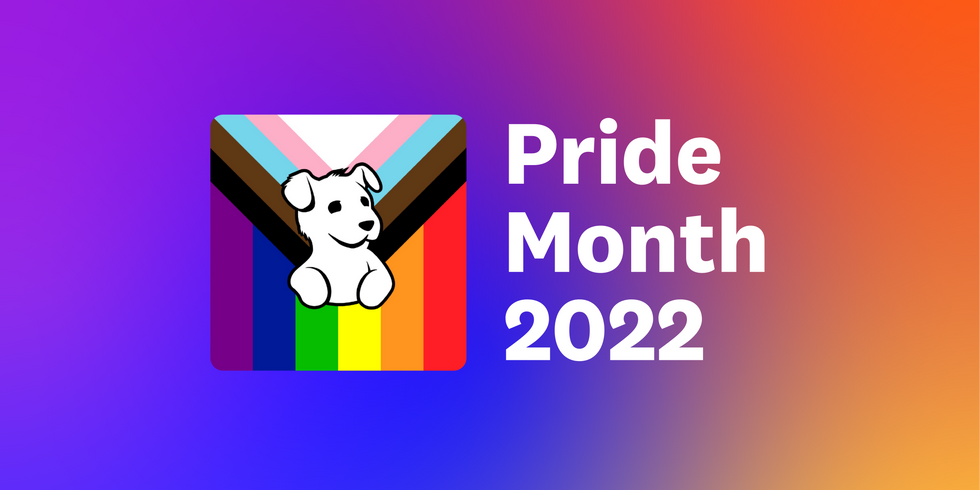 "This June, Datadogs will celebrate Pride Month and honor the fight for the rights of the LGBTQIA+ community! Our Rainbowdogs Community Guild has planned programming all month long, including leadership discussion panels, community events, and more.
Rainbowdogs' mission is to provide a warm, supportive, and friendly community for Datadog employees who identify as trans, queer, lesbian, bisexual, aromantic, asexual, intersex, two-spirit, gay, or questioning+, as well as the allies that support them. Follow the #DatadogLife and stay tuned for information about our upcoming internal initiatives to celebrate Pride Month."
Learn more about Datadog here.
Expedia Group — tune into the Pride podcast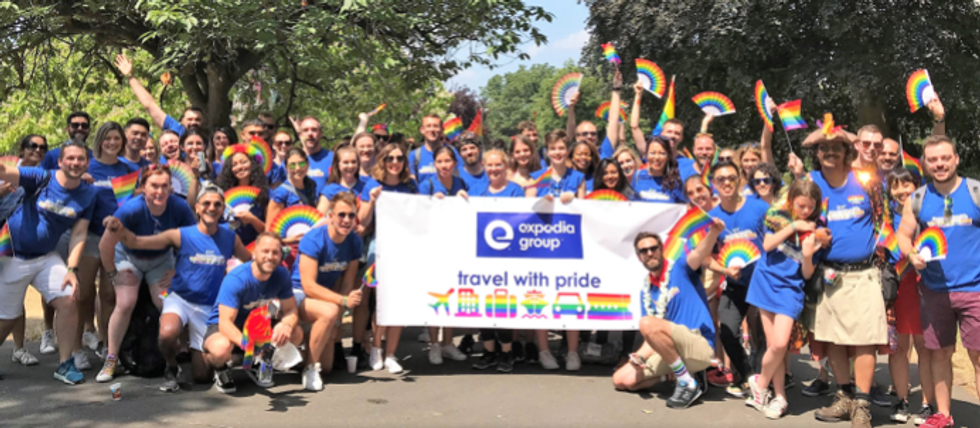 "Expedia Group's Inclusion Business Group (IBG), Pride, will be among those celebrating Pride. Expedians will get the opportunity to Lip sync for pride, to tune into the pride podcast and to attend a panel focused on "stories of pride through action" where employees will transparently share their authentic, inspiring experiences."
Learn more about Expedia Group here.
Wolters Kluwer — foster a culture of belonging all year long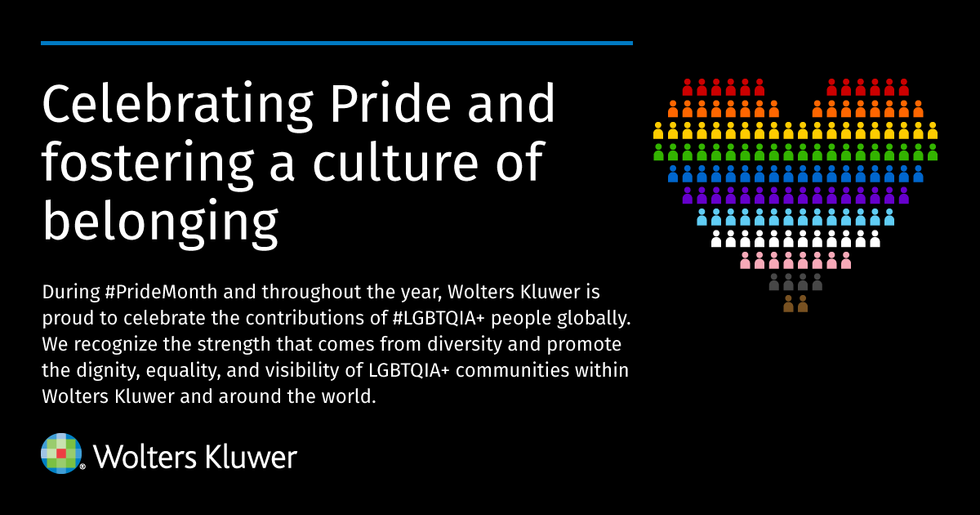 At Wolters Kluwer we encourage you to be your unique self, bring your ideas to life, learn, develop, and thrive. As a global company, having a diverse workforce is paramount to our success.

This year, to celebrate LGBTQIA+ Pride Month, we are showcasing the diversity we enjoy within our global team, with our CHRO telling his own personal story as well as several other employees creating videos to share their experiences, pride and sense of belonging at working for Wolters Kluwer. We will be sharing these stories on our social channels and in our internal newsletters. We are also devoting space on our corporate homepage to recognize Pride Month.
In addition, we will be leveraging our partner, Limeade, to run a series of fun and engaging activities and challenges to celebrate Pride Month.
Learn more about Wolters Kluwer here.
Healthfirst — invite a guest speaker to share their story 
"As New York City's largest hospital-sponsored insurance plan, Healthfirst is no stranger to diversity. Celebrated every June, PRIDE, serves as an opportunity to celebrate love and embrace our differences as we seek a better future for all. For the first time in Healthfirst's history, the True Colors PRIDE Alliance ERG will be at the forefront while taking fellow Trailblazers on a journey of PRIDE throughout the years. In addition to the various internal events that we're planning, we will have guest speakers from organizations such as The Dru Project and Stonewall Speakers. Join us as we celebrate PRIDE!"

Learn more about Healthfirst here.
Andela — promote networking opportunities with LGBTQIA+ professionals in tech
"At Andela, we are celebrating Pride Month through a series of events designed to raise awareness, encourage active allyship and promote the importance of meaningful LGBTQ+ inclusion. Events include opportunities to network with LGBTQ+ professionals in Tech, Learning sessions, pride celebrations and fun virtual gatherings that focus on the importance of Belonging and the power of bringing our whole selves to work. As Andelans, we believe that active allyship and LGBTQ+ inclusion should be verbal, visual and behavioral based and so our focus is not just about what we say, but being visible, modeling our vision for an inclusive world."
Learn more about Andela here.
1Password — create a resource hub with books, podcasts, movies, and shows by LGBTQIA+ creatives
"Alongside donations to The Trevor Project and Pflag Canada and a number of internal events such as a keynote speech by Cheddar Gorgeous, 1Password's Pride planning committee will be sharing "did you know?" posts throughout the month of June aimed at educating our internal community. By sharing definitions and historical facts about Pride with the whole company, we're working to further foster our culture of learning and allyship.
The leaders of our DEI&B program – Strong, Unique Voices (SUV) – have also created a resource hub on Notion for all 1Password team members to access books, podcasts, movies and television shows made by LGBTQIA+ authors and creatives."
Learn more about 1Password here.
2U — promote intersectionality with in-person and virtual events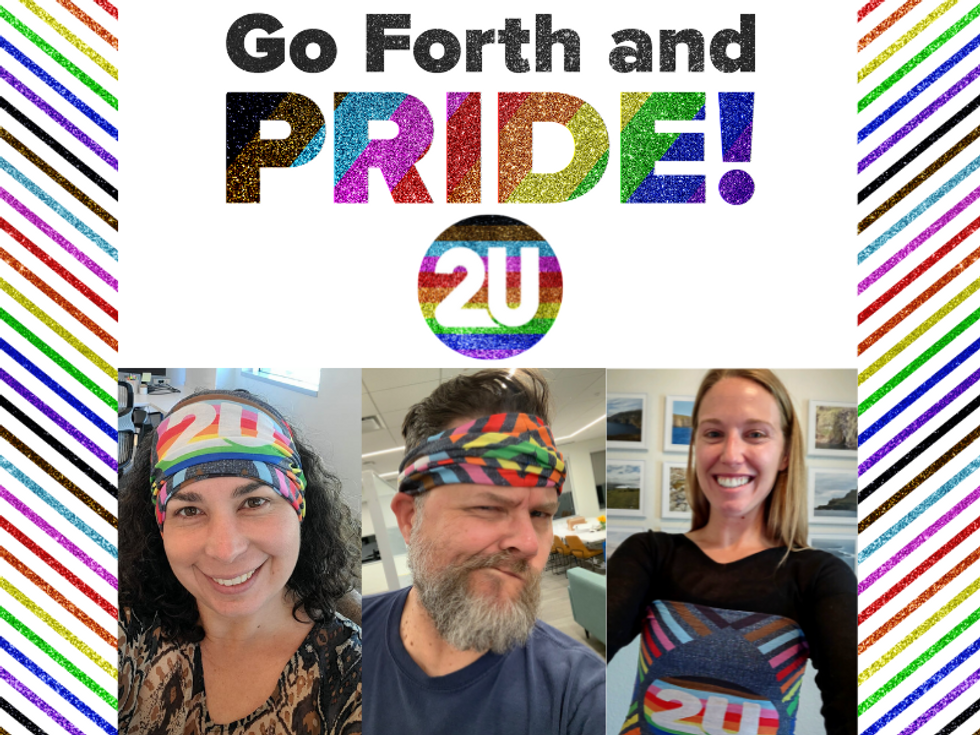 "2Q—2U's LGBTQIA+ business resource network comprising 800+ employees internationally—celebrates the theme "Go Forth and PRIDE!", emphasizing how important it is for our LGBTQIA+ employees to be their authentic selves, at work and in life, and to create intentional moments together for effecting change. 2Q will host over a dozen virtual and in-person internal events promoting intersectionality and inclusivity with special guests, including "empower hours" showing how employees can use VTO in support of LGBTQIA+ causes. On 2U's blog and social channels, we'll also feature "Day in the Life" perspectives from some of our LGBTQIA+ leaders, including transgender voices."
Learn more about 2U here.
Cummins — build a Pride ally program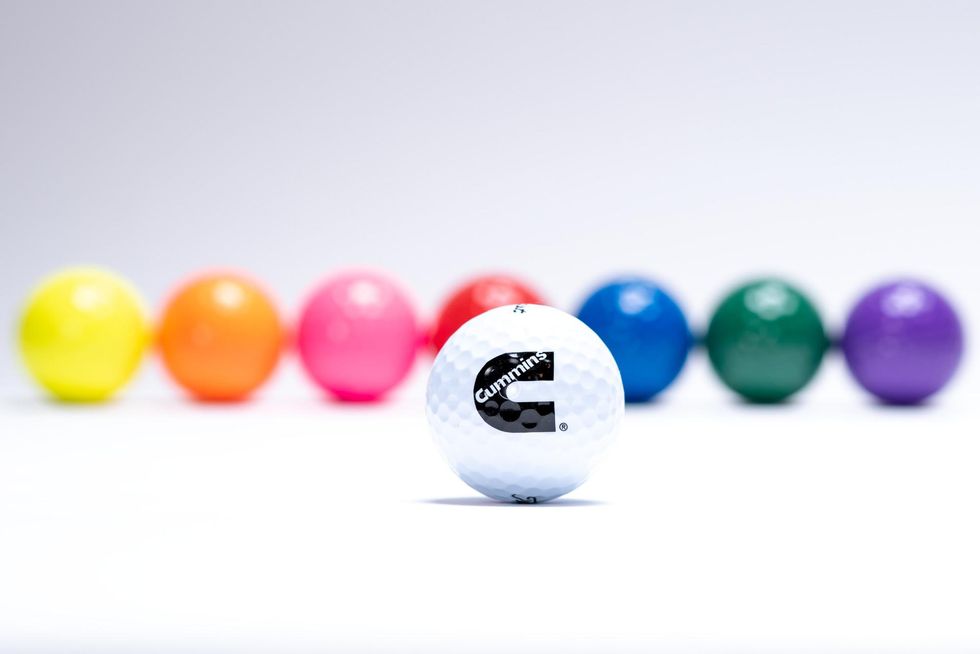 "Here at Cummins, we are excited to take part in celebrating Pride Month and supporting the LGBTQ+ Community. Our European Pride ERG have put together a presentation to distribute across Europe embracing Pride Month and sharing our commitment to our journey on changing global attitudes. Our team are sharing ways to get involved; we have information on how to sign up for LGBTQ+ Safe Leader Training and links to our Pride Ally Page where you can become part of the program. We have a rainbow flag flying high at our European sites and are proudly sponsoring a Pride Parade in England."
Learn more about Cummins here.
Pitney Bowes — review workplace standards

"At Pitney Bowes we have a history of creating an inclusive culture where our employees feel they can bring their authentic selves at work. In the last few years, we have expanded our outreach into the LGBTQ+ community and supported the ongoing efforts for equality. During Pride month we celebrate our contributions and our global community by:
• Spotlighting editorials including LGBTQ+ topics and employee stories
• Providing resources to support coming together virtually and at our operating sites
• Sharing important resources to help support LGBTQ+ employees, allies and their families
• Maintaining the standards to be a best place to work for LGBTQ+ people"
Learn more about Pitney Bowes here.
uShip — sponsor and decorate a float for a Pride parade
"Pride is our most celebrated commemorative month at uShip! In addition to featuring local activities in our weekly newsletter, we also sponsor and decorate a float for the "Austin Pride" parade that takes place every August."
Learn more about uShip here.
Google — match your employees' donations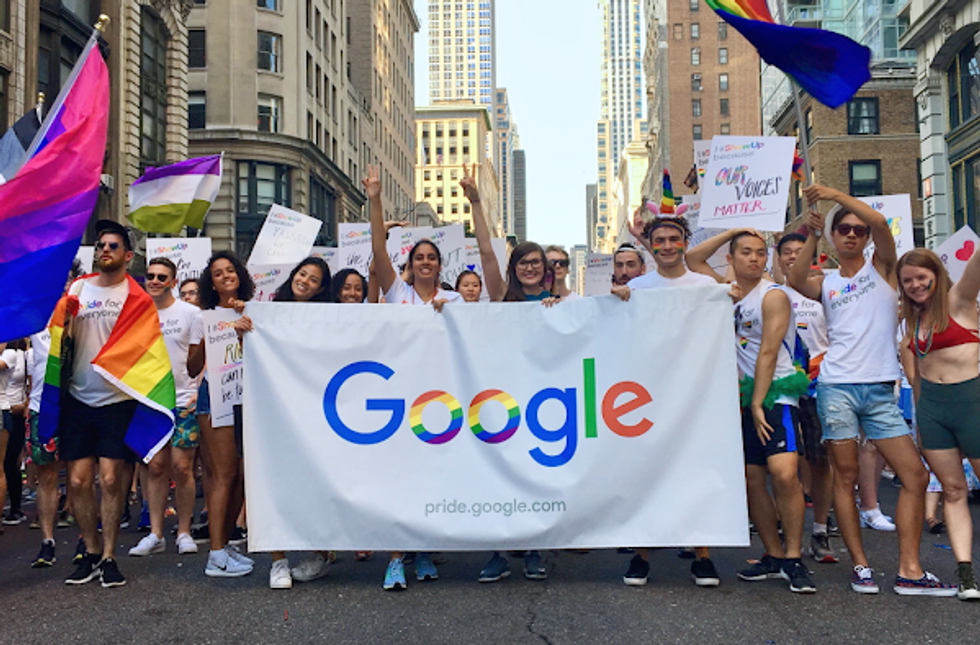 "At Google, our PRIDE at and Trans at Google employee resource groups continue to grow each year. This year, many LGBTQ+ Googlers and their allies will be coming together to host office events and join their local communities to participate in Pride marches. Additionally, given the challenges facing so many LGBTQ+ people, Google is donating to nonprofits that work directly with the community such as Pride Live, GLAAD and The Trevor Project. Googlers will also be able to donate to nonprofits during Pride month and Google.org will match their donations to LGBTQ+ charities around the world."
Learn more about Google's LGBTQ+ initiatives
Learn more about Google here.
Kiva — post content to raise awareness
"Kiva is celebrating Pride this year by hosting virtual events and sharing content with our community. Our LGBTQ+ Employee Resources Group (ERG) will host a speaking event featuring an advocate for trans rights, as well as a virtual gathering for LBGTQ+ identified employees. Kiva's marketing team will post content throughout the month to highlight content and stories that raise greater awareness around LGBTQ+ lives."
Learn more about Kiva here.
CHG Healthcare — open a pop-up shop with Pride shirts for employees
"At CHG Healthcare, we pride ourselves on our culture of inclusion and diversity. We are celebrating Pride this month by:
Participating in the Utah Pride Parade and Festival with more than 200 staff members walking with us
Opening a pop-up shop for CHG with Pride t-shirts for all employees
Formally relaunching our LGBTQ+ inclusion group
Participating in Utah's Business Equality Leader program, including training about LGBTQ+ inclusion
Learn more about CHG Healthcare here.
Audible — throw an internal happy hour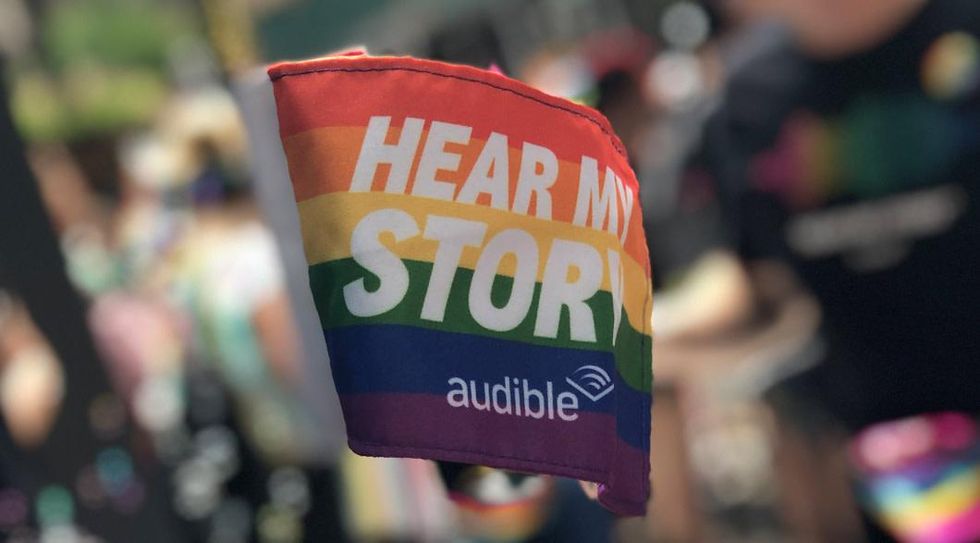 "This Pride Month Audible is collaborating with Playbill for an activation in Times Square, throwing an internal happy hour celebration for employees to reconnect and celebrate at the Innovation Cathedral, and is sponsoring Montclair NJ's Pride Festival."
Learn more about Audible here.
Freddie Mac — host a panel on inclusive terms
"Each June, Freddie Mac looks forward to celebrating Pride with our employee community. This year, Freddie Mac's theme is "Pride: Then and Now," featuring a powerful month of programming looking at the history and future of LGBTQ+ rights. Our kickoff event features drag queen and coder Anna Lytical to talk about community representation in tech fields. We will also host discussions on legal cases that protect LGBTQ+ rights, a keynote from filmmaker Yoruba Richen on the intersection of the LGBTQ+ and Civil Rights movements, and a panel on inclusive terms. We will also be highlighting how our LGBTQ+ employees contribute to Freddie Mac's efforts to make home possible – and inclusive – for all."
Learn more about Freddie Mac here.
CU Direct —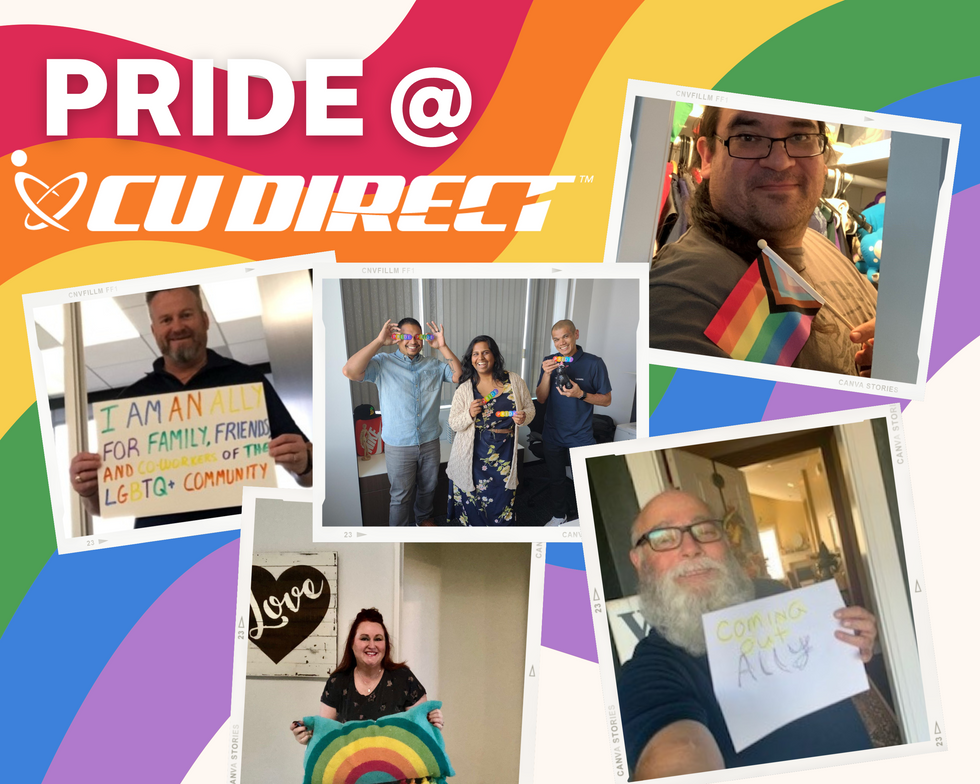 "CU Direct's PRIDE Employee Resource Group is excited to celebrate PRIDE at the company and in our local community! We are kicking off by sponsoring folks throughout the company to attend a PRIDE Leadership conference hosted by CU Pride, an LGBTQ+ Association of Credit Unions, where folks can learn about building inclusion and intersectional allyship. Throughout the month, team members will play PRIDE Bingo. Folks can win Bingo by participating in a PRIDE activity like reading a book, watching a movie, or highlighting a Queero (queer hero). We'll wind down each Friday with mini-Pride parties—listening to playlists of queer artists, while we work. At the end of June, our PRIDE ERG is volunteering to set up the OC Pride Parade in Santa Ana, CA. We're also encouraging our team members across the country to participate in Pride Parades and local events near them!"
Learn more about CU Direct here.
Soundcloud — curate a Pride playlist
"This year, at SoundCloud, we are branding Pride Summer throughout June and July as we celebrate with our US, Germany, and UK employees. Over the next two months, our Diversity Resource Group (DRG) QueerClouders will host a series of events ranging from office activities to educational workshops. As we celebrate and embrace the Queer community, we have curated various playlists located on SoundCloud and are proud to support multiple non-profit organizations that focus on the LGBTQI+ community through the SoundCloud Community Fund."
Learn more about Soundcloud here.
Skedulo — host a discussion group about a film
"During Pride month Skedulo is celebrating by embracing and sharing stories from individuals who identify within this community at Skedulo. We are also raising awareness on issues and building allyship through an education session. We are launching a partnership with The Bobby Goldsmith Foundation, Australia's longest-running HIV charity that supports people living with HIV, a disease that has largely affected the LGBTQIA+ community. We will also host a Pride Parade watch party at our San Francisco office, a volunteer event with Frameline Film Festival, and discussion group event about the Netflix Documentary film, Disclosure, highlighting Hollywood's impact on the trans community."
Learn more about Skedulo here.
Relativity — hold educational broadcasts
Relativity Pride is excited to celebrate June with a variety of in-person, hybrid and virtual events including a picnic, happy hour, quiz bowl, and educational broadcast on the history of Stonewall. During Pride, we're also collaborating with Relativity Women in the Workplace and Black at Relativity to program intersectional events. As a global company, we have engaged employees in the UK to host EMEA-friendly networking sessions. Finally, we're determined to give back to the community, partnering with our social impact team to raise funds for a local organization with a Relativity match.
Learn more about Relativity here.
READ MORE AND DISCUSS
Show less
Loading...