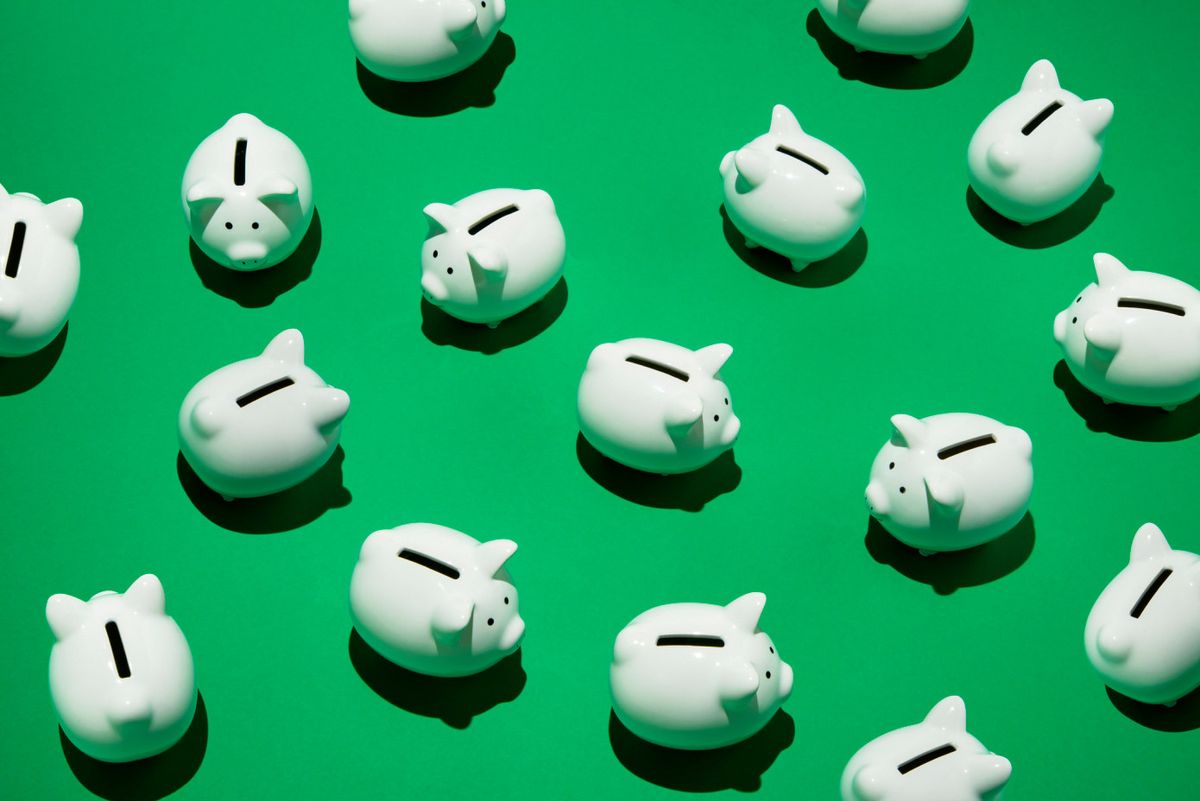 Clyde
Below is an article originally written by Natasha Mascarenhas, Reporter at TechCrunch, and published on May 11, 2020. This article is about PowerToFly Partner Clyde. Go to Clyde's page on PowerToFly to see their open positions and learn more.
Four years ago, Brandon Gell was an architecture student who spent most of his time working on 3D printing modular housing. Now, he's the founder of Clyde, an extended warranty startup that wants to help small e-commerce businesses offer product protection.
Today, the company announced it has raised a $14 million Series A led by Spark Capital with participation from Crosslink, RRE, Rea Sea Ventures and others.
How do you go from being a product person to the founder of an insurance startup? According to Gell: a stint at a four-person 3D scanner startup in Columbus, Ohio.
Because the team and resources were small, Gell was put in charge of finding an insurance company to work with to protect their expensive end product of scanners.
"I spent six months trying to find a company," he said. After seeing how seamless it was to work with fintech customer support tools from companies like Stripe, Shopify, Affirm and others, he said it was clear that insurance, and especially the extended warranty space, wasn't as mature. So he set up an office in his grandma's New York apartment.
Clyde is a platform that connects small retailers to insurance companies to launch and manage product protection programs.
Using Clyde, customers can access a dashboard and e-commerce apps to manage their protection programs. For example, a user can see how many contracts were sold, how much revenue total those bring and gross profit in real time. It also can see which products are most often purchased with an extended warranty contract.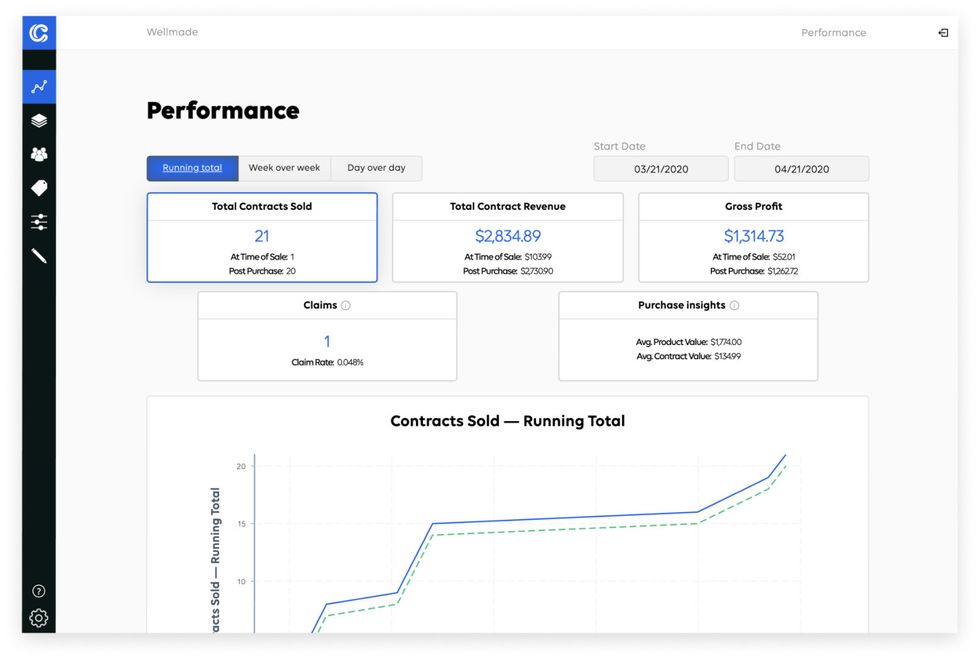 "It's a similar type of offering as Affirm or Stripe," he said. "We give you access to large insurance companies and we enable you to launch the program live on your website or physical point of sale and store wherever you sell." It has plugins with Shopify, BigCommerce, Salesforce, Magento, Woocommerce, and more so store owners on the site can add Clyde to their small businesses.

Clyde's most critical metric is that it has an 18% attachment rate on average, which means that 18% of people that go through a Clyde-powered purchasing path end up purchasing extended warranties or protection plans.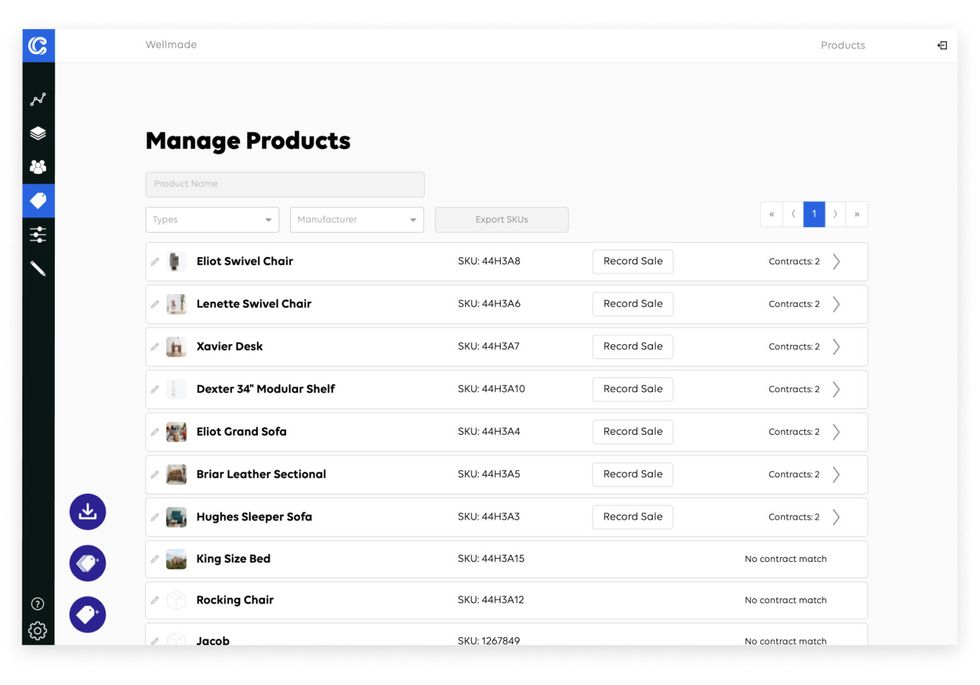 The reason businesses care about extended warranty is two-fold. First, insurance benefits the customer experience. Second, insurance purchases are often the highest-margin product that companies sell to their customers. Product protection alone is a $50 billion market. Gell said that Best Buy drives about 2% of its annual revenue from the sale of extended warranties, but that generates more than half of its profit.

Clyde helps small businesses, like a four-person startup in Columbus Ohio, get a bite of this profitable pie. Most e-commerce businesses have to work with Amazon, thus giving a lot of that cash to the big company versus putting it in their own pocket, per Gell. He says that when Amazon sells an extended warranty on a seller's product, it doesn't share any revenue with the seller on how the product performs, which prevents a seller from both a stream of revenue and data analytics.
"Our sort of mantra is that the retailers that we work with are basically everybody that's not Amazon and Walmart," he said.
Clyde's goal is different from Upsie, another venture-backed startup focusing on warranties. Upsie is looking to be a direct-to-consumer warranty replacement, while Clyde works on behalf of the retailer and insurance company to connect the two parties.
Closer competitors to the startup include Mulberry and Extend, which were both founded after Clyde and have raised less in venture capital funding. Gell thinks his competitive advantage is partnerships with top insurance companies, and a strong product-focused platform. Clyde's entire founding team is made up of product people.
Startups right now need to prove that they are viable in both a pre-coronavirus and post-coronavirus world. And Clyde might be exactly in that sweet spot, as it focuses on e-commerce businesses.
The Series A round closed a few weeks ago, before the COVID-19 craziness began, but he said that the pandemic has led to more inbounds and interest than ever before. Gell says it's a mix of e-commerce being more important than ever, and customer behavior.
"It's a shift of customers that want to buy online more, but also protect their purchases more than ever," he said. "Companies are realizing how important it is."
New cash in hand, Clyde's growing while its customer-base is looking for new ways to bring in revenue and take care of customers. If the startup can handle the influx of attention and importance right, sticky harmony will follow.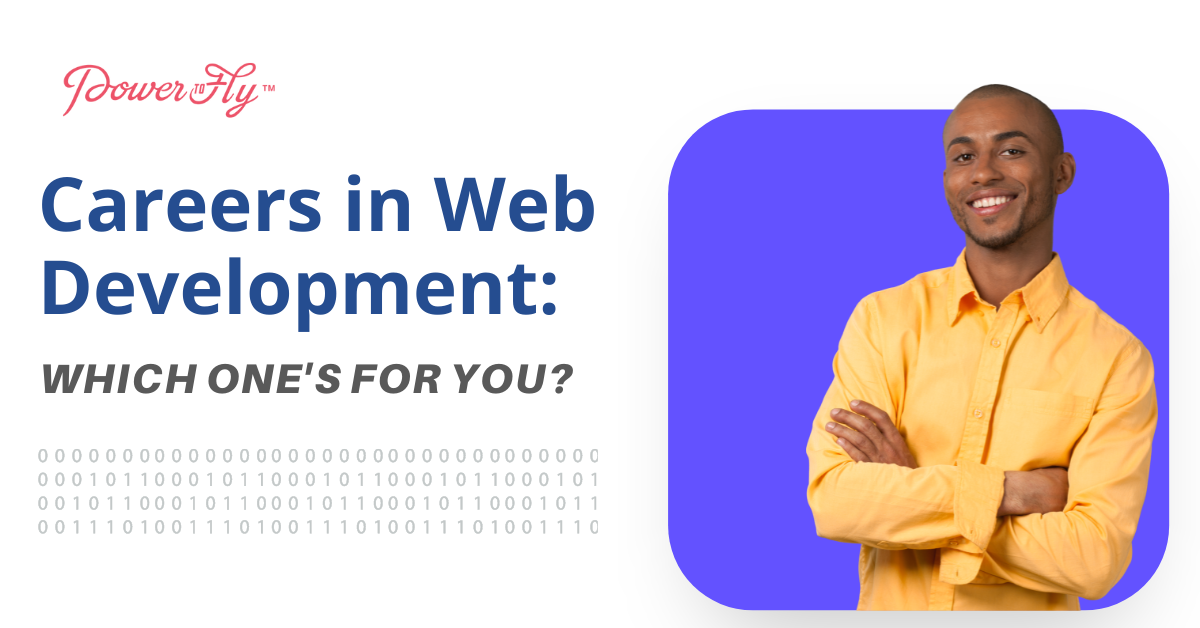 Upskilling and Development
We all have our favorite websites– the ones we frequent, bookmark, and recommend to others. You might even enjoy some website features so much that you've found yourself wondering why they aren't more popular. Or maybe you've experienced times where you were frustrated with a website and wished you could add features or even design your own!
If you've ever found yourself intrigued at the prospect of designing and developing your own websites, then a career as a web developer might be just for you!
As a web developer you would be responsible for coding, designing, optimizing, and maintaining websites. Today, there are over 1.7 billion websites in the world and, in turn, the demand for web developers is on the rise. In order to figure out what kind of web development work best suits you let's start with an introduction to the three main roles in web development that you can choose from.
The Three Types of Web Development Jobs
Front-End Web Development: The Creative Side
Think of front-end development as the décor of a house. The color scheme, furniture, manicured lawns, and overall aesthetic. In terms of a website, front-end development is laser-focused on the appearance of a website and its presentation on different devices. If you're considering a role in front-end development, it's important to learn programming languages such as HTML, CSS, and JavaScript. These three languages go hand-in-hand. HTML allows you to create user interface elements, CSS helps you with stylistic elements, and JavaScript allows you to incorporate online tools and connect your website to back-end functions.
In addition to programming skills, front-end developers need to be detail oriented, creative, willing to keep up with the latest trends in web development, cyber security conscious, and geared toward user-friendly designs. The median salary for a front-end developer can reach well into the $90,000 to $100,000 range.
Back-End Web Development: The Logical Counterpart
While a house can be beautifully decorated, it's incomplete without a solid foundation and efficient infrastructure. Similarly, a well-designed website depends on logical and functional code to power the features of that website. Back-end web development is code-heavy and focused on the specifics of how a website works. If you enjoy the analytical challenge of creating the behind-the-scenes code that powers a website, then back-end development is for you.
Since this role is more code-heavy, it's important that you learn numerous programming languages and understand algorithms and data structures. Some languages that are essential to back-end development are Ruby, Python, SQL, and JavaScript. Back-end developers also ensure that users can successfully retrieve and access data. This requires creating and using APIs (Application Programming Interfaces) which act as messengers that relay data related requests. Additionally, developing the code for the inner workings of a website also requires back-end developers to be conscious of the user interface features designed by front-end developers and to internally mitigate potential security risks. Due to the increased technical aspect of this position, back-end developers normally earn higher salaries than front-end developers. The average median salary for this role is around $118,000 per year.
Full-Stack Web Development: A Little Bit of Everything
A full-stack developer is essentially the Jack (or Jill)-of-all-trades in web development. Full-stack developers need to be knowledgeable about both front-end and back-end roles. This does not necessarily imply that you would need to be an expert in both roles, but you should fully understand the different applications and synergies they each imply. In order to work in this position, you will need to know the programming languages used by front-end and back-end developers. In addition to these languages, full-stack developers also specialize in databases, storage, HTTP, REST, and web architecture.
Full-stack developers are often required to act as liaisons between front-end and back-end developers. Full-stack developers need to be both problem solvers and great communicators. The end goal for a full-stack developer is to ensure that the user's experience is seamless, both on the front-end and on the back-end. In return, you can expect to earn a median salary of $100,000 – $115,000 a year for this role.
Taking the Next Step
Web development is both in-demand and lucrative! All three roles described above contribute to specific aspects of web development and the scope of each one can be customized to the industries and positions you feel best suit you. Regardless of which role you choose, all of them need a foundation in programming.
To gain the programming skills needed in each role, you can enroll in courses or learn independently. Coding bootcamps are a great way to boost your skillset quickly and efficiently.
Click here for some of our highly rated programming bootcamp options! Make sure to check out the discounts available to PowerToFly members.
READ MORE AND DISCUSS
Show less
Loading...