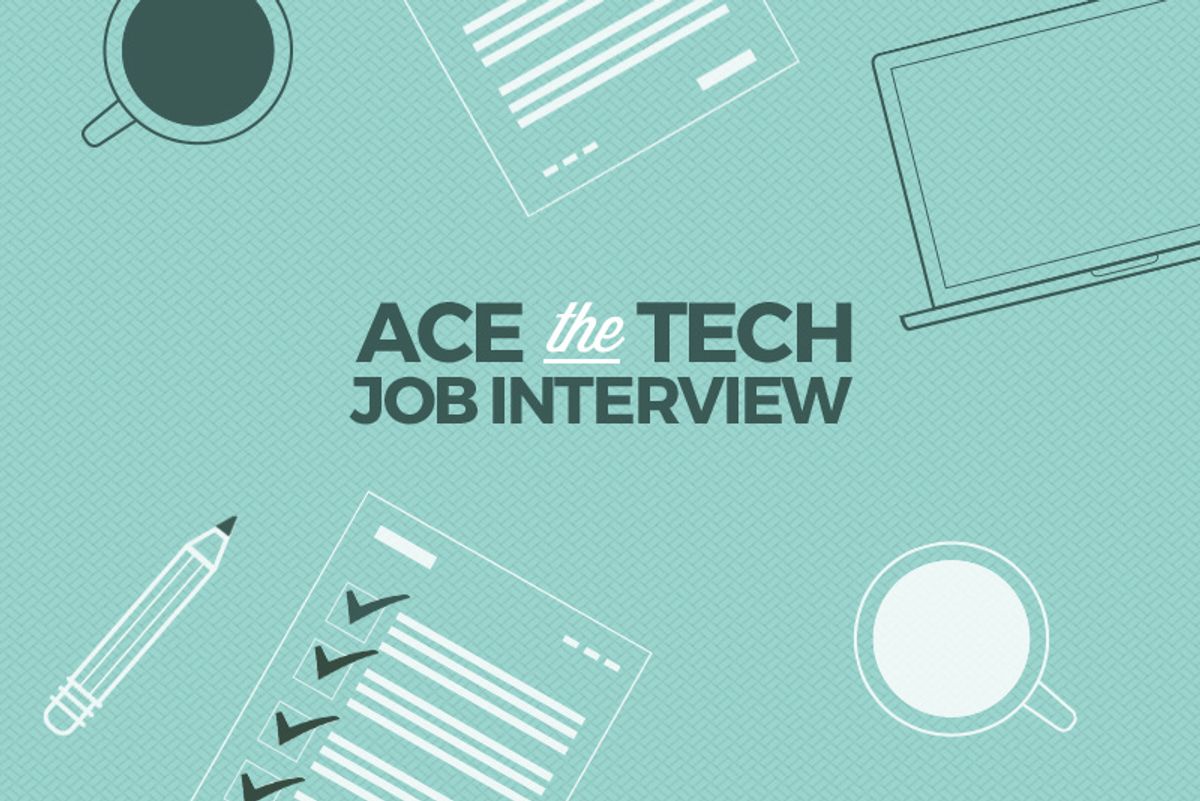 Career and Interview Tips
A version of this article previously appeared on Skillcrush, an online education program for creatives, thinkers, and makers that gives total tech newbies the tools to make major career changes.
Cameron Chapman, Skillcrush
There's nothing quite like the feeling of opening an email that says: "You got an interview!"
But that sense of elation melts away when you start to think about the interview. It's the kind of dread you only feel when you're afraid you won't get something you really really want.
I've been there! Interviews are nerve-wracking, especially if you haven't done one for awhile. It had been almost a decade since I'd had an interview when I started looking for a more traditional job after years of freelancing. And I'd never even done a video job interview before I started interviewing with tech companies last summer. Extra scary.
Below, I pulled out some of our top tips from our Ultimate Guide to Interviewing for Your First Tech Job, so that you won't blow your tech job interview with any of these common mistakes. Get the full ebook here for even more great advice on nailing your interview—it's free!
1. BEING UNPREPARED FOR A CODE TEST
Putting your coding skills to the test in front of a potential employer is nerve-wracking. There's no doubt about it. But if you're applying for any kind of developer job, you're almost certainly going to be asked to do some kind of code test, likely at the interview. How else will prospective employers be able to tell if your real-life skills match those you listed on your resume?
2. PANICKING WHEN YOU DON'T KNOW THE ANSWER TO SOMETHING
Whether it's on the code test or during the interview itself, there's a chance you won't know the answer to a question you're asked. That's okay. Employers don't expect you to know everything. What they do expect is that you'll keep cool under pressure and you won't freak out. So remember, when you don't know the answer, just stay calm, take a deep breath, and then deal with it rationally. In some cases, interviewers ask you things you're unlikely to know just to see how you cope.
3. NOT RESEARCHING THE COMPANY
Before you step into any interview, be sure you've researched the company you're interviewing with. Find out exactly what the company's mission is and how you can help them.
4. NOT BEING FAMILIAR WITH THE JOB DESCRIPTION
Make sure you know exactly what the original job description said. Re-read it before the interview, and mark any areas that you have questions about so you remember to ask in the interview.
5. HAVING AN OUTDATED PORTFOLIO OR WEBSITE
Your portfolio and website both need to be up to date before your interview (they should really be up to date before you start applying for jobs, but definitely before the interview). Make sure all your projects are prominently displayed in your portfolio, and check that your site looks great on different screens and devices and is free from glitches or missing links.
6. BEING UNPROFESSIONAL
The impression you make at your interview can make or break whether you get the job. Showing up late, being dressed sloppily, or otherwise coming across as not being professional (or not taking the job seriously) are going to seriously hurt your chances of getting hired.
7. NOT ASKING ANY QUESTIONS
I'll admit, I'm guilty of this one. Sometimes an interviewer is so thorough about explaining the job and the company that you can't think of any questions to ask. But you should think up some questions ahead of time so that when the interviewer asks if you have any questions, you'll have some ready to go.
8. NOT BEING FAMILIAR WITH THE COMPANY CULTURE
This ties into first impressions, but if you want to work for a company, you should have an idea of what the company culture is like. After all, if you show up to a casual startup office wearing a suit, you may come across as not understanding what the company is like, and also looking very out of place (the reverse is also true).
9. NEGATIVITY
Being negative is a buzzkill. Talking down about yourself, your past work, or anything else during an interview is a really bad idea. It will make the interviewer question whether you're going to say negative things about them down the road. Besides, no one wants to work with someone who's always negative.
10. NOT PREPPING BEFORE THE INTERVIEW
I already talked about researching the company and familiarizing yourself with the company's culture. But prepping also includes more basic things. Make sure you know where you're going, how to get there, and where to park (there's nothing worse than showing up early and then spending 15 minutes trying to find parking).
Be sure you eat something, too! You don't want to listen to your stomach rumbling during an interview and wonder if the interviewer can hear it, too. You might want to avoid the onion bagel, though.
11. NOT BEING FAMILAR WITH TECH TERMS THAT MIGHT POP UP
Especially if you're new to tech, be sure to familiarize yourself with common terms that might pop up in the interview. Things like agile, scope, lean, and MVP, among tons of others. Read Kelli Orrela's 99 Terms You Need To Know When You're New To Tech for a comprehensive list of terms that might come up.
12. DOWNPLAYING YOUR GOALS AND POTENTIAL
Companies want to know that you have career goals and ambition. People who have career goals work harder and do more for the companies they work for than those who are happy to stay put in the first job they get.
That said, if your big goal is to become a tour boat captain in the Bahamas and you're applying for a web developer job, you might want to keep those plans under wraps.
13. GIVING "STOCK" ANSWERS TO COMMON INTERVIEW QUESTIONS
In most cases, the person interviewing you has interviewed quite a few people before you, for the position you're applying for or for others in the past. They've heard all the stock answers to the questions you're most likely to be asked.
You need to come up with something different. When they ask you something like, "what's your biggest weakness?" don't answer with, "I'm a perfectionist."
14. NOT FOLLOWING UP AFTER THE INTERVIEW
You HAVE to follow up after a job interview. Send a thank you email after the interview, and include any questions you may have thought of. Not following up can make the difference between you and another candidate if the interviewer is having a hard time deciding. Just keep it short and sweet, and don't suck up.
15. NOT BEING PREPARED FOR A VIDEO INTERVIEW
Since so many tech jobs are remote, you may find yourself doing some interviews via video chat. There are some special considerations you need to think about before your video interview, including making sure you're familiar with the the software you'll be using (likely either Google Hangouts or Skype), and making sure that you've found a good place to actually have the interview. Make sure you check out these 11 Tech Tips for a Stress-Free Video Interview.
If you want even more great tips for nailing the interview for your first tech job, be sure to download our FREE Ultimate Guide to Interviewing for Your First Tech Job!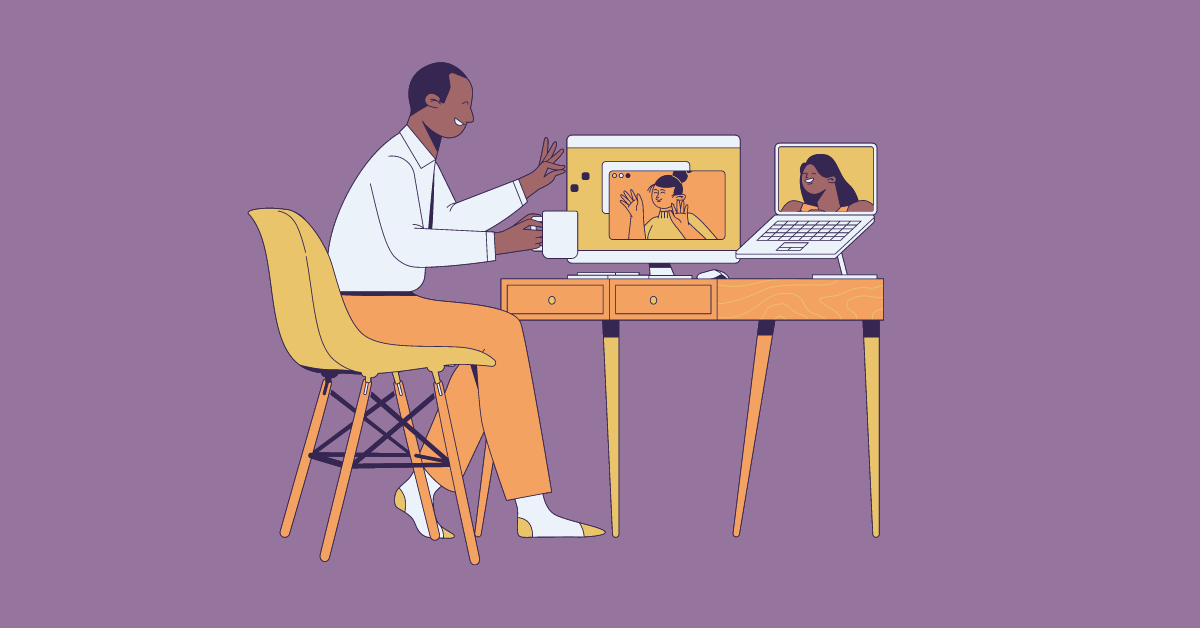 Upskilling and Development
As a result of the COVID-19 pandemic, millions of workers have turned to remote work. Before the pandemic in 2019, 22% of employers offered at least some remote work. Now in 2022, that percentage nearly doubled to 40%. The shift to remote work has become beneficial for me and many of my friends who are recent college grads starting their careers. It's allowed us to dictate our own time and save money from commuting, spend more time with loved ones at home, and have the flexibility to travel and build connections from anywhere. Remote working has also changed how people network for jobs. We have more options now.

Since remote networking is so new, it can be challenging to understand how to do it effectively. Read on to learn my top tips for networking for a remote job.
1. Connect with your high school or college.
The schools you went to want to see you succeed! Connect with old professors, classmates, or alumni on social platforms like PowerToFly or LinkedIn. You can find connections through sports teams, clubs, or topics of interest that will help you build stronger relationships. Don't be afraid to ask them for advice, mentorship, or even introductions.
2. Join a class!
Have you ever had a hobby that you never had the chance to pursue? Coding? Running? Painting? It's never too late to learn something new. Plus, spending time doing what you love will introduce you to other people who love the same thing. Not only will this help expand your social circle, it can also help your career! Once you feel comfortable, talk to your classmates about your work, and ask them about theirs. The perk of classes like these is that you will build relationships with people from all different career backgrounds which will help you determine your career path, especially if you are looking for a mid-career pivot.
3. Register for the Early Career Summit.
My friends and I are very excited to join PowerToFly's Early Career Summit this fall to meet the inspiring founders and CEOs of incredibly impactful companies. This is a great opportunity to get useful tips and learn about different perspectives, professions, and topics that you may be interested in.
4. Attend a virtual job fair and connect with leaders who inspire you.
Job fairs are great for meeting people who can be helpful because everyone attending is there to network! Job fairs at PowerToFly are a great place to meet hiring managers and recruiters from our sponsoring companies. If you come prepared with a resume it is an opportunity to make a great first impression with a company. After the virtual job fair, remember to connect with the people who stuck out to you and introduce yourself on PowerToFly or LinkedIn. Make sure to tell the recruiter who you are, and highlight what stood out to you about their talk.
5. Offer to help.
People really value your help (when it's needed). If you know someone in your network looking to hire a web designer and you know a great place to find one, don't be afraid to make the connection! If you see a job opening that would be great for someone in your network, let them know! Helping people in this way will help build your trust and credibility.
Remote networking has its differences from in-person networking, but it has never been easier to have access to social platforms that can help create connections. It will take some creativity and hard work, but once you have the appropriate mindset the options are endless.
READ MORE AND DISCUSS
Show less
Loading...