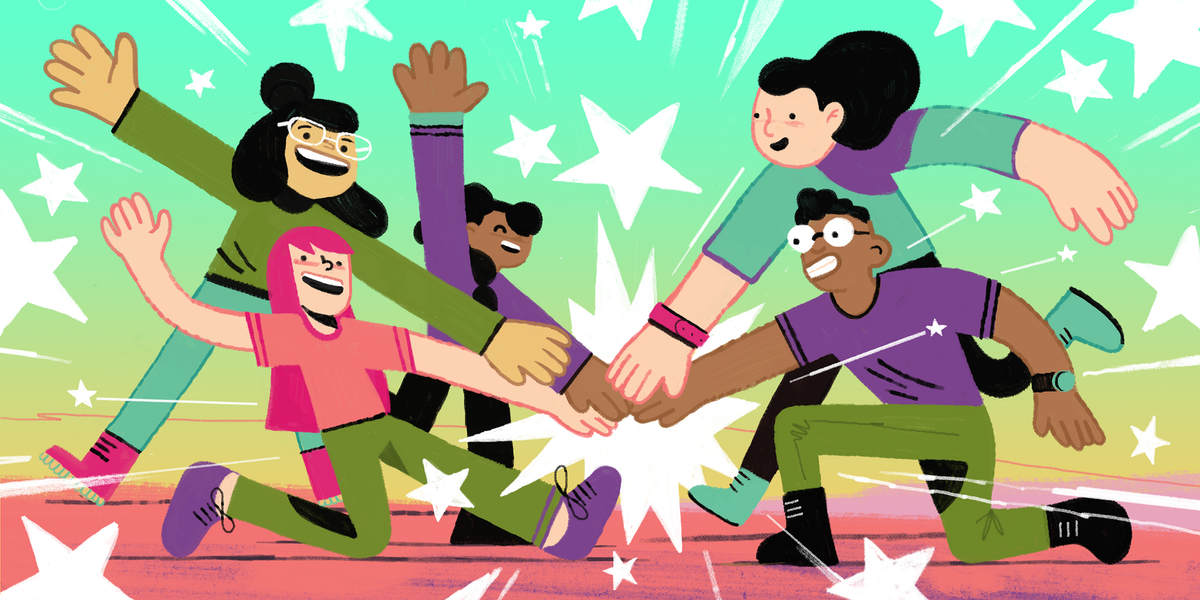 Slack Technologies, LLC, a Salesforce company
Slack teams share their most memorable, momentum-building events
Below is an article originally written by Lima Al-Azzeh of PowerToFly Partner Slack, and published via Medium on August 31, 2017. Go to Slack's page on PowerToFly to see their open positions and learn more.
It's important for a team's happiness and performance to take some focused time to align on goals, check in on morale, and celebrate a job well done. It's also important to have a little fun — whether that means escaping from your usual surroundings or rallying everyone around a creative challenge.
But try not to think of fun as frivolous, advises Dawn Sharifan, who leads People Operations at Slack. The right atmosphere makes important information more memorable, inspires team members to be more intrepid in exploring new ideas and solutions, and helps teams develop a shared vocabulary that heightens their understanding of one another and how each person works best.
From talent shows to volunteer work and more, several Slack teams have gotten creative with their offsites and seen great results. Here are a few ideas for activities (both fun and productive) for your next gathering.
---
Host a work-related talent show
The brainchild of Robert Frati, VP of Sales and Customer Success at Slack, the "Sales Got Talent" event was part of the team's annual global kickoff meeting.
Rather than organize a series of presentations, team members were encouraged to showcase compelling customer case studies in a talent show. People went all out, with some even presenting their stories as sing-a-longs. Peers voted for their favorite acts over three rounds, with a final winner chosen by a panel of judges made up of executive staff and board members.
"The talent show helped our team build skills around presenting and storytelling, which is core to what we do," says Frati. "It also gave us an engaging way to share best practices across a large, globally distributed team, and served as broader internal education around how our customers are using the product we're building and the different kinds of solutions we can offer them."
Volunteer your skills
Every job requires mastering certain skills, and one of the best ways to practice and evaluate that mastery is by teaching it to others.
Slack's editorial team spent part of their offsite volunteering at 826 Valencia, a non-profit literacy organization based in San Francisco. After coaching high school students on writing personal essays for college admission applications and helping immigrant students improve their language skills through podcasting, the team took what they shared — and learned — about writing, storytelling, and relating to an audience as a jumping off point to talk about their own approach at work.
Give your team time to tinker
The Finance and Business Operations team at Slack hosted a Mission Control Day (akin to an internal hackathon) where their goal was to find new solutions for departmental inefficiencies.
After two days of tinkering, the team wound up with a list of good ideas ready to be put into action, including Financebot — a custom bot that helps multiple internal teams find information and better allocate resources.
Depending on your goals, it may take time to see the effects of a team offsite in the long term, but Sharifan adds that one surefire way to gauge whether your team found the experience valuable is if people recall the experience fondly or "use the frameworks and vocabulary they learned together at the offsite" post-event.
All to say: team offsites don't have to be strictly business, nor do they have to be focused solely on bonding. The best offsites blend both, and leave team members feeling newly committed to supporting one another and better equipped to tackle complex challenges ahead.
A quick and handy checklist for planning your next team offsite:
Define your goals — Note: having fun and letting off steam is a reasonable goal.
Get the team's input — Do they seem skeptical or excited?
Team up with internal experts — Think about who is going to be your partner in the process, whether that's someone in management, an expert on another team, or a project sponsor.
Mix it up — Remember that taking focused time with the team doesn't necessarily mean spending an entire day or two away from work. Switch up offsites by location, length, and topic, making sure to alternate between team-building activities and goal-setting or planning meetings.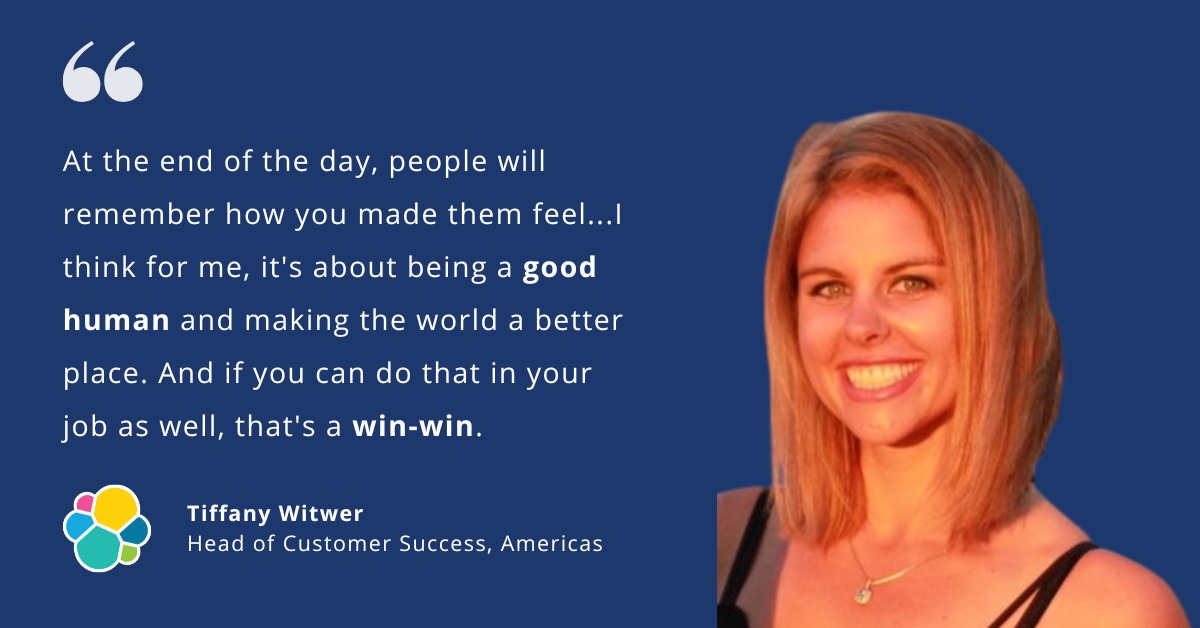 Elastic
Tiffany Witwer from Elastic is a proud mom of three.
"I enjoy being a parent because it teaches me patience and it gives me a different perspective," she shares. "It allows me to be more present, laugh more, and appreciate the small things."
In between her duties as a mom, she keeps herself mentally and physically healthy by running, biking, swimming, or doing yoga — all activities that help her start the day with gratitude. "It gives me the right perspective and attitude to go into the day," she says.
With an overall positive outlook on life, Tiffany brings that same energy to her customers at work as the Head of Customer Service for Elastic.
We sat down with Tiffany, who shared with us her career journey from civil engineering to customer service. Keep reading to learn top tips for creating happy customers.
Starting a Career in Engineering
Tiffany pursued an undergraduate degree in biological engineering.
"I was always really good at math and science, especially chemistry. And I love being outside in nature and learning about it," she shares.
It was a college professor's research on stormwater runoff that motivated her to pursue her master's degree in biological and civil engineering. "I liked his energy and attitude toward learning. It was contagious," she describes.
While working alongside this professor at North Carolina State University, she presented her work at a conference that helped lay the groundwork for her career. "I met a man who liked my presentation," she says, "and was hiring a civil engineer for a consulting company."
Taking on this new opportunity, she moved to New York City where she discovered her love of being surrounded by diverse people and cultures, in addition to her new job.
"I enjoyed doing the design work and meeting the customers," she explains. "I was always the one on the proposals, winning the design work, and building relationships with customers."
While emerging in the complex realm of storm waste engineering, Tiffany saw how the world was progressing and thought that knowing software and technology would be beneficial.
"So I learned to code, networked, and got a job at a business analytics and software company as a pre-sales systems engineer," Tiffany says.
Pivoting into a Customer Success Role
As she dedicated more time to customers, her interest in working with them soon began to increase. "What I loved most was that I was using my mind to solve problems, but I also got to interface with customers. I got to meet customers and hear what they were doing and hear how we could help them."
Tiffany spent 10 years in pre-sales engineering and sales. She then took a job in a different company where she helped build out their advisory services business.
It was there that she built a successful team with coworkers who would lead her to her position at Elastic.
Elastic is the leading platform for search-powered solutions. They help enhance customer and employee search experiences, keep mission-critical applications running smoothly, and protect against cyber threats.
As the Head of Customer Service, Tiffany is responsible for making sure customers are getting the most value out of their software. "It's not only about how customers are using the technology," she explains. "It's, 'how is a customer's experience with Elastic? Are we meeting their need for technology?' And, 'are we meeting their needs from a support and empathy standpoint?'"
In order to meet her customers' complex needs, she emphasizes how crucial communication is.
The Importance of Communication in Customer Success
Quality communication is a skill that can often be undervalued. "I think people underestimate how much time is needed for clear communication," she points out. "Just because you put a message out there, it doesn't mean it's clearly understood. You need to think through how people are going to respond to the information."
With the complexities of communication, Tiffany relies on setting clear intentions when communicating in meetings. "I always ask at the beginning, 'what is your goal for this meeting and what does success look like for you?'" she explains.
Communicating clearly what success looks like for both parties allows for a better outcome. "I think for communications, it's making a lot of time and clearly defining what you want to get out of the interaction."
Advice for Clear Communication with Customers
Tiffany's career journey has been a mixture of understanding technology and building relationships with people — learning how to explain the technology to customers and problem solve in an empathic way. This has led to overall customer success. To create clear communication, Tiffany offers this advice.
Be empathetic and listen to your customers: "If you think about it, you've been trained in your technology, you know it inside and out," she explains. "But when you meet with a customer, the technology may only be a small part of their job." Taking this perspective can help you to communicate with more empathy. "It's understanding people's vantage point and then using that to communicate to them."
Defining success and clearly communicating it: "I'm a strong believer in getting on calls and confirming the goals and what people want to get out of the call," Tiffany shares. "This way, you know, you are aligned on what success is no matter what type of call."
Be genuine: "At the end of the day, people will remember how you made them feel," she shares. "I think for me, it's about being a good human and making the world a better place. And if you can do that in your job as well, that's a win-win."
Get to know people: "Getting to know people, their perspectives, and growing with them is what has led me to customer success and to where I am in my career," Tiffany advises.
If you're looking to build valuable work relationships alongside your career, check out the openings at
Elastic
!
READ MORE AND DISCUSS
Show less
Loading...