GET EMAIL UPDATES FROM POWERTOFLY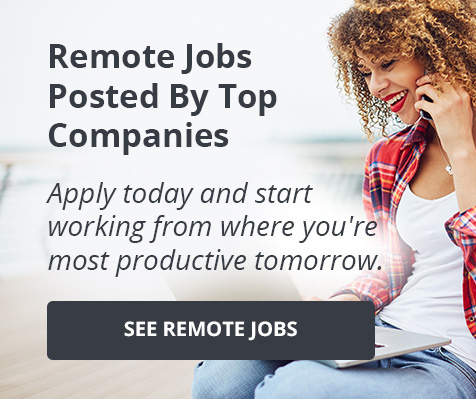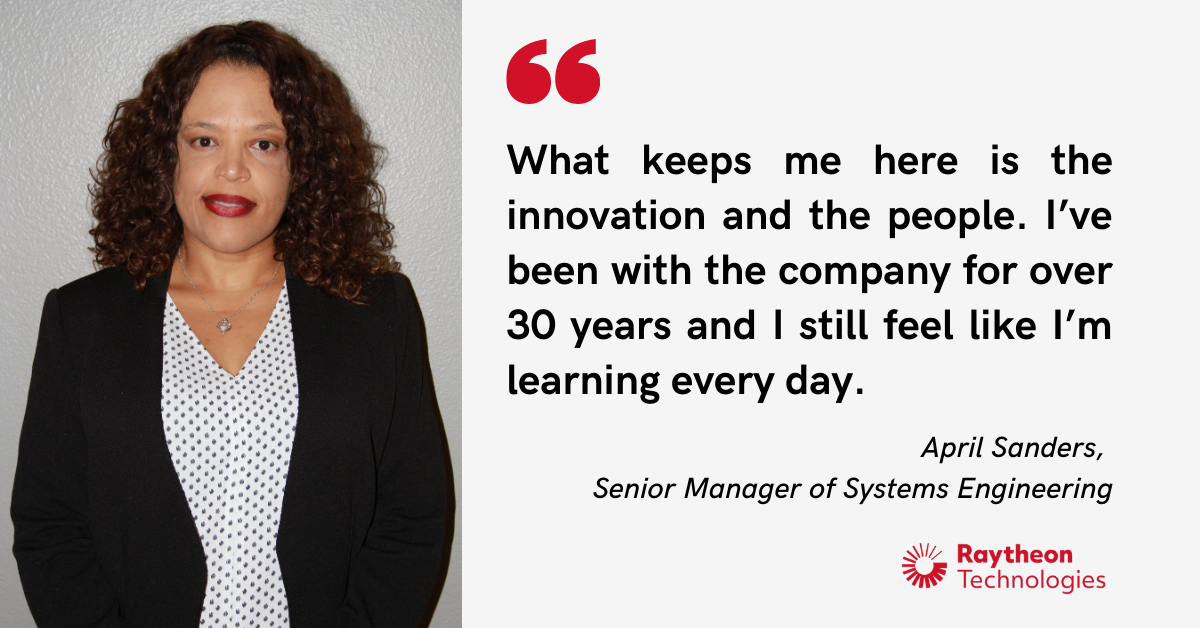 October 29, 2020
Raytheon Technologies
4 Tips for Continuous Learning & Success in Technical Fields
How Raytheon Technologies' April Sanders Has Built a 30-Plus Year Career in Aerospace & Defense
If you look at April Sander's LinkedIn profile, you'll see that it has just one entry: Raytheon Technologies.
Sanders has been at the aerospace and defense company for 32 years and is currently Raytheon Intelligence & Space senior manager of systems engineering.
---
She first joined Raytheon Technologies, then Hughes Aircraft, out of a sense of loyalty—a Hughes fellowship program had paid for her tuition at Cal State Long Beach. "That's really what drew me to the company. They invested in me and gave me challenging summer internship assignments so upon graduation, I didn't consider other companies," she said.
She stayed, though, because she realized just how meaningful her work was (and is) and how much she had to learn from her projects and her peers.
"I've had the opportunity to do many different things, from capture management research and development to payload systems integration and testing and even testing radar systems. What keeps me here is the innovation and the people," she said. "I've been with the company for over 30 years, and I still feel like I'm learning every day."
We sat down with Sanders to hear about her career and get advice—especially for other women who want to find success in highly technical fields like aerospace—on thriving in a male-dominated industry. Here are four of our favorite takeaways:
Tip 1: Seek out new challenges
Sanders has always been a hard worker. She said that she gets it from her mother, who worked two jobs to provide for Sanders and her six siblings. Growing up in south central Los Angeles, Sanders would tag along to help her mother with her second job doing custodial work after she'd finished her homework each day.
"The whole experience helped ground me, but it also gave me the vision to look for something different," she said. "I'd go to these different offices, and I'd see pictures of the employees on vacation with their families and it was inspiring; it exposed me to a different life."
She applied her strong work ethic to school, particularly in her math classes, which had always come easily to her. A school counselor noticed and told Sanders to consider engineering. She hadn't heard of the field before.
"I didn't know what an engineer was; I thought it was a train conductor," she said. Once she learned more about it, she knew it was for her.
She took all the math classes she could in high school and got into every college to which she applied, but chose Cal State, where she studied electrical engineering, because it was what she could afford.
"Seeing the price tag to go to USC, UCLA, I could not put that burden on my mother," she said.
From there, she found her way into aerospace.
Early on in her career at what is now Raytheon Intelligence & Space, a Raytheon Technologies business, Sanders was on a project that required her to learn something new.
"In college, I absolutely hated software development. I did not want to program," she said. "But I was working on this radar system where I had to troubleshoot special test equipment used to test the radar receiver module. I did all the hardware troubleshooting and couldn't identify any issues, so it forced me to delve into the software. And once I understood how the hardware and software played together, I developed a love for it."
Over the years, Sanders has continued to learn new skills and now approaches new projects with excitement about what she's going to be able to learn.
"I've had many opportunities to move to different areas of the company doing different things," said Sanders, whose work has included "software, integration and test, capture management, business development, and functional leadership." She said that it almost feels like "being in different companies, working on all types of products from airborne radar to space systems and wireless communication for ground-based systems."
"I've done things I never thought I would ever even have an interest in doing. And it keeps it fresh; it keeps it new for me," she said.
She encourages other women to do the same: "You really have to be open to new ideas, even if it is out of your comfort zone, because you just never know what may come out of it."
Even now, after having worked across her company and "getting in on the ground floor of the space program" at Raytheon Intelligence & Space and building it up into a large team—at one point she had over 30 engineers directly reporting to her—Sanders is still taking on new challenges. In her role as senior manager of systems engineering, she's responsible for a much larger team and using very different skills than she did in her more technical roles.
"It's a bit of a challenge because I'm used to setting goals for myself and checking them off," she said. "It's different, but I'm learning a lot about how we run the business and how we take care of our people."
"I always consider when I take on a new role, if I'm not a little bit nervous or scared, then it means I'm not going to learn anything new or grow from it," she said.
Tip 2: Let your reputation precede you and your work speak for you
After Sanders succeeded at her software troubleshooting assignment, a manager from a different project contacter her and asked her to join their team.
"This is true for just about every assignment that I've had at Raytheon Technologies," she said. "A manager who's seen the work I've done on a program will pull me to work another program."
Sanders said that she's really learned to "let [her] work speak for itself" because, especially early on, she often found herself as an "only" at work.
"I stood out in most meetings when I first joined, being the only female or the only African American," she said. "I know some people might have the impression that I'm in a role because I'm African American or female. I'm not offended by it. I see it as a challenge to demonstrate that I belong."
While the makeup of Raytheon Intelligence & Space has changed greatly in the last 30 years, Sanders said, "They walk the talk."
"My very first year, they had a diversity team set up and asked me to be a part of it, even as an entry-level engineer," Sanders said. "Now, we're a very diverse organization, and I see it every day when I walk the halls"
Sanders still recognizes the weight of being an African American woman in a historically white and male-dominated field.
"I know that I [might be seen as] representing people of color or women," she said, "so I feel the pressure of wanting to represent us well and will go above and beyond."
Tip 3: Recognize your own limitations
While it's important to put your best foot forward and let your work stand on its own merits, said Sanders, it's also important to remember that you won't be perfect.
"I don't beat myself up if I stumble or make a mistake. It's OK to do that as long as you recognize it, acknowledge it and do better next time," she said. "I think we put a lot of pressure on ourselves and beat ourselves up if we don't perform. But recognizing your limitations and being OK with not being the best at everything is key, because we can't be the best at everything. We struggle a lot with just saying, 'You know, I can't do that' or 'That's not my area of expertise,' but that's really what we should be saying and doing."
Sanders suggests that people be unafraid to ask for help, rely on their peers to fill in their gaps, and acknowledge their relative strengths along with their relative weaknesses.
Tip 4: Coach, don't criticize
In her latest challenge of managing a big team, Sanders is learning what being on the other side of management feels like. One of the lessons she's learned from that perspective is seeing just how important it is to support her employees in a way that encourages their growth.
"Coaching as opposed to criticizing goes a lot longer; it's much more effective," she said. "Giving a pat on the back or catching someone in the hallway and telling them they did a great job goes such a long way to boost confidence."
Bonus tip: Learn from the best
Looking back on her long career, Sanders is most grateful for one thing: the rich learning environment she's been able to participate in for the last 30 years.
"I work with some of the greatest minds in the industry," she said. "We have people that are considered national assets for the knowledge that they have on some of our systems. Being able to work with people like that on a daily basis? That's what motivates me. As a lifelong learner, it's like being a kid in a candy store and every person I get to learn a little bit from, it helps me put the puzzle pieces together to understand the bigger picture."
If you're interested in a career at Raytheon Technologies and learning from the best, check out their open roles here.
Related Articles Around the Web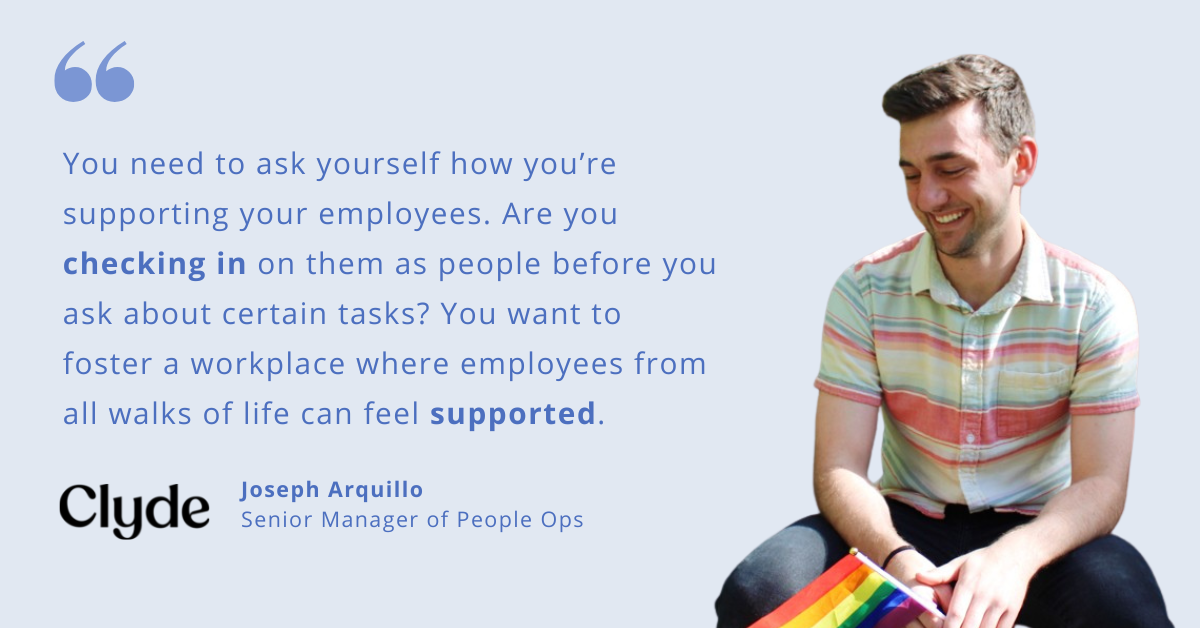 Clyde
Joseph Arquillo doesn't work in Human Resources — he works in People Operations. And the distinction matters.
"It was named 'human resources' because it saw humans as resources, utilized for certain tasks or behaviors. But that's not really what it's about," says Joseph, who is a Senior Manager of People Ops at Clyde.
"Calling it 'people ops' adds back what you lose with 'HR.' My philosophy is that I am there to support you. I am there to work with you, empower you, and enable you so you can be your best self."
For Joseph, a key element of helping employees become their best selves is making sure that the workplace, whether in-person or virtual, is an inclusive space for all. That doesn't happen by accident — it requires a dedicated DEIB strategy and leaders who are committed to asking hard questions of themselves and others.
We sat down with Joseph to hear more about his professional journey, and the practices of leaders who create environments where everyone feels included.
More Than Just a Number
As a college freshman, Joseph planned on sticking with liberal arts when it came to choosing a major. But then he took a class in Boston College's School of Education, and loved its holistic approach to applied psychology.
This inspired him to switch his major to psychology and human development, and select minors in political science, and management and leadership, where he enjoyed learning about organizational psychology.
After graduation, he explored the consulting space to put theory into practice, but found out during an internship at a multinational consulting firm that finance or accounting weren't the places he wanted to build his career.
"Since Big Four companies have 250,000 employees, you become just a number," he says of the experience. "It wasn't my cup of tea. Too corporatized."
That kicked off Joseph's interest in startups.
"It's always fun to get in the weeds! One thing that's very interesting to me is a challenge," he says. "When you're helping a company like Clyde grow and scale, joining when they're at a Series B and helping them get to the next level, you really get to focus on the interaction between people, process, and product," explains Joseph. "You need to hire the right people to work towards increasing efficiencies in all areas, but also make sure that we're enabling them to create a strong product."
6 Keys To Building Inclusive Spaces as a Leader
Across the different industries and companies that Joseph has worked in, he's identified the behaviors that create truly inclusive environments — as well as those that discourage them.
Here's what he's seen:
First, recognize your own privilege. "If you're a man, you have privilege, even if you're a gay male. If you are a white woman, you have racial privilege. It's really important that you're cognizant while you interact with somebody how they might interpret the interaction based on your identity."
Leaders should always speak last. This is important always, but especially in in-person spaces, where it might seem even more nerve-wracking to speak up in a crowd, says Joseph. "You want to make sure you're creating that space for employees who aren't as senior to feel comfortable voicing their thoughts."
And, leaders should use check-ins liberally. "You need to ask yourself how you're supporting your employees. Are you checking in on them as people before you ask about certain tasks? You want to foster a workplace where employees from all walks of life can feel supported," he says.
DEIB isn't just about adding new initiatives — sometimes it's about removing barriers. "You need to remove unnecessary bias," explains Joseph. "That can mean making sure you have appropriate policies and practices that don't hinder people depending on who they are or where they live."
Maximizing participation requires planning with a diversity lens. Joseph has helped the Clyde team gather together and bond as a group. Along the way, he's been careful to consider physical and psychological safety for everyone involved. "For instance, if you're doing an event, do you have someone who's not drinking? Have you set up the environment for people who might have a physical disability, or carefully planned the flow of activities for people who might be neurodivergent?"
Saying you want to be better isn't enough — articulate actions you will take. "Pride is a great example," explains Joseph. "Yes, June is a time to celebrate. But it's also a time to march. And beyond that, how do you show up and celebrate with the LGBTQIA+ community throughout the year?"
Embracing the Unknown
If you visit Joseph's LinkedIn profile, you'll see his personal motto: "Without challenge, change, and a bunch of unknowns, it's no fun."
That belief has led him to study what he's passionate about, to take on new and exciting roles at growing startups, and now, at Clyde, to help formalize what world-class people operations looks like at a fast-growing company.
"I view myself as a connector that really empowers people, challenges teams, and helps drive us towards what I consider to be an improved future," he says. "I feel like it's my responsibility to be the chief advocate for each of our employees, and remove any barriers in the way of their growth."
Want to learn more about what opportunities Clyde offers? Check out their open roles!
READ MORE AND DISCUSS
Show less
Loading...