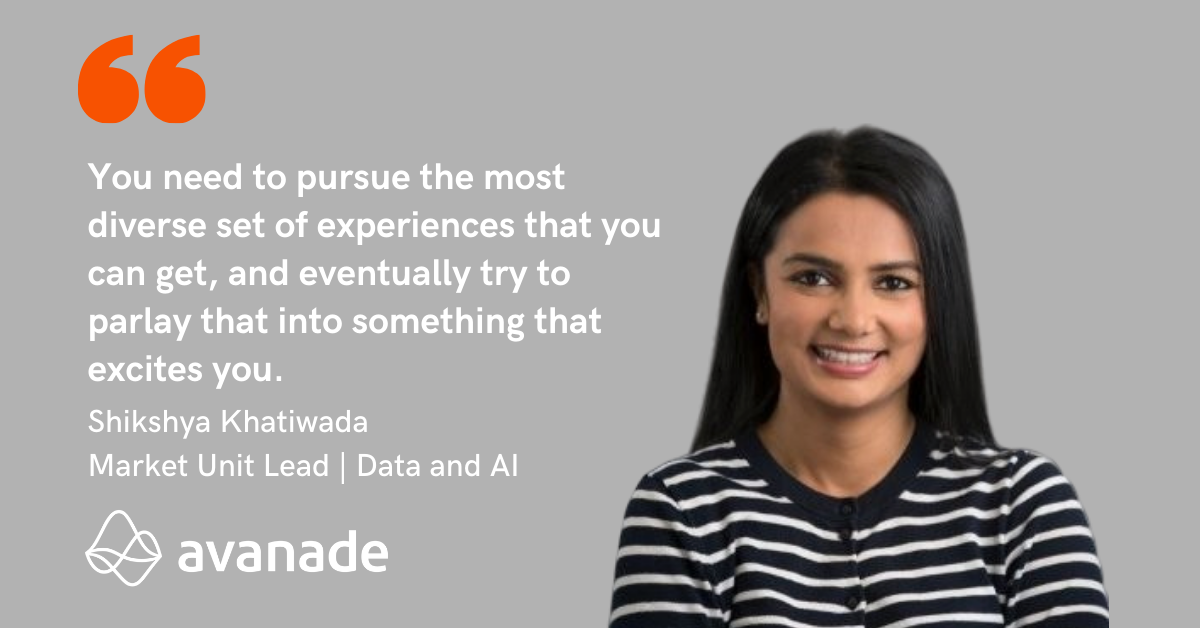 Avanade
Advice & Reflections from a Senior Director at Avanade
Shikshya Khatiwada studied finance. Now, some 12 years later, she's the Senior Director and Market Unit Lead of Data and AI at Avanade, the leading provider of innovative digital and cloud services, business solutions, and design-led experiences.
---
Her own non-linear career path and her work at Avanade, which centers largely on helping clients use automation and AI to solve business problems, have shown her firsthand how the workplace is continually evolving, in large part due to technology.
So when she hears consultants on her team bemoan being placed on certain projects, saying, "that's not what I went to school for," she gives them a word of advice: the job you want doesn't even exist yet.
"You need to pursue the most diverse set of experiences that you can get," she says, "and eventually try to parlay that into something that excites you." As Shikshya sees it, pursuing only those experiences which are aligned with your degree limits your career potential because it's impossible to study for a role that hasn't yet been created. Instead, she's embraced a non-linear approach that emphasizes problem-solving and continuous learning.
I recently sat down with Shikshya to learn more about her own career journey, her tips for analytics professionals who are hoping to advance their careers, and her experience at Avanade. Read on for her answers!
From Finance to Consulting to Data & AI Solutions
Before you joined Avanade last year, you were working for IBM as a Business Development Executive. What inspired you to join the Avanade team?
I wanted to run my own profit and loss. But most of all, I wanted a closer connection with the people that I was working with. I wanted to work for a smaller company with minimal span of control and maximum impact.
Avanade is about 38,000 people worldwide, so it's still quite large, but it has a regional structure. Each region is responsible for their own P&L and owns and manages their client relationships. I love this model because you have the resources of a large organization, but the intimacy of a much smaller one. You can get to know the 400 or so people that you work closely with on a more intimate level. As a result, we have a much clearer idea of each other's strengths and weaknesses, and we play to that.
At Avanade, I really get the community feel I was looking for, even though it's still a very large company.
What was the toughest learning curve you faced?
Being a translator in an organization that is centered around two of the biggest players in the tech industry. We're owned by two very different organizations — Accenture and Microsoft. They're both in tech, but Accenture is one of the largest technology consulting organizations in the world and is more solutions and people driven, while Microsoft is the largest technology company in the world, and is more product focused. So being able to translate and determine what is important is absolutely crucial for us. That was probably one of the most challenging part about my first year at Avanade. I am still continually learning and relearning the language.
Has having a background in consulting helped you do that?
Absolutely. Working in data and AI, having a problem-oriented approach is essential.
You can't look at a business problem as a nail and AI as a hammer. A whole set of different types of technologies fall under the AI umbrella. You don't go to a client and say, "let me tell you how this particular AI technology is going to fix all your problems." You go to them and ask them about the challenges they're facing. With a fairly wide industry lens, we see the major themes a particular industry is trying to solve for, but as a consultant, it is imperative to understand firsthand what type of business outcome this particular client wants to achieve. Then, we work backwards from that outcome and determine how the Micsosoft platform with AI, automation, and data analytics can help solve the specific and unique problem that the client is facing.
We ask questions like: What is the key business metrics this technology will help you solve for? How do you build an operating model around a new tool or a process? How do you actually get this tool to be adopted across different parts of your business? A consulting mindset is key to solving problems, because data and AI aren't fixed entities the same way most products are.
Her Experience at Avanade
Avanade is committed to being a leader in growing women's presence in tech. Which initiatives at the company have been most impactful to you personally?
We have a group called Women Supporting Women in the Northeast. We actually bring in consultants from outside of Avanade to talk about workplace challenges women are facing and reframe some of the discussions. Being able to hear women at all levels of their careers and from all facets of the company speak candidly about their experiences has been really helpful for me to understand how other people respond to some of the microaggressions in the workplace. I have also been able to get a firsthand view of how other women they have thought about their careers and tracked their journeys. Being able to bring so many women to have a dialogue about the challenges we face and the battles we have won has absolutely been phenomenal.
Avanade also has a significant amount of women in leadership roles, right? (Not to mention your CEO, Pam Maynard.)
Yes, in the Northeast, which is the team I report into, a number of senior roles are actually women-led. The Northeast leadership team is run by Suzanne Dann. She is a powerhouse and under her leadership we've seen the number of senior women in these roles increase and she continues to push the momentum forward. Suzanne always says, "You cannot be what you cannot see," and is very passionate about driving this change within our organization.
You work in Avanade's Analytics talent community. What would you tell analytics professionals considering joining Avanade to encourage them to apply?
First off, I'd say that working in consulting is a great way to broaden your skill set, especially when you're starting out. At Avanade, we always think about our consultants as T-shaped. experts. In the case of my team, someone might have very deep knowledge in analytics, but we also want them to develop broader knowledge: we want them to be skilled in consultative selling, to have executive presence, understand how to manage teams etc.
At Avanade, you can become a well-rounded individual by becoming a well-rounded consultant. Eventually, you can choose what you really want to "major" in. In the Northeast, we work through the AI Evangelist community to build an internal community of practitioners across all types of skill sets that are interested in AI. On the flip side, if you are an experienced professional, there are ways we can help you deepen your skillset in a particular area. We start from the individual's aptitude and map a career progression based on their competencies. Avanade is a great place to work!
Last but not least, any tips you'd like to share with prospective applicants?
I would absolutely recommend that you take advantage of online learning resources, whether it's Azure certification, AI 101, or Data Analytics 101, getting that certification before you apply for a job at Avanade is going to help.
I would also say that having a strong portfolio will really help you stand out, especially if you're earlier on in your career. If you enter a data analytics competition and win, or do a cool project for a course you're taking, that's all experiences you can include. We are hiring a lot of Data and analytics professionals all over the country.
----
If you're interested in joining Shikshya's team and developing skills that will prepare you for any number of careers that don't yet exist (but might one day soon!), be sure to check out Avanade's open roles here.
From Your Site Articles
Related Articles Around the Web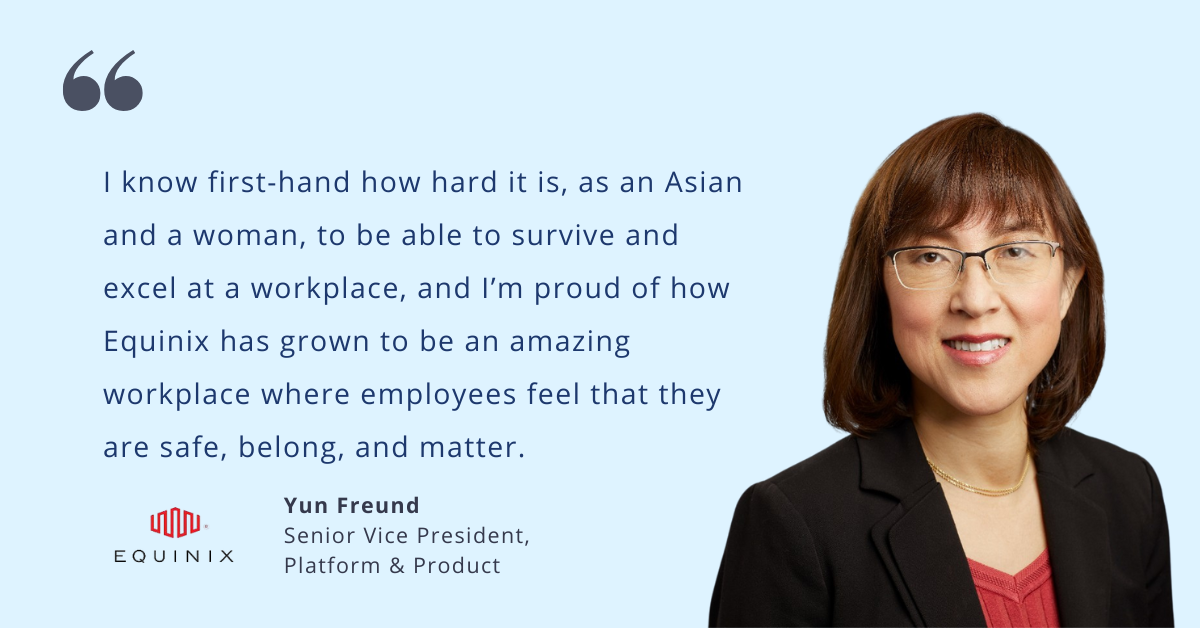 Equinix
Yun Freund considers her background to form the "typical immigrant story" — but sitting down with the SVP of Platform and Product at Equinix, it's clear she's made it her own.
"I came to the United States about 30 years ago with $80 in my pocket. I earned a CS degree from a Beijing university when computer science was new. I was good at math, so that's what I studied," explains Yun.
Fast forward a few decades, and Yun is now running one of the largest organizations at Equinix, a Fortune 500 digital infrastructure company focused on providing an interconnected platform to its global 10k customers. While focusing on external growth — the business has grown nearly 40% since her arrival — Yun has also invested in internal progress, especially when it comes to Equinix's Diversity, Inclusion, and Belonging (DIB) goals.
"I know first-hand how hard it is, as an Asian and a woman, to be able to survive and excel at a workplace, and I'm proud of how Equinix has grown to be an amazing workplace where employees feel that they are safe, belong, and matter," says Yun.
That's not just her opinion. Glassdoor confirms this, having given the company a "best place to work" distinction in 2021, and a special award for best places to work for LGBTQ+ equality list by the Human Rights Campaign Foundation.
We were excited to learn more about Yun's strategies for empowering her team — including her belief that making room for failure is just as important as celebrating success.
The Intersection of Technological Innovation and People Management
Yun first heard about Equinix through a recruiter. Decades into her career in tech leadership, she was looking for a role where she could drive innovation in both technology and people management.
"After many rounds of discussion with our executives, I realized Equinix is a company that's full of potential. It was doing a lot of innovation on interconnected SaaS products and networking products, and I thought I could really help drive, from a culture and process perspective, the company's digital transformation journey," reflects Yun.
Her first order of business? Building a strategy for scaling product development. Yun had long worked at the intersection of engineering and people management, and she embraced the challenge to scale a talent strategy as well as changing the culture.
That resulted in clear growth — not just for Yun's career, as in promotions and new responsibilities, but also in what the company was able to do.
"Helping to cultivate a DevOps culture, move products to the Cloud for high reliability and availability, and build operational excellence for our customers is contributing to us fulfilling our purpose, which is to be the platform where the world comes together, enabling the innovations that enrich our work, life and planet," says Yun.
Diverse Ways of Measuring Impact
Yun doesn't manage her team by the balance sheet alone.
"Improving the bottom line, or operating more efficiently, is just as important as improving the top line, or driving more revenue and more customer adoption," she says. "Sometimes it's not about how we get new products and services out the door, but how we run things more efficiently."
For Equinix, says Yun, that includes committing to becoming carbon-neutral by 2030.
"We're a company that really touches life every day, from online shopping, to sending emails and streaming movies, to smart cars," says Yun. "We want to be doing that sustainably. For example, by using AI and machine learning to lower our power consumption and using green sources of energy."
Yun knows that to drive the most impact, Equinix needs a diverse team. She has partnered with other senior leaders and employee connection groups and started driving a more coherent DIB strategy across the company. She is excited to see the progress and wants to continue the effort in building a diverse and safe workplace for everyone — including by leading through her own example.
3 Key Ways to Empower Your Team
When Yun says that it's important to empower your team, she doesn't mean that you simply transfer the responsibility to your team and call it done. Here's what she does mean:
Embrace failure. "It's easy to say, 'Ah, empowerment. Here's the purpose, go drive impact.' But sometimes it's not all rosy," she says. "The road to empowerment can sometimes be a failure. How do you support your employees along the way? When they fail, you should not blame them. You should be there, on their side, to help them do a retrospective and learn from it."
Show trust via delegation. "Giving your team the opportunity to make their own decisions helps give them a purpose. It shows them they can make a difference. Accountability and ownership will help drive your team to have deeper engagement and commitments, and ultimately deliver results."
Tie individual responsibilities to company OKRs (Objectives, Key Results). "I always communicate to my team that every engineer and individual contributor's work will have an impact on the business, no matter how small that is," says Yun. For example, if an engineer is working on a new digital experience component for the customers, their work will contribute to some kind of business outcome such as, hours saved from many customer support calls or customer satisfaction score improvement, and that in turn drives operational efficiency and customer experience improvement for the whole business. "When employees realize their impact on the business, it elevates their motivation as well as their state of mind."
Looking to join an empowerment-first culture? Check out Equinix's open roles!
READ MORE AND DISCUSS
Show less
Loading...