GET EMAIL UPDATES FROM POWERTOFLY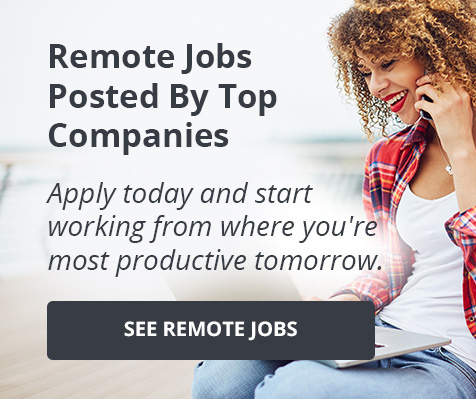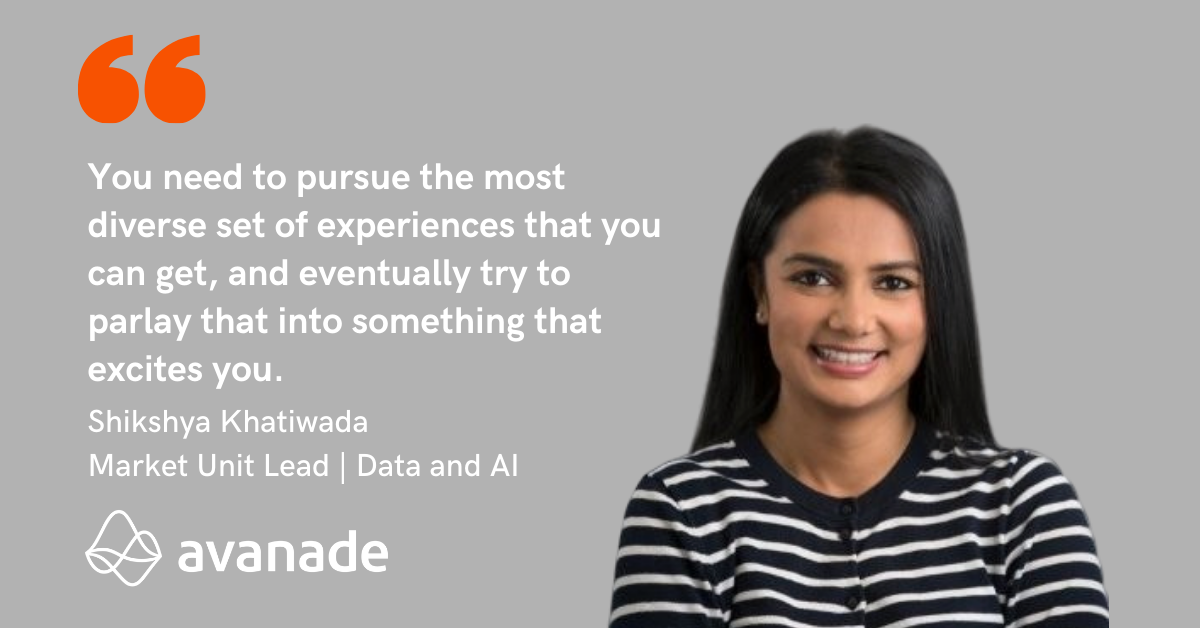 January 03, 2020
Avanade
Data, AI, and Thinking Like a Consultant: How You Can Prepare for the Careers of the Future
Advice & Reflections from a Senior Director at Avanade
Shikshya Khatiwada studied finance. Now, some 12 years later, she's the Senior Director and Market Unit Lead of Data and AI at Avanade, the leading provider of innovative digital and cloud services, business solutions, and design-led experiences.
---
Her own non-linear career path and her work at Avanade, which centers largely on helping clients use automation and AI to solve business problems, have shown her firsthand how the workplace is continually evolving, in large part due to technology.
So when she hears consultants on her team bemoan being placed on certain projects, saying, "that's not what I went to school for," she gives them a word of advice: the job you want doesn't even exist yet.
"You need to pursue the most diverse set of experiences that you can get," she says, "and eventually try to parlay that into something that excites you." As Shikshya sees it, pursuing only those experiences which are aligned with your degree limits your career potential because it's impossible to study for a role that hasn't yet been created. Instead, she's embraced a non-linear approach that emphasizes problem-solving and continuous learning.
I recently sat down with Shikshya to learn more about her own career journey, her tips for analytics professionals who are hoping to advance their careers, and her experience at Avanade. Read on for her answers!
From Finance to Consulting to Data & AI Solutions
Before you joined Avanade last year, you were working for IBM as a Business Development Executive. What inspired you to join the Avanade team?
I wanted to run my own profit and loss. But most of all, I wanted a closer connection with the people that I was working with. I wanted to work for a smaller company with minimal span of control and maximum impact.
Avanade is about 38,000 people worldwide, so it's still quite large, but it has a regional structure. Each region is responsible for their own P&L and owns and manages their client relationships. I love this model because you have the resources of a large organization, but the intimacy of a much smaller one. You can get to know the 400 or so people that you work closely with on a more intimate level. As a result, we have a much clearer idea of each other's strengths and weaknesses, and we play to that.
At Avanade, I really get the community feel I was looking for, even though it's still a very large company.
What was the toughest learning curve you faced?
Being a translator in an organization that is centered around two of the biggest players in the tech industry. We're owned by two very different organizations — Accenture and Microsoft. They're both in tech, but Accenture is one of the largest technology consulting organizations in the world and is more solutions and people driven, while Microsoft is the largest technology company in the world, and is more product focused. So being able to translate and determine what is important is absolutely crucial for us. That was probably one of the most challenging part about my first year at Avanade. I am still continually learning and relearning the language.
Has having a background in consulting helped you do that?
Absolutely. Working in data and AI, having a problem-oriented approach is essential.
You can't look at a business problem as a nail and AI as a hammer. A whole set of different types of technologies fall under the AI umbrella. You don't go to a client and say, "let me tell you how this particular AI technology is going to fix all your problems." You go to them and ask them about the challenges they're facing. With a fairly wide industry lens, we see the major themes a particular industry is trying to solve for, but as a consultant, it is imperative to understand firsthand what type of business outcome this particular client wants to achieve. Then, we work backwards from that outcome and determine how the Micsosoft platform with AI, automation, and data analytics can help solve the specific and unique problem that the client is facing.
We ask questions like: What is the key business metrics this technology will help you solve for? How do you build an operating model around a new tool or a process? How do you actually get this tool to be adopted across different parts of your business? A consulting mindset is key to solving problems, because data and AI aren't fixed entities the same way most products are.
Her Experience at Avanade
Avanade is committed to being a leader in growing women's presence in tech. Which initiatives at the company have been most impactful to you personally?
We have a group called Women Supporting Women in the Northeast. We actually bring in consultants from outside of Avanade to talk about workplace challenges women are facing and reframe some of the discussions. Being able to hear women at all levels of their careers and from all facets of the company speak candidly about their experiences has been really helpful for me to understand how other people respond to some of the microaggressions in the workplace. I have also been able to get a firsthand view of how other women they have thought about their careers and tracked their journeys. Being able to bring so many women to have a dialogue about the challenges we face and the battles we have won has absolutely been phenomenal.
Avanade also has a significant amount of women in leadership roles, right? (Not to mention your CEO, Pam Maynard.)
Yes, in the Northeast, which is the team I report into, a number of senior roles are actually women-led. The Northeast leadership team is run by Suzanne Dann. She is a powerhouse and under her leadership we've seen the number of senior women in these roles increase and she continues to push the momentum forward. Suzanne always says, "You cannot be what you cannot see," and is very passionate about driving this change within our organization.
You work in Avanade's Analytics talent community. What would you tell analytics professionals considering joining Avanade to encourage them to apply?
First off, I'd say that working in consulting is a great way to broaden your skill set, especially when you're starting out. At Avanade, we always think about our consultants as T-shaped. experts. In the case of my team, someone might have very deep knowledge in analytics, but we also want them to develop broader knowledge: we want them to be skilled in consultative selling, to have executive presence, understand how to manage teams etc.
At Avanade, you can become a well-rounded individual by becoming a well-rounded consultant. Eventually, you can choose what you really want to "major" in. In the Northeast, we work through the AI Evangelist community to build an internal community of practitioners across all types of skill sets that are interested in AI. On the flip side, if you are an experienced professional, there are ways we can help you deepen your skillset in a particular area. We start from the individual's aptitude and map a career progression based on their competencies. Avanade is a great place to work!
Last but not least, any tips you'd like to share with prospective applicants?
I would absolutely recommend that you take advantage of online learning resources, whether it's Azure certification, AI 101, or Data Analytics 101, getting that certification before you apply for a job at Avanade is going to help.
I would also say that having a strong portfolio will really help you stand out, especially if you're earlier on in your career. If you enter a data analytics competition and win, or do a cool project for a course you're taking, that's all experiences you can include. We are hiring a lot of Data and analytics professionals all over the country.
----
If you're interested in joining Shikshya's team and developing skills that will prepare you for any number of careers that don't yet exist (but might one day soon!), be sure to check out Avanade's open roles here.
From Your Site Articles
Related Articles Around the Web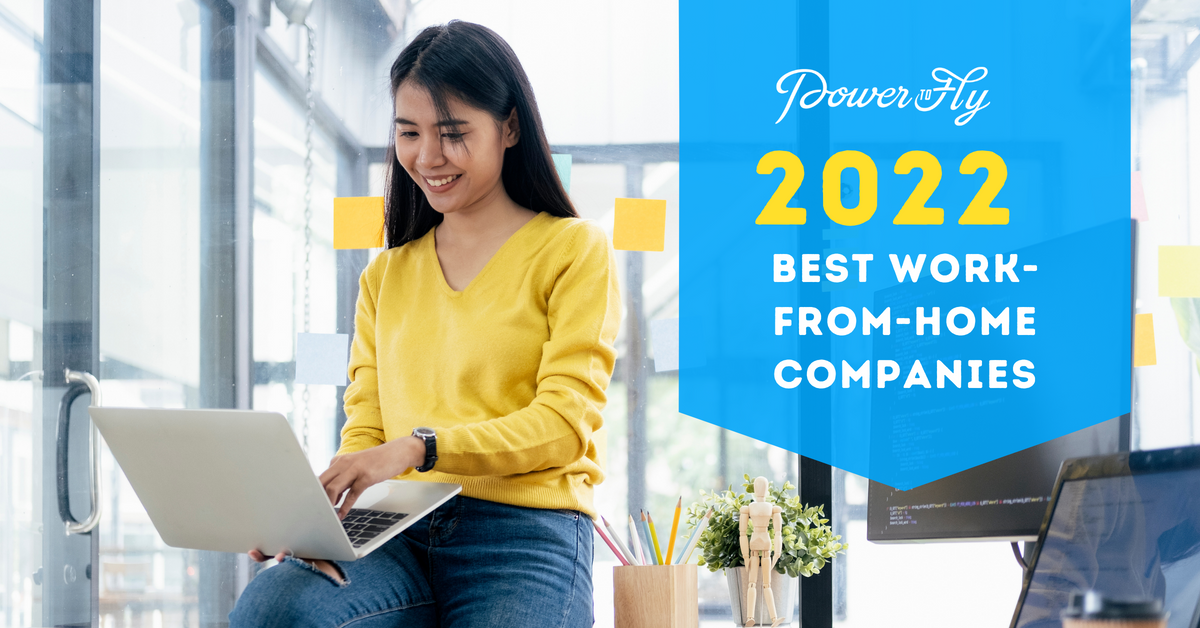 Featured Post
Every year, PowerToFly creates a list of the best work-from-home companies. Now that over half of the U.S. workforce is remote, compiling that list was a bit more challenging.
This year, we prioritized selecting companies that are remote-friendly—meaning they have both remote and in-person roles—but they have made long-term commitments to hiring and supporting employees who choose to work from home; and we think they have the perks, values, and organizational framework to allow all employees to flourish in their careers, regardless of location.
Keep reading to see our top 15 work-from-home companies for 2022, along with a description of what they do, why we like them, and who they're looking for.
PowerToFly's Best Work-From-Home Companies 2022:
Don't see what you're looking for? Check out a fill list of 5,000+ open remote roles here!
READ MORE AND DISCUSS
Show less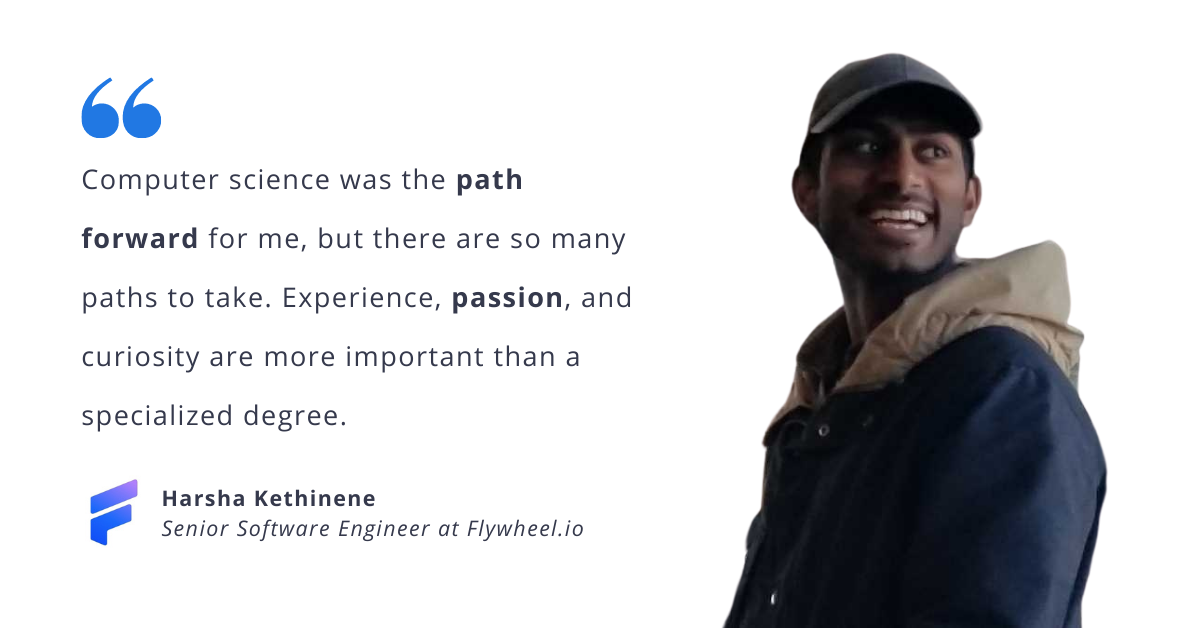 Flywheelml
Software development is in Harsha Kethinene's blood. "Both of my parents are in the computer science field," he says. "So when I was younger, they introduced me to programming." By the time he was in middle school, he was creating his own text-based video games. "I liked learning different languages and different ways of how to program, and by the time I was in high school, I knew I wanted to go into a STEM field."
And that's exactly what he did. Today, Harsha is a senior software engineer at Flywheel, a biomedical research data platform. We sat down with him to learn about his journey from college student, to intern, to engineer. Keep reading to hear his advice to smooth the transition from school to industry.
Figuring Out Next Steps
Harsha knew that he wanted to focus on science and technology in his career, so he originally opted for a double major in physics and computer science. "I had always been interested in astrophysics and space, and I wanted to learn more about that," he reminisces. "But then I took my first physics class and thought, 'alright, nevermind, we're going to stick to computer science.'"
With a new found focus, Harsha began tackling his classes and learning about different aspects of computer science, but he wasn't sure which area he wanted to focus on. "It got to a point where I thought, 'Is computer science really what I want to be doing?,' he explains. "Because what I was learning was interesting, but it didn't seem to fit with what I wanted to do."
That's when he decided to get some experience outside of the classroom to help him secure his career path. "It was my sophomore year, and I thought, 'I want to get an internship because it seemed like what smart people did,'" he laughs. After hearing about Flywheel from one of his colleagues at an on-campus student group, Harsha decided to apply for an internship.
After a series of interviews, they welcomed him on the team. He got the opportunity to dive into the industry and get insight on the different fields he could potentially work in. "Everything kind of clicked together and I thought, 'okay, this is what I want to be doing, software development.'"
Diving Into the Real World
This internship revealed some major differences between his development classes and the projects he was working on at Flywheel. "At Flywheel, what I was working on could change very fast," he elaborates. "At school you have a syllabus, you know what you are going to be working on."
While at university there were structured problems that had a neat solution, he realized that in the real world, he had to identify the problem first, and then try to solve the problem. "Sometimes you almost feel like a detective trying to figure out what's going on and why it's not working," he says. "So that's always fun. It keeps you on your toes."
"I'd say the hardest thing to learn, and what probably took me the longest to learn, is in school, when you write code, you just need to write it once, to get it to work, and then you can kind of ignore it for the rest of your life," he laughs. "You can't really do that in an industry. You need to write it and then make sure that six months from now you can still understand what you wrote."
Flywheel's dynamic, collaborative environment ultimately led Harsha to accept a full time offer as a software developer. Four years later, he's continued to climb the career ladder and is thriving in his current role as a senior software developer.
Tips for Transitioning Into the Industry
Harsha knows, first hand, that going from student to professional can be challenging. Keep reading for his advice to help smooth the transition.
Tip 1: Actively search for experiences and internships. Gaining real world experience is key to making the transition from student to professional smooth. One way to do that is through internships. "It feels very daunting when it comes to searching for an internship," Harsha confesses. "You see all of these postings online and you think, 'am I qualified for it?' Other times you get automated rejections."
When Harsha was looking for an opportunity to gain hand-on experience in the field, he relied on a network of support. "The reason I got my internship was by meeting somebody who mentioned this company that I'd never heard of." In addition to networking, Harsha recommends using other tools. "Try multiple avenues of looking for jobs and internships." Some of the avenues he suggests are industry meetups, school networking events, and conferences. "You need to break out of your shell a little bit to meet your people, to find these opportunities," Harsha advises.
Tip 2: Let your passions shine in the interview. After applying to a job or an internship, the second step is to prepare for the interview. Harsha's interview experience taught him that employers look for passionate people. "One of the people that interviewed me mentioned that they looked to see if candidates were doing any programming outside of school," he says. "That shows that you have a passion for it."
These days Harsha finds himself on the opposite side of the table as an interviewer. "When I'm sitting in on an interview, I tend to look for that [passion] as well, if they would enjoy working here in the software development industry."
Tip 3: Don't let your degree limit you. While Harsha pursued a degree in computer science, he's seen that there's no one correct path to a successful career in tech. "A computer science degree isn't really necessary at all," he elaborates. One of Harsha's former colleagues was a self-taught programmer. "He picked up small contract work online writing code and developing websites. Now, he's a software engineer at another startup."
Everyone's journey looks different, so there's no one-size-fits-all way to a successful career in tech. "Computer science was the path forward for me, but there are so many paths to take. Experience, passion, and curiosity are more important than a specialized degree."
Are you ready to put Harsha's tips into practice? Check out Flywheels' open roles here!
READ MORE AND DISCUSS
Show less
Loading...