GET EMAIL UPDATES FROM POWERTOFLY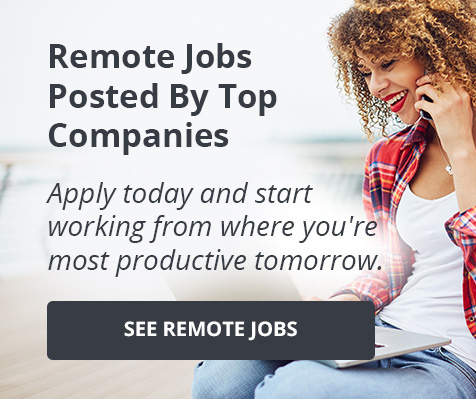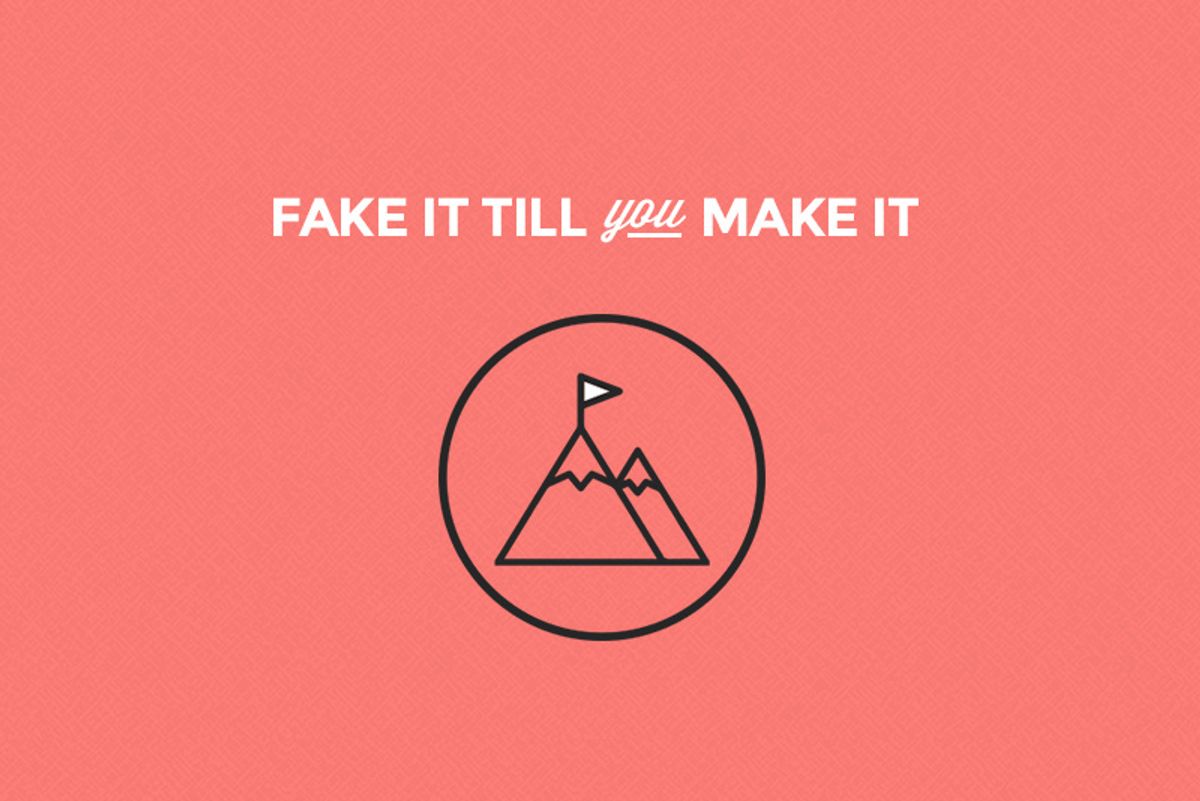 August 24, 2018
Career and Interview Tips
How to Fake It Till You Make It in Tech
A version of this article previously appeared on Skillcrush, an online education program for creatives, thinkers, and makers that gives total tech newbies the tools to make major career changes.
Scott Morris, Skillcrush
One minute you're chatting confidently with your coworkers—throwing around jargon left and right—and the next, you feel like you've jumped into the deep end of the proverbial pool. Sheer panic. But don't worry: It's okay not to know everything, and—in fact—knowing what you don't know is crucial for success in a tech career. So how can you navigate conversations about new tech or industry changes without sounding like you're totally out of the loop—or pulling our editor's move of hearing unfamiliar terms in meetings and frantically googling them on her phone?
I asked four tech professionals to weigh in on faking it, making it, and how the two relate in a professional setting—and right from the jump, one thing's clear: whether you're a bootstrapping entrepreneur or working your way up the ranks of an established company, everyone has moments at work when they feel like they're totally pulling things out of thin air. But it turns out, faking it can be traded in for making it with just a little bit of outlook adjustment.
Mark Cook, Director of Marketing at ApplinSkinner, says that some of the most skilled tech professionals he knows still suffer from imposter syndrome. Since tech has so many specialized fields, even if you're an expert in one field (or many), it's a given that you'll find yourself out of your depth at some point, he says. A UX designer doesn't necessarily know the same things a front end developer does, and vice versa.
Cook's advice in these situations is to be proactive and treat them as learning experiences. If you find yourself in a meeting or conversation that's straying into unknown territory, be up front about it and move into question mode. "[People are talking to you] for a reason," says Cook. "You're there…because you [do] know about something." No matter how out of place or unprepared you might feel, you're still being asked to participate in that meeting,. interview, or chat. Lean on your own expertise in the conversation.
One way in is to ask about the comparative pros and cons between the new tech being discussed and the tech you're already comfortable with. That way, you can get information about what they're talking about while still contributing your own knowledge. It's also a way to be honest—asking questions instead of pretending to be an expert avoids the risk of coming off as disingenuous, Cook says.
Ask away, and remember that engaging in these conversations is also a career win. You'll always be learning, especially in the tech industry, and the sooner you become comfortable with that, the more successful you'll be.
Lest you think that this feeling only happens to beginners, Ellen Butler, UX Director at Happy Boards, says that sometimes it's career success itself—and the changes that come with it—that brings on those creeping feelings of faking it. At a past job, Butler found herself moving from Account Manager to a member of the UX team overnight. Because of her sudden position change and feelings of insecurity in a new field, Butler says she found client interactions particularly terrifying—it's hard enough to be in a new environment and feeling like an imposter among colleagues, but those feeling are more magnified and intimidating when you're expected to deliver for a customer.
Eventually, Butler says, being open with her team and trusting them allowed her to realize it was okay to tell clients, "Let me check on that and get back to you." Butler credits her co-workers with accommodating her newness to the field, and says they had no problem jumping in to answer questions until she got her bearings. In fact, Butler says it might be better to skip the notion of faking it all together. "Honesty is refreshing," says Butler. "So many of us in the tech world are entering from all kinds of different places: different backgrounds, different career paths, different educations. To assume we all know the same things is frustrating and short-sighted. The only way we'll all learn from our communal knowledge is by being unafraid to ask questions."
If asking questions doesn't feel like the right fit for you, you can try the approach that Jan Bednar, CEO of ShipMonk, takes. He does what you might call a strategic form of winging it. Take, for example, a moment when a client asked about his company's ability to integrate with the client's platform. "I knew that we could integrate with the platform, but I honestly didn't understand the mechanism that allowed [us to do it]." At a loss, Bednar started drawing a diagram on a whiteboard to walk his client through the process, and by the end, Bednar was able to articulate the mystery integration mechanism. The lesson here, says Bednar, is to recognize and accept those moments when you don't know something, and allow the things you do know to help fill in the gaps. Your path to understanding may be half-built, but it's also all you need.
Fake? You're as real as it gets, so if you're ready to put your hopefully newfound confidence to the test and hit the job search, download our free Ultimate Guide to the Perfect Resume. Just remember: Take a breath, don't be afraid to be honest, ask questions, or rely on the knowledge you already have to wing it.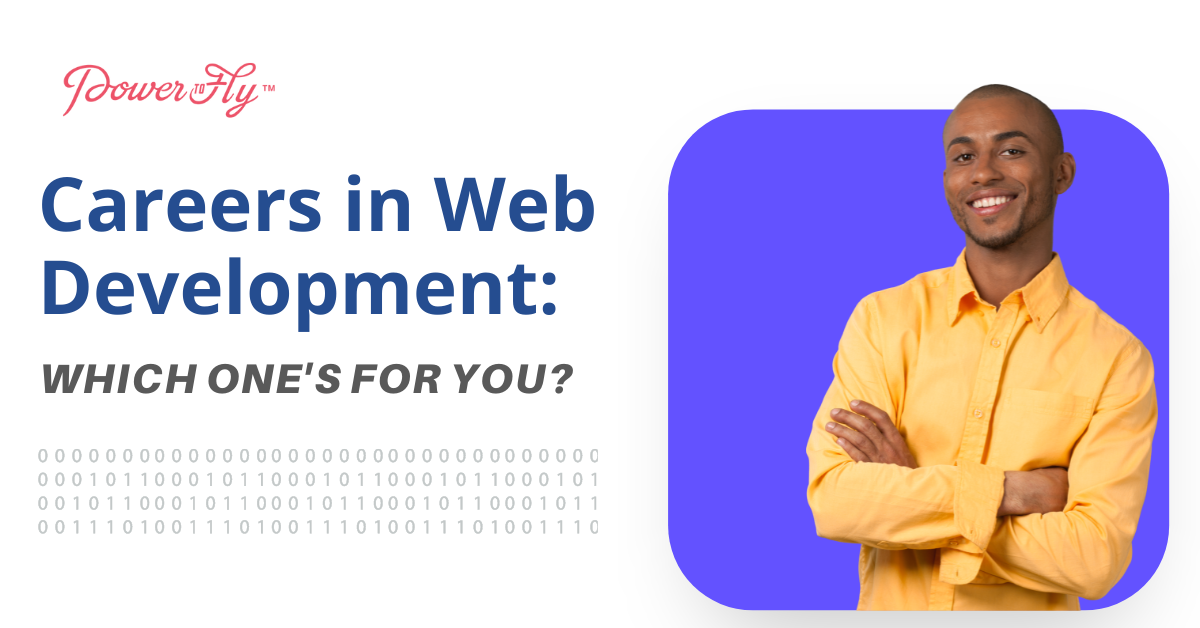 Upskilling and Development
We all have our favorite websites– the ones we frequent, bookmark, and recommend to others. You might even enjoy some website features so much that you've found yourself wondering why they aren't more popular. Or maybe you've experienced times where you were frustrated with a website and wished you could add features or even design your own!
If you've ever found yourself intrigued at the prospect of designing and developing your own websites, then a career as a web developer might be just for you!
As a web developer you would be responsible for coding, designing, optimizing, and maintaining websites. Today, there are over 1.7 billion websites in the world and, in turn, the demand for web developers is on the rise. In order to figure out what kind of web development work best suits you let's start with an introduction to the three main roles in web development that you can choose from.
The Three Types of Web Development Jobs
Front-End Web Development: The Creative Side
Think of front-end development as the décor of a house. The color scheme, furniture, manicured lawns, and overall aesthetic. In terms of a website, front-end development is laser-focused on the appearance of a website and its presentation on different devices. If you're considering a role in front-end development, it's important to learn programming languages such as HTML, CSS, and JavaScript. These three languages go hand-in-hand. HTML allows you to create user interface elements, CSS helps you with stylistic elements, and JavaScript allows you to incorporate online tools and connect your website to back-end functions.
In addition to programming skills, front-end developers need to be detail oriented, creative, willing to keep up with the latest trends in web development, cyber security conscious, and geared toward user-friendly designs. The median salary for a front-end developer can reach well into the $90,000 to $100,000 range.
Back-End Web Development: The Logical Counterpart
While a house can be beautifully decorated, it's incomplete without a solid foundation and efficient infrastructure. Similarly, a well-designed website depends on logical and functional code to power the features of that website. Back-end web development is code-heavy and focused on the specifics of how a website works. If you enjoy the analytical challenge of creating the behind-the-scenes code that powers a website, then back-end development is for you.
Since this role is more code-heavy, it's important that you learn numerous programming languages and understand algorithms and data structures. Some languages that are essential to back-end development are Ruby, Python, SQL, and JavaScript. Back-end developers also ensure that users can successfully retrieve and access data. This requires creating and using APIs (Application Programming Interfaces) which act as messengers that relay data related requests. Additionally, developing the code for the inner workings of a website also requires back-end developers to be conscious of the user interface features designed by front-end developers and to internally mitigate potential security risks. Due to the increased technical aspect of this position, back-end developers normally earn higher salaries than front-end developers. The average median salary for this role is around $118,000 per year.
Full-Stack Web Development: A Little Bit of Everything
A full-stack developer is essentially the Jack (or Jill)-of-all-trades in web development. Full-stack developers need to be knowledgeable about both front-end and back-end roles. This does not necessarily imply that you would need to be an expert in both roles, but you should fully understand the different applications and synergies they each imply. In order to work in this position, you will need to know the programming languages used by front-end and back-end developers. In addition to these languages, full-stack developers also specialize in databases, storage, HTTP, REST, and web architecture.
Full-stack developers are often required to act as liaisons between front-end and back-end developers. Full-stack developers need to be both problem solvers and great communicators. The end goal for a full-stack developer is to ensure that the user's experience is seamless, both on the front-end and on the back-end. In return, you can expect to earn a median salary of $100,000 – $115,000 a year for this role.
Taking the Next Step
Web development is both in-demand and lucrative! All three roles described above contribute to specific aspects of web development and the scope of each one can be customized to the industries and positions you feel best suit you. Regardless of which role you choose, all of them need a foundation in programming.
To gain the programming skills needed in each role, you can enroll in courses or learn independently. Coding bootcamps are a great way to boost your skillset quickly and efficiently.
Click here for some of our highly rated programming bootcamp options! Make sure to check out the discounts available to PowerToFly members.
READ MORE AND DISCUSS
Show less
Loading...