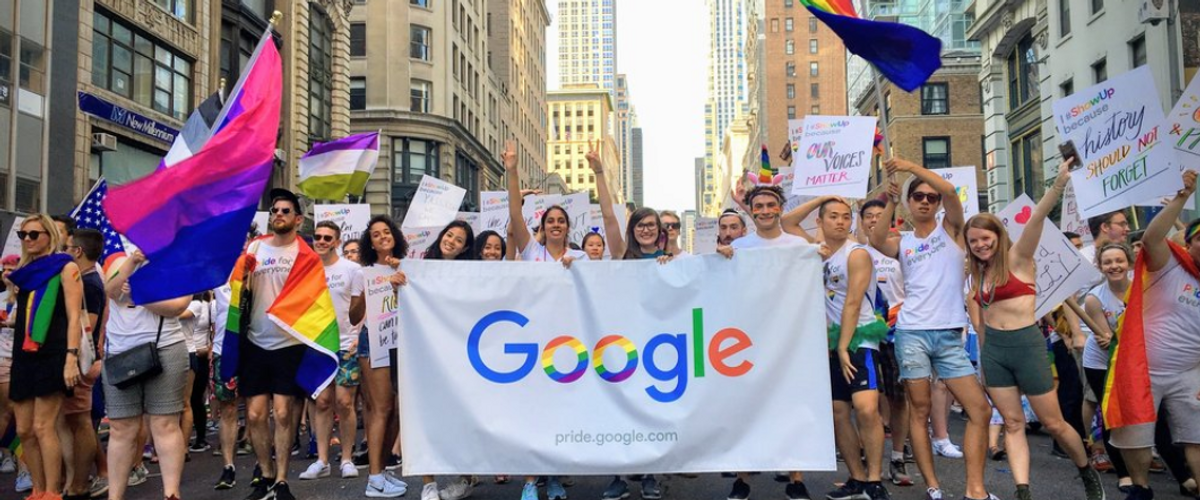 Google Inc
Below is an article originally written by Mistral Myers, Keyword contributor at PowerToFly Partner Google, and published on October 11, 2019. Go to Google's page on PowerToFly to see their open positions and learn more.
Until I started working at Google in 2014, I had never been out at work.
Now, less than five years later, everything is different: I'm an active volunteer leader in Google's LGBTQ+ Employee Resource Group—a Googler-run, company-supported organization that works to provide an inclusive workplace for LGBTQ+ employees, and partners closely with our Trans Employee Resource Group, which represents our transgender, gender non-conforming, and non-binary colleagues. As part of my role, I've had the chance to engage LGBTQ+ Googlers across our global offices, speak publicly about being LGBTQ+ in the workplace and have even been able to share my perspectives and experiences directly with Google leadership.
At this point, I can barely remember what it felt like to not be a visible, openly LGBTQ+ person at work. So it's hard to imagine that before joining Google, I felt I couldn't come out at the office at all.
As we celebrate National Coming Out Day and reflect on all of the progress we've made as a community, I am determined to remember this simple but crucial reality: Openness matters. Community matters. Being able to be out at work matters.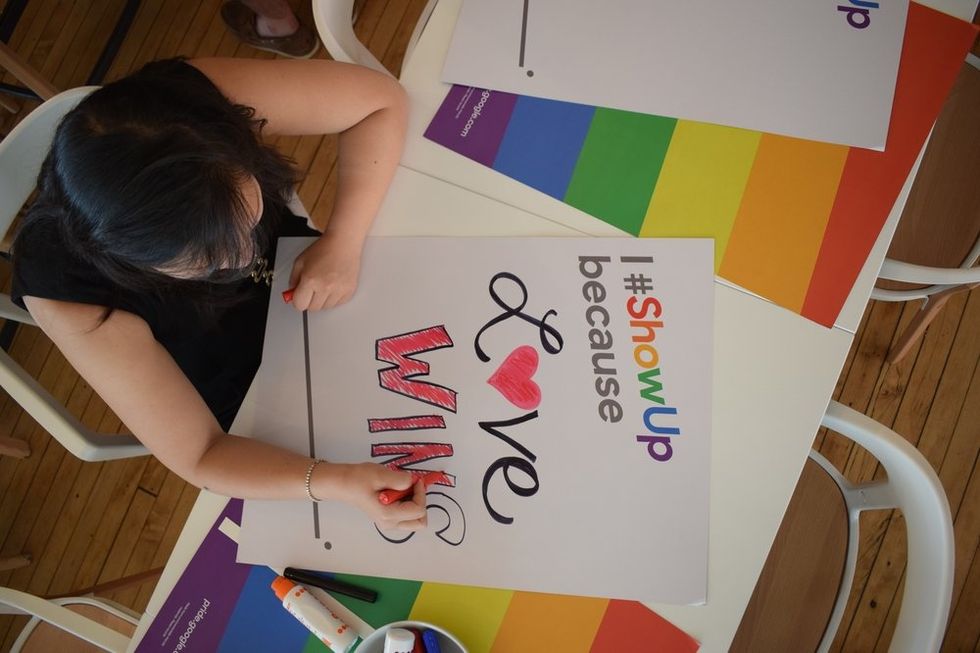 Googlers create signs supporting the LGBTQ+ community for the 2017 New York City Pride March.
Prior to joining Google, I'd spent time in a variety of industries, always under the careful, polite policy of evasion when it came to questions about my personal life. Perhaps I didn't need to be so secretive. I worked with wonderful, kind people, and though there were no explicit shows of support for LGBTQ+ issues from my workplace, I'm sure most of my colleagues and managers wouldn't have taken issue with my identity.
Still, for many LGBTQ+ folks, the fear of prejudice can nag at you, and cause you to hesitate even around the most well-meaning of coworkers. Some assume that with the ushering in of marriage equality here in the U.S., other kinds of inequality have disappeared and the movement is complete. But as many LGBTQ+-identifying people will tell you, critical challenges still remain, and it takes a conscious and dedicated effort to counteract their effects.
Growing up in New Mexico, I got an early introduction to some of the challenges that LGBTQ+ people still so often face: harassment, discrimination, violence. The understanding that being LGBTQ+ was unsafe was imprinted on me almost immediately, and that fear left a lasting mark.
In each new city, from college to a job to graduate school to another job, I was reminded (often in not-so-subtle ways) that no matter what might change in the law or in popular culture, I should always be wary, always be careful.
So I never took the chance.
In so many important ways, restraining from bringing my full self to work hurt my ability to be a good employee. Constantly worrying about slipping up and revealing that I had a girlfriend rather than a boyfriend prevented me from feeling fully integrated. It became an obstacle to forming the kinds of professional relationships that help company culture feel cohesive and supportive.
Now, I realize how much I was missing. Today, I'm part of a workplace with visible LGBTQ+ leaders, explicit shows of support for LGBTQ+ cultural moments and celebrations and broad encouragement to use what makes me different to create an environment of inclusion for my fellow Googlers. This journey has made me realize how much all workplaces can benefit from supporting their employees' differences, just as much as they celebrate their collective unity.
I'm proud. I hope you are, too.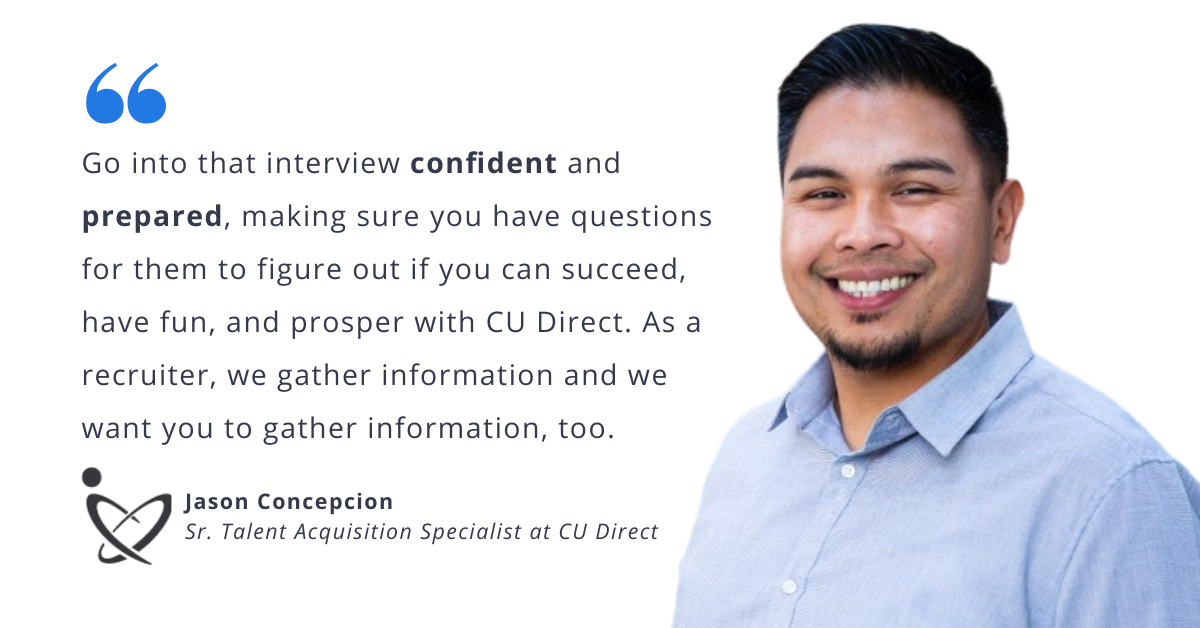 CU Direct
Jason Concepcion is a Sr. Talent Acquisition Specialist at CU Direct, a technology leader that delivers lending solutions to financial institutions, auto dealers, retailers, and medical providers nationwide. As a progressive company that looks for the best diverse talent, CU Direct prides themselves on seeking and taking care of their employees.
We sat down with Jason to learn about CU Direct's hiring process. Keep reading for his top 6 tips to put into practice when interviewing with CU Direct.
Tip # 1 Do Your Research
While it may seem obvious, learning about the company you're interviewing for is crucial. "Before the interview, do some research on CU Direct, our products and services, and even our subsidiary companies," says Jason. Doing the research will show the interviewer that you are highly interested and that "you did your due diligence in getting to know the company." Check out their About page to get to know CU Direct and its various projects.
Tip #2 Ask Questions
It's important to be transparent from the first point of contact with the company, which means asking questions to clarify and gain more information. Jason suggests, "when talking to the recruiter, ask questions. Go into that interview confident and prepared, making sure you have questions for them to figure out if you can succeed, have fun, and prosper with CU Direct. As a recruiter, we gather information and we want you to gather information, too."
Tip #3 Take Your Time
Pace yourself in the interview. Jason explains that "it's okay to pause, regroup, and answer questions. When asked about your experiences, taking your time will allow you to think of the situation, how you solved it, and what was the outcome."
Tip #4 Ask Yourself, 'What Do I Want to Do?'
Take inventory of what you have accomplished or learned in your professional trajectory so far. "We're not just looking for what you've done, but we are also looking for what you can do and what you want to do," says Jason. He believes that "those things are just as important as what you've done in the past. Your drive and determination will show us where you want to go and ideally, that will organically align with the positions we have here at our company."
Tip #5 Understand the Job Description
With your resume in hand, consider what experiences best align with the job description. "Valuable work experience can be found almost anywhere. It can come from your first job or it can come from your most recent job," Jason explains. Whatever small or short experience you have that matches the job description is worth mentioning and explaining, depending on the job you are applying for. Jason explains, "a good understanding of the job description you're going for, and related positions within the company will give you a greater insight as to what we're looking for and what you want to highlight or present in regards to this role."
Tip #6 Don't Be Afraid to Get Personal
One way to stand out in the interview process is to show that you'll be a good values fit, so intentionality throughout, and after, the interview can go a long way. Jason suggests sending a thank you email after the interview. "This will make sure that you stand out in front of thousands of applicants," he says. "Don't make it generic, tailor the message including details mentioned in the interview, this will show the person that you were completely engaged throughout the interview."
CU Direct's personal and careful recruitment process is a reflection of their fun and innovative atmosphere, their value of team members, and commitment to growth. They offer several benefits to their employees, such as a flexible working environment, paid time off, 401k match, college tuition reimbursement, and an exciting company culture. Because of this, they want to make sure people are treated with the same kindness and positivity from the start. As Jason reiterates: "We want to make sure you are prepared and ready for each step of this process, from interviewing, to asking questions, and to possibly onboard in the future," says Jason.
Are you interested to find out more about working at CU Direct? Check out their
openings
here!
READ MORE AND DISCUSS
Show less
Loading...