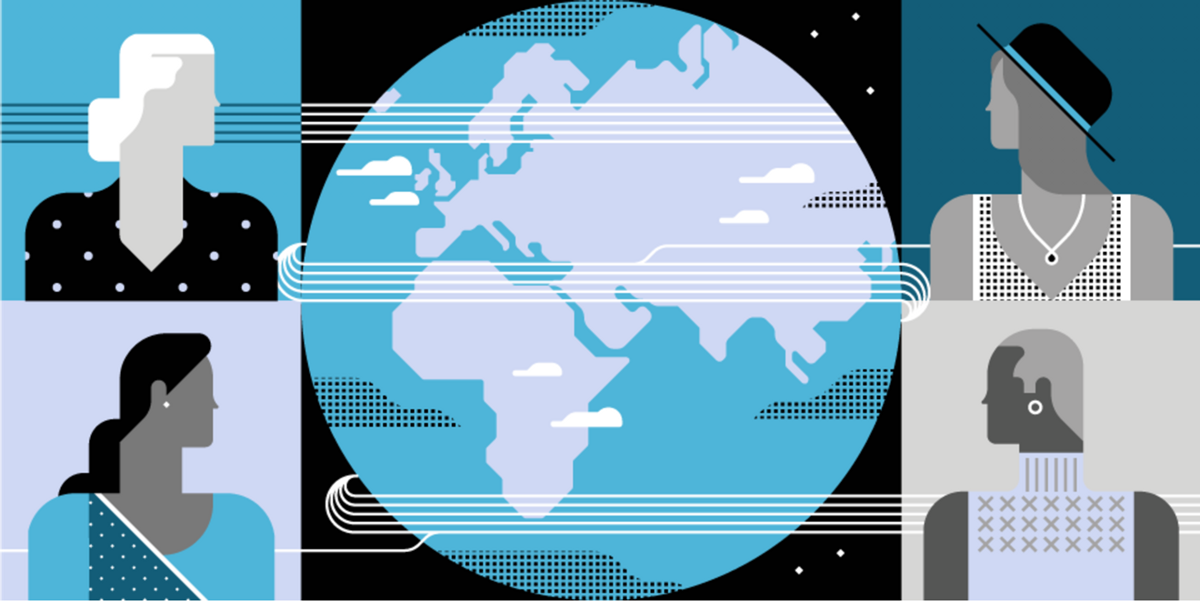 Uber
Meet Bo Young Lee, Uber's Chief Diversity & Inclusion Officer
Below is an article originally written by Bo Young Lee, the Chief Diversity & Inclusion Officer at PowerToFly Partner Uber, and published on April 18, 2018. Go to Uber's page on PowerToFly to see their open positions and learn more.
The first thing I do when presented with a new job opportunity is assess an organization's potential for change—that's more important to me than the amount of change that's required. I look for a few key markers: a commitment from leadership, an understanding of the business case for diversity and inclusion (D&I), and a mutual agreement that D&I must and will touch every facet of the business. It cannot simply be a silo that lives within HR.
My interview process at Uber was unlike any I'd experienced before. Within two weeks of my initial phone screen, I had met with Uber's Chief Executive Officer, Chief People Officer, Chief Technology Officer, as well as several other SVPs, General Managers, and members of the global executive leadership team. All within two weeks. That was a clear signal that this was an important hire for Uber's leadership, and it demonstrated that Uber could move quickly when something was a priority. Throughout the process, I saw an organization that was clearly committed to change but could use help on how to accomplish those changes. Despite some uncertainty around the "how," when I spoke with Dara and learned about his passion for the "what" and "why," I knew quickly Uber was a company where I'd want to be.
That's not to say the process didn't come with its challenges. In many ways I'm a classic introvert, so when news of me joining leaked to the press, I wasn't quite ready for the influx of questions about me. I'm passionate about results, so I like to put my head down and do my work without distractions. The attention accompanying my announcement forced me to give some serious thought to whether I wanted to introduce that level of scrutiny into the work I was doing. Ultimately, I realized that the potential for change at Uber was worth it.
As someone that's been in the space for quite a bit of time, I'm thrilled that D&I is finally an issue that the tech industry is talking about, but I'm also concerned by some of the discourse. I see businesses trying to find a silver bullet that will suddenly fix their "D&I problem." Yet in practice, this approach tends to leave companies and people exhausted, jaded, and without much to show for it. Beyond that, it's simply not how the most diverse and inclusive companies have made the progress they've made.
In order to understand the dynamics of D&I, you have to look at the underlying drivers of exclusion. Organizations have challenges with D&I because society has challenges with it. You can't try to fix D&I in a company without addressing what employees carry with them from the communities and cultures they live in. I'm always reminded of the Aristotle quote, "Give me a child until he is 7 and I will give you the man." For so many of us, how we react to difference is based on early lessons we learn from our families, religious institutions, schools, communities and friends. Want to promote more women working in East Asia? You need to start with the history and entrenched gender norms women face in Korea, Japan and China.
On a practical level, it's important to not just redesign a system or a process, but to give employees real developmental opportunities that will help them expand their skill sets to promote inclusivity. Otherwise, they'll simply find ways to undermine the new system. Too often, we tell people to be inclusive without really showing them what that looks like. For example, many companies (Uber included) have expanded parental leave to create more equitable policies for mothers and fathers. While well-intentioned, when a company changes a policy without addressing the surrounding cultural norms, it can backfire. If fathers don't feel encouraged to take advantage of longer leave—but mothers do—these policies can have an unintended negative outcome and reinforce existing inequalities. To change attitudes toward something like parental leave, companies can (and should) do things like recognize managers that have promoted equality between male and female parental leave. This is how a company can address both policies and attitudes.
From my first few weeks at Uber, I've been encouraged by the amount of pride people take in what they do and their genuine desire to do right by fellow employees, drivers, riders, and cities. There's also a sense of humility at Uber that's unexpected; no one seems to be defensive about the past or makes excuses for what happened. I've also been encouraged by many of the efforts made over the past year - they offer a solid foundation for me to build upon.
My vision is to help make Uber a place where amazing talent from every corner of society can thrive and grow and where each employee has the ability to achieve to their highest potential. I want colleagues from different backgrounds feeling safe enough to share their real world experience. Whether you're an employee in the US that had a cop pull them over on the way to work because of the way they look, or an employee in South Africa that grew up during the apartheid—all of this impacts the person we bring to work and how we interact with one another. I want employees who are equipped to have tough, challenging, and constructive conversations with one another, and I want leaders who can speak truthfully to the fact that our diverse teams are our greatest asset and a competitive advantage—because they are what drive our innovation.
In order to do this, D&I needs to be something that every single employee at the company has a stake in. We talk about D&I in such abstract ways that teams don't have a sense of what they can do, but I want to teach every Uber employee that inclusion (or exclusion) happens every day, in both small and large ways. Simultaneously, I want to utilize data to make big, bold moves. Too often, companies try to address D&I by creating one-off programs. While these can be incrementally constructive, they often aren't enough. I want to integrate a D&I mindset into every process we have in our company, such that people are compelled to act inclusively by default.
Like many first-generation immigrant families, my parents wanted me to become a doctor, lawyer, or an accountant. When I made the choice to work in D&I after completing my MBA, my parents just couldn't wrap their head around the career choice. For many years my father would say, "so you fly around and teach people how to be nice to each other?" When I took the job at Uber, the announcement was picked up by Korean news and my parents were inundated with phone calls from friends and relatives.
I'll admit that I was happy that, for the first time, my parents understood what I do. Meanwhile, mainstream perceptions have also evolved during the nearly two decades that I've been working on D&I. When I finished my MBA in the early 2000s, the field wasn't considered a serious thing to devote your career to, and it certainly wasn't a role that would ever warrant a "Chief" in the title. And while we're still at the very beginning of creating real change, I'm proud that this is now a topic that's being prioritized.
I have every reason to believe that Uber can evolve, and colleagues will attest to how relentless I can be in my pursuit to transform organizations and hold leaders accountable. I am stubborn and I will not be satisfied until I know that I have made Uber a place where every person feels more validated, seen, valued, and included.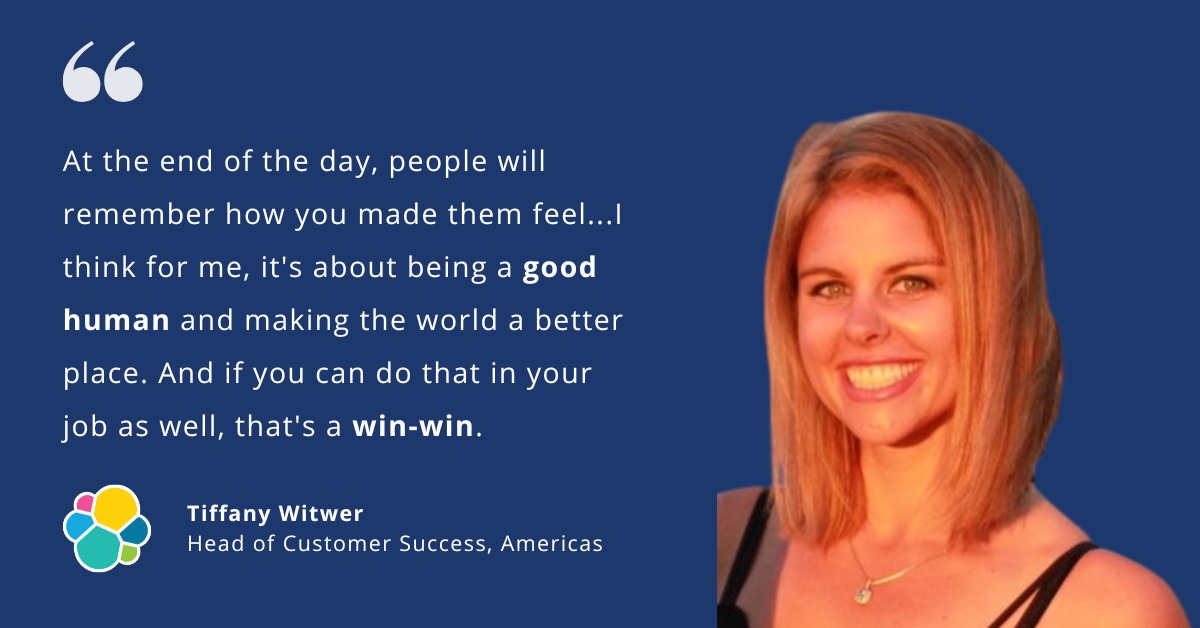 Elastic
Tiffany Witwer from Elastic is a proud mom of three.
"I enjoy being a parent because it teaches me patience and it gives me a different perspective," she shares. "It allows me to be more present, laugh more, and appreciate the small things."
In between her duties as a mom, she keeps herself mentally and physically healthy by running, biking, swimming, or doing yoga — all activities that help her start the day with gratitude. "It gives me the right perspective and attitude to go into the day," she says.
With an overall positive outlook on life, Tiffany brings that same energy to her customers at work as the Head of Customer Service for Elastic.
We sat down with Tiffany, who shared with us her career journey from civil engineering to customer service. Keep reading to learn top tips for creating happy customers.
Starting a Career in Engineering
Tiffany pursued an undergraduate degree in biological engineering.
"I was always really good at math and science, especially chemistry. And I love being outside in nature and learning about it," she shares.
It was a college professor's research on stormwater runoff that motivated her to pursue her master's degree in biological and civil engineering. "I liked his energy and attitude toward learning. It was contagious," she describes.
While working alongside this professor at North Carolina State University, she presented her work at a conference that helped lay the groundwork for her career. "I met a man who liked my presentation," she says, "and was hiring a civil engineer for a consulting company."
Taking on this new opportunity, she moved to New York City where she discovered her love of being surrounded by diverse people and cultures, in addition to her new job.
"I enjoyed doing the design work and meeting the customers," she explains. "I was always the one on the proposals, winning the design work, and building relationships with customers."
While emerging in the complex realm of storm waste engineering, Tiffany saw how the world was progressing and thought that knowing software and technology would be beneficial.
"So I learned to code, networked, and got a job at a business analytics and software company as a pre-sales systems engineer," Tiffany says.
Pivoting into a Customer Success Role
As she dedicated more time to customers, her interest in working with them soon began to increase. "What I loved most was that I was using my mind to solve problems, but I also got to interface with customers. I got to meet customers and hear what they were doing and hear how we could help them."
Tiffany spent 10 years in pre-sales engineering and sales. She then took a job in a different company where she helped build out their advisory services business.
It was there that she built a successful team with coworkers who would lead her to her position at Elastic.
Elastic is the leading platform for search-powered solutions. They help enhance customer and employee search experiences, keep mission-critical applications running smoothly, and protect against cyber threats.
As the Head of Customer Service, Tiffany is responsible for making sure customers are getting the most value out of their software. "It's not only about how customers are using the technology," she explains. "It's, 'how is a customer's experience with Elastic? Are we meeting their need for technology?' And, 'are we meeting their needs from a support and empathy standpoint?'"
In order to meet her customers' complex needs, she emphasizes how crucial communication is.
The Importance of Communication in Customer Success
Quality communication is a skill that can often be undervalued. "I think people underestimate how much time is needed for clear communication," she points out. "Just because you put a message out there, it doesn't mean it's clearly understood. You need to think through how people are going to respond to the information."
With the complexities of communication, Tiffany relies on setting clear intentions when communicating in meetings. "I always ask at the beginning, 'what is your goal for this meeting and what does success look like for you?'" she explains.
Communicating clearly what success looks like for both parties allows for a better outcome. "I think for communications, it's making a lot of time and clearly defining what you want to get out of the interaction."
Advice for Clear Communication with Customers
Tiffany's career journey has been a mixture of understanding technology and building relationships with people — learning how to explain the technology to customers and problem solve in an empathic way. This has led to overall customer success. To create clear communication, Tiffany offers this advice.
Be empathetic and listen to your customers: "If you think about it, you've been trained in your technology, you know it inside and out," she explains. "But when you meet with a customer, the technology may only be a small part of their job." Taking this perspective can help you to communicate with more empathy. "It's understanding people's vantage point and then using that to communicate to them."
Defining success and clearly communicating it: "I'm a strong believer in getting on calls and confirming the goals and what people want to get out of the call," Tiffany shares. "This way, you know, you are aligned on what success is no matter what type of call."
Be genuine: "At the end of the day, people will remember how you made them feel," she shares. "I think for me, it's about being a good human and making the world a better place. And if you can do that in your job as well, that's a win-win."
Get to know people: "Getting to know people, their perspectives, and growing with them is what has led me to customer success and to where I am in my career," Tiffany advises.
If you're looking to build valuable work relationships alongside your career, check out the openings at
Elastic
!
READ MORE AND DISCUSS
Show less
Loading...