GET EMAIL UPDATES FROM POWERTOFLY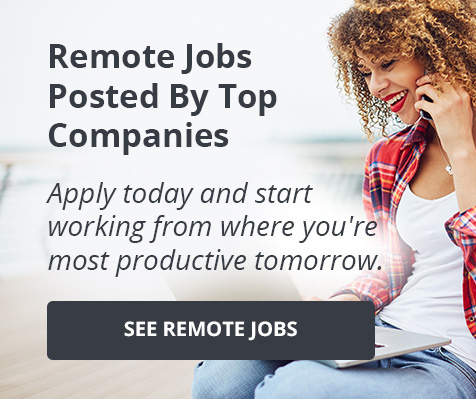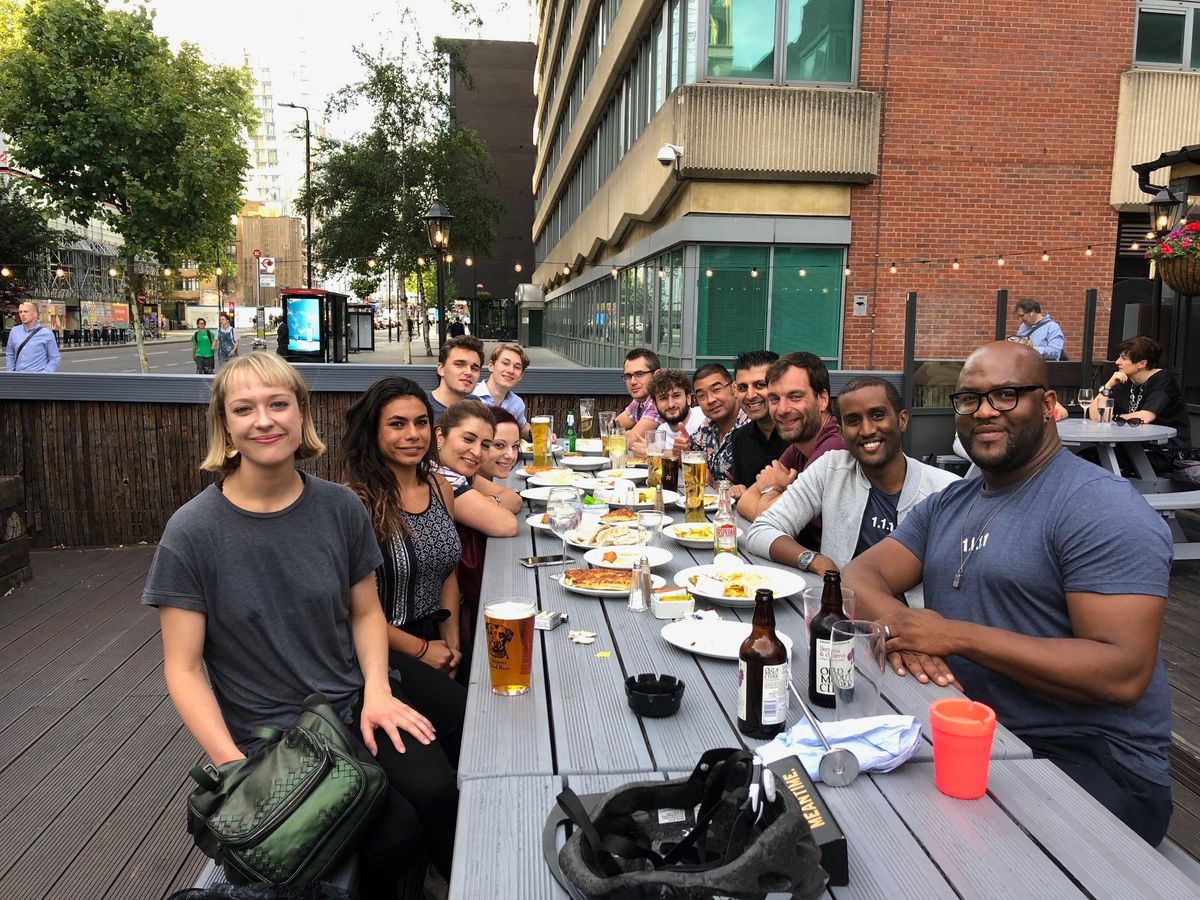 The EMEA team pictured August 1st, some members attending Orientation
January 13, 2019
Cloudflare
Cloudflare: Building A Diverse Business Development Team In EMEA
Below is an article originally written by Lee Sam at PowerToFly Partner Cloudflare, and published on August 30, 2018. Go to Cloudflare's page on PowerToFly to see their open positions and learn more.
Cloudflare's mission is to help build a better Internet, and we are also serious about building a diverse workforce where everyone can be themselves, regardless of their gender, sexual orientation, or cultural background.
The Recruiting team sat down with Anil Karavadra, EMEA Head of Business Development, to find out how he has built a diverse team since he joined.
Recruiting Team: First question Anil, how did you end up at Cloudflare?
Anil Karavadra: Funny story about this--I was actually approached by my boss! He reached out to me and said "Hey would you be interested in joining Cloudflare?", and initially I said no because I hadn't heard of Cloudflare before! Then he suggested "Well how about we share some best practices?", and I said okay, although I knew he was going to try and pitch Cloudflare to me. After I had a chat with him and he shared his vision to grow the EMEA BDR organisation. This sounded interesting to me so I then went through the interview process and got through. Now that I'm here I love it.
RT: How long have you been here now?
AK: Since last October, so about 9 months.
RT: What did the EMEA BDR team look like when you joined?
AK: By the time I joined there were 6 people on the team. We had two women on the team and four men. We had a mix of junior and more experienced people on the team.
RT: What does the team look like now in terms of gender diversity?
AK: I think it would help to give some context: When I joined back in October last year we already had two women on the team of 6 (33%). After a hiring spree in Q1 that dropped to 27%. Currently, and including the people that are confirmed to join by August we'll be around 54% women on the team, based on a team of 13. We were aiming to add more women onto the team but we didn't think it was going to be anything like that.
RT: So you've taken the team from 6 members with 33% women to a team of 13 with 54% women in the space of 9 months. What have you been doing to increase that number?
AK: Getting the initial pipeline was a challenge. We didn't always have many women applying to our roles, but we know there are qualified women out there. So we changed our job description, removing more masculine words and making them more gender-neutral. We also looked at other websites to see what they were doing in terms of their job descriptions.
We also realised that candidates weren't always searching for a Business Development role (as it goes by many names, ie SDR (Sales Development Representative), EDR (Enterprise Development Representative), BDM (Business Development Representative) etc), they were searching for languages. We happened to be looking for 7 different languages at the time and we found that more people applied because we include the language requirement in the job title.

Once we made these changes, we saw an almost 50:50 mix between male and female candidates.
RT: Diversity is obviously a hot topic particularly in Tech, why does it matter in your opinion?
AK: I think it matters a lot because we deal with customers who are from different backgrounds ourselves. We speak with customers from different nationalities and countries who speak different languages, who have business processes that are different to others and different cultures too. So on that basis we need a diverse team who can relate to the people they're talking to, who understand the culture, and how we need to do business in that country. So it is very fundamental for business development to have a very diverse team so that you can relate to the end prospect and understand them better.
RT: And what are the languages currently spoken on your team?
AK: We currently cover German, Spanish, French, Latvian, Dutch, Swedish, Italian, Greek, Portuguese and Russian.
RT: What would your advice be to hiring managers like yourself who want to build a more gender diverse team in the next 12 months, who want to attract and hire more women?
AK: Check your process - from job descriptions to interview panel and the factors you use in your hiring decisions. All of these things can impact your applicant pool and the candidate experience. Small things can make a big difference.
RT: What are your plans for diversity on your team going forward?
AK: I am really happy that we have a very talented and diverse team right now. What will be important for me is to ensure that we maintain or better our efforts to attract and hire great candidates from diverse backgrounds.
RT: Last question Anil, how would you explain Cloudflare to your mum?
AK: Haha great question! The way I would explain it is that you have a website, Cloudflare protects that website from cyber attack, and I think she knows what cyber attacks are! If I say it protects from hackers she'll definitely understand that, and it also helps to make the web page load faster!
RT: And your mum would understand all that?
AK: I think so! My parents have a very tempered memory, i've had to explain what I do to them about four times so far!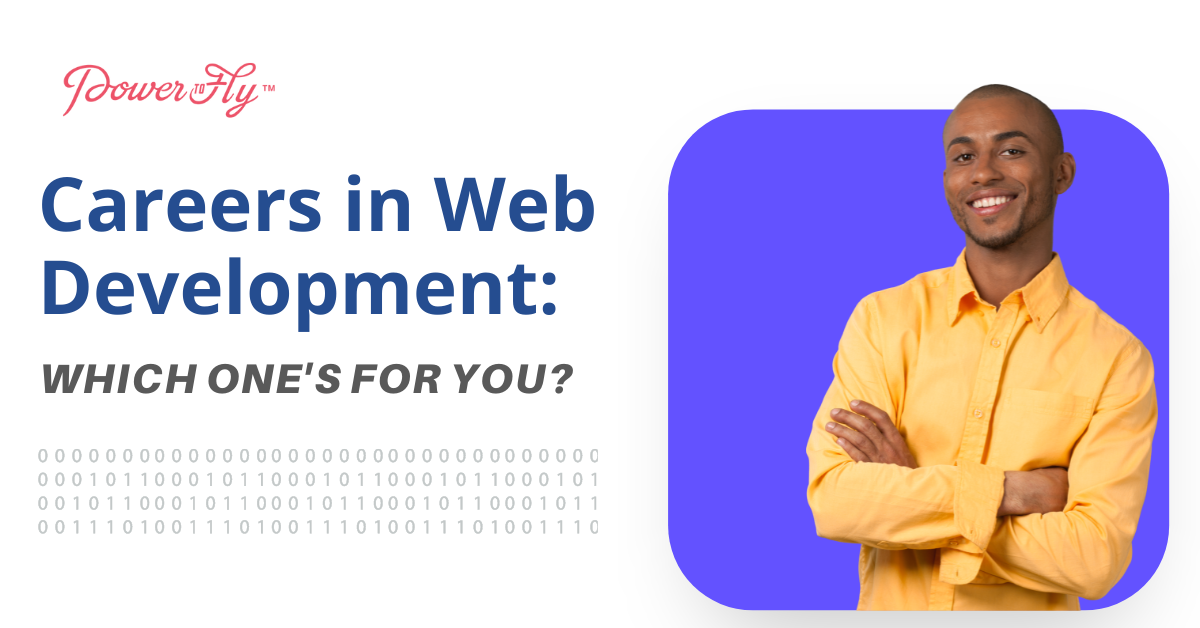 Upskilling and Development
We all have our favorite websites– the ones we frequent, bookmark, and recommend to others. You might even enjoy some website features so much that you've found yourself wondering why they aren't more popular. Or maybe you've experienced times where you were frustrated with a website and wished you could add features or even design your own!
If you've ever found yourself intrigued at the prospect of designing and developing your own websites, then a career as a web developer might be just for you!
As a web developer you would be responsible for coding, designing, optimizing, and maintaining websites. Today, there are over 1.7 billion websites in the world and, in turn, the demand for web developers is on the rise. In order to figure out what kind of web development work best suits you let's start with an introduction to the three main roles in web development that you can choose from.
The Three Types of Web Development Jobs
Front-End Web Development: The Creative Side
Think of front-end development as the décor of a house. The color scheme, furniture, manicured lawns, and overall aesthetic. In terms of a website, front-end development is laser-focused on the appearance of a website and its presentation on different devices. If you're considering a role in front-end development, it's important to learn programming languages such as HTML, CSS, and JavaScript. These three languages go hand-in-hand. HTML allows you to create user interface elements, CSS helps you with stylistic elements, and JavaScript allows you to incorporate online tools and connect your website to back-end functions.
In addition to programming skills, front-end developers need to be detail oriented, creative, willing to keep up with the latest trends in web development, cyber security conscious, and geared toward user-friendly designs. The median salary for a front-end developer can reach well into the $90,000 to $100,000 range.
Back-End Web Development: The Logical Counterpart
While a house can be beautifully decorated, it's incomplete without a solid foundation and efficient infrastructure. Similarly, a well-designed website depends on logical and functional code to power the features of that website. Back-end web development is code-heavy and focused on the specifics of how a website works. If you enjoy the analytical challenge of creating the behind-the-scenes code that powers a website, then back-end development is for you.
Since this role is more code-heavy, it's important that you learn numerous programming languages and understand algorithms and data structures. Some languages that are essential to back-end development are Ruby, Python, SQL, and JavaScript. Back-end developers also ensure that users can successfully retrieve and access data. This requires creating and using APIs (Application Programming Interfaces) which act as messengers that relay data related requests. Additionally, developing the code for the inner workings of a website also requires back-end developers to be conscious of the user interface features designed by front-end developers and to internally mitigate potential security risks. Due to the increased technical aspect of this position, back-end developers normally earn higher salaries than front-end developers. The average median salary for this role is around $118,000 per year.
Full-Stack Web Development: A Little Bit of Everything
A full-stack developer is essentially the Jack (or Jill)-of-all-trades in web development. Full-stack developers need to be knowledgeable about both front-end and back-end roles. This does not necessarily imply that you would need to be an expert in both roles, but you should fully understand the different applications and synergies they each imply. In order to work in this position, you will need to know the programming languages used by front-end and back-end developers. In addition to these languages, full-stack developers also specialize in databases, storage, HTTP, REST, and web architecture.
Full-stack developers are often required to act as liaisons between front-end and back-end developers. Full-stack developers need to be both problem solvers and great communicators. The end goal for a full-stack developer is to ensure that the user's experience is seamless, both on the front-end and on the back-end. In return, you can expect to earn a median salary of $100,000 – $115,000 a year for this role.
Taking the Next Step
Web development is both in-demand and lucrative! All three roles described above contribute to specific aspects of web development and the scope of each one can be customized to the industries and positions you feel best suit you. Regardless of which role you choose, all of them need a foundation in programming.
To gain the programming skills needed in each role, you can enroll in courses or learn independently. Coding bootcamps are a great way to boost your skillset quickly and efficiently.
Click here for some of our highly rated programming bootcamp options! Make sure to check out the discounts available to PowerToFly members.
READ MORE AND DISCUSS
Show less
Loading...