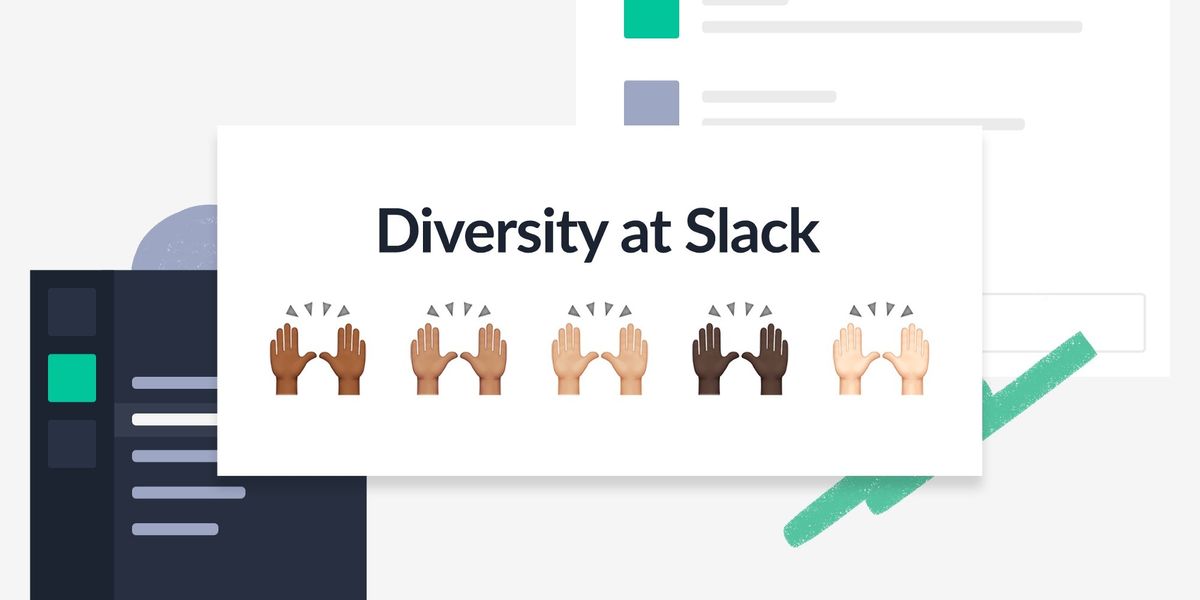 Slack Technologies, LLC, a Salesforce company
An update on our data, April 2018
Below is an article originally written by PowerToFly Partner Slack, and published via Medium in April, 2018. Go to Slack's page on PowerToFly to see their open positions and learn more.
In February, we celebrated Slack's fourth birthday. Today we are more than 1,000 employees strong and fortunate to serve millions of customers around the world. While we've more than quadrupled in size since our very first report, our commitment to inclusion and diversity through rapid growth has never wavered. Success is impossible without our people, and both inclusion and diversity have been core to our values since day one.
As we grow and mature as a company, we strive to bring more rigor and discipline to our reporting. 2017 marked the first year we standardized on the Equal Employment Opportunity Commission's (EEOC) reporting format. We've followed the same format again this year, which provides a meaningful comparison that helps us see progress as well as opportunities for continuous improvement¹.
Additionally, this year we publicly released our Employer Information Report, or EEO1, which we intend to integrate into our diversity reporting going forward for greater transparency. For additional information, you can download our EEO1 report here.
Where we stand today²
Globally, 44.7% of our workforce is comprised of women, up from 43.5% (+1.2 pts) from our last report in April 2017.
34.3% of people in technical roles are women, up from 29.8% (+4.5 pts) last year.
48.0% of our managers (employees with direct reports) are women, down from 48.1% (-0.1 pts) last year.
30.6% of our leadership (director level and above) are women, up from 28.3% (+2.3 pts) last year.
In the U.S., 12.6% of our workforce is comprised of people from one or more underrepresented racial and/or ethnic backgrounds³, up from 11.5% (+1.1 pts) last year.
14.0% of our U.S. managers are from underrepresented racial and/or ethnic backgrounds, up from 10.7% (+3.3 pts) last year.
6% of our U.S. leadership team are from underrepresented racial and/or ethnic backgrounds, up from 5.9% (+0.1 pts) last year.
12.8% of our U.S. technical organization is comprised of people from underrepresented racial and/or ethnic backgrounds, up from 11.4% (+1.4 pts) last year.
In the U.S., we also look at LGBTQ, disability⁴, and veteran status among employees.
8.3% of our U.S. workforce identify as LGBTQ, up from 7.8% (+0.5 pts) last year.
8.7% of our U.S. managers identify as LGBTQ, up from 7.6% (+1.1 pts) last year.
1.4% of our U.S. workforce identify as having a disability, down from 1.7% (-0.3 pts) last year.
.85% of our U.S. workforce identify as veterans; this is the first time we are reporting on this, so we do not have a comparison to last year. Our Veterans' ERG is actively involved in raising the visibility of opportunities within the veteran community, and we intend to include this number (and see it grow!) in the years ahead.
Women at Slack
We continue our commitment to pay and promotion equity among people of all genders⁵, and have confirmed equal pay and promotion rates for three years running. Pay and promotion parity is foundational to elevating representation at all levels within our business, and we're pleased to maintain parity while adding a higher percentage of women to the company overall.
We believe part of that growth can be attributed to the work of our Women's Employee Resource Group (ERG), which has significantly grown in size and reach over the past year. Through recruiting and networking events, guest speakers, internal mentoring relationships, workshops and more, the ERG has created new opportunities for women to advance their skills, elevate their profiles and bring more talented women into our organization. We are grateful to the leaders of the Women's ERG — their time and dedication is essential to the success and health of this organization.
Representation and inclusion at Slack
To better serve our increasingly global and diverse customer base, we must recruit, hire and retain a workforce that looks like them. That's not just about compiling numbers, but ensuring we have an environment that's open and inclusive and promotes equality of opportunity — because we want to support the growth of underrepresented people at every stage of their careers in technology. That's not a switch you flip; it's an ongoing, continuous effort that requires input from across backgrounds, teams, functions and levels.
One way we work to address this is high engagement with our employee resource groups. In addition to the Women's and Veterans' ERGs mentioned above, we have active ERGs centered on people of color ("Earthtones"), people of different abilities ("Abilities"), and people who are LGBTQ ("Out"). These groups are actively involved in influencing diversity and inclusion at Slack and their leaders regularly meet to share best practices and feedback, and take action where needed.
This commitment is also reflected in how we're engaging in our communities. A few examples:
In addition to bringing in (and hiring) Year Up interns, we donated $10,000 to the organization last year as part of our commitment via the Slack Shop, where we rotate benefiting charities every six months. We'll make a similar donation to Code.org this year.
We're excited to announce a new partnership with Code2040 to support Black and Latinx computer science majors and recent grads as they take on their first software engineering jobs. Slack will partner with Code2040 on curriculum development, mentoring, program delivery, and event hosting. This is a brand new and highly experimental program, and we are eager to learn from the experience and iterate for subsequent future programming.
We've also partnered with the Transgender Law Center to provide the initial funding for the creation of a comprehensive ally skills curriculum designed to improve companies' ability to recruit, hire, include, and retain transgender and gender nonconforming employees. The curriculum that is created will also be made available across the entire tech sector.
These are all key steps — but by no means the only ones — that can help us learn new and expanded ways to identify, recruit and elevate talent across underrepresented demographics.
Looking ahead
As Slack continues to expand, our commitment to transparency, inclusion and diversity will remain a priority. We strongly believe that to move the needle, we must focus on recruiting and retaining the best talent in the world. We must get more underrepresented people in the door and put them in a position to excel at our company. We must focus on building and sustaining an environment where everyone can thrive.
In addition to reflecting diversity within our ranks, we must also continue to expand the inclusiveness and accessibility of our product as well. Last year, we localized Slack into four new languages — Spanish, French, German and Japanese — with more to come in 2018. In addition to localizing, we made accessibility improvements, including a re-crafted zoom experience to better help people with visual impairments use Slack, and we released a new keyboard navigation model for people who cannot use a mouse, or simply prefer to use Slack by keyboard.
Our mission is to make people's working lives simpler, more pleasant and more productive: We want this for our customers and we want this for all our employees as well. Growth is not an excuse to compromise our commitment to diversity and inclusion.
We want Slack to always be a place where people of different backgrounds can succeed and do the best work of their lives. Our goal from the beginning has been to avoid becoming a place where underrepresented groups exit the technology industry; instead, we hope to foster the next generation of tech leaders and entrepreneurs. We don't want to be a place where people give up on their ambition, but rather a place where people can accelerate their career experience and thrive.
Our work is far from complete, but we're committed to learning, improving, partnering and investing in the effort to keep moving this forward.
¹ Other than gender, we have limited our demographic reporting to United States-based employees in order to adhere to local laws in the other countries in which we operate.
² Slack Diversity Data as of December 31, 2017
³ "URM" includes Black or African American, Hispanic or Latino, Native Hawaiian and Pacific Islander, and American Indian or Alaska Native.
⁴ The vast majority of employees do not choose to disclose whether or not they identify as having a disability or as veterans; the data we share here is based on the small number who do disclose this information.
⁵We report today on women specifically as a reflection of our current data, but we know and support the fact that gender is not binary, and collect self-reported information on gender identity.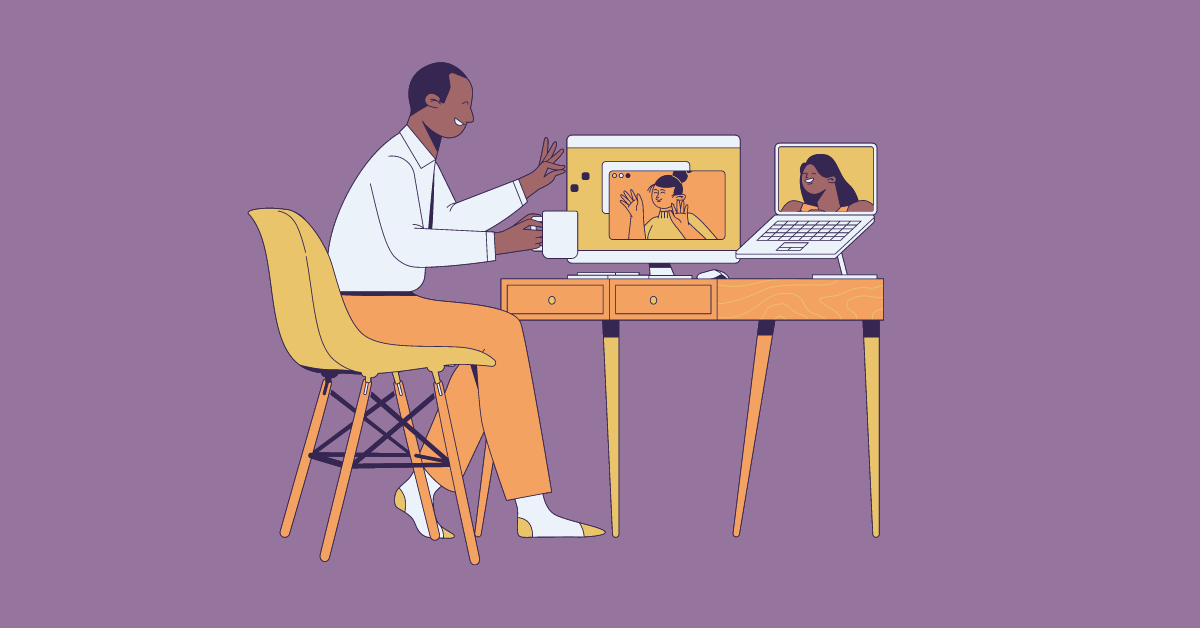 Upskilling and Development
As a result of the COVID-19 pandemic, millions of workers have turned to remote work. Before the pandemic in 2019, 22% of employers offered at least some remote work. Now in 2022, that percentage nearly doubled to 40%. The shift to remote work has become beneficial for me and many of my friends who are recent college grads starting their careers. It's allowed us to dictate our own time and save money from commuting, spend more time with loved ones at home, and have the flexibility to travel and build connections from anywhere. Remote working has also changed how people network for jobs. We have more options now.

Since remote networking is so new, it can be challenging to understand how to do it effectively. Read on to learn my top tips for networking for a remote job.
1. Connect with your high school or college.
The schools you went to want to see you succeed! Connect with old professors, classmates, or alumni on social platforms like PowerToFly or LinkedIn. You can find connections through sports teams, clubs, or topics of interest that will help you build stronger relationships. Don't be afraid to ask them for advice, mentorship, or even introductions.
2. Join a class!
Have you ever had a hobby that you never had the chance to pursue? Coding? Running? Painting? It's never too late to learn something new. Plus, spending time doing what you love will introduce you to other people who love the same thing. Not only will this help expand your social circle, it can also help your career! Once you feel comfortable, talk to your classmates about your work, and ask them about theirs. The perk of classes like these is that you will build relationships with people from all different career backgrounds which will help you determine your career path, especially if you are looking for a mid-career pivot.
3. Register for the Early Career Summit.
My friends and I are very excited to join PowerToFly's Early Career Summit this fall to meet the inspiring founders and CEOs of incredibly impactful companies. This is a great opportunity to get useful tips and learn about different perspectives, professions, and topics that you may be interested in.
4. Attend a virtual job fair and connect with leaders who inspire you.
Job fairs are great for meeting people who can be helpful because everyone attending is there to network! Job fairs at PowerToFly are a great place to meet hiring managers and recruiters from our sponsoring companies. If you come prepared with a resume it is an opportunity to make a great first impression with a company. After the virtual job fair, remember to connect with the people who stuck out to you and introduce yourself on PowerToFly or LinkedIn. Make sure to tell the recruiter who you are, and highlight what stood out to you about their talk.
5. Offer to help.
People really value your help (when it's needed). If you know someone in your network looking to hire a web designer and you know a great place to find one, don't be afraid to make the connection! If you see a job opening that would be great for someone in your network, let them know! Helping people in this way will help build your trust and credibility.
Remote networking has its differences from in-person networking, but it has never been easier to have access to social platforms that can help create connections. It will take some creativity and hard work, but once you have the appropriate mindset the options are endless.
READ MORE AND DISCUSS
Show less
Loading...