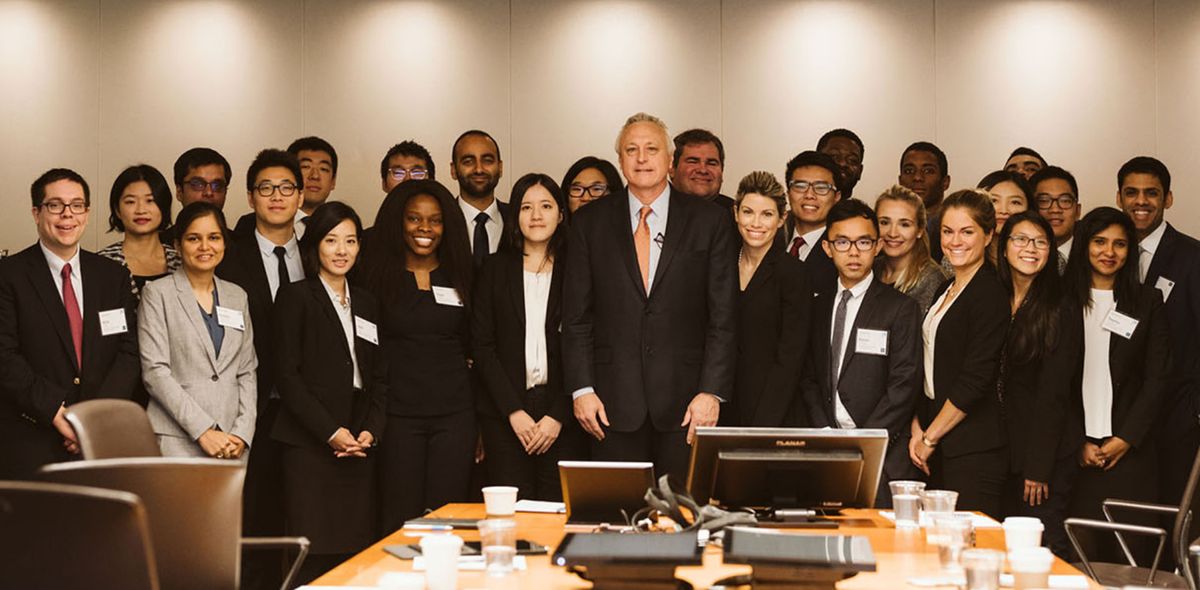 T Rowe Price Group Inc
Below is an article originally written by PowerToFly Partner T. Rowe Price, and published on January 17, 2019. Go to T. Rowe Price's page on PowerToFly to see their open positions and learn more.
Diversity is a core value at T. Rowe Price. For the past 12 years, it's also been the inspiration for MBA Day. The weekend-long program familiarizes students of diverse backgrounds with the firm and gives them a taste of what it's like to live and work in Baltimore.
"We launched the event because, historically, there's been a gap in financial services when it comes to people of color and women," explains Naomi Garvin, the firm's Diversity Recruitment Program Manager. "When we think about how we do business and who we do business with, we want to make sure our associates reflect the communities we serve – not just our clients, but the communities we invest in."
T. Rowe Price works with the firm's extensive network of analysts, campus investment clubs, and the Robert Toigo Foundation to find diverse students interested in a career in assets management. They spend three days in Baltimore, learning about T. Rowe Price, delving into investment topics, and exploring the vibrant city. This year, they attended a Baltimore Ravens' NFL football game and also tasted some local culinary highlights on a food tour of Mt. Vernon, one of Baltimore's most historic neighborhoods.
Tega Edah, a first-year MBA student at the Wharton School of the University of Pennsylvania, was one of 26 participants in this year's MBA Day program. We spoke with her about her experience.

You've done an internship with T. Rowe Price as well as other programs. How did MBA Day compare to these?
My internship was about personal growth. Everyone here was willing to go the extra mile to make sure I understood things as I was climbing a very steep learning curve. MBA Day helped me see what my life would look like if I worked here. It's very, very evident to me that if you consider yourself to be a results-oriented and caring person and want to work in a collegial and collaborative environment, then T. Rowe Price should be your home.
How do you think events like these can help attract diverse candidates?
Many candidates of diverse backgrounds do not have exposure or access to what even investment management looks like. The first time I ever heard about a 401k was when I was hired in my first job. Access and exposure are key but beyond that, programs like MBA Day show how you can progress and take full advantage of opportunities in this career.
What are your main takeaway from MBA Day?
One fireside chat on corporate social responsibility particularly resonated with me. Fagan Harris, President and CEO of Baltimore Corps, shared why you should really understand what motivates you deeply. Know why you come to work every morning, what you're fighting for, and what change you want to see in the world. Then use that knowledge to help power whatever decisions you're making and the amount of effort that you put into your commitments. Make it your North Star.
I was also struck by T. Rowe Price CEO Bill Stromberg's advice to "Be a student of people." You must learn how to leverage other people's perspectives to really succeed.
What was your favorite part of the weekend?
I really liked getting to know the T. Rowe crew on a more informal basis. Over casual conversation, they shared their own experiences with career fails and finding a way to get back up and bounce back. They were candid about the experience and showed me how it ultimately made them a better investor.
Would you recommend MBA Day to your peers?
Yes, anyone interested in an investment management career should come here to see what "good" looks like. People struggle with knowing what to expect after graduation. MBA Day will give you a flavor of what it's like to work here.
Early on in your career, you're going to be afraid of failing. But at T. Rowe Price, I learned to feel comfortable being uncomfortable. When I felt like I was faltering, they supported me and offered new challenges. The people here have so much faith in me. I encourage others to experience that for themselves.
What surprises you about the city of Baltimore?
Without a doubt, the Baltimore hospitality. When I first came here for my summer internship, I was struck by how everyone was so nice – even people you simply walk by on the street. There's also a deep call to action: Most Baltimore residents give back to the community in some way. It's embedded and integrated into the culture and vibe of the city. It's very cool.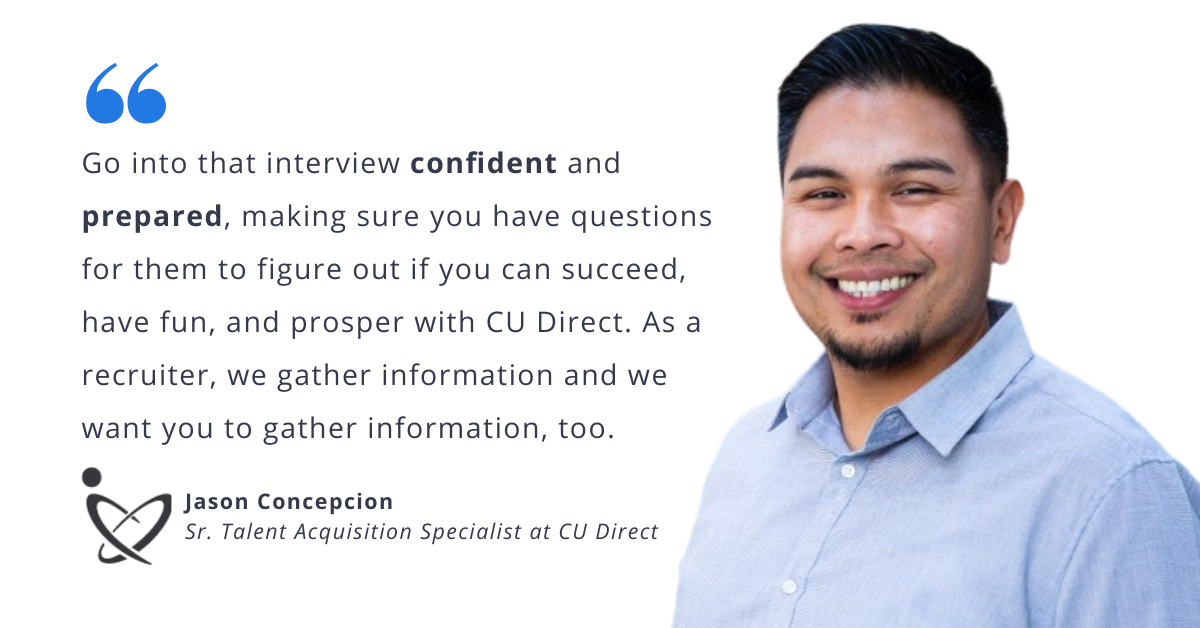 CU Direct
Jason Concepcion is a Sr. Talent Acquisition Specialist at CU Direct, a technology leader that delivers lending solutions to financial institutions, auto dealers, retailers, and medical providers nationwide. As a progressive company that looks for the best diverse talent, CU Direct prides themselves on seeking and taking care of their employees.
We sat down with Jason to learn about CU Direct's hiring process. Keep reading for his top 6 tips to put into practice when interviewing with CU Direct.
Tip # 1 Do Your Research
While it may seem obvious, learning about the company you're interviewing for is crucial. "Before the interview, do some research on CU Direct, our products and services, and even our subsidiary companies," says Jason. Doing the research will show the interviewer that you are highly interested and that "you did your due diligence in getting to know the company." Check out their About page to get to know CU Direct and its various projects.
Tip #2 Ask Questions
It's important to be transparent from the first point of contact with the company, which means asking questions to clarify and gain more information. Jason suggests, "when talking to the recruiter, ask questions. Go into that interview confident and prepared, making sure you have questions for them to figure out if you can succeed, have fun, and prosper with CU Direct. As a recruiter, we gather information and we want you to gather information, too."
Tip #3 Take Your Time
Pace yourself in the interview. Jason explains that "it's okay to pause, regroup, and answer questions. When asked about your experiences, taking your time will allow you to think of the situation, how you solved it, and what was the outcome."
Tip #4 Ask Yourself, 'What Do I Want to Do?'
Take inventory of what you have accomplished or learned in your professional trajectory so far. "We're not just looking for what you've done, but we are also looking for what you can do and what you want to do," says Jason. He believes that "those things are just as important as what you've done in the past. Your drive and determination will show us where you want to go and ideally, that will organically align with the positions we have here at our company."
Tip #5 Understand the Job Description
With your resume in hand, consider what experiences best align with the job description. "Valuable work experience can be found almost anywhere. It can come from your first job or it can come from your most recent job," Jason explains. Whatever small or short experience you have that matches the job description is worth mentioning and explaining, depending on the job you are applying for. Jason explains, "a good understanding of the job description you're going for, and related positions within the company will give you a greater insight as to what we're looking for and what you want to highlight or present in regards to this role."
Tip #6 Don't Be Afraid to Get Personal
One way to stand out in the interview process is to show that you'll be a good values fit, so intentionality throughout, and after, the interview can go a long way. Jason suggests sending a thank you email after the interview. "This will make sure that you stand out in front of thousands of applicants," he says. "Don't make it generic, tailor the message including details mentioned in the interview, this will show the person that you were completely engaged throughout the interview."
CU Direct's personal and careful recruitment process is a reflection of their fun and innovative atmosphere, their value of team members, and commitment to growth. They offer several benefits to their employees, such as a flexible working environment, paid time off, 401k match, college tuition reimbursement, and an exciting company culture. Because of this, they want to make sure people are treated with the same kindness and positivity from the start. As Jason reiterates: "We want to make sure you are prepared and ready for each step of this process, from interviewing, to asking questions, and to possibly onboard in the future," says Jason.
Are you interested to find out more about working at CU Direct? Check out their
openings
here!
READ MORE AND DISCUSS
Show less
Loading...