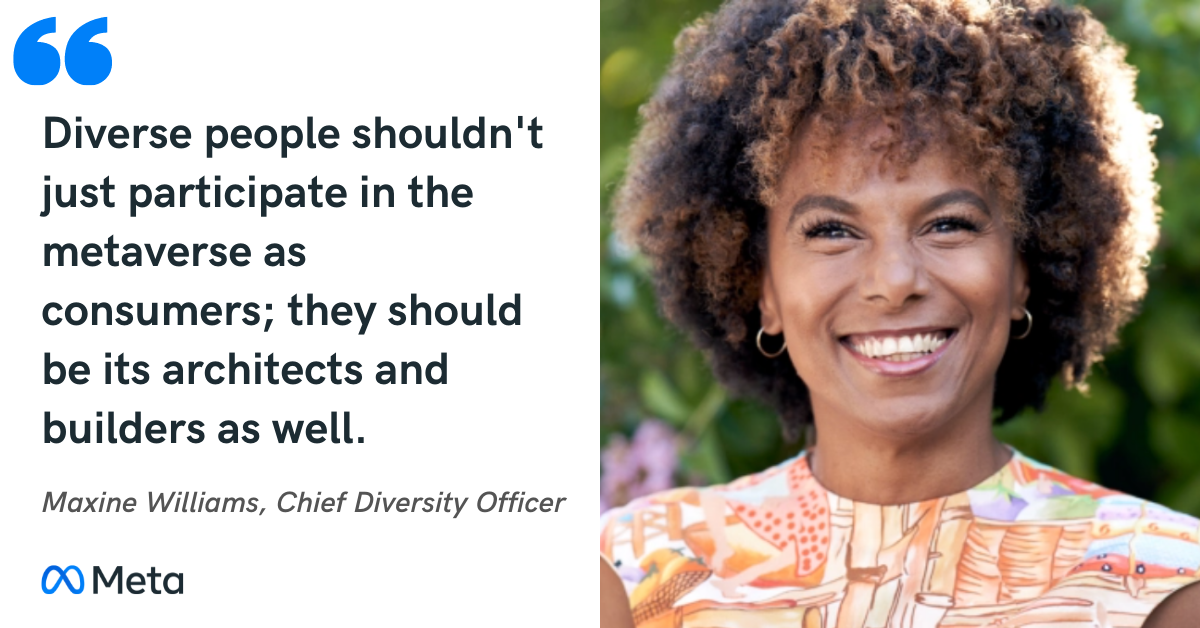 Meta
This post was originally published on the Tech at Meta blog. If you'd like to learn more from leaders at Meta, check out their thought leadership here.
A few months ago, I went through a part of my usual Saturday routine: I took my child to soccer practice and cheered from the sidelines. But this time, I wore my Ray-Ban Stories glasses. With a simple voice command, I was able to take photos and videos without having to fiddle with my phone or be separated from the moment by a screen. For the first time, I was right there the entire time — never missing a moment.
That afternoon, I got a glimpse into what's possible with presence thanks to technology. It was so powerful and magical that it felt like the gap between my memory and experience had completely collapsed.
The metaverse — the next generation of digital experiences — will transform the way we connect. With today's internet, we connect with people mostly by looking at screens. But in the metaverse, we'll be able to share the same spaces three-dimensionally.
In the next decade, more than a billion people may be in the metaverse. And because companies like Meta are starting to think about this future now, we have the opportunity to help build the metaverse with diversity, equity, and inclusion (DEI) from its inception. There's no doubt that it's an enormous responsibility. And it definitely isn't easy to resolve the complicated issues of DEI in technology, especially at a global scale. But working on these issues is one of the things that excites me most about Meta, and our role in using technology to have a positive impact on society.
It'll take years for the metaverse to be built, so we have a long road ahead. Here are a few things we're doing — and being intentional about — now.
1) Asking the right questions
To work toward an inclusive metaverse, we need to ask the right questions about what inclusivity must look like in immersive experiences. Meta is doing that through a two-year, $50 million investment in partnerships with U.S. civil rights groups, nonprofit organizations, academic institutions, and other organizations globally to explore issues related to the metaverse from different perspectives. And through a partnership with Howard University, researchers will explore historical barriers to information technology; they'll share recommendations on what we can do to remove those barriers and offer insights to better inform our work from the ground up.
2) Building networks of diverse talent
Diverse people shouldn't just participate in the metaverse as consumers; they should be its architects and builders as well. To make that happen, we need to increase the diversity of people working in the tech industry, particularly in areas like artificial intelligence (AI), gaming, virtual reality (VR), and augmented reality (AR).
We're partnering with institutions across the United States — historically Black colleges and universities, Hispanic-serving institutions, and Asian American and Native American Pacific Islander–serving institutions — to attract more students to deep learning courses and increase diversity and equity in the field of AI. Through the AI Learning Alliance, more people from underrepresented groups will be able to take free online courses in AI to prepare themselves for the jobs of the future. Courses will be available through our online learning platform, Meta Blueprint, and open to everyone, whether they are a student, professional, or hobbyist.
3) Breaking down language barriers
For people who speak or read languages like English and German, the internet offers endless possibilities. But many people who speak only an unwritten or nondominant language are cut off.
Today's translation tools typically use English as an intermediary when translating between two different languages, which can be less accurate than direct translation. They also aren't capable of translating speech in one language to speech or writing in another. That's why using new technology to break down language barriers is so important. People will feel more connected to others if they can communicate, work, or produce art in their chosen languages. They'll also have the potential to immediately reach billions of others across the world regardless of their preferred language. Can you imagine how that would change our lives?
Possibilities like these drive our long-term efforts to build new translation tools that will give creators and consumers the ability to participate equally in the metaverse in more languages and reach people in the farthest corners of the globe.
4) Broadening access to the metaverse for users and creators
Participation in the metaverse will not depend on having access to a headset. There will be many entry points through which people can participate using any device, including mobile phones. For those who do want the experience that a VR headset allows, we are working to make them as affordable as possible. It's also important to remember that, as an industry, we're still at the very early stages of building devices with VR and AR capabilities.
Enabling access for creators from diverse backgrounds is equally important, and I'm pleased with the progress we are making with our Spark AR platform. It's already being used by hundreds of thousands of creators in 190 countries to build immersive experiences across Meta's apps and devices. Spark AR and similar platforms are making it possible for people from diverse backgrounds to build effects and other things in AR that will enrich our VR and AR worlds of the future.
5) Creating myriad options for self-expression
Representations in the metaverse should reflect the diversity of the real world. Recently, we announced improvements to our Meta avatars, including new facial shapes and assistive devices such as cochlear implants, over-the-ear hearing aids, and wheelchairs for people with disabilities. When you create your avatar, you can choose the facial features, body type, clothing styles, and more that are right for you. We offered more than one quintillion different combinations when we launched our updated avatars last year, and we're continuing to add more options to give people even more ways to express themselves. And now you can choose to bring that avatar across VR, Facebook, Instagram, and Messenger.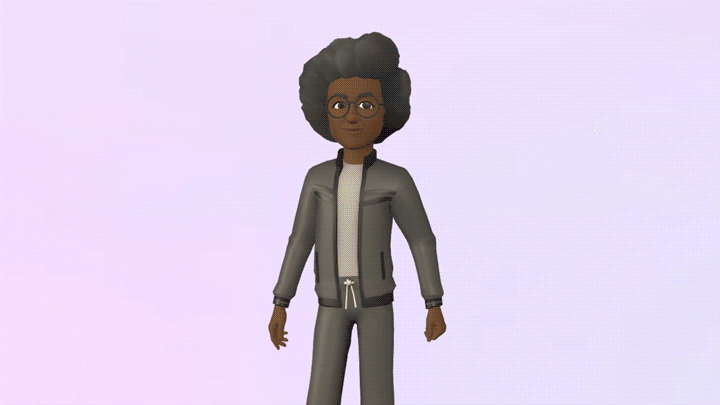 Appearance is important, but representation in the metaverse will also be about voice, sound, and other ways we express ourselves. Avatars are just the first step toward enabling everyone to show up however they choose.
Here's the "ting"
I love my native country of Trinidad and Tobago. In fact, I love the entire region of the Caribbean. However, by virtue of size and scale alone, educational and work opportunities were more limited than if one had the offerings of the entire globe from which to choose. If I had the ability to "be" in other places while physically staying in the country I loved, it would have changed my entire life trajectory. I grew up at a time when long-distance phone calls were exorbitantly expensive, so writing and mailing letters was how I kept in touch with family and friends far away. When I moved abroad to further my education, whether in the United States or in England, I would ration my letters home because stamps were so expensive and the letters took forever to move back and forth! Now, with Ray-Ban Stories and Portal, I can easily share everyday moments with family back home, in real time, no matter where I am. In the metaverse, even more education and work possibilities will open up so that people can pursue their dreams while staying close to the people and places they love.
It's important to remember that an inclusive metaverse benefits everyone, including people from traditionally underrepresented groups. What inclusivity in the metaverse will look like is a difficult question with no easy answers. As with any transformative technology, it will take a while for everything to come together, and even when the metaverse is realized, it will continue to evolve with time. I am encouraged by the active investments Meta is making to approach inclusion holistically and to engage with partners and experts in ongoing conversations about what it will truly mean to help build the metaverse responsibly.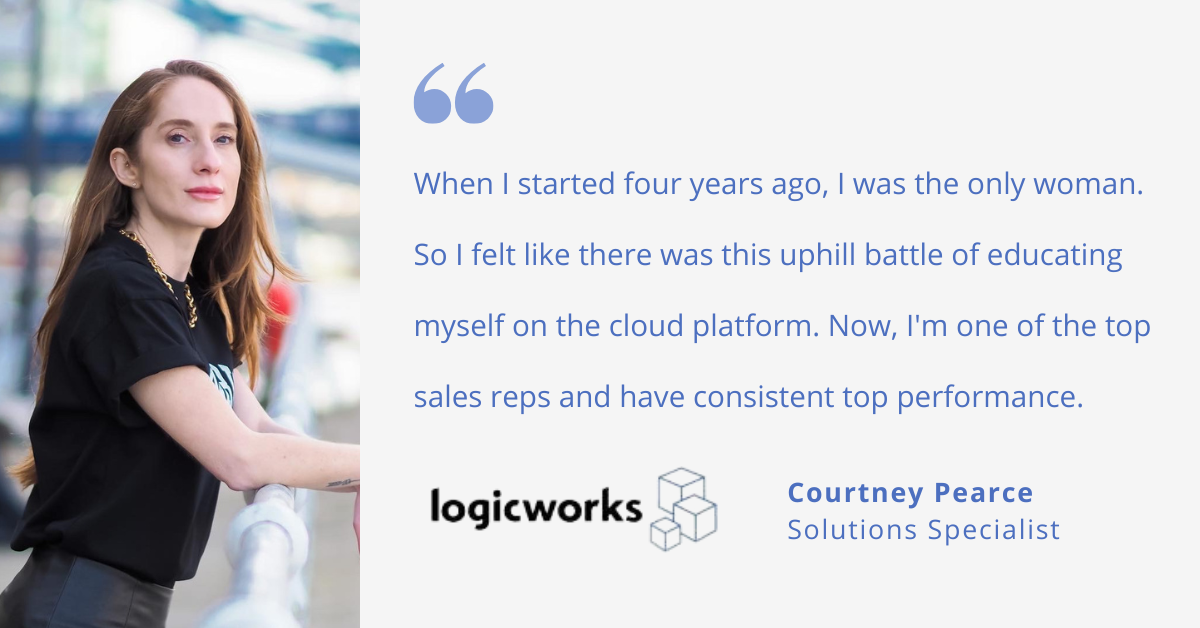 Logicworks
Courtney Pearce's background isn't one you'd expect to find in a tech sales position. But as a motivated self-starter, it makes all the sense in the world that she's been so successful in her role as Solutions Specialist at Logicworks.
If you ask her what she's most proud of about her time so far at Logicworks, she'll say her growth over the last four years.
"Even though I came from a technology company that was selling software, selling infrastructure and infrastructure managed services is very different. There was a learning curve. And when I started four years ago, I was the only woman. So I felt like there was this uphill battle of educating myself on the cloud platform. Now, I'm one of the top sales reps and have consistent top performance. So I'm most proud of my growth over the last four years."
Courtney has a lot of wisdom to impart to those interested in taking on the sales side of tech. We sat down with her to learn more about how she broke into the tech world by utilizing her retail experience.
An Unexpected Path Into Sales
Courtney started college as an Orthodontics major but eventually realized that science wasn't her calling.
"Although I'm a great student, science and math were difficult subjects for me," she admits. "I ended up taking a random textile and clothing elective and it was my favorite class."
She enjoyed the breadth of the program and decided to become a Textiles and Clothing major.
"You got the opportunity to learn the sociology behind why people wear clothes, the chemistry behind dying, how to make fabric, then creating a line from start to finish and marketing that to the class," she shares.
Although fascinated by the program, her career journey didn't lead her to the fashion industry but rather to an adjacent career in retail.
"I ended up accepting a leadership position for a big box department store," she says. "At 23 years old, I ran a 35 million dollar store. It was a great experience and I learned a lot."
After two years of working in retail for various name brands, she found her way into a tech company through a recruitment role.
Breaking Into the Tech World
While Courtney was working at a recruiting firm, she was approached by a security tech company with a position as a technical recruiter. She was interested in the role and applied, but didn't get an immediate response.
"I didn't hear back, but continued to follow up," she recounts. "One night, I got a phone call that said, 'You're not a good fit for the technical recruiter role, but we have this new group that we're building out called business development and they're working directly with sales. Based on your experience and the fact that you're willing to follow up, we think you'd be a great fit'."
At the time Courtney knew nothing about the tech space but that didn't stop her from interviewing for the position.
"I spent an entire week browsing the website, watching all their product marketing videos, and tried to wrap my head around what this security company did," she explains.
During the interview, she blew them away with her knowledge of the company.
"I gave my five-minute spiel and I think that impressed them," Courtney shares. "I had taken the time to research the company, and not having had a tech background, I tried to comprehend what they do."
Hired as a business development rep, she had the opportunity to build the team from the ground up.
Reaching New Heights at Logicworks
Courtney continued to rise in the ranks, but she eventually felt that she had hit a plateau. With a desire to try out something new, she looked to Logicworks who offered her the career advancement she was looking for.
"I had reached my potential with my previous employer. There wasn't anything new for me to learn. I wanted to figure out what was next in my career. There was an opening at Logicworks for a Solution Specialist to be based in Boston. That was enticing for me."
When Courtney moved to Logicworks she was able to explore job autonomy.
"It gave me the opportunity to move into a territory that I'd been working in for many years, but also run that territory like my own business," she explains. "There was nobody else working within that space, and I could create the process that I wanted to."
Now at Logicworks, she experiences the constant changes of a cloud system.
"I'm constantly learning," she shares. "We're constantly evolving our services, what products we're providing, and how our services are integrated as the cloud is maturing. It keeps me interested every single day."
Now as a sales lead, Courtney focuses on building relationships with current and potential clients.
Coincidentally, the relationship-building skills that Courtney uses on a daily basis come from her experience in retail.
"I think coming from retail, you have to be able to talk to anyone," she says. "You're getting a lot of different customer personalities, so it allows me to be comfortable talking to strangers, which I think is key in sales."
Along with sales experience, Courtney's internal drive has been key in propelling her forward.
"Being a self-starter and watching YouTube videos on what the cloud is, what AWS is, and taking that time on my own to learn and absorb as much as I can are, at the end of the day, the kinds of things that you can prepare you to enter the tech space," she explains.
Ultimately, it was the skills she learned in retail and her self-taught understanding of tech that have led to her success.
Advice for Entering the Tech World Through Sales
If you're looking to enter the tech world from a sales angle, Courtney offers this advice:
Find companies that resonate with your values. "Whether you like their product and think that product is solving a pain point in the marketplace, or you align with the company's values, work for a company whose mission you support," Courtney advises.
Be pleasantly persistent. "The biggest thing that helped me was when I reached out and nobody responded, and then I followed up and nobody responded, and then I followed up again and they called me. Being pleasantly persistent shows that you're interested and invested in the organization," she explains.
Do your research. "Take the time to figure out what the company does and what they are all about. Educate yourself above and beyond the basic training material to ensure that you have the right knowledge base to be successful in the role."
If you are looking to grow within the tech space, check out
these open positions at Logicworks
.
READ MORE AND DISCUSS
Show less
Loading...